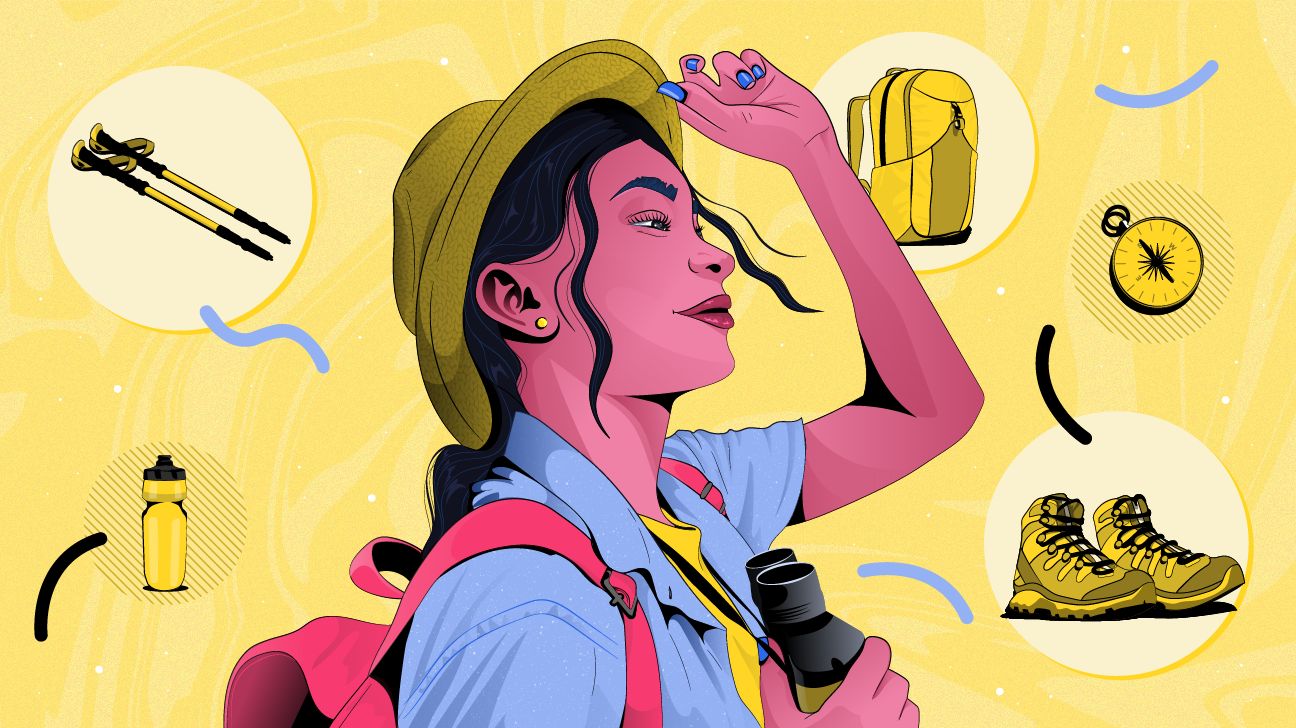 Hiking is a beginner-friendly activity that boasts lots of benefits. From fresh air, to great exercise, to glorious views of nature, it's easy to be allll in. But before you go full Into the Wild mode, it's good to go over the basics.
Here's everything you need to know before you go, including tips on safety, gear, clothing, shoes, and route planning.
Shoes
heavy boots
light boots
trail shoes
trail running shoes
Clothes for hot weather
sweat-wicking shirts
moisture-resistant socks
breathable bottoms or sports shorts
a hat to protect your face from the sun
Clothes for cold weather
wind-breaker
insulated gloves
insulated winter jacket
thick leggings and thermals
warm wool or synthetic fiber socks
a thick knit hat or headband to keep your head and ears warm
Backpack
frameless
internal-frame
external-frame
Toiletries
Navigation
Essential supplies
water bottle
snacks
trekking poles
binoculars
flashlight
whistle
first aid kit
Hiking can be a restorative and relaxing activity. But it also comes with some risks. That's why it's super-duper important to research and prep pre-hike.
Trip prep and research
Here are some things to keep in mind when planning a hike route:
Skill level. Until you really know the ropes, stick to well-frequented courses and beginner-friendly trails.
Time it out. Hiking can be an hour-long trip or a week-long adventure. Your estimated trip time can help you map out your route.
Distance. Determine your desired hike distance ahead of time. A lot of this depends on your fitness level and the terrain.
Elevation. Elevation can range from easy to hella hard. If you're a hiking newb, opt for gradual inclines. You can work your way up to higher elevation gains over time.
Weather. Some trails aren't accessible in the winter. So def check before you get there. You also may want to avoid areas that are known to flood in the rain.
Route planning
Once you have a route plan, it's 10/10 important you stick to the plan. The risks can go way up if you veer into unfamiliar or remote territory.
Communication
Researchers recommend hiking with at least one other person whenever possible. You should also keep your loved ones in the loop. Let them know the location and your estimated return time.
Pro tip: You may not have cell service in more remote areas. So you should carry a GPS tracker with you at all times. If you get lost or run into trouble, your fam (and rescue teams, if it comes to that) can find you.
Fitness levels and physical limitations
Whether you're a seasoned gym rat or a self-proclaimed couch potato (and proud!), hiking comes with a unique set of skills.
Here are some tips to keep your hike safe:
Stick to beginner routes. There's ZERO shame in starting slow. Don't dive into expert-level routes until you are 100 percent sure you can handle it.
Don't push it. If you're feeling super tired, it's totally OK to end your hike early. And if it hurts, STOP!
Carry a light pack. Try to only carry essentials until you're used to a heavier load. The weight can tire you out faster, especially in hot or humid weather.
Hydrate. Drink plenty of water before, during, and after your hike. You should also have some snacks on hand to keep your energy up.
Safety
One of the best parts about hiking is placing yourself into a real-life Bob Ross painting. But despite the beauty, there are some risks to be aware of.
Respect local wildlife. Don't interact with any animals you come across. That includes the cute critters 🐿️. Remember, you're hiking through their living room.
Research potentially dangerous animals. If you're hiking through bear country, you should carry a deterrent (aka bear spray) with you. You should also speak with a park ranger to see if there are any venomous snakes, spiders, or insects on your route.
Dress the part. Layer up in the winter and wear light, breathable clothing in the summer. And no matter what the season is, always protect yourself from the sun with hats and sunscreen.
Here's your hiking shopping list! Keep in mind, you have TONS of flexibility on what to buy.
Shoes
A solid set of hiking shoes is an absolute must. The type you get depends on what type of terrain you're into.
Heavy boots
Heavy-duty hiking shoes are great if you plan on trekking through rocky, slippery, or muddy areas. The thick exterior material will protect your feet from cuts while the cushioned midsoles provide super stability.

PSA: These might not be your best bet if you plan on sticking to more low-key trails. They can be a bit heavy and don't let your feet breathe that much.
Light boots
Light boots are ideal if you're hiking through easy or moderate routes. You'll get a decent amount of protection from sharp stuff and good traction on most terrains.
Trail shoes
Trail shoes are basically sneakers designed with hiking in mind. They have a thicker outer layer than your average sneaker and provide more breathability than boots. However, you might not get as much ankle support.
Trail running shoes
Trail running shoes are a lot like regular trail shoes. The main difference is that they provide better traction. This can prevent slipping on wet logs and other slick surfaces.

Pro tip: Most high-quality trail running shoes have great cushion support. But you can also add gel inserts for added comfort.
Ready for your hiking fashion show? Here's what clothes you should wear depending on the weather. And speaking of weather, it can change in a flash (due to a storm, the changing angle of the sun, or altitude) so it's important to always bring layers. When the sweat on your back suddenly makes you cold once you reach the high point of the trail, you'll be glad for that warm layer when you stop for a snack!
Hot weather
Cold weather
sunglasses
visor or baseball hat
sweat-wicking t-shirt
water resistant watch
moisture-resistant socks
sport shorts or breathable leggings
sunglasses
wind-breaker
insulated gloves
insulated leggings
thermal long johns
water resistant watch
insulated winter jacket
wool or synthetic fiber socks
headband, knit beanie, or trapper hat to keep your head and ears covered
BTW, cotton absorbs sweat like a Shamwow and then traps it against your body. This can make you hotter in hot weather and colder in cold weather. Synthetic blends and linens are much better choices.
Should I bring extra clothes with me?
Walking in wet socks is the WORST. So it's a good idea to bring a couple pairs of dry socks, thermals, and shirts with you in case things get wet on a longer hike.
Hiking backpacks come in all shapes and sizes. Here are some tips to help you pick a winner.
Frameless backpacks
Frameless bags are flexible and lightweight. They're ideal if you're only carrying a light load with you. Most of the weight will push down into your shoulders which can get uncomfortable over time.
Internal-frame backpacks
These backpacks have a rigid or semi-rigid internal frame. The two most popular options are plastic frame sheets or aluminum rods. The sturdy construction helps distribute weight evenly across your shoulders and back.
FYI: Some internal frame backpacks have removable rods. This way, you get the best of both worlds.
Customization options
Once you pick your desired frame, you can customize it to fit your unique shape.
Most bags have load adjuster straps that connect the top of the bag to the shoulder straps. This can help decrease pressure on your lower back. Some bags also come with compression straps that help stabilize the weight.
You can also find bags that have built-in hip belts and sternum straps. These can increase your balance and enhance stability.
Here are some packing tips to keep your items safe and fresh.
Place clothing in waterproof bags.
Distribute the weight of items evenly.
Add any additional gear (like trekking poles) to the tool loops.
Put the items you'll need the most on the top of the bag or in the accessory pockets.
P.S. When you're done packing, give the bag a test run. Put it on and adjust all of the straps until you're comfortable. This can save you time once you're on the trail.
Bug spray
Bug spray is your BFF. Get a brand that wards off ticks, which can carry Lyme disease and other illnesses, and mosquitoes, which can also carry vector-borne diseases.
Sunscreen
Even if you're under heavy tree coverage, you should always wear sunscreen. Stick to SPFs that are water-resistant and designed for athletes. They should last longer than brands meant for everyday use. And don't forget to reapply it throughout the day!
Toilet paper and period products
You prob won't find a porcelain throne in the middle of the woods. So it's a good idea to pack some TP, tampons, and pads just in case nature calls. Always remember to carry out used products in a sealed bag so you can toss them in a proper trash bin when you're back in civilization.
Compass and map
A compass can help you get back on track if you get spun around. You can download a compass app on your smart phone or go old school and get the real thing.
Meanwhile, a map can give you detailed info on local terrain. You might want to bring a pen with you to pinpoint your starting point and circle any helpful landmarks along your route.
GPS tracker
A GPS tracker can help you stay the course. Some allow you to pre-download an area's geography so you can use it even if you have no service.
Water bottle
A reusable water bottle is a must. A BPA-free plastic bottle is prob fine if you know your route has filtered, fresh water around. But you should go with a filtrating bottle if you need to get water from a natural water source.
Snacks
It's important to fuel up before you set off on a hike. But you should also bring some nom-noms with you in case you start to feel snackish. Dried fruits, nuts, seeds, and power bars are all nourishing and lightweight choices.
Trekking poles
If Phil Dunphy taught us anything, it's that trekking poles are cool AF. While they're mainly used for steeper terrains, you can totes use them on beginner trails too. They're great for balance and can improve your power when walking uphill.
Binoculars
Binoculars aren't just good for bird watching. They can help you see far ahead and stay aware of your surroundings.
Flashlight
Even if you're only doing a day hike, it's a good idea to keep a flashlight with you. Tactical flashlights tend to be lightweight and have a banging battery life. Headlamps are even better to have on hand because they don't take up much space in your pack and you can use them hands-free as you're heading back down the trail. Just remember to always bring a few extra batteries in a sealed waterproof bag.
Whistle
A whistle saved Kate Winslet at the end of "Titanic." And it can help you too! A whistle can alert folks that you're in trouble or if you need to get someone's attention in a hurry.
First aid kit
A first aid kit can really come in clutch. The American Red Cross suggests stocking your kit with:
gauze
aspirin
tweezers
packs of aspirin
antiseptic wipes
nonlatex gloves
sterile gauze pads
antibiotic ointment
emergency blanket
adhesive cloth tape
instant cold compress
emergency first aid guide
absorbent compress dressings
adhesive bandages in assorted sizes
compression wrap (this is great for sprained ankles)
The American Red Cross offers first aid classes online. You never know when these skills will come in handy on a hike or in life.