When the pandemic first hit in 2020, it felt like everything stopped — at least for many of us. Regular outings, whether social, work, or school-related were drastically altered. And that meant things like dating and meeting new people was suddenly upended, too. But soon, with the help of Zoom and other creative methods, distanced dating has become prevalent.
Since then, we've been able to find our footing somewhat — though the pandemic still limits a great number of our comforts. But we can't stop being social creatures. So, figuring out how to continue social interaction — specifically dating safely — is essential.
I've personally had fun texting and video chatting with people, but no big connections have been made so far. Even still, I got some inspiration from people who shared some of their COVID-safe dating stories, and the ways they were able to creatively make them intimate and exciting.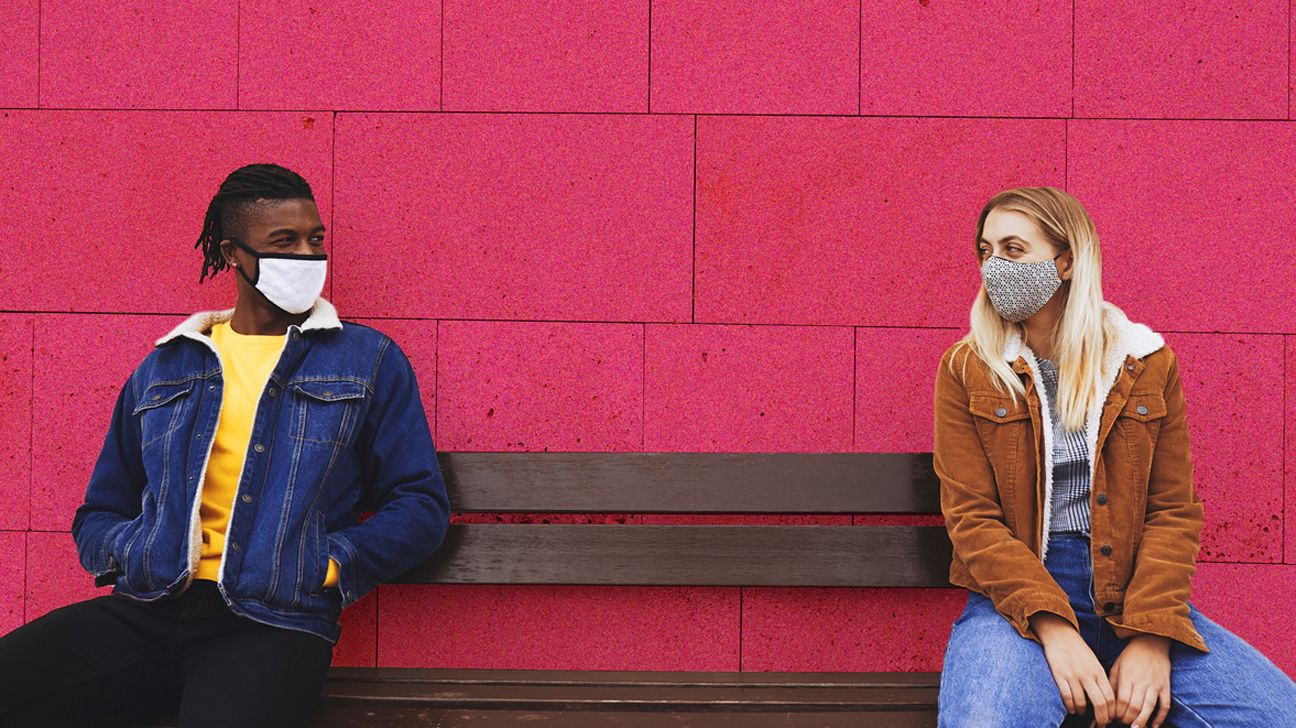 Stefanie, 27, Brooklyn
"My partner and I had a casino night and a virtual wine and paint night at home. For casino night, I made a gambling/Vegas themed playlist. I dressed up like a dealer, complete with a bow tie. For decoration, I took a deck of cards and taped them up in designs on my bedroom and closet door. We drank gin rummy's and played gin rummy. I made cute prize tickets to gamble with; it was cute in theory but it didn't work because I just kept winning them all.
"We saw a comedian: we watched Cameron Esposito's standup special 'Rape Jokes' online. We also had surf and turf. I got shrimp cocktail and some small steaks from the store. We fell asleep after that, but the plan was to also play poker and see a 'floor show' (i.e. watch Burlesque, which I did make them watch another time). It was a really cute, fun night.
"For wine and paint night, I ordered a kit from Painting to Gogh. They send you the paint supplies and you get a link to a tutorial video. I picked one of a narwhal and a whale because my partner loves sea creatures. I also got wine and made a charcuterie board and made a really nice salad for dinner."
Kara, 28, Virginia
"Before the date we actually talked for about 2 months, making sure we were on the same page about COVID-19 precautions and just trying to get a feel for each other before we met up. We went and got COVID tests ahead of time, and during the date we either 1) wore our masks or 2) were 10 feet apart.
"We got really lucky and ended up meeting on a weirdly warm day for December and the park we went to wasn't as crowded as I thought it would be, so we were actually able to sit and talk. Since then, we've seen each other again, and we both still get tested regularly. Neither of us leaves the house for work or really anything else, so it's made it a little easier to find times when we feel like we can safely meet up.
"Having the space to take our masks off outside without risking transmission was honestly huge for me. I have a very hard time reading people in general, and facial cues are especially important for people I don't know well. Which means I don't see a whole lot of winter park dates in my future."
Cayce, 32, Toronto, Canada
"The most important people in my dating life are actually people who don't even live in my city, which makes virtual dates seem a lot easier. Right before the pandemic, I'd actually visited my two partners in New York. I haven't seen either of them in person since February 2020, but for the last year, I've been sustaining these two really fulfilling, close relationships.
"For my partner Daisy and I, our main strategy to feel connected has been finding a kind of easy-reach closeness over text messages. It's really important to feel like someone is available when they're far away and you can't physically interact. Not that we expect instant replies, but there's a level of closeness with quick texting that feels really comfy. We also send audio messages and short video clips (a lot of short video clips!) to make 'good mornings' and 'good nights' more personal.
"Finding a sustainable mix of scheduled date time and spontaneous hangout time is a strategy I've found to work super well with both of my long-distance partners. Scheduled dates are reliable and stable — something that I can rely on for structure in my life. They're a time when my partners and I fill in the gaps in our lives and get in some serious quality time.
"My partner Cece and I use our scheduled dates to work on music, play video games, and have the kinds of deep conversations that are harder to have over text. Spontaneous hangout time is also really important with both my partners — whenever we're able to call while I'm out for a smoke, or one of us is dealing with work drama, or just missing each other, that's like 'bonus' time on top of scheduled dates. The mix of both kinds of face time with my partners really makes us feel like we're close."
Francesca, 23, Massachusetts
"My long-time girlfriend and I had to be isolated for a couple of months, so you know we'd Zoom like every day, watch 'Avatar: The Last Air Bender,' all the Netflix things that others were watching, and I realized we hadn't been on a date in a long time. So I asked her to get dressed up and 'meet me' on Zoom.
"I took her on a virtual museum tour date where we saw the Dali museum. We had so much fun, learned a lot, and were inspired by the art."
Leah, 26, Brooklyn, NY
"We met over Twitter and chatted a bit over DM early in the summer. We definitely connected in terms of our feelings on queer politics, kink, and being generally anti-respectability politics. She's in an open relationship, and I was freshly single (my ex-partner and I broke up during quarantine). Both of us are into the harder side of kink which really appealed to me.
"We chatted over Zoom first to get to know each other a little better, and it was fun, though awkward in that way video chats can be. But there's also something less anxiety-inducing for me to socialize with someone over video than in person, face-to-face.
"A little while later, we arranged a hang out in Union Square. My one requirement was that we both get tested ahead of time. When we both came back negative, we went for it. That was the first time I had actually been on a date with another person since October 2019, when one of my friends came over and hooked up with my then-partner and me.
"Going on a date during COVID was definitely a big deal for me. I did a lot of casual dating and hooking up with friends pre-COVID — the majority of which were trans fems like myself. These were and are some of my fondest New York memories. So while it felt very exciting and a little anxiety-inducing to go on a date/quasi-date, more than anything it was just really nice to meet a potential FWB IRL and talk and get to know each other. It was like hopping back on the saddle after a few months off.
"To keep the date somewhat COVID-compliant, we both wore masks, sat next to each other on a bench on one of the paths in Union Square, and split some beer that she brought.
"By the way, I really don't recommend what I did, especially with the new COVID variant out there. I stopped doing in-person hangouts altogether in November and switched from cloth masks to KN95s. I'd rather sext with people from home than even remotely run the risk of exposing myself or a date to COVID. There is a very high chance that doing this now would end up getting me infected."
Fish, 25, Maryland
"I went on a Zoom date where beforehand, we each 'assigned' each other a favorite musical to listen to all the way through (one the other hadn't heard yet!). When we connected, we spent the first part of the date gushing about the songs and vocalists we loved most from each show. A great way for theatre nerds to connect now that Broadway is shut down!

"We initially connected on Hinge over our interest in musicals, so of course the natural thing would have been to geek out over musicals on a Zoom date. But it was super nice to dive deeply into a piece of art that was really important/exciting to the other person as a way of getting to know them.
"Being able to list our favorite songs and performers kept the conversation flowing early and made it easy to branch into chatting about other parts of our lives. We hit it off, realized we have far more in common than just our taste in musical theatre, and now have a socially-distant park date planned!"
Rachael, 32, Pennsylvania
"My girlfriend (who I met the week before COVID started and have never been on a 'real' date with) and I had discussed going on a little trip in December to somewhere we could safely rent an Airbnb and enjoy outdoor activities. By the time December came around, the COVID numbers were super high, and for a number of other logistical reasons, going away wasn't an option. So we planned a 3-day staycation at her apartment instead.
"We did it in the middle of the week when most people were at work, so we were able to go outdoor ice skating (there were like 10 people there total, all masked). We drove through a local display of Christmas lights, which my girlfriend LOVES, and scheduled a 1-hour horseback trail ride. It snowed that day and made us feel like we'd stepped into a Hallmark movie.
"Outside of those activities, we ate snacks, binge-watched movies, played video games, and did craft projects together. We had a really amazing time and it actually felt like a vacation."
Irina, 26, Queens, NY
"My partner and I have been getting creative for our safe dates! For a romantic dinner, we recreated a restaurant experience at home: our living room became the bar for our happy hour cocktails, while our dinner was finishing up in the oven over in the kitchen aka 'candlelit restaurant.'
"We decided to make it extra special by getting dressed in different rooms so that we would surprise each other in our nice clothing and styled hair. It felt amazing to finally get out of our sweatpants and see each other in a long-forgotten, sexy light.
"For my birthday back in May, my partner created a mini-quest of discovering surprise dates with my friends who live nearby (all outdoors and at a safe distance)! It was such a heartwarming experience after lockdown to see half of my friends' faces from behind the masks and be near my loved ones.
"In September, for my partner, I got balloons, put wrapped presents on the bed, and woke them up to homemade cupcakes and candles! Later in the day, we had a distanced outdoor picnic with drinks and snacks with our loved ones, as well. Just being nearby our friends feels so necessary through these hard times, we're happy to have like-minded folks in our lives who stand by our safety measures!"
Elly is a New York-based writer, journalist, and poet who also loves to host parties for her friends. Primarily, she's Brooklyn's resident pun enthusiast. Read more of her writing here or follow her on Twitter.