We include products we think are useful for our readers. If you buy through links on this page, we may earn a small commission. Here's our process.
Greatist only shows you brands and products that we stand behind.
Our team thoroughly researches and evaluates the recommendations we make on our site. To establish that the product manufacturers addressed safety and efficacy standards, we:
Evaluate ingredients and composition: Do they have the potential to cause harm?
Fact-check all health claims: Do they align with the current body of scientific evidence?
Assess the brand: Does it operate with integrity and adhere to industry best practices?
We do the research so you can find trusted products for your health and wellness.
There's something about a new year that's totally refreshing and hopeful — doubly so in this trouble-fraught decade (that we're only *checks notes* 24 months into).
We here at Greatist are cautiously optimistic, and we think 2022 is gonna be a good one — for several reasons.
Here are our predictions for the health, wellness, and fitness trends that'll dominate 2022 and make it a year of mindfulness, rest, growth, and reconnection.
How we made our predictions
We stay so up to date on all things trending in health, fitness, and wellness that we're essentially time travelers. How? We get emails — SOOOOOO many emails. And we do LOTS of reading, product testing, marketing events, and online window shopping (and finally, in 2021, some real window shopping again).
In addition to making our own observations, we consulted some heavy hitters who have released 2022 predictions or 2021 trend reports of their own — namely, Pinterest Predicts 2022, the Fitt Insider newsletter, and ClassPass: Fitness and Beauty Trends 2022.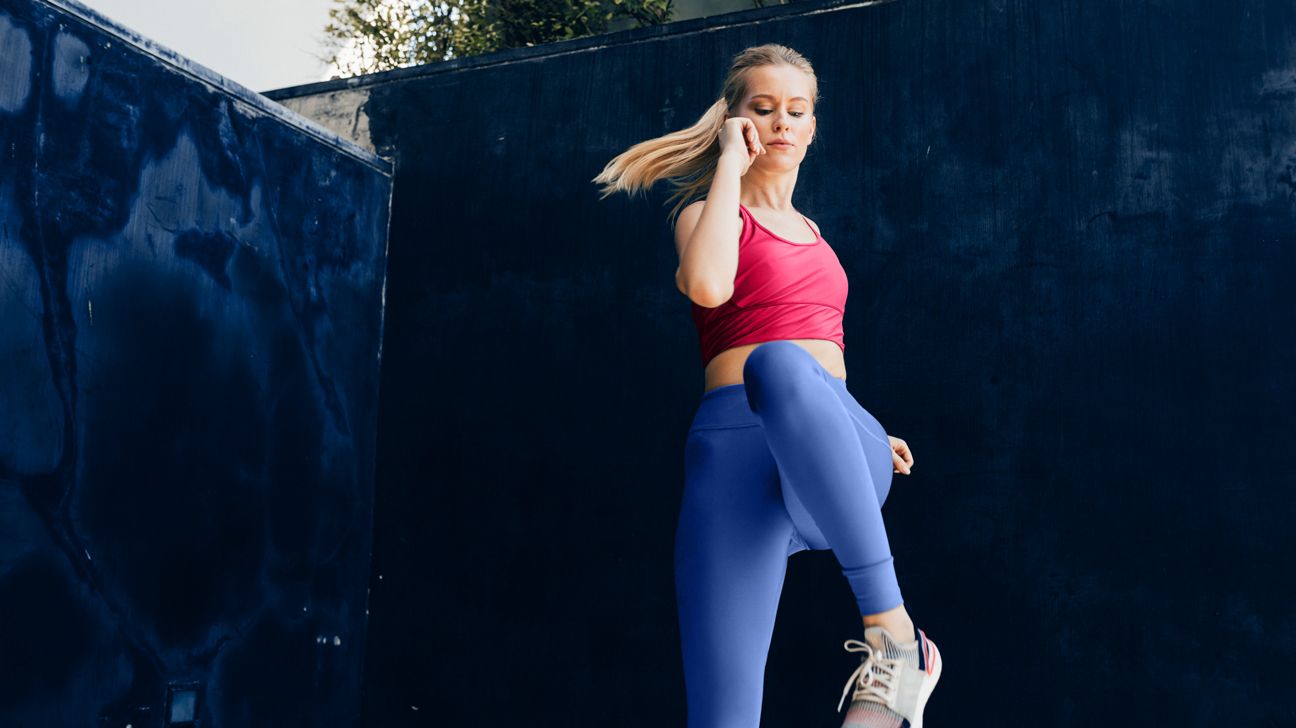 In 2022, taking care of yourself holistically won't be just a thing you do when you have time — it'll be part of who you are (hopefully).
Hot off another mind-boggling year, more and more of us are realizing that we have GOTTA take care of our bodies and brains in a world that's full of uncertainty and tension.
And instead of making self-care just another thing to mark off on a to-do list, people are finding more ways to incorporate wellness seamlessly into their lives. A good example is the humble weighted blanket. We all need a blanket, but the weighted blanket goes above and beyond and provides some extra benefits in addition to keeping you warm and snuggly.
Think functional furniture, intuitive wearables, thoughtfully designed clothing, and anything else that allows you to incorporate wellness more fluidly into your everyday life.
Brands we're watching in 2022

Resonate is a modern seat and ottoman that will look totally at home in your living room, AND it uses vibration, light, and sounds (from the accompanying Resonate app) to make meditation as simple as taking a seat.
AGOGIE resistance band pants will be your new best friend for active recovery days, working from home, and quick errands, giving you a little bit of a workout with every step you take.
Fitbit's new Daily Readiness Score, which tells you each morning — based on your sleep, heart rate, and activity — whether you need to take a rest day or push your limits (available with Fitbit Premium).
After the Great Peloton Price Drop of August 2021, which followed a late-pandemic slump in sales, other smart fitness companies started taking notice.
And as ClassPass notes in their 2022 report, group fitness and gym workouts are back, baby (and all the extroverts said "Amen").
Fitt Insider also coolly observed that in 2022, digital fitness companies will have to compete not only against other digital fitness companies, but against real life gyms too.
What does that likely translate to? Lower prices on home gym equipment.
At Greatist, we're predicting more innovation in the home gym industry — delivering smarter tech at a price point that doesn't make us Average Income Earners wince.
Brands we're watching in 2022

Tempo Studio, a fitness mirror with physical weights, typically costs at least $2,500, but their new Tempo Move offers the same AI feedback, syncs with your TV, fits neatly in almost any space, and costs a modest $495.
Macvon, a smart home fitness company founded in 2019, debuted with a sub-$800, 65-inch touch-screen smart mirror, and they're set to launch a strength device that's a direct competitor to the pricey-but-totally-worth-it Tonal.
The Amazon Halo View is Amazon's new $80 fitness watch, boasting some really handy features when you add the Halo membership for a measly $4/month — that is, if you're OK with the company you order your toilet paper from knowing all about your fitness and sleep habits.
Surfing the red wave is about to get a lot easier and less stressful. Gone are the days of wishing our periods would go *poof*. Instead, it's time to embrace them for what they are…
OK, they still suck.
But anyways, in the past few months we've noticed a LOT of new companies and products popping up in the period space. And Pinterest has too — one of their trend predictions for 2022 is "Mindful Menstruation."
For real, though, folks who are trying to get pregnant aren't the only ones doing in-depth cycle tracking anymore. This info can provide tons of insights for anyone.
We've also noticed lots of natural alternatives for period pain relief in our DMs lately (bye-bye, ibuprofen) and seen that disposable pads and tampons are DEFINITELY on their way out. (But if that's what you like, you do you — your period is YOURS, and there are tons of more sustainable, better-for-your-body disposable brands out there.)
2022's periods are gonna be peaceful AF.
Brands we're watching in 2022

PowerDot, a high end transcutaneous electrical nerve stimulation device from Therabody (total recovery experts), now has a Period Pain Relief program: a medication-free, wear-all-day way to reduce the pain of menstrual cramps.
Hate birth control? You're SO not alone. Enter Natural Cycles, the first FDA-approved birth control that uses temperature and cycle tracking to tell you your likely fertile days.
If you've always wanted to try period underwear but can't afford to pay $35+ per pair, check out The Period Company's line of affordable, super-absorbent cheekies. Most of their styles cost about $12, with the most expensive clocking in at $24 — and you can go pad-, tampon-, and cup-free with them if you want to.
After nearly 2 years of being on a roller coaster of doom and isolation, we're all ready to reconnect — with family, friends, and food traditions. 2020 was a big big BIG year for baking, fermenting, and gardening, and farm-to-table is still dominating our collective food consciousness — as noted by Pinterest's inclusion of "Traditional Eats" on their Pinterest Predicts 2022 report.
In 2022, we suspect more people than ever are gonna grow their own herb(s) and have a dealer in their contacts — a local honey dealer, that is.
Even in concrete jungles, fermenting, sprouting, microgreens, pickling, canning, baking, dehydrating, and hydroponics make it possible to make food the old-fashioned way (while, of course, utilizing all that modern technology has to offer to simplify the process).
Brands we're watching in 2022

The Farmstand, from Lettuce Grow (co-founded by Zooey Deschanel), is a n00b-friendly hydroponic garden that will have you harvesting your own greens in as little as 3 weeks — even indoors.
Ninja isn't a new company by any means, but they're a fave for moderately priced, reliable kitchen equipment for beginners and home chefs alike — and they're constantly *churning* out new equipment to make home cooking easier and more fun, like the Ninja CREAMi ice cream maker. (Pun so intended.)
Farmer Jones Farm sells dreamy curated boxes of home-grown goodies like regeneratively farmed veggies, raw honey, and fresh flowers — the very same that they supply to lots of high end restaurants through their sister co, The Chef's Garden. If you don't have a convenient local option, it's definitely the way to go.
Although it's taken years, the "one size fits all" approach to health and wellness has fallen by the wayside. There definitely seems to be a deeper appreciation of how unique each and every body is, and that's why so so SO many brands are now offering totally individualized services and products.
We're talking supplements, workout plans, accessories, and more, crafted with YOU in mind — not some nebulous "ideal customer."
What's more, we're hoping that 2022 brings an end to the ever-raging diet wars. Let's focus on eating mostly whole foods, enjoying what we eat, and choosing the foods that make us feel best. For one person that may mean strict keto, and for another it might mean going vegan, but we can all get along.
Food manufacturers are continuing to embrace this approach, too, with less-processed product lines made for health-conscious eaters of all dietary persuasions.
Brands we're watching in 2022

With custom orthotic inserts — not just for grandparents anymore! — from The Good Feet Store, every shoe you own can be comfy, supportive, and aligned with your lifestyle and wellness goals (and, obviously, your foot). That includes slippers, stilettos, and everything in between.
Want supplements that are tailored for your DNA and gut microbiome? Viome's got you covered, with their super-targeted supplements that are formulated based on your results from blood and stool tests.
FlexIt offers live virtual personal training sessions uniquely suited to your needs, fitness level, and equipment access. Buy one class or several at a time, with no subscription required.