We include products we think are useful for our readers. If you buy through links on this page, we may earn a small commission. Here's our process.
Greatist only shows you brands and products that we stand behind.
Our team thoroughly researches and evaluates the recommendations we make on our site. To establish that the product manufacturers addressed safety and efficacy standards, we:
Evaluate ingredients and composition: Do they have the potential to cause harm?
Fact-check all health claims: Do they align with the current body of scientific evidence?
Assess the brand: Does it operate with integrity and adhere to industry best practices?
We do the research so you can find trusted products for your health and wellness.
So, you thought you'd make your annual return to the gym, right? Wrong! In case you hadn't noticed, the last 9 months have completely transformed the fitness landscape, along with the rest of life as we knew it.
With our newfound fear of breathing indoors in public, it's no surprise that things have become rocky for gym-goers and group fitness fanatics. And without gyms, those who live in small spaces have had to get creative in getting their fitness on.
A lot is still up in the air. If urbanites continue to flee to suburbia and more jobs go remote, then the decline of boutique and big-box fitness memberships could continue. But even with the health club industry reporting billions in losses, die-hard gym-goers insist there's nothing like the in-person experience.
One thing's for sure: Americans want to be healthier. And for once, time may not be the biggest hurdle.
Calorie counting, restrictive diets, and pining for a photoshopped physique may be losing some appeal too. For many, the pandemic has revived the joys of cooking and eating for strength, performance, happiness, and health. Diet and exercise practices that promote optimal nutrition, restoration, and prevention of illness and injury now have the most allure.
So where does this leave us as we head into the biggest fitness month of the year? With a fresh outlook and a renewed interest in science-backed, realistic, and smart wellness. In fact, this may actually be the year that our resolutions survive to see spring.
And that's a New Year's glow-up we can get behind.
| What's in? | What's out? |
| --- | --- |
| group fitness and community | aspirational and aesthetic wellness |
| restorative fitness | influencer wellness marketing |
| personalized supplements | competitive sports |
| plant-based substitutes | overhyped vitamins & supplements |
| going local | diet culture |
| clinical expertise | |
| eating for better health | |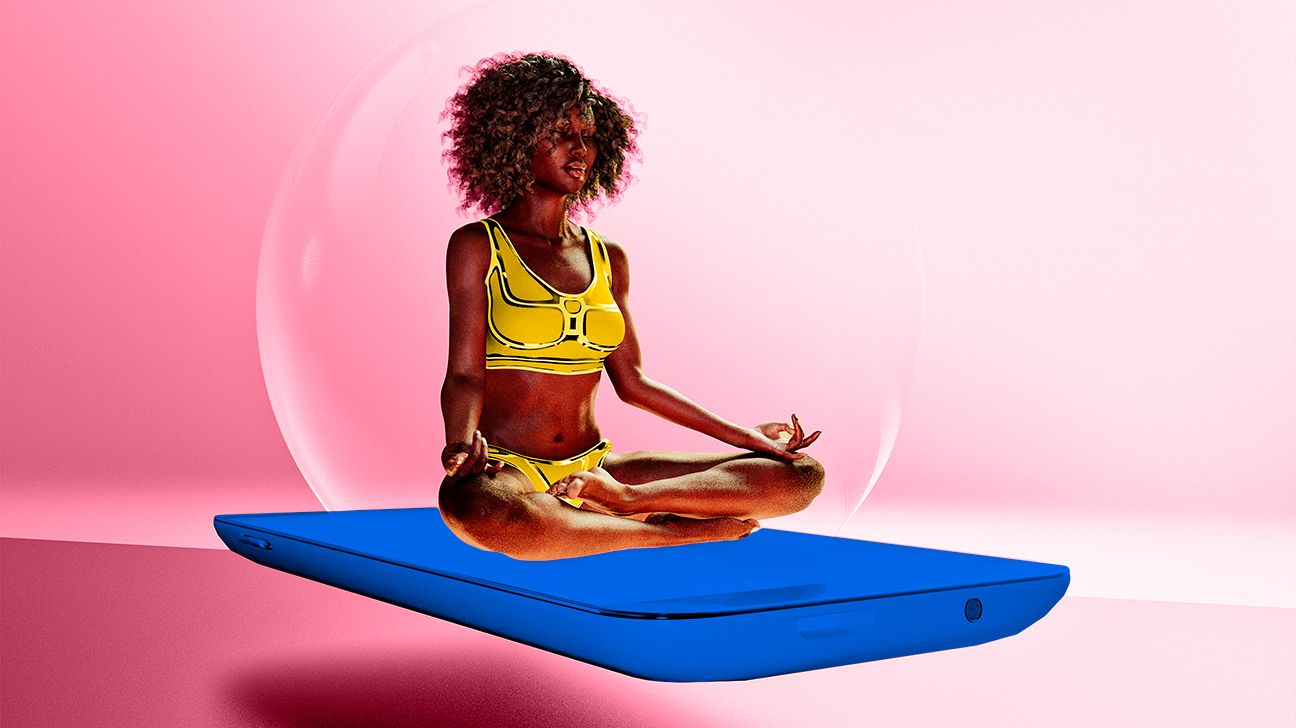 Maybe you or someone you know worships in the church of SoulCycle, CrossFit, Peloton, Barry's Bootcamp, or Les Mills. "Fitness as religion" isn't a new concept, but it's one that's been gaining steam for years, persisting through the 2020 switch to digital.
Group fitness classes create a sense of community with a place to gather, socialize, show off, practice rituals (hello, burpee tuck jumps), and even cry (have you attempted a triple-under?). The isolation over the past year has only increased our need to connect with others — thus the surge in digital fitness innovation, aka the "Netflix of Fitness."
Training apps, wearable tech, and smart equipment provide unparalleled convenience and a social media-esque community. Therefore, they're here to stay.
But let's be real: Just as streaming a church service on a laptop isn't the same as sitting in the Vatican, rolling out of bed to compete with "faces" on a leaderboard isn't the same as feeling the vibes and the friendly competition from in-class sessions. (And who's going to see your cute new leggings if you never leave the house?)
Gyms and boutique fitness studios will invest in group fitness and fine-tune the experience by partnering with local orgs, offering virtual add-ons, and investing in top-notch trainers.
If there's one thing we've learned from 2020, it's the value of rest, recovery, and repair. ("Live, laugh, love" is so 2019.) As we look for ways to unplug from our increasingly digital lives to combat burnout, anxiety, and loneliness, some of us are also looking to disconnect from digital health routines.
The wellness market is experiencing a boom in sleep and restorative health innovation, and it's driving a lot of investment dollars. Enter holistic health clubs, meditation studios, and stretch and recovery labs. The future of fitness may be more like a spa.
Some key players earning street cred from investors and early enthusiasts:
Wearable tech is already getting in on the action. Instead of tracking calories, the WHOOP wristband measures how recovered you are and puts a premium on training optimally and preventing injury. 🤯
Surprise, surprise: The pandemic poured fuel on the already-blazing vitamin and supplement industry. Because this field is getting hella crowded, consumers and investors have their eyes on the best of the best. That means FDA-authorized, personalized, clean-label, clinically backed formulas.
Sleep aids and mood boosters
The people have spoken: We like sleep, and we want more of it. Sleep supplements are expected to grow this year, with melatonin alone getting a boost due to an increase in public awareness. Clearly, stress-relieving and mood-boosting supplements are having a moment.
Some buzzworthy and trending players in the supplement space:
Nutritional supplements revolt
Nutritional science is shifting the focus to personalized practices and continuous glucose monitors as the key to better health.
There's a lot of exciting innovation in using blood tests, the gut microbiome, DNA, and AI to craft bespoke diets — fancy!
Some buzzworthy brands in this space:
The Amazon takeover, the COVID shutdown, and the economic recession continue to pressure brick-and-mortar industries to get creative. Expect to see local gyms bundling with retail and community experiences to offer sponsored events, branded apparel, equipment, supplements, and even delivery services.
Some examples already taking shape:
The Lululemon ambassador program is the OG of bundling local fitness orgs with apparel and offering in-store group workouts. Still a game-changer.
Outdoor Voices launched its #DoingThings campaign, which includes the Dog Jog. (Yes. More of this, please!)
Tracksmith + Trackhouse merged an apparel line with a training community to become the ultimate one-stop shop for all things running in the Boston area.
Plant-based products and alternative "meats" were having a moment pre-COVID and have only gained momentum since.
The pandemic has shed light on the nasty practices and working conditions of meatpacking. What's more, the growing climate crisis, animal welfare concerns, religious beliefs, and evolving personal health interests are tipping the scale in favor of "meatless meat."
A global shift to plant-based eating could save an estimated 8 million lives and reduce food-related greenhouse gas emissions by up to two-thirds by 2050.
A lot of us have become more burned-out, anxious, and lonely over the course of 2020 (not to be a buzzkill). But this year did remind us to sleep more, to eat for strength and resilience, to take more time for ourselves, and to appreciate our time with others — in person or online.
These habits have been a rare source of comfort and are thus likely to carry into our fitness and nutrition practices in 2021 and beyond.