Ah, ham, the classic celebration meal. Affordable, easy to prep, and good for days of leftovers, this OG main dish likes to show up for Christmas dinner, Easter, or any time there are a lot of mouths to feed.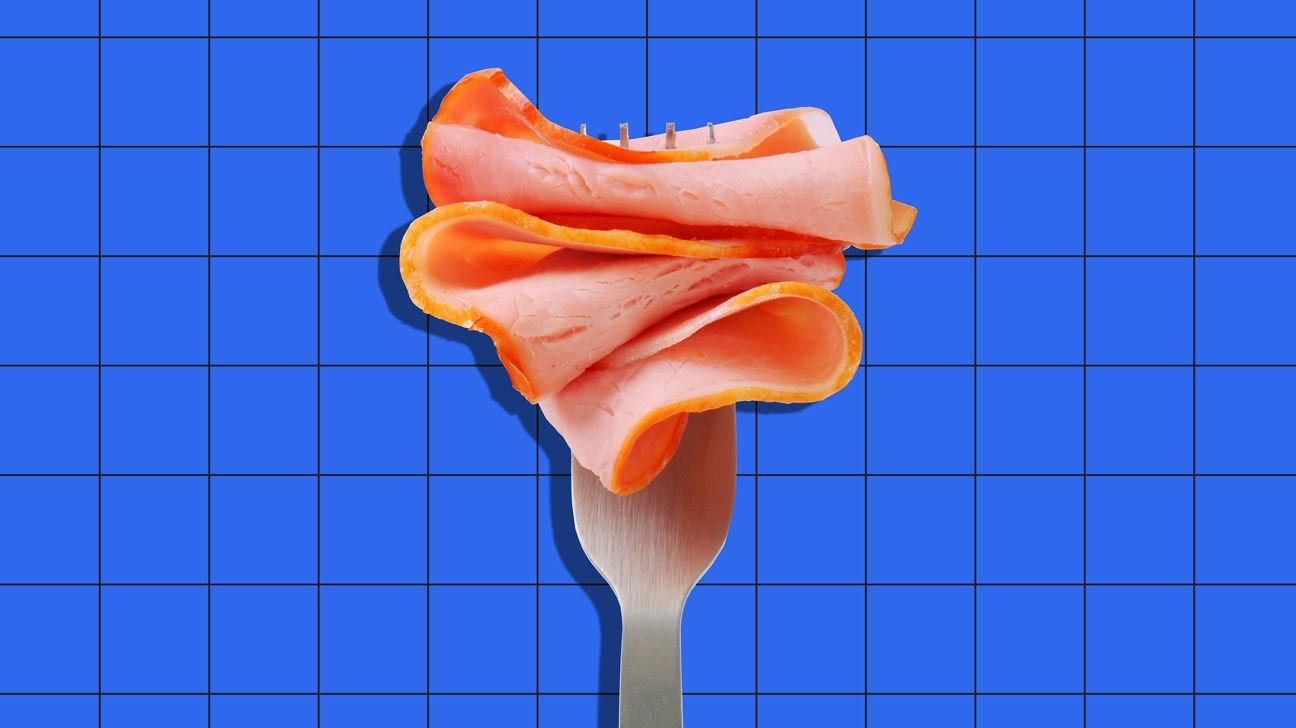 But while serving ham is a no-brainer, figuring out what to dish up alongside it can be a head-scratcher.
To help with this delicious dilemma, we went recipe-hunting. Below, we cover not only the classics (biscuits, mashed potatoes, Grandma's raisin sauce) but also some unique dishes that might turn out to be your new faves.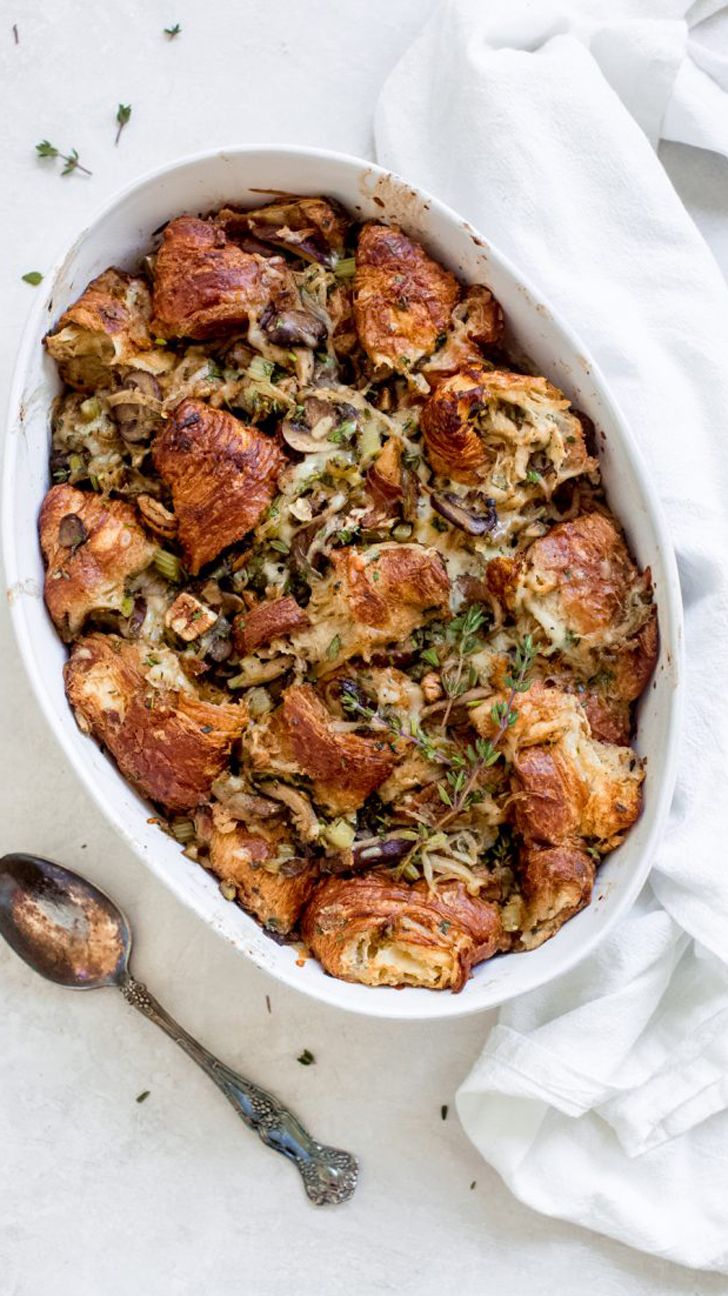 1. Caramelized onion croissant stuffing
Hey, there's nothing wrong with basic or boxed stuffing. But you have to admit this sounds pretty incredible: buttery croissant stuffing laced with sweet caramelized onions, mushrooms, sage, pecans, and Gruyere cheese.
2. Apple stuffing
Sweet, crisp apples are a natural companion to ham. Whip up this easy stuffing that's studded with red apples and fragrant sage.
3. Corn pudding casserole
Corn pudding and ham are a classic combo, and for good reason: They're delicious together. This creamy casserole requires just a few simple ingredients and can easily be made gluten-free.
4. Homemade healthy green bean casserole
Chances are good that you know how to make a classic green bean casserole thanks to Grandma (or the back of a soup can). Switch things up this year with this scrumptious lightened-up version, featuring a creamy sauce and a crispy panko-onion topping.
5. Southern baked macaroni and cheese
Macaroni and cheese with a side of ham — aka heaven. Yes, we think ham is probably the "side" here, as this three-cheese (manchego, Gruyere, and sharp cheddar) Southern mac and cheese is likely to steal the show.
6. Double kale gratin
This creamy gratin is made with not one but two kinds of kale and three kinds of cheese. The crunchy breadcrumb topping takes it, well, over the top.
7. French onion soup
Whether you're serving it as a starter or a side, French onion soup is a classic Christmas course that partners perfectly with ham.
8. Roasted garlic mashed potatoes
One of ham's favorite sidekicks is the mashed potato. Take this beloved side to the next level with this decadent, buttery roasted garlic version.
9. Roasted sweet potatoes with maple butter
Who doesn't love sweet and savory maple-glazed sweet potatoes? This side, bathed in a delicious maple-and-cinnamon-laced butter, pairs wonderfully with succulent ham.
10. Scalloped potatoes
If you remember ham always being served with scalloped potatoes when you were growing up, you're not alone. This classic cheesy dish never goes out of style. And this recipe is the best.
11. Sweet potato casserole with butter pecan topping
Swap a marshmallow-topped sweet potato casserole for a buttery, nutty crumble. This crunchy, creamy casserole is a craveworthy combination of sweet and savory flavors.
12. Crispy balsamic brussels sprouts
These sweet, tangy, and crispy sprouts — tossed with balsamic vinegar, honey, Dijon mustard, and pecans — are so good that even sprout-averse folks might be convinced to try them.
13. Honey-glazed hasselback butternut squash
Hasselback squash makes a delicious (and very pretty) side dish. In this recipe, it's glazed in sticky honey and topped with plenty of fragrant herbs.
14. Oven-roasted carrots and parsnips
Carrots are a classic side for ham, but pairing them with sweet and earthy parsnips is an even better idea.
15. Roasted garlic Parmesan cauliflower
What can make roasted cauliflower even better? Garlic and Parm, of course. Buttery baked cauliflower is a golden-brown, crispy companion for ham.
16. Warm caramelized pear Gorgonzola salad with glazed walnuts
Warm honey-caramelized pears top this baby kale salad. Candied walnuts, tangy Gorgonzola cheese, and a quick sherry vinegar dressing make this salad a sweet and savory spread.
17. Harvest farro salad
This harvest farro side dish is the perfect combination of salad and hearty grains. Kale, butternut squash, cranberries, and pecans pair with a punchy apple cider vinaigrette for a delicious autumn accompaniment.
18. Shaved brussels sprouts salad with apples and walnuts
Try a spin on the typical salad side by swapping lettuce for thinly shaved brussels sprouts. This crunchy salad requires only a few simple ingredients and pairs great with ham.
19. Roasted beet salad with goat cheese
Sweet meets tangy meets earthy in this flavorful salad featuring roasted beets, goat cheese, walnuts, and a bright pomegranate dressing.
20. Brie and bourbon bacon jam crescent rolls
You don't have to make bread from scratch to serve up an impressive (and drool-worthy) roll. To make these, you'll stuff crescent dough with a quick bourbon bacon jam, melty brie, and pecans.
21. Parker House rolls
Soft, buttery Parker House rolls have a crisp top crust and complement ham wonderfully. Bonus: They make delicious sandwiches with leftover ham the next day!
22. Sweet potato biscuits
Biscuits and ham are a natural pairing, but we like to switch things up with tender, flaky sweet potato biscuits.
23. Hawaiian sweet rolls
If you've never paired a King's Hawaiian dinner roll with ham, you are missing out, my friend. Try your hand at making your own with this recipe for the sweet and tangy rolls.
24. Orange cranberry sauce
This zesty, citrusy cranberry sauce is a lovely match for oven-baked ham, especially during the holidays.
25. 5-minute honey mustard sauce
A sweet, creamy, and tangy honey mustard sauce is the perfect companion for ham. And it doesn't hurt that this recipe takes just 5 minutes.
26. Homemade ham gravy
Save those ham drippings! Whip up this gravy with the flavorful drippings, and don't be shy pouring it on the ham and mashed potatoes.
27. Grandma's raisin sauce
Raisin sauce is a classic topping for Christmas and Easter hams — we're talking 1800s classic! You'll understand why when you make this plump, caramelized sauce.
Now that you have these 27 amazing dishes to serve with ham, the hardest part is choosing which one to cook first.
Looking for more? We love to dish about side dishes. Check out our picks for healthy vegetable side dishes and Christmas side dishes.