We include products we think are useful for our readers. If you buy through links on this page, we may earn a small commission. Here's our process.
Greatist only shows you brands and products that we stand behind.
Our team thoroughly researches and evaluates the recommendations we make on our site. To establish that the product manufacturers addressed safety and efficacy standards, we:
Evaluate ingredients and composition: Do they have the potential to cause harm?
Fact-check all health claims: Do they align with the current body of scientific evidence?
Assess the brand: Does it operate with integrity and adhere to industry best practices?
We do the research so you can find trusted products for your health and wellness.
'Tis the season to panic in the kitchen, fa la la la… oy. Even the merriest of Santa's little helpers (you know who you are) can get stressed while cooking a festive feast. But don't worry. We have you and your table covered.
We gathered the 76 best Christmas side dish recipes to give your dinner plate a joyful glow-up.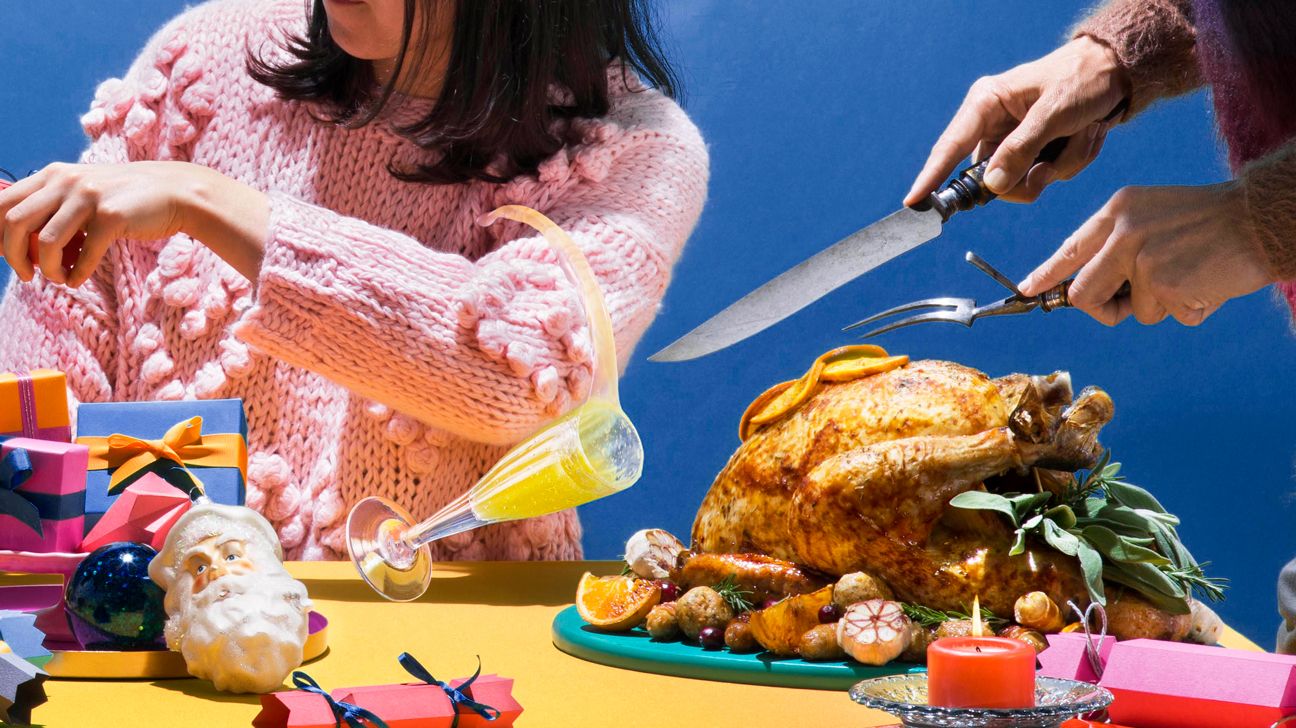 Seasonal dishes that can be whipped up in advance? Yes, please!
Level up your potato salad with this mayo-free alternative. You can also opt for premade pesto, but we highly recommend giving this arugula version a shot. It's super yummy, and the nuttiness gives it a nice wintry feel.
Even the simplest of salads can jazz up a holiday spread. This zesty option is all about the dressing. Bonus: You only need five ingredients!
Orzo is the tiny pasta that could, and this avocado curry orzo salad definitely can. With a creamy texture and hint of spice, it's a fresh and filling take on traditional pasta salad.
You can't go wrong with avocado, the healthy-fat-filled fruit with endless possibilities. The avo chunks in this creamy potato salad give it an extra sumthin' sumthin' that's sure to make mouths water.
Give those ordinary sweet potatoes some Mediterranean flair! The salty taste of feta, olives, and sun-dried tomatoes balances out the sweet potatoes' sweetness. All in all, it's a hunger-satisfying side dish.
This unique spin on a party staple is sure to be a new holiday favorite! These deviled eggs are gorgeously 'gram-worthy. Plus, they're packed with the nutritious power of beets and avocado.
Butternut squash is the perfect cold-weather food, especially when paired with the texture of orzo and the savory flavors of feta and sage. Squash is also high in vitamin C, making this dish merry, bright, AND healthy!
Pro tip: You can use rice if orzo's not your thing.
This zucchini side will totes float your holiday boat! The flavorful and filling combo of zucchini, tomato sauce, and cheese is sure to delight while also leaving plenty of room for the main course… and dessert.
Pro tip: You can use ground turkey, ground beef, or your favorite meat substitute instead of chicken.
This wintry take on stuffed potatoes may seem a bit daunting to make, but we promise it's worth the effort! The variety of spices balances out the notes of brown sugar while accenting the buttery squash taste we all love.
Cinnamon makes any dish feel warm and inviting. But when it's paired with cloves, nutmeg, sweet potatoes, and carrots, you get a soup that tastes like dessert with every bite! Mmm.
You get the best of both worlds with this two-in-one side: delicious cornbread and satisfying stuffing! These little delights are perfectly proportioned and packed with flavor.
Up the holiday ante by adding the festive tang of cranberry to traditional meatballs! This recipe is super easy to make in your slow cooker.
Take your edamame from bland to fab with this snacky side. With hella flavor from garlic and Parm, it'll make you the host with the most.
Why mash or bake your potatoes when you can SMASH them instead? This crispy alternative to traditional taters packs a pesto-y punch. Yum!
A cool-weather take on a springtime favorite, these vegetarian rolls will add a bit of spice to the typical holiday fare. While they may seem complicated to make, even the most culinarily challenged can conquer these little autumn rolls.
This satisfying pasta salad is as delicious as it is beautiful. It almost looks too pretty to eat. You won't want to miss the flavor explosion of figs, fresh herbs, and goat cheese.
You can't go wrong with a fig and goat cheese pairing. Add a little mint and you've got a simple, delicious side salad. It legit tastes like the best crisp winter day (trust us — it's a thing).
Ahh, bread — the ultimate comfort food. This crostini takes things to the next level with creamy goat cheese, savory sun-dried tomatoes, and a balsamic glaze. It's a side you'll want on your table time and time again.
A healthier take on the traditional deviled eggs, this recipe swaps mayo for comforting, nutritious Greek yogurt. Opa!
Give your rice a bit of oomph with this easy side. Just toss three simple ingredients into the Instant Pot and you've got rice that will rival Chipotle's finest.
Another Instant Pot rice recipe, this one packs the rice with flavor and cheesy goodness. Plus, it's vegan, gluten-free, and oil-free, so it'll satisfy a variety of eaters.
This tuna-y twist on a classic Mediterranean orzo salad will look lovely on your dinner table… and taste great too! While this pasta salad may seem heavy, it's actually pretty light. It'll be a refreshing addition to the heavier holiday fare you may be serving.
Pro tip: You can sub shredded chicken for the tuna or leave out the tuna entirely.
This ceviche is a vegan take on a fishy classic. The flavors are *chef's kiss* perfection. It's also lovely to look at.
This protein-packed salad is healthy, light, and full of flavor. Because it can be served hot or cold, you can make it a day or two in advance to save time on the holiday.
This hearty side is perfect for the winter months. It's also super healthy! Filled with vitamins, minerals, and lean protein, it's a great choice to balance out the table.
Sweet potatoes get a little sweeter in this unique alternative to twice-baked potatoes. You mix the sweet potato flesh with maple syrup, quinoa, cheese, bacon, and chicken to create a tasty filling.
Veg it up: Ditch the bacon and chicken for a vegetarian side that's just as yummy.
Make your mashed potatoes a little bit extra with this spicy side. Simply swap out butter for coconut milk and add some red curry paste. It'll def be a crowd favorite!
These stuffed sweet potatoes are perfect for the holidays and beyond. They're dripping with seasonal colors and packed with the best of fall flavors, all in one tasty potato skin!
Mac and cheese is a childhood classic. Bring it into adulthood with this upgraded version. Cauliflower and quinoa up the healthy vibes without sacrificing the comforting flavor you know and love.
Stuffed mushrooms are a great finger-food side. This particular recipe is heartier than your average stuffed 'shrooms. Serve these as a side or an appetizer.
Classic meatballs are always a great side option, and this slow cooker version is perfection! You can also swap out the beef for ground turkey or your fave meat substitute. You'll still get the same delicious flavor.
This savory dinner tart filled with sweet potatoes, garlic, Swiss chard, and feta is just as beautiful as anything you'll find on the dessert table.
Pro tip: Not a chard bard? Swap it for spinach.
This Southern delight, a base of corn pudding covered with cheese and topped with optional roasted chiles, will have you sighing with happiness with every bite.
Can these sweet potatoes BE any healthier? These crispy potato cubes are seasoned with cinnamon, turmeric, and thyme. This extra boost of essential vitamins and nutrients makes them a great alternative to fries.
Turnip for what? For this recipe, of course! The addition of cumin gives the turnips' sweetness a little edge in this juicy side. There are several variations to this one. Feel free to get creative and make it your own.
Soup is always best served during the cooler seasons. Using orzo instead of egg noodles makes this soup lighter on carbs for those keeping track.
Switch things up with this upgraded take on Caesar salad. Using iron-packed kale instead of romaine and getting its creamy cues from tahini, this salad is sure to be your new go-to. Plus, the roasted chickpeas add a more interesting flavor and crunch than your average croutons.
These little puff pastries, made with four simple ingredients, are tasty and seriously cute to boot! You'll have everyone thinking you've channeled your inner Julia Child as they praise these bite-size treats.
This fall-inspired take on the traditional risotto, made with a base of brown rice and butternut squash, is a hearty and tasty side to add to your table. If you want to make it vegetarian-friendly, you can leave out the Parmesan cheese.
If you prefer to stick to the classics and need some veg to balance out all those starchy foods and sweets, this list is for you.
You can't go wrong with a tried-and-true green bean casserole. Combining all the elements of the classic GBC with some special extras (oh hey, water chestnuts and almond slices!), this holiday staple is sure to disappear in no time.
Yes, artichokes and fava beans are spring veggies, but they also make great additions to the Christmas table. Fava beans' slight nuttiness paired with the tang of sautéed artichokes make this side a perfect complement to the savory flavors of your holiday turkey (or Tofurky!).
Everyone will be saying "ooh la la" over this delicious French sauce. Gribiche will give your basic asparagus that little je ne sais quoi. And don't worry, we won't tell anyone how easy it is to make.
Fries are the ultimate side dish. But rather than load up on the greasy deep-fried kind, opt for this healthier take. Dip them in tzatziki sauce or add a little variety with other dipping options like marinara or ranch.
Broccoli and kale might be on your naughty list, but with this recipe, even picky eaters will be stoked to eat their veggies. It's seriously delicious and ultra nutritious.
This simple recipe is a fun twist on the typical bruschetta and bread party staple we all love. It's healthy and flavorful, and since you won't be filling up on bread, you'll have more room to load your plate with other yummy dishes.
Greenify your latke game with this veggie-loaded flavor bomb. You'll get the traditional latke vibe you know and love but with the added nutritional benefits of brussels sprouts.
Charred carrots, fresh greens, and warm, melty goat cheese… we can already feel our mouths watering. This side is so yummy you may forget that it's also super healthy. Getting the carrots just right may require a little practice, but don't worry. We promise it'll be worth it!
Roasted cauliflower is a wintry treat. But we admit that it can be a little bland. With the simple additions of lime, cilantro, cumin, and roasted pepper, this dish turns plain cauliflower into a fun side everyone will love.
This side is the perfect balance of sweet and savory that'll warm you inside and out. Each ingredient gives off that home-for-the-holidays taste. Another perk: It's super easy to make.
Think of these broccoli buddies as Tater Tots' healthier, more adult cousins. Crispy on the outside and soft on the inside, they're the perfect dippers. They'll be a fan favorite for elves of all ages.
Just add cheese! Low in carbs and high in fiber, this take on cauliflower is a great way to punch up the flavor. Simply top your cauliflower with Parm and a few extra herbs and spices before putting it in the oven and voila! You've got a tasty and nutritious side.
This dish is rich, decadent, and oh-so-yummy. A unique spin on the typical gratin, it combines eggplant with a special white sauce, marinara, herbs, spices, and the surprisingly delicious combo of feta and Gruyere cheeses. This dish won't likely last very long at the dinner table!
This hearty side is healthy and cozy, so it's a great option for any winter meal. By combining the fresh flavors of sautéed eggplant, tomato, and onion with the warmth of rice, cheese, and spices, you get a side worth celebrating.
Pro tip: You can use your favorite goat cheese in place of the mizithra cheese.
What's red and green and feels like home? This green bean and cauliflower side! What makes this one special is the tomato sauce, which gives the veggies a hearty taste, making it a perfect addition to your holiday plate.
You can't go wrong with a classic carrot dish, and this side is no exception. It uses all parts of the carrot, so nothing goes to waste. The leafy tops are turned into a light pesto sauce, which you'll drizzle on top of the carrots to create a tasty and beautiful side.
Bonus: You can use the pesto for other dishes once the carrots are gone!
The possibilities with cauliflower are truly endless, as evidenced by these vegan-friendly "steaks." A spin on their beefy cousins, these steaks are smothered in a zesty salsa for a healthy addition to your holiday meal.
Mashed potatoes. Amazing? Yes. Healthy? Eh. Enjoy the same creamy texture and taste with this cauliflower alternative.
"Presto change-o!" good ol' broccoli into something magical with this simple recipe. The combo of lemon, garlic, and Parmesan will mesmerize your taste buds.
Infuse your fave seasonal veggies with the fresh goodness of lemongrass and ginger. This recipe will satisfy every dietary need at the table. It's vegan, gluten-free, dairy-free, low fat, and delicious!
Minty flavors are always a welcome winter treat, and this dish is no exception. Adding mint to simple snap peas elevates the flavors and creates a tour de force of seasonal flavor.
Sometimes you just need a simple go-to dish. Enter roasted asparagus. With only three ingredients, you can have a delicious and nutritious side on the table in no time.
Brussels sprouts: You either love 'em or hate 'em. But even the haters can't deny that this dish is delish. The flavor of brussels sprouts is complemented by the spicy honey sauce, taking this divisive vegetable from "yuck" to "yum."
Roasting is all the rage for cooking veggies. It's a no-frills (yet tasty) way to serve a superfood combo. Simply roast, serve, and enjoy!
Looking to satisfy your sweet tooth, but in a healthier way? Look no further than this sweet-yet-savory side. A wintry blend of root veggies and pears gets drizzled with maple-vanilla butter. It's a hearty dish worthy of any holiday feast.
Rice is the best bet for any holiday side. There are so many ways to jazz it up. This recipe's addition of saffron gives the rice a warm feel. Asparagus and a hint of lemon give it an extra boost of nutritional goodness.
A vegan alternative to green beans and bacon, this side is sure to please. Just sauté green beans and top them with smoky friend shallots. It's a light and fresh take on heavier green bean dishes. (Sorry, green bean casserole — we still love you!)
Here's another way to take your brussels sprouts to new, flavorful heights. This salad-like side combines the superfood power of these tiny cabbages with the crunch of pistachios, the sweet-tartness of cranberries, and the cheesy goodness of Parm for a colorful and crave-worthy dish.
You don't have to be Dwight Schrute to appreciate all that beets have to offer. This refreshing dip will add a sweet kick to the other foods on your plate. Plus, its vibrant color can't be beet.
Ah, the green bean casserole, a holiday season staple. Save yourself time and oven space with this slow cooker version that will please any palate.
Satisfy those sweet AND spicy cravings with this tasty take on oven-roasted carrots. The sweetness of maple syrup balances out the hot-hot-hotness of cayenne to create this healthy and flavor-packed side.
Eating your veggies just got a bit sweeter with these easy orangey brussels sprouts. You can make this dish on the stovetop or save some time by letting your slow cooker do the heavy lifting.
This Christmas-colored side is a perfect pairing with any main dish. The zucchini adds a crisp texture to the soft eggplant. Meanwhile, tomato and herbs give it just the right amount of savory goodness.
Fried foods are a cold-weather comfort. Thankfully, this recipe is much healthier than other fried fare. It's a unique take on traditional broccoli, with a spicy sauce that packs a pleasant punch. If frying isn't your thing, you can also bake it.
A vegan spin on the traditional creamed spinach, this comforting dish is a healthier addition to your winter plate.
Black-eyed peas are more than just a popular early '00s band. These healthy and hearty beans make a cheap, easy, and delicious side. It'll please the whole table, from your meat-loving uncle to your vegan sister.
This zucchini dish is delish and looks fancy AF. While everyone oohs and aahs over your culinary superpowers, you can nod along even though you know how easy it was to make. Simply layer the zucchini and goat cheese; top with mint, nuts, and prosciutto; and voilà!
No matter what you're celebrating this holiday season — or who you're celebrating with — there's one thing that can unite the masses: FOOD. From sweet to savory, healthy to not-so-much, there's something for everyone.