Chips are the perfect snack food. They're universally beloved and readily available in supermarkets and convenience stores worldwide. The satisfying combination of crunch and savory saltiness is just so irresistible! But chips do have one thing going against them: Those pesky crushed bits that collect at the bottom of the bag.
Sure you could eat them by tilting your head back and creating a funnel with the bag (a respectable option, TBH) but that's not your only option, especially when there are too many left to throw away without feeling slightly wasteful.
What to do, what to do? *thinking emoji*
Scoop them up, and make them a welcome ingredient in other dishes, of course! It's a great way to reduce your food waste and liven up some dishes that you may already be familiar with!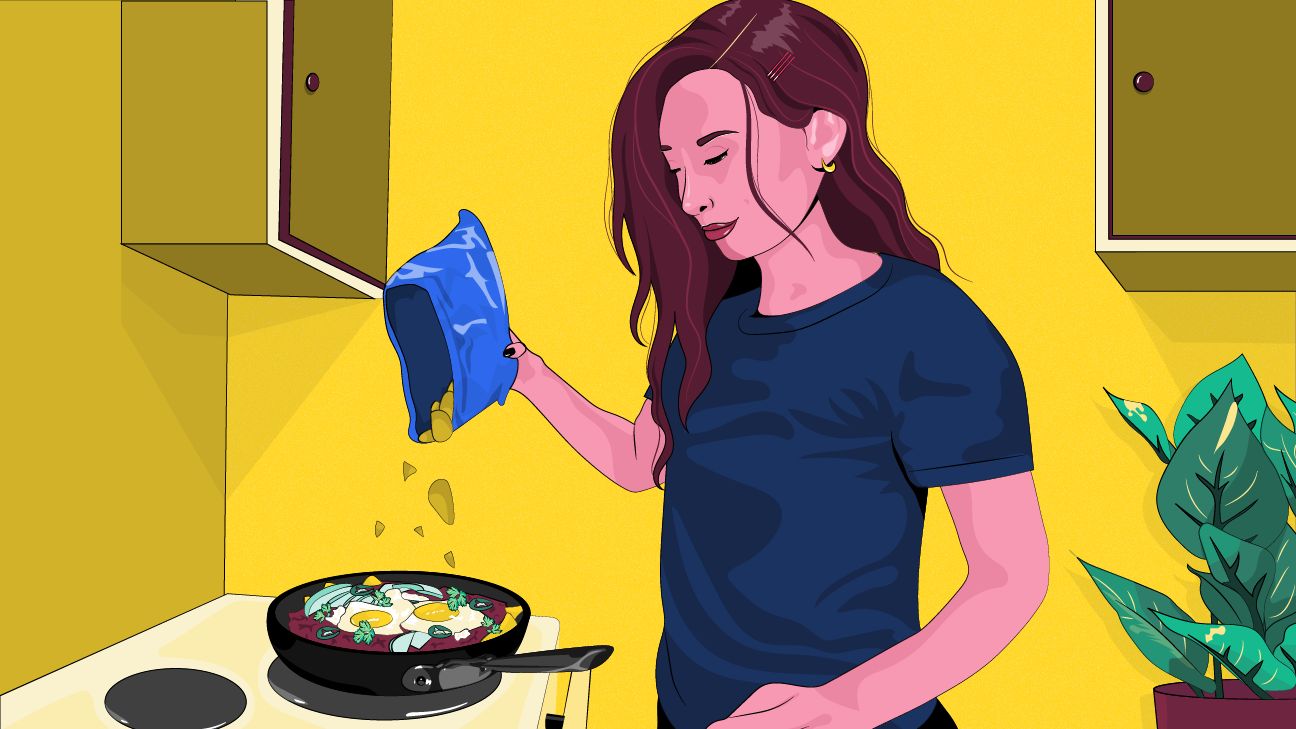 Here are nine different ways to give your crushed chips a second chance to shine.
OK, hear me out — the best salad ingredient can be found at the bottom of your favorite chip bag! Seriously, don't let that flavor gold go to waste. If you have lots of broken tortilla or corn chip bits, try toasting them lightly in a bare pan with a dollop of Tajín and a squeeze of lime for a delicious Mexican-inspired chopped salad topper.
Why we love this: This idea will work with practically any chip or cracker you have on hand! It will add a depth of flavor and contrast to all the fresh veggies or fruit in salads. Save your fragments in an airtight container to preserve freshness, and you will be gifted with the most delicious salad flavor combinations. It will definitely put an end to your boring salad slump!
There's nothing like a nice big bowl of hearty, comforting soup to warm up your belly. If you want a quick and delicious way to thicken up your soup, look in the cupboard and use up those forgotten crushed saltines! This idea works especially well in cream-based soups.
Blend or crush your cracker crumbs until they're quite fine (or leave them a bit chunky for added texture), and stir your cracker crumbs into the soup! A little goes a long way here, but don't forget to save some cracker bits to use on top as a garnish!
Why we love this: We all seem to have those forgotten crackers in the cupboard that are a little past their prime (stale, not spoiled!) and have become sad, slightly broken fragments of their former selves. This idea is a wonderful way to bring them back to life while adding thickness and flavor to your favorite soup. Try it with chicken broccoli soup, cream of mushroom, and chowders!
Up your fried chicken game by using broken potato chip pieces to coat your chicken! It's a technique that looks fancy but is actually a totally simple crowd-pleaser that kids love.
Simply take your chicken breast (pounded for a thinner, even thickness if you'd like), season it as usual, and prepare two bowls. Fill one bowl with an egg mixture and another with your chip crumbs and a bit of flour. Dunk your chicken pieces into the egg mixture until well coated on both sides, then coat with the chip crumbs, pressing them firmly onto the chicken. After that, they're ready to cook! Bake or fry until golden, and the internal temperature of the chicken reaches 165ºF.
Why we love this: The crispy crust is arguably the best part of eating fried chicken. That satisfying crunch and juicy, tender meat are enhanced with the salty, crunchy addition of potato chips! You can have fun with different flavored chips as well! (BRB, I just started drooling.)
What's a chilaquiles, you ask? It's a simmered dish — not quite a stew, but definitely still saucy and satisfying. Traditionally made with salsa and fried tortillas, chilaquiles makes a flavor-packed and substantial breakfast or brunch dish. And using your broken tortilla chips makes for a quick but equally impressive interpretation.
Just take some salsa roja or salsa verde (you can find both in the Mexican-inspired food aisle of the grocery store, or quickly whip up your own), heat the sauce to a simmer, then add your tortilla chips to the sauce, making sure to coat the chips evenly. The chips should soften slightly but still retain their shapes. Serve immediately and eat as is, or pile on the toppings!
Try it with a sunny-side up egg, cotija cheese, and avocado. To make it a heartier meal, add a protein, like shredded chicken, tofu, or carnitas.
Why we love this: This dish is so easy to make, and using up your broken tortilla chips makes it even more satisfying! Who knew that such a flavorful and traditional meal could be found at the bottom of your abandoned chip bag? We love a zero-waste meal!
Broken chips were quite literally made for this delicious Midwestern-inspired snack, which is basically everything you love about tacos, assembled right in the chip bag. The result is a portable snack you can walk around and eat with a fork — hence its name. This snack is best made with broken corn chips, like Fritos. It can also be spiced up with rolled tortilla chips like Takis. But you really can use any chip you have on hand for this — it's just that versatile!
To assemble, you can either use your chip bag, as it's traditional or grab a bowl and pile your favorite taco toppings right on top of your broken chips. Dollop ground beef, shredded cheese, sour cream and salsa right into the bag and eat with a fork!
Why we love this: Everyone loves tacos! This snack is sure to hit the spot when you're craving tacos but don't want to spill taco shells and toppings everywhere (I may or may not be talking from experience). All the deliciousness is contained in a bag (or bowl), which means no mess, just yum.
Cheetos make the most delicious, crunchy, extra-cheesy topping for your macaroni and cheese. To pull this off, go ahead and make macaroni and cheese however you usually do (from a box or from scratch, it doesn't matter), and pour it into an oven-safe dish.
Then, take your Cheetos (any kind!) and crush them in a plastic bag until they're very fine. Mix as much of the Cheetos topping as you like with some melted butter. Add the mixture to the top of your mac and cheese. Bake it for 10 minutes at 350ºF for a gorgeous orange crust that will impress your eyes and taste buds.
Why we love this: Creamy, simple, warm, and comforting, macaroni and cheese is always a good idea. It's what's getting us all through 2020, TBH. Making a crust with your Cheetos crumbs just elevates the overall experience and takes this comfort food to the next level.
You didn't think we forgot sweet options, did you? Add a salty component to your favorite cookie with some broken pretzel pieces! To achieve this sweet and salty dream cookie, just stir crushed pretzel bits into the cookie dough right before scooping them out onto your cookie sheet to bake.
Why we love this: The pretzel pieces stay nice and crunchy, giving really nice depth and contrasting texture to the smooth, melty chocolate of your everyday chocolate chip cookie. Wanna up the indulgence factor? Serve with a scoop of ice cream.
This is perhaps the easiest and most common way to repurpose your chip crumbs, but it still deserves its spot on this list. Simply assembly your favorite sammie and top it with your leftover chips. An unbeatable combination!
Why we love this: There's something so special about eating a simple sandwich with chips carefully tucked inside it. It immediately transports us back to childhood. You can do this with a fancy sandwich, of course, but there's something to be said about the nostalgia of a simple ham and cheese with your favorite chip bits in the middle. Wanna really throw it back? Pair it with a Capri Sun and enjoy the premium early 00s vibe.
You can make this take on elotes (Mexican-inspired street corn), often called "elotes locos," with either grilled or boiled corn on the cob. Slather corn cobs with a generous amount of mayonnaise, making sure to coat all sides (if you don't like mayo, you can use sour cream), then crush some hot Cheetos into a fine powder and coat your elotes with it until completely covered. Then just remember to wash your hands well, so you don't get Cheeto dust everywhere!
Why we love this: Elotes locos are equal parts delicious and Instagram gold. The hot Cheetos' spicy and zesty crunch is super satisfying, especially when paired with the mayonnaise and fresh juicy corn underneath. Elotes are also extremely aesthetically pleasing. Check out popular Instafoodies online, and you're sure to see elotes on their feeds. Give them a try and see what all the buzz is about!
Mayra Mejia (she/her) is a queer Salvadoran-American freelance writer, body liberation advocate, and content creator. She is passionate about fostering a strong and inclusive body positive community and is the founder of PLUSH DMV, a Washington, D.C.-based fat positive community.