Viva la breakfast. It's the first meal of the day, the most important. And to be frank, any meal smothered in guacamole, queso, a runny egg, and hot sauce is worth celebrating.
Traditional Mexican breakfasts have inspired everything from the mainstream breakfast burrito to infinite variations of huevos rancheros (although we'd hesitate to say "too many" — we're not even sure that's possible).
And while they're notorious for being a go-to hangover cure (did we mention avocado and cheese?), they can actually be quite nutritious and easy to make at home. Your abuela will finally have competition.
From chilaquiles to churro waffles to chipotle sweet potato eggs Benedict, these Mexican food recipes will inspire you to ditch your brunch date for your own kitchen — yes, really.
Eggs-actly what the doctor ordered.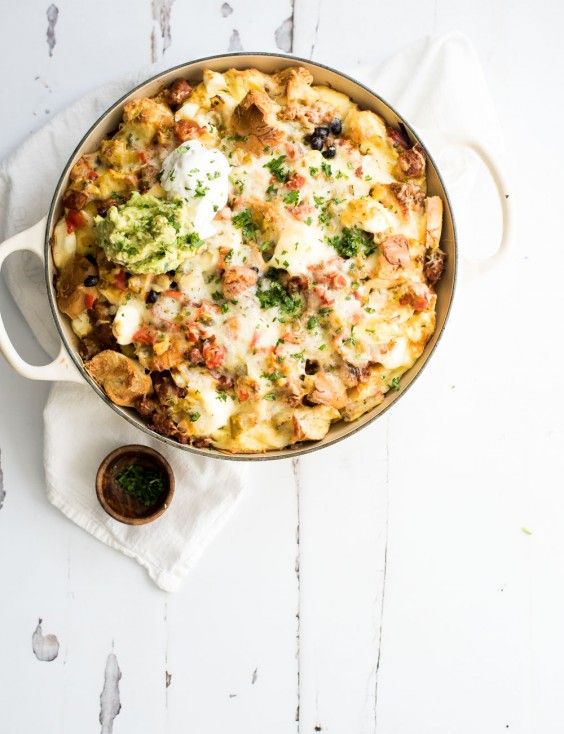 Strata is a layered dish similar to a casserole, and it often has delicious bread woven throughout.
This huevos rancheros-inspired dish uses plain bagels, chorizo, cream cheese, two grated cheeses, eggs, half-and-half, and a homemade rancheros sauce to make a heaping bowl of Mexican heaven.
It's on the heavier side, so enjoy it with friends and, as the recipe creator suggests, wash it down with a smooth pale ale.
Here's an easy black bean huevos rancheros if you don't need the whole chunky strata.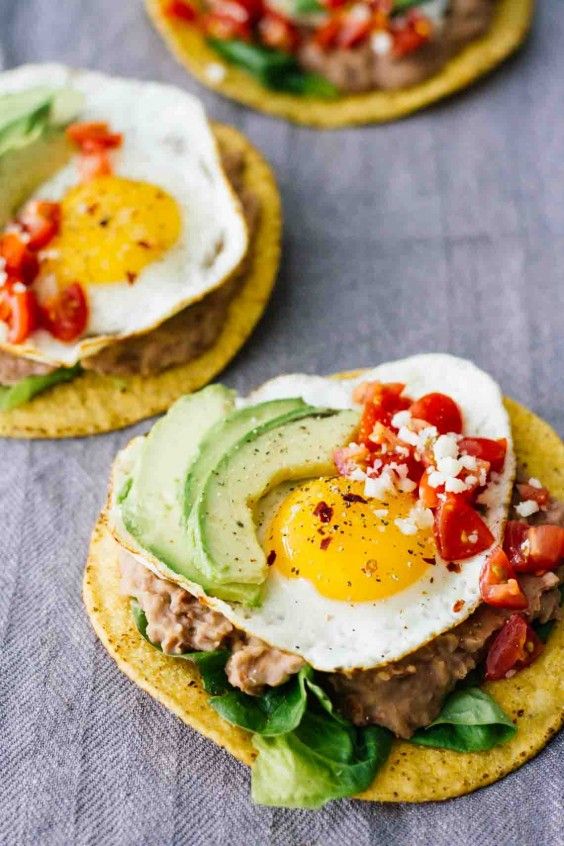 Your weekday rancheros dreams just came true.
These delicious and Instagrammable huevos rancheros take only 10 minutes to whip up, including the avocado-lime dressing, which you won't want to skimp on.
We love using refried black beans and going heavy on the hot sauce. That's just us, though. You can tweak this in any way that will help you wake up feeling primo every day.
If it's the beans you're really after, we've got you.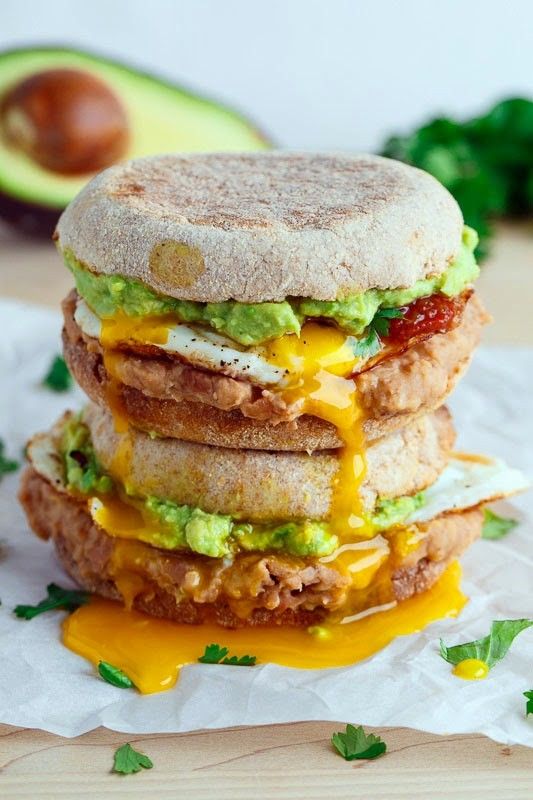 We're all about the multicultural life, and mixing a colorful Mexican banquet with a quaint English muffin is about as tasty and hearty as a culture clash gets.
As if you haven't seen huevos rancheros in enough forms yet, here's one more (last one, we promise).
We love that all the ingredients are squished between two hearty halves of an English muffin (which, if you ask us, is arguably a better vehicle than tortillas for soaking up sauce and yolk).
You can whip up this sandwich in a matter of minutes and polish it off even quicker. Stick with the bacon on this one — the saltiness brings all the magic together.
For when the carne is a no-no.
This recipe may call for three different kinds of milk, but don't let that intimidate you. It's called tres leches ("three milks") for a reason. The reason? It's really good.
You can make overnight oats in bulk, so you won't waste any ingredients. If you absolutely need a shortcut, you can use only unsweetened vanilla almond milk — but trust us, you're missing out on 66.6 percent of the joy.
For our pals with diabetes, here are four milk options that won't mess with your blood sugar.
We love stuffed sweet potatoes. Add a runny egg, taco seasoning, and a drizzle of avocado sauce and we may just have found our Prince Charming. (Look, you have your taste, we have ours, and we may love sweet potatoes a bit too much.)
This recipe boasts all our favorite Mexican flavors but is still Paleo- and Whole30-friendly. Why use a tortilla when you have a nutritious potato jacket — the trendiest carb-based garment?
You can throw pretty much anything inside a baked sweet potato.
There are so many good things about this recipe, we don't know where to start. Mainly that it's upside down.
First off, hash browns made with taco seasoning? Heck yes. Our second-favorite part: You can use the leftovers to make breakfast tacos — just add a tortilla.
Not so into hash browns? Skip the potato. The casserole is still great without it.
Versatile? Flavorful? Easy? This checks all the boxes. If you're making breakfast for a crowd, we've also got some amazing options for you.
Migas is the most underrated Mexican breakfast of all time. And that's migas, not Migos — no Versace over here.
Yes, you have to fry your own tortillas. (Well, technically you could use chips, but trust us on this one.) And yes, slow-cooking the eggs is the way to perfection. But putting in just a little extra efforts yields incomparable flavor and heavenly texture.
We love topping the whole shebang with avocado and pico de gallo, the savior of the Mexican appetizer.
These delicious enchiladas are the perfect meal for a group breakfast or brunch.
They're great for vegans and meat eaters alike, and the flavor is so bold and delectable that even your friends with dietary requirements will be able to chow down without complaint.
To change up the recipe — because making this once means that you'll have to make it again by popular demand — try green enchilada sauce and add spinach to the scramble.
Tofu is a nimble beast that can fit into almost any meal. It can, however, be quite boring. We found 41 ways to spice it up.
Aaaaaaand it's back! Tofu isn't known for its flavor, but the spices and blended tomatoes in this recipe make it unforgettable.
And this recipe even works with unpressed tofu. Simply fill warm tortillas with the savory scramble, top with avocado mashed with sea salt and lime, and throw on whatever other toppings suit you.
They're so good, we can hardly taco 'bout it. (Forgive us — we're thinking only of tacos, and our pun game is off.) Look! Distraction! Here are 32 healthy tacos to eat immediately!
If you often skip eggs Benedict because you don't eat bread or don't appreciate the film work of Mr. Cumberbatch, try this sweet potato version on for size and prepare to change your opinion.
Sweet potato rounds are roasted and topped with tomato, guac, poached eggs, and an incredible chipotle hollandaise. If you're Paleo, skip the mayo and use ghee in the sauce. And, as always, top with more hot sauce if you're brave enough.
Eggs are great. There are plenty of things you can put them on or in. Hooray for eggs!
OK, few things about these mind-blowing waffles can truly be called healthy, but treating yo'self occasionally is healthy, so have at it.
Prep the batter the night before to get the perfect amount of fluff, and definitely go for the vanilla ice cream topping (and caramel sauce).
It's true: YOLO. And that one life should contain as many waffles as possible. Plus, you can always have a green smoothie or salad tomorrow.
For when you wake up and hear that animal protein callin'.
For those new to chilaquiles, it's basically a tortilla (chip) casserole. The hardest part of this super-simple recipe is shredding the rotisserie chicken without managing to eat it all before it meets the other ingredients.
Once that's done, add the chicken to a heap of tortilla chips crushed in a skillet, cover it in salsa verde, and bake the whole business for 15 to 20 minutes.
Top it with whatever fixings you fancy — we love cotija cheese, guacamole, and cilantro — and dig in.
While shakshuka is traditionally a vegetarian dish, Spanish-style chorizo sausage brings a whole other punch to this Middle Eastern staple with a Mexican twist. You can tour the world before you've even had your morning coffee.
You'll cook the onions and bell peppers with the meat, giving it the same savory flavor. Then, scatter crushed tomatoes and eggs over everything. Bake it in a cast-iron skillet, and once the egg whites set, remove the skillet from the oven and top with cheese and herbs.
While the recipe calls for goat cheese and parsley, you can use cotija and cilantro to keep it Mexican-style.
We love everything about make-ahead meals — especially when they taste like this. The only thing you need to consider when waking up is how quickly to pop them in your mouth.
These egg cups are baked with black beans, avocado, cheddar cheese, and bacon — in other words, they have protein for days. We love subbing chicken sausage for the bacon and adding veggies like chopped broccoli to give them even more of a nutritional boost.
If you're big on the make-ahead game, we came up with some batch cooking ideas to take the pressure off the rest of your week.
Another great dish for a get-together, these enchiladas are a super-fun way to change up your breakfast game. We love subbing shredded chicken for the sausage and pepper jack cheese for the colby.
Bake with store-bought green chili sauce and top with homemade salsa or chopped tomatoes and red onion. Or all three — why not?
If you're on the keto diet, here are some chicken recipes to make sure your protein servings are on point.
This Paleo casserole uses sweet potato as a crust and is packed with protein and flavor. The nutritional yeast adds a subtle cheese-like flavor, and the coconut milk gives it that fluffy, creamy texture that eggs typically get from half-and-half.
While coconut and sausage may not sound like a great match, the flavor from the oil and cream are subtle and add just the right touch of sweetness to the onions, peppers, and meat.
This is a more interesting option if you want to seem like you know your potatoes.
To make this breakfast quesadilla, simply crack an egg inside the hole created by avocado slices, top with bacon and cheese, sprinkle with salt and pepper, fold, and cook until crispy.
We love the simplicity — who needs more than bacon, cheese, and avocado? — but as with most dishes, we also enjoy experimenting with different veggies, proteins, and cheeses.
Experiment with your grill this summer to take the food wizardry up another notch.
Eggs, sausage, sun-dried tomatoes, avocado, melted cheese… oh, and the best part: a crispy, crunchy tortilla wrapping. And they get even better — they're also freezer-friendly!
Make a big batch on the weekend, pop 'em in the freezer, nuke or bake, and dunk in guac and salsa. They're equally delicious served fresh and taste great with substitute fillings.
The only thing better than a breakfast burrito is a breakfast burrito casserole. (This is more than "just a burrito," we promise!)
Don't believe us? We dare you to whip this up anyway. If we're wrong, wrap it in a tortilla and call it a burrito. Made with hash browns, chorizo, scallions, and sharp cheddar cheese, this delicious casserole certainly doesn't skimp on flavor.
We love subbing turkey sausage for the chorizo and roasted sweet potato chunks for the hash browns and experimenting with different cheeses.
These breakfast bowls are perfect for lazy mornings or weekends when breakfast happens at noon. Super filling, full of fiber and protein, topped with a perfectly fried egg… what's not to love? (Spoiler: Nothing.)
If you're up for a little extra leg work, make the turkey chorizo — it's leaner than the regular store-bought kind and tastes just as great. Plus, the leftover meat is great in tacos and burritos or as a protein-packed snack.
OK, we did say they weren't all breakfast burritos, but how could we not invite these guys to the party?
Tater tots and breakfast burritos are a match made in heaven. Add sausage, refried beans, cheese, and chopped tomatoes and you've got yourself a love story that unfolds inside your face.
Since burritos are so versatile, feel free to play with add-ins and toppings — it's hard to go wrong. Do yourself a favor and make a big batch. You'll be glad you did when you wake up to eight beautiful breakfast burritos waiting just for you — and a friend, if they're lucky.
For when it's just too early to consider chewing.
Though it's not traditionally what you'd think of as a Mexican breakfast (where is the cheese?!), this green smoothie uses some of Mexico's finest ingredients: jalapeño, cilantro, and avocado.
Blend this green trio with pineapple, orange, lime, cucumber, banana, and kale and top it off with chia seeds as a final touch. That's a total whirlwind of flavors that will wake you all the way up in seconds.
With all those hydrating ingredients, we may just be turning to this smoothie the next time that hangover hits. Green smoothies don't have to be dull.
Making horchata may seem like a hassle, but it's much easier than you might think. And the leftover pulp means you can make amazing smoothies like this one.
Though horchata isn't usually the healthiest beverage (thanks to added sweeteners), making it yourself means you're in control of all the add-ins.
And when it's blended with the likes of frozen banana, spices, and dates, we think it's A-OK to deem it nutritious. Horchattaboy!
Starting the day with a hit of flavor, spice, and satisfying natural ingredients sounds perfect, to be honest. What better way to make sure you're awake for that meeting and full until your lunch break?
If you haven't yet had your fill of Mexican flavors, we put together 44 recipes for when you want to get straight back on it by dinner time.