Soup is the epicenter of all things fall. But while it can be a fast-acting remedy for end-of-the-year chills, the prep can be notoriously slow-moving, with endless chopping and hours of simmering.
And who has time for that when there's cocoa to drink and dismal Christmas movies to binge? (Looking at you, A Christmas Prince and its sequels — never change.)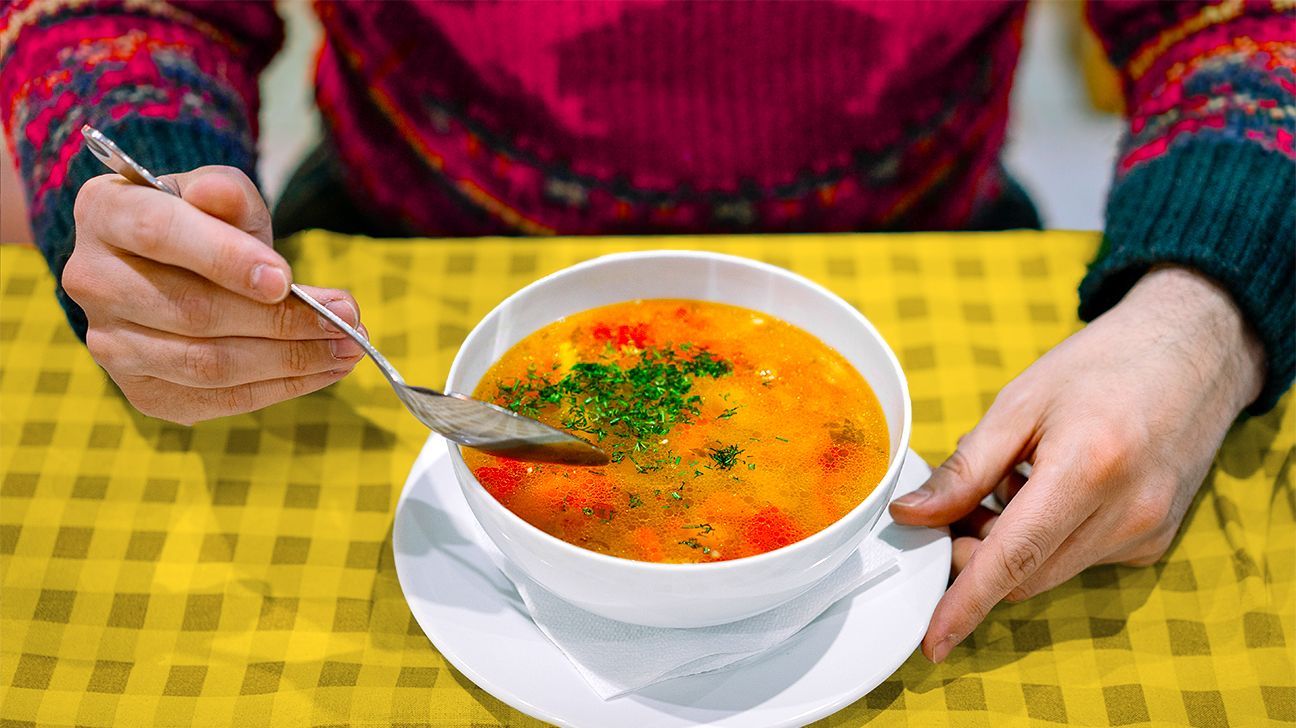 Fear not. These nine hearty vegetable soups use only five ingredients each, put a stop to soup-prep pain, and are guaranteed to keep you cozy all fall without the need to chop.
Pack in the veggies, but keep prep to a minimum.

While the arrival of fall brings warm spices and pumpkin-flavored everything (PSL lovers unite), it also brings the not-so-comforting cold season.
A simple concoction of carrots and celery (plus both sweet and regular potatoes) make up this warm, delicious bowl of comfort.
This simple soup, packed with veggies, is sure to soothe your throat and warm your insides as soon as you start feeling under the (cold) weather.

Nothing says fall like a warm bowl of creamy tomato soup. (And grilled cheese on the side, why not?)
You can whip up this classic in less than 20 minutes with only five ingredients. Swap out cream for Greek yogurt if you want to go a little lighter (aka if you plan on eating two grilled cheeses).

That ginger heat can easily sub in for a fireplace, and it's just one of these five ingredients that guarantee warmth on a cool night.
This vegetarian-friendly soup recipe combines the best vegetables on offer during fall in one creamy bite.
Although roasting the carrots requires slightly more time in the kitchen than some other recipes on this, we promise it'll be worth the wait.
Squashes, unite!
There's no such thing as too much pumpkin, especially when it's combined with the sweet and spicy duo of coconut milk and red chili peppers (and especially during the fall months).
You might forget you're not in a Thai-inspired restaurant after taking your first mouthful.
The delightful butternut squash takes its rightful place at center stage for this fall recipe that takes your soul to Warmville and back.
This creamy butternut squash soup recipe combines our favorite fall flavors of cinnamon, nutmeg, and a hint of maple syrup.
Serve it with whole-wheat croutons for an added crunch or refrigerate it for a delicious reheated lunch during the week.
Because what's more warming and filling than Mexican-inspired cuisine?
This recipe is as soupy as chilis come and packs the same flavors as these hearty Mexican-inspired staples. Plus, with a mere five ingredients (not counting water), it's so easy to throw together that definitions won't matter.
The sweet potatoes and beans will fill you up and hug your insides until your next meal.
This no-chop recipe is your answer to those nights when you crave comforting chow but don't want to feel like you're on the next episode of Chopped.
Just combine black beans, broth, salsa, and spices, then boil and serve. Simple as heck.
So, this one has six ingredients (if you include that sprinkle of black pepper). But you can mix this up with a near-limitless range of toppings. Plus, you can simply fling the veggies and chicken into a slow cooker and let it work its magic.
This is essentially a roast dinner you can eat with a spoon — rich, enriching, and filling.
By making broth out of stripped corn on the cob and water, this recipe takes simple, affordable, and waste-free cooking to a new level.
Add a drizzle of the herb salsa to pack in the heat or serve the soup by itself (hot or cold) for an easy, comforting meal.