Whether you're a die-hard for the holidays or an unapologetic Grinch, there's one holiday feature that everyone can agree on: The cookies!
Bake them, decorate them, gift them, or just devour them in one sitting while you watch Elf — whatever your holiday cookie relationship status is, we salute you.
And in this list of 71 unique holiday cookies, we — almost literally — cover them all, from gingerbread to crinkles to snowballs to thumbprints.
Get that glass of milk ready!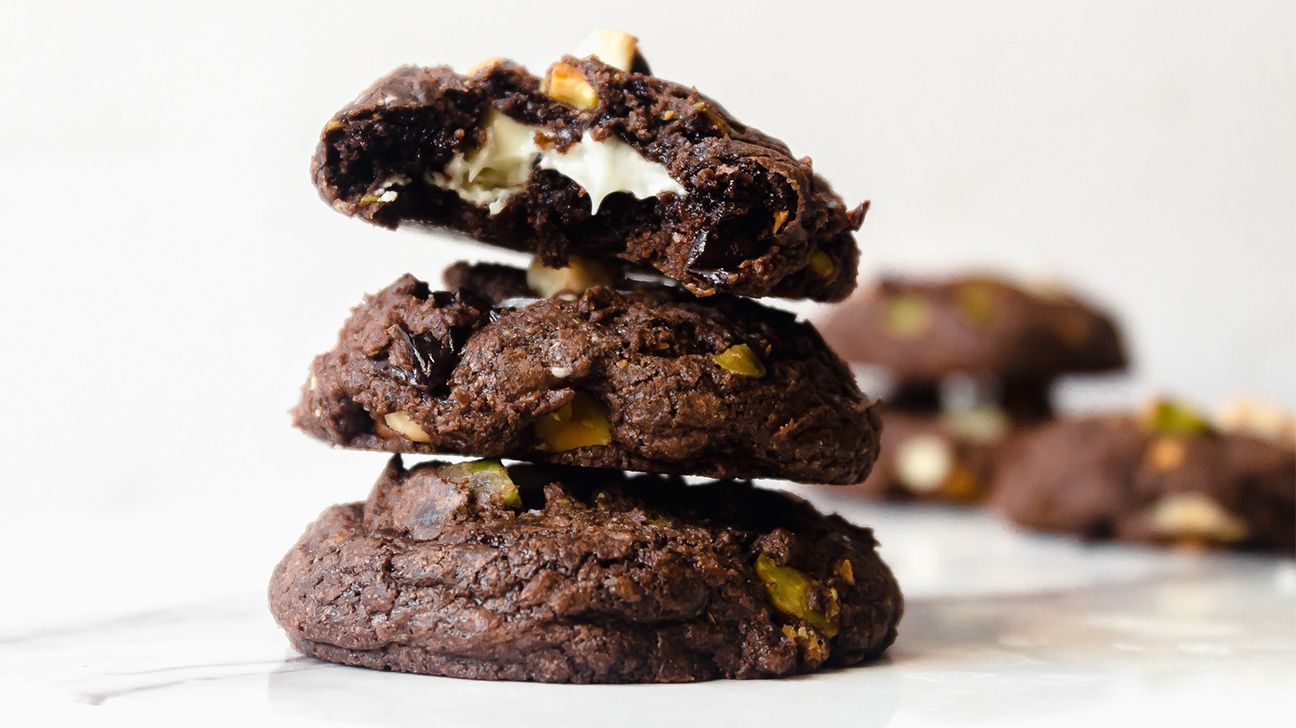 1. Brownie mix cookies
Repeat after us: It's OK to take (much needed) shortcuts during the holidays. Turn a box of brownie mix into these fudgy cookies with white chocolate chunks, cherries, and pistachios. No one will know.
2. Almond snowball cookies
These tiny, tasty cookies are equally perfect for gift giving or simply devouring a few in one sitting. Plus, they'll be ready in 25 minutes.
3. Holiday cookie balls
Don't feel like turning the oven on? We've got you. Make these delicious and festive no-bake Oreo cookie balls.
4. Christmas tree meringue cookies
We know, these look far too cute to be easy! But the wonderful thing is that they are — we're talking two-ingredient easy.
5. Easy reindeer sugar cookies
Sometimes you don't have all day to carefully decorate sugar cookies, and that's totally OK. Make these reindeer cookies instead, which are just as cute and take a fraction of the time.
6. 20-minute vegan white chocolate cranberry cookies
20 minutes and 10 ingredients is all you'll need to make these delicious, freezer-friendly vegan cookies.
7. Peppermint chocolate chip cookies
These drop cookies are a sweet and simple holiday treat, loaded with both white and dark chocolate and plenty of peppermint!
8. Christmas M&M cookies
M&M cookies are beloved by all ages, and the best part is that this simple sweet is a breeze to whip up.
9. No bake chocolate peanut butter cookies
No oven or mixer needed for these cookies. Delicious peanut butter and oat cookies get an indulgent spin with rich, dark chocolate.
10. Spritz cookies
If you've never had a spritz cookie, let us paint you a picture: Crisp, buttery, melt-in-your-mouth perfection. Best of all, you only need six ingredients, and they require no chilling.
11. Easy sugar cookies
Sweet and simple, this easy 10-ingredient recipe is the perfect canvas for your Christmas cookies.
12. Never-fail sugar cookie trees
Is there anything better than a Christmas tree? Well, yes — a Christmas tree you can eat. These no-fail sugar cookie trees are as soft and fluffy as they come!
13. Sprinkle sugar cookies
Don't worry, not all sugar cookies need to be rolled out and cut or even frosted! If you're short on time, these sprinkle-coated sugar cookies are quick and easy, but still festive.
14. Funfetti sugar cookie bites
Most things prove to be cuter in mini form and sugar cookies are no exception. These buttery, adorable cubes are speckled with festive red and green funfetti.
15. Christmas pinwheel cookies
There are not many cookies as fun and merry as these vibrant red and green pinwheel cookies!
16. Candy cane cookies
Twist and transform simple sugar cookie dough into colorful peppermint candy cane cookies, sure to be the hit of any cookie exchange.
17. Eggnog cookies
Want a spin on this year's sugar cookie? Try these soft, chewy cookies topped with creamy eggnog frosting.
18. Melted snowman cookies
Poor melted snowman, we'll save you! (Just kidding. We're going to eat you.) We love how adorable and easy these fun cookies are.
19. Holiday sugar cookie bars
For super easy and semi-homemade cookies, try these bars topped with cream cheese frosting and speckled inside and out with festive sprinkles.
20. Skinny Christmas sugar cookies
Looking to lighten-up the holiday dessert table this year? These skinny sugar cookies fit the bill while still tasting buttery.
21. Ugly Christmas sweater cookies
These ugly sweater cookies are almost as fun to decorate as they are to eat! Plus, the vanilla and warm spices ensure they taste delicious, too.
22. Crisp chocolate peppermint cookies
Peppermint and chocolate go together like the holidays and "A Christmas Story'' marathons, and we love this white chocolate-coated version.
23. Vegan gluten-free chocolate crinkle cookies
For a 100 percent plant-based recipe of the popular cookie, try this vegan and gluten-free version. Just as crinkly and delicious.
24. Chocolate pistachio shortbread cookies
These sweet little shortbreads are perfect for the holidays and just need a handful of ingredients.
25. Chewy chocolate crinkle cookies
The beloved crinkle cookie is a holiday favorite, especially in its most popular chocolate form!
26. Peppermint chocolate thumbprints
Chocolatize your holiday thumbprint cookie this year with this peppermint cream-filled and chocolate-dipped spin.
27. Chocolate cranberry walnut biscotti
Nothing says the holidays like nuts and cranberries. Turn that winning combination into biscotti, and make sure they're dipped in chocolate!
28. Candy cane cookies
These double chocolate cookies are studded with two kinds of chocolate (white and semi-sweet) and look extra festive thanks to red and green candy canes.
29. Double chocolate sugar cookies
Keep things sweet and simple, and let the chocolate shine in these sugar cookies.
30. Chocolate cream cheese cookies
These soft chocolate cream cheese cookies are finished by being dipped in white chocolate and sprinkled with sea salt.
31. Hot chocolate cookies
This is the quintessential winter cookie — big, gooey marshmallows and rich melty chocolate.
32. Gingerbread house
The crème de la crème of any Christmas cookie: The whimsical and centerpiece-worthy gingerbread house!
33. Iced gingerbread man cookies
These are the perfect cookies and tips for throwing a gingerbread man decorating party this year!
34. Traditional Swedish pepparkakor cookies
These traditional Scandinavian Christmas cookies are similar to gingerbread, but a bit lighter in color and flavor. They're commonly made into ornaments to hang on the tree.
35. Lemon and cardamom gingerbread cookies
These stunning star cookies have a unique flavor twist and welcomed perk of bright citrus.
36. Vegan and paleo healthy gingerbread cookies
Looking for an all-diets welcome gingerbread? These cookies are made without gluten, dairy, eggs, or refined sugar.
37. Award winning gingerbread cookies
These soft and chewy gingerbread cookies are extra festive when dipped into white chocolate.
38. Gingerdoodles
Meet the Gingerdoodle, the perfect mash-up of soft gingerbread and snickerdoodle cookies!
39. Gingerbread cookie bars
Do you prefer your gingerbread in bar form and topped with luscious cream cheese frosting? Well, we can't blame you.
40. Gingerbread cookie wreath
This pretty (and tasty!) edible gingerbread wreath is our kind of holiday decoration.
41. Gluten-free gingerbread cookies with cream cheese frosting
Nothing beats a super soft and fluffy frosted gingerbread cookie. And this one doesn't even make us miss the gluten.
42. Linzer cookies with strawberry jam
There are not many cookies as pretty as the powdered sugar-dusted and jam-filled Linzer.
43. Bourbon pumpkin whoopie pies
Prefer your whoopies a little on the boozy side? Hey, no judgement here. These are filled with a bourbon and cream cheese frosting.
44. Dark chocolate candy cane whoopie pies
This spin on the classic chocolate whoopie gets a peppermint-y twist with pretty candy canes around the edges.
45. Grain-free Nutella peanut butter cookies
No one will turn down a Nutella-stuffed sandwich cookie, especially this grain-free and dairy-free version made with homemade vegan Nutella.
46. Italian hazelnut cookies (Baci di Dama)
These sweet little two-bite cookies are delicate, buttery, and sandwiched by rich dark chocolate.
47. Vegan Linzer cookies
The beloved holiday Linzer cookie gets a vegan take here, and we can't say we miss the butter.
48. Pumpkin whoopie pies
A whoopie pie is the perfect marriage of cake and cookie, and we're here for this pumpkin version. Bonus points for making your own pumpkin puree.
49. Peppermint marshmallow sandwich cookies
These darling little chocolate sandwich cookies are filled with fluffy peppermint marshmallow cream.
50. Salted peanut butter Nutella cookies
This recipe doubles the nuttiness by filling soft, salted peanut butter cookies with creamy Nutella.
51. Crème fraîche sandwich cookies
We don't know which part of thee we love more: The melt-in-your-mouth crème fraîche cookies or the creamy funfetti frosting!
52. Red velvet cookie bars with cream cheese frosting
These cookie bars are pretty in red and topped with pearly nonpareils. We appreciate their cookie to frosting ratio.
53. White chocolate red velvet cookies
These chocolate-dipped red and white cookies make a festive and delicious holiday treat.
54. Deep dish red velvet cookies for 2
Just you and your beau this holiday? Grab two spoons and share this warm and chocolatey red velvet cookie.
55. Red velvet shortbread cookies
These sweet shortbread cookies are perfect paired with a mug of hot chocolate.
56. Red velvet whoopie pies
Take red velvet cookies to the next level by baking up soft whoopie pies filled with tangy cream cheese frosting.
57. Red velvet crinkle cookies
Soft and snowy, these deep red crinkle cookies make one crazy pretty addition to your holiday cookie tray.
58. Gluten-free red velvet crinkle cookies
All the crinkle. None of the gluten. For a flourless version of this classic cookie, bake up a batch of these.
59. Frosted red velvet cookies
Red velvet cake, but make it a cookie. These are topped with ultra fluffy cream cheese frosting.
60. Red velvet cookie dough bites
These cookie bites are cute as can be. But did you know they're also paleo, vegan, naturally colored, and gluten-free?
61. Healthy red velvet chocolate chip cookies
You won't believe these soft and chewy cookies are dairy-free, egg-free, gluten-free, and refined sugar-free. Honestly, it's magic.
62. Easy no-bake almond snowball cookies
Not only do these look so festive and pretty, but they're only six ingredients and ready in 10 minutes!
63. Salted caramel stuffed dark chocolate cookies
Chocolate chunk cookies. Gooey caramel center. Sea salt. Need we say more?
64. Pistachio cardamom cookies (Nankhatai)
Flavored with almonds, pistachios, and cardamom, the whole semolina in these cookies lends a unique texture.
65. Christmas magic cookie bars
These nutty and chocolatey cookie bars are magical indeed.
66. No-bake chocolate coconut cookies
These vegan and gluten-free cookies are absolutely delicious and (best of all) you don't even have to turn on your oven.
67. Ube crinkle cookies
This list covered crinkles of all kinds, and now it's ube's turn! This bright purple cookie is guaranteed to be a unique addition this year.
68. Keto Christmas snowball cookies
Eating a keto diet doesn't mean you should miss out on festive, powdered (monk fruit) sugar-coated snowball cookies.
69. Andes mint cookies
The perfect after-dinner chocolate mint, turned into soft, chewy, and lucious cookies!
70. One-bowl chocolate orange cookies
One bowl, 10 ingredients, and 25 minutes are all you need for these delicious chocolaty citrus cookies.
71. Buttercream walnut thumbprints
Swap the usual jam for rich and creamy buttercream in this nutty spin on classic thumbprints!
Still feeling festive? Check out our favorite holiday breads, snacks, and drinks.