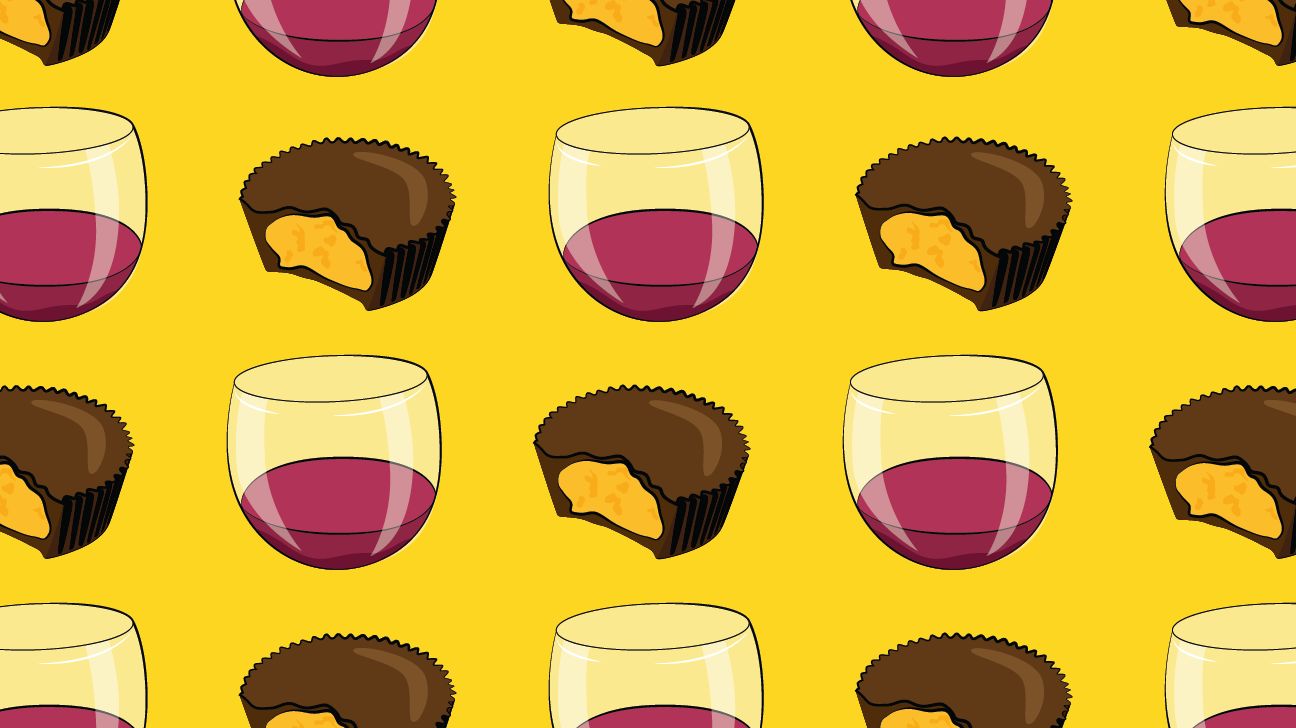 We include products we think are useful for our readers. If you buy through links on this page, we may earn a small commission Here's our process.
Greatist only shows you brands and products that we stand behind.
Our team thoroughly researches and evaluates the recommendations we make on our site. To establish that the product manufacturers addressed safety and efficacy standards, we:
Evaluate ingredients and composition: Do they have the potential to cause harm?
Fact-check all health claims: Do they align with the current body of scientific evidence?
Assess the brand: Does it operate with integrity and adhere to industry best practices?
We do the research so you can find trusted products for your health and wellness.
Wine and chocolate — our love affair continues…
Each is delicious on its own, and when paired, they're swoon-level amazing. But before you go popping a bottle of your usual vino and sampling every truffle in the heart-shaped box, know that it's not that simple.
Here's the lowdown on which wines go best with which chocolates, so you can impress your partner, your paramour, or just yourself.
First thing to know: Wine and chocolate both feature strong flavors and lots of sugar, so there's an art to choosing a complementary duo that doesn't clash in your mouth.
"When considering pairings [for wine and chocolate], ensure that the wine is slightly sweeter than the chocolate," explains Ben Fine, La Crema Wine Educator. "This will prevent the pairing from falling flat and the flavors from becoming muddled."
While pairing wine and chocolate shouldn't be done haphazardly, that doesn't mean it's hard. Start by pinpointing the flavors and textures in your chocolate of choice.
For instance, take a Baby Ruth bar: You have your peanuts, creamy caramel, and lots of milk chocolate. You might choose a smooth-bodied wine with nutty and caramel-y notes to match the candy.
Want some help getting started? Cue the heart-eyes emojis for these seven wine-and-chocolate pairings (which happen to be perfect for Valentine's Day).
Sparking rosé
Pair with: Milk chocolate-covered strawberries
A sparkling rosé — be it a Champagne, cava, or French crémant of the pink variety — boasts ripe berry flavors that match the strawberry right out of the gate.
Milk chocolate is pretty sweet, so the wine's fruitiness, vibrant acidity, and dancing bubbles really complement the chocolate in an awesome way — there's a reason this is a classic pairing. Plus, all that pink and red looks extra festive for Cupid's Day.
Wine recommendation: Prosper Maufoux Crémant de Bourgogne Brut Rosé ($20)
Cabernet sauvignon
Pair with: Espresso dark chocolate truffles
Chocolate and cabernet is such a sexy combo when it's done right. Cab is a big red with bold tannins, dark fruit flavors, and a spicy, chocolaty finish — yum, but this wine can overpower many kinds of chocolate.
Sip cab alongside a dark chocolate espresso treat, and the bitterness from the cacao and coffee will actually bring out the wine's tannins in the best way possible.
Wine recommendation: Dark Horse Cabernet Sauvignon ($7.99)
Pinot noir
Pair with: Milk chocolate mousse
Milk chocolate mousse is truly a melt-in-your-mouth dessert. Then you have pinot noir, a light-bodied wine with soft tannins that feels just as silky in your mouth.
Enjoying the two together creates a synergy of textures and flavors that's downright sensual. Honestly, just cancel your date now so you don't have to share.
Wine recommendation: Kin & Cascadia Pinot Noir ($16)
Dry riesling
Pair with: Chili-infused dark chocolate
Looking to spice things up this Valentine's Day (no new lingerie required)?
A zippy, chili-infused chocolate bar will deliver that element of surprise — and a dry riesling comes equipped with the mineral notes and zingy acidity to take the heat and match the not-too-sweet dark chocolate. (We'll swipe right on that.)
Wine recommendation: Clean Slate Riesling ($10)
Lambrusco
Pair with: Chocolate peanut butter cups
Peanut butter and chocolate is a very rich (and delicious) combo. To take your nibble to the next level, sip some lambrusco — a red frizzante (semi-sparkling) wine known for its bright berry flavors.
It's a match made in heaven: The wine's subtle sweetness cuts through the dessert's creaminess, the light bubbles cleanse your palate, and it tastes like you're adding fruit jelly to your peanut-buttery, chocolaty bite. Who wouldn't want that?!
Wine recommendation: Riunite Lambrusco ($8)
Are you more of a white wine — or white chocolate — person? We got you.
Fun fact: White chocolate is not actually chocolate — it's a yummy, sugary cocoa butter blend. It can also be a toughie to pair with wine because it's super sweet on its own.
We called in an expert to drop some pairing knowledge: Lindsey Auchter, Director of Consumer Experiences for J Vineyards & Winery, Louis M. Martini Winery, and William Hill Estate Winery, shares her favorite mouthwatering wine-and-white-chocolate couples that you're sure to fall in love with too.
Pinot gris
Pair with: Dried pineapple rings dipped in white chocolate
If your V-day dessert involves tart dried pineapple and white chocolate, play off the tropical notes when choosing a wine to go with it.
A crisp pinot gris will bridge the flavor gap because it tastes like ripe fruit salad in a wine glass and balances the white chocolate's sweetness.
Wine recommendation: J Vineyards & Winery California Pinot Gris ($20)
Chardonnay
Pair with: White chocolate cashew turtles
Napa Valley Chardonnay is renowned for its buttery, toasty notes and long finish. This comes from the wine going through a secondary (malolactic) fermentation in oak barrels, which rounds out those flavors and acidity.
A big Cali chard is a natural pairing with the buttery texture of cashews and the hints of vanilla and baking spices in white chocolate.
Wine recommendation: William Hill Estate Winery Napa Valley Chardonnay ($27)
3 steps for the best tasting experience
"When tasting wine and chocolate, it's important to experience each of the components separately before tasting together," explains Fine. "Everyone enjoys pairings differently, so have fun exploring which pairings work best for your palate."
Here are his step-by-step tips for really enjoying your wine and chocolate together on another level:
Step 1: Smell and taste the wine to understand the aromas and flavors, and then do the same with the chocolate.
Step 2: Take a bite of the chocolate, and then take a sip of the wine to see how the two work together.
Step 3: Like what you taste? Repeat Step 2 until you're on a legit sugar high!