We include products we think are useful for our readers. If you buy through links on this page, we may earn a small commission Here's our process.
Greatist only shows you brands and products that we stand behind.
Our team thoroughly researches and evaluates the recommendations we make on our site. To establish that the product manufacturers addressed safety and efficacy standards, we:
Evaluate ingredients and composition: Do they have the potential to cause harm?
Fact-check all health claims: Do they align with the current body of scientific evidence?
Assess the brand: Does it operate with integrity and adhere to industry best practices?
We do the research so you can find trusted products for your health and wellness.
Life is busy and sometimes a trip the supermarket just doesn't fit in. Luckily, there's a slew of produce subscription boxes that can be shipped directly to your door, so you don't even have to go outside.
Similar to a CSA (community-supported agriculture), which connects consumers with local farmers, these subscription services offer the same kind of service — but instead of requiring you to visit drop-off locations to snag your weekly bounty, produce boxes are sent directly to your home.
(Of course, if you want to supplement your produce boxes with a visit to your local farmer's market or even a grocery store, that's definitely an option too.)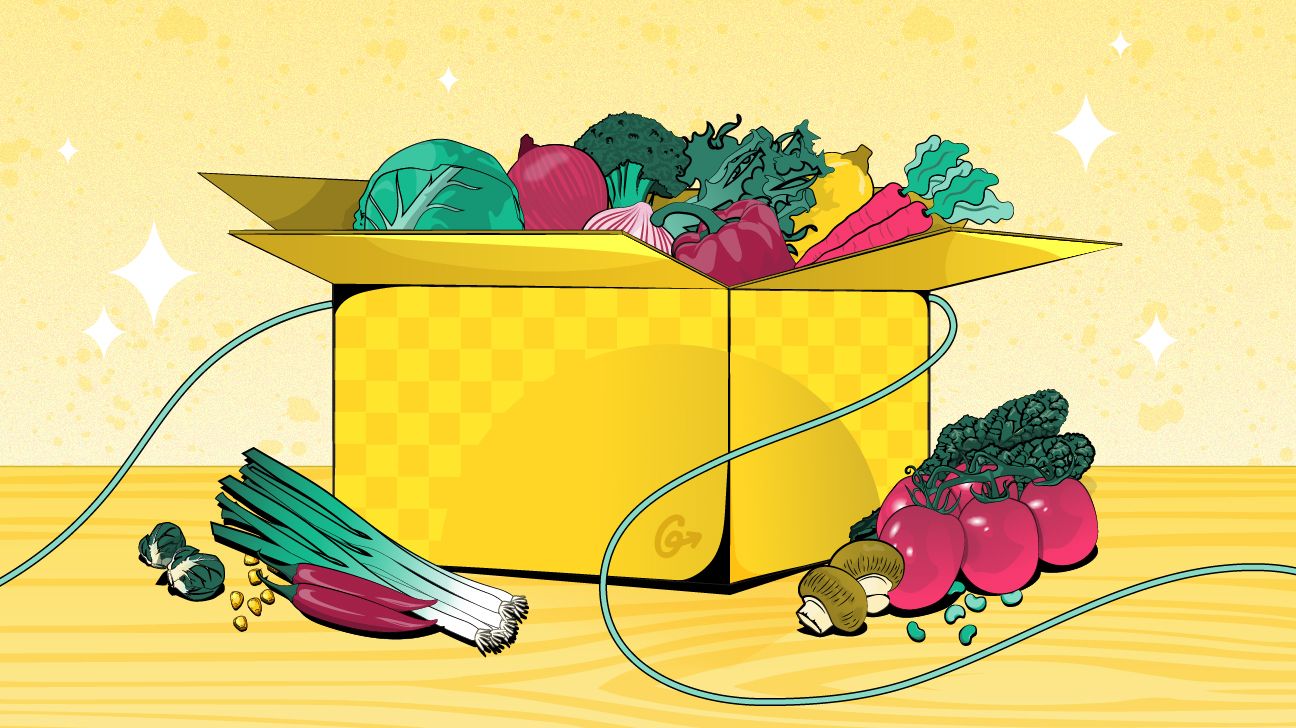 Ahead, our favorite produce boxes on the market right now, all geared toward making healthy eating affordable and super easy.
9 produce subscriptions for home-delivered fruit and veg
Misfits Market aims to prevent food waste by delivering boxes of fruits and vegetables that maybe aren't your average shape or size — but are still perfectly good to cook with and eat.
Plus, Misfits states that its boxes are up to 40% less than what you'd spend at your local grocery store, sourcing organic and non-GMO produce from regional farms and shipping to the Northeast, South, and Midwest (with plans to expand to more states).
Expect an ever-changing selection of fruits and vegetables like leafy greens, watermelon radishes, zucchini, heirloom tomatoes, apples, and mangoes. And fruits and veggies aren't all Misfits sells! They've got a wide selection of other groceries, including dairy products, meats, snacks, beverages, and more.
The plan: Misfits requires you spend a $35 minimum on your order. Each time you order, your cart will auto-populate with seasonal produce, but you have the option to add or remove anything you like.
Need more fruit in your life? Let The Fruit Guys deliver a large assortment to your door. You can choose between organic and conventional produce that's locally sourced from small farms who don't use GMOs, with boxes arriving filled with bananas, apples, oranges, kiwis, and more.
The plan: Choose from four categories of boxes (fruit, snacks, fruit and veggies, and gifts) with the cheapest at $39 and the most expensive at $80.
While supermarkets often reject any produce that aren't "perfect" in shape or size, Real Food Remedy gathers all that excess bounty from local farms and wholesalers and ships it out in subscription boxes.
With their Perfectly Imperfect Produce program, you choose from a slew of different boxes, which range in price, size, and organic/non-organic, and include everything from eggplants and butternut squash to watermelons and plums. Or choose the build-your-own box option for a minimum order of $35.
The plan: Real Food Remedy offers boxes of various sizes in a range of $25-$55 each.
If you live anywhere in the continental United States, you can get Farmbox Direct's shipments of fruits and vegetables.
Farmbox Direct guarantees all organic and natural produce, plucked from local farmers. The menu of produce changes weekly and is dependent on what's local and in season — so you'll never get bored — and if you aren't super into what's picked for that week, you can make up to five substitutions in every delivery so nothing's wasted.
The plan: Farmbox Direct offers a total of 11 different boxes for general use, juicing, and even diabetes management. Prices run the gamut from about $41 for the smallest box to about $79 for the largest.
For over 30 years, the Jones family farm in northern Ohio has been supplying fruits and veggies to both home cooks and restaurants. With nationwide shipping and regenerative farming practices, they make farm-to-table eating easy and planet-friendly.
Plus, you can bask in the glow of knowing you're using the same produce as some of the country's top restaurants.
The plan: Eight vegetable boxes are available, ranging in price from $69-$200. There's also the option to build your own box from a variety of in-season veggies and herbs.
Imperfect Foods operates as both a produce subscription as well as a grocery delivery service.
Organic and conventional produce, which can be customized based on your taste preferences and dietary restrictions, can be dropped off at your door, along with grocery staples and snacks, like eggs, olive oil, and sausages.
Delivery is available to parts of the West Coast, East Coast, and Midwest (with pockets in the South and Southwest), so put in your zip code to see if your location is in the delivery zone.
The plan: Plans are priced based on your household size, whether you want organic or non-organic produce, and if you're looking to add in grains, snacks, dairy, meat, and fish. The small box of 7-9 pounds of produce starts at just $11, while an x-large organic box with 23-25 pounds of produce and other items starts at $39.
While many produce subscription services source fruits and vegetables from a number of farms, Farm Fresh to You plucks organic and sustainable items straight from the company's own family farm in California: Capay Organic.
Simply pick a box, customize the produce to your liking, add other farm products (like hand-crafted jam and small-batch honey), then get it delivered to your door.
The plan: Farm Fresh to You ships six different kinds of boxes, such as traditional CSA, snack pack, and fruit only. Boxes range in size from mini to monster, as do the prices ($29-$65), and you can select to have shipments arrive weekly, every other week, every 3 weeks, or every 4 weeks.
Rather than delivering you the mere building blocks of healthy recipes, Raw Generation takes things one step further by offering them pre-blended into smoothies and cold-pressed juices.
Choose from three "cleanse" boxes or five green juice boxes, all of which contain fresh fruit and veggie ingredients like spinach, apples, berries, melons, kale, and bananas.
If you prefer, you can also DIY a box of juice, smoothies, and plant-based snacks.
The plan: Cleanse and green juice packs come with either 18 or 30 bottles and will set you back anywhere from $140 to $215. There's no minimum purchase for creating your own juice or smoothie box, and individual bottles cost about $9 each.
Although FreshDirect is known as a grocery delivery service for everything — not just produce — the company is now offering subscription-free CSA boxes. Partnering with Hepworth Farms and Lancaster Farm Fresh, FreshDirect allows customers to order produce boxes from the Hudson Valley and Lancaster, Pennsylvania.
The plan: Add the CSA boxes to your cart the same way you would other groceries.
From Hepworth Farms, there's an organic farm share (15 pounds of seasonal vegetables for about $30). And from Lancaster Farms, choose from the "Pretty on the Inside" box with 10 pounds of "ugly" produce for about $25, a local veggie farm share box with cheese, mushrooms, and eggs for about $45, or a "Roots and Shoots" box for about $45.
Having fruits and veggies show up at your doorstep is a great way to set yourself up for success with a plant-based diet or healthier eating in general. Whether you're cool with showing some love to funky-shaped melons or are searching for pristine, restaurant-quality microgreens, there's a produce subscription box for you.