Honey doesn't go bad, but it can lose its flavor or ferment if stored improperly. Store honey in an airtight container, away from sunlight.
Honey is a buzz-worthy kitchen staple. This sweet, syrupy liquid is a versatile food that can be used in all sorts of recipes, from savory to sweet. Plus, it has loads of health benefits.
But how should you store this sticky substance? Is it a fridge or shelf item? And does honey go bad?
You'll bee happy to learn that honey doesn't go bad in the traditional sense. It's a naturally preserved food, thanks to the work of bees. But that doesn't mean that it will stay fresh forever.
Continue reading for advice on storing honey and how to tell if it's past its prime.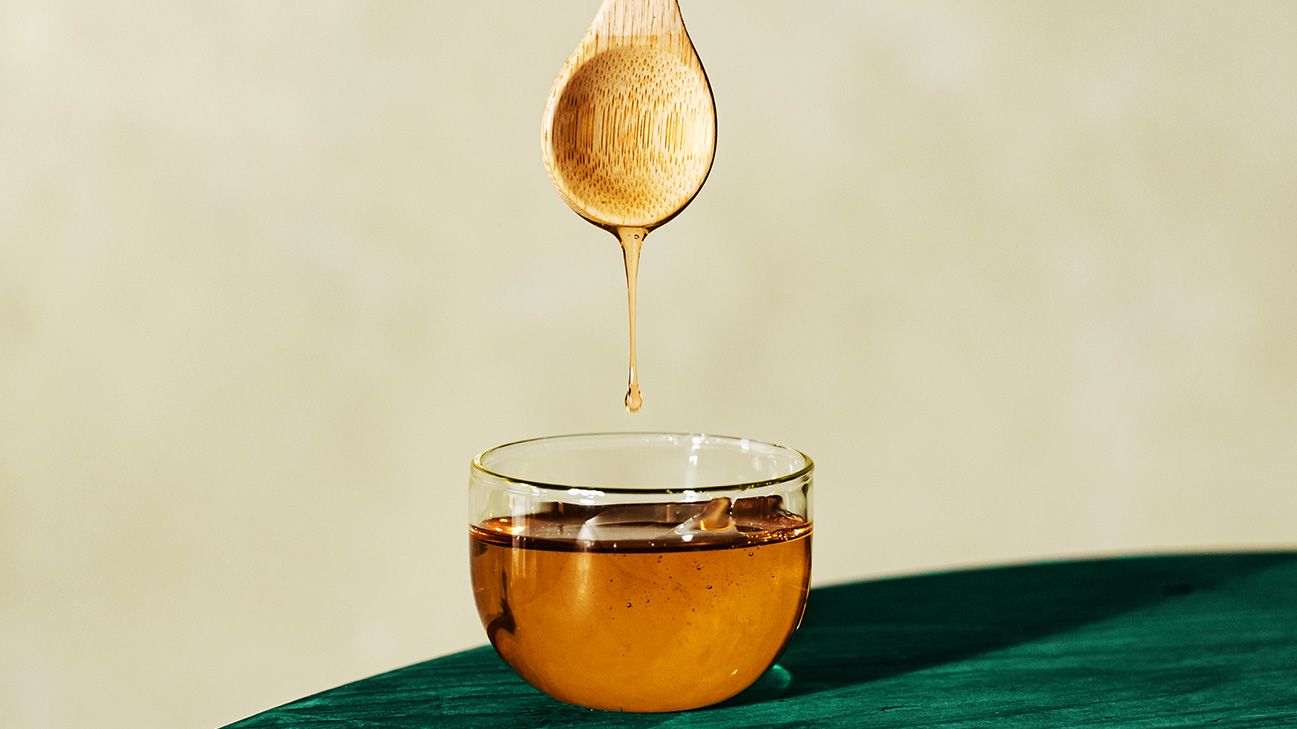 Honey doesn't go bad if it's stored correctly. Over time, honey may darken and its flavor may change, but these are not signs of spoilage. That means it's still safe to eat!
Honey doesn't go bad because its naturally high levels of sugar and low levels of moisture prevent bacteria from growing. Without bacteria, you can't have spoilage. Additionally, honey is acidic which helps it fend off microbes.
And if that's not enough to protect this golden elixir, the bees that make it add an enzyme called glucose oxidase to the honey. This creates hydrogen peroxide which further helps to preserve the honey and prevent spoilage. And yes, it's the same hydrogen peroxide you can use on wounds.
That said, occasionally honey can ferment if it gets moisture in it. If this happens, you'll see bubbles or foam forming on the surface of the honey, and it has a sour smell. Honey that's fermented is usually still okay to eat, but you may not like the funky taste.
Honey doesn't go bad. It can remain edible for years, but because it's a natural product and free from chemical nasties, it changes over time.
Your honey may darken and its flavor may change, but there's no need to bin it. These are signs that it's on the verge of crystallizing.
Crystallization
Crystallization is a natural process that happens when the sugars in honey absorb moisture from the air. The solution becomes saturated and sugar crystals begin to form. Once this happens, the honey becomes thick and difficult to pour.
It's also an easy fix if you don't like the texture of crystallized honey. Just place the jar in a bowl of warm water and wait for the crystals to dissolve. You can gently heat the jar or bottle in warm water. Don't let it go over 110°F so you don't burn it. Also, most bee keepers would suggest only heating up a little bit at a time.
You may also see white or light brown sugar crystals on the bottom of the jar or floating in the honey. Don't panic! It's perfectly normal, and it doesn't mean your honey has gone bad.
Mold
One thing that may make honey look like it's gone bad is seeing mold on the surface. If you're guilty of using crusty ol' spoons to scoop out honey, you may have introduced food particles and germs into the jar. This can cause mold spores or bacteria to grow on the surface of your honey. So make sure to use clean utensils.
Although honey doesn't go bad, there are still some rules to follow for storing this sticky substance correctly.
Store your honey in an airtight container and close the lid properly after every use to prevent contamination from nasties lurking in the environment. It also prevents your honey from absorbing moisture.
Honey is best stored in a cool, dark place like the pantry or cupboard. You don't need to put it in the fridge.
Expiration dates on honey are there for quality control purposes. They're set by the manufacturer and tell you how long they guarantee the honey will stay fresh. They also allow the grocery store to rotate stock so that customers are buying the newest honey available.
If you buy a jar of honey that's approaching its expiration date, it should still be fine to eat. It's just been sitting on the shelf for a while. As long as it's been stored correctly and is still sealed, it should be safe to eat.
Honey has a ton of health benefits. It has antioxidant, anti-inflammatory, and antibacterial effects. Meaning it can help to boost your immune system, soothe a sore throat, and speed up healing.
Here are some other potential health perks:
anticancer effects
reduces blood fats
suppresses coughs
helps manage diabetes
speeds up wound healing
reduces airway inflammation
has neuroprotective properties
may reduce the risk of heart disease
eases asthma and bronchitis symptoms
And if that's not enough, it may help with gastrointestinal tract issues and periodontal disease. Yep, honey is a true super food!
Just keep in mind, eating a gallon of honey a day a la Winnie the Pooh might not be healthy. Honey is loaded with sugar, so eating vast amounts might up your risk of conditions like obesity or diabetes. Also, it's not a cure-all. Def see a health care provider if you're experiencing any health concerns.
Honey is pretty hard-core. It doesn't go bad, but its flavor and appearance may change over time. If it gets moisture in it, it may ferment, but this doesn't make it unsafe to eat. Just don't be surprised if it tastes a bit funky.
Make sure you store your honey correctly in an airtight container at cool room temperature and you'll be good to go for years to come.