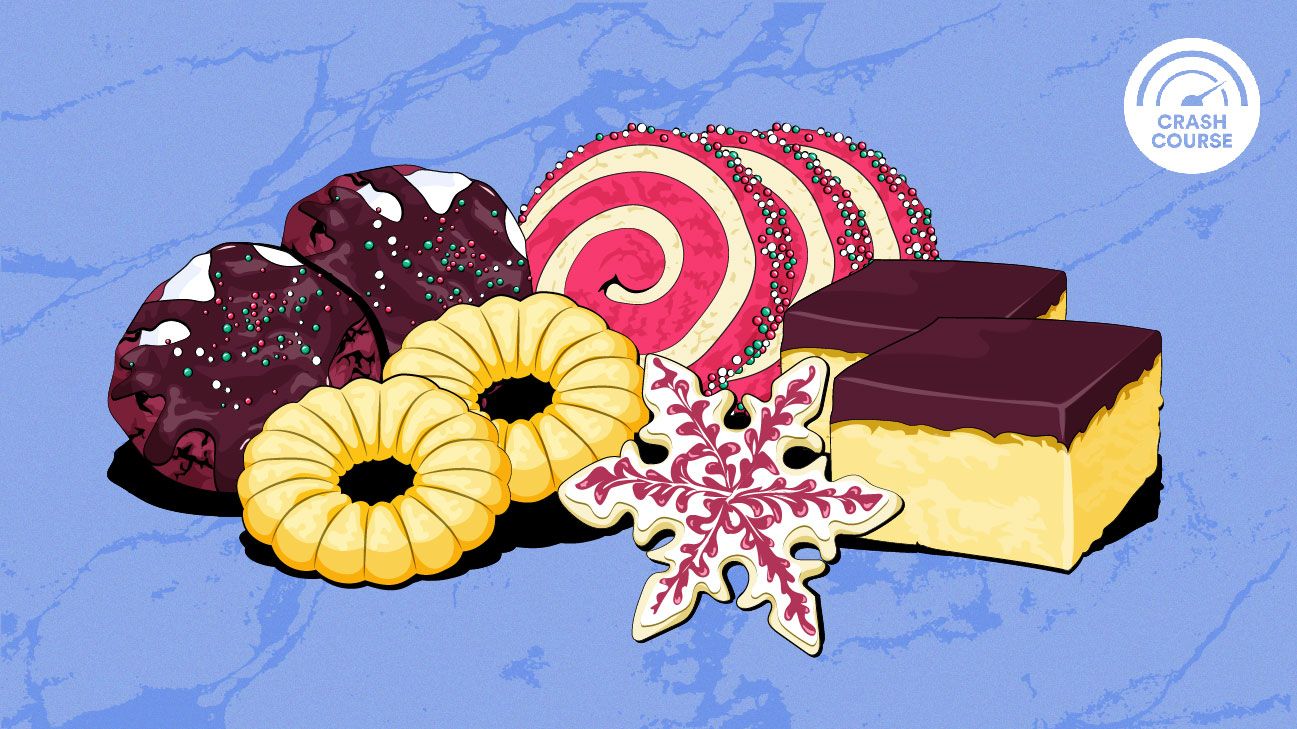 We include products we think are useful for our readers. If you buy through links on this page, we may earn a small commission Here's our process.
Greatist only shows you brands and products that we stand behind.
Our team thoroughly researches and evaluates the recommendations we make on our site. To establish that the product manufacturers addressed safety and efficacy standards, we:
Evaluate ingredients and composition: Do they have the potential to cause harm?
Fact-check all health claims: Do they align with the current body of scientific evidence?
Assess the brand: Does it operate with integrity and adhere to industry best practices?
We do the research so you can find trusted products for your health and wellness.
From melt-in-your-mouth thumbprints to kitschy-but-classic peanut butter blossoms to crunchy biscotti, there's virtually no such thing as a bad Christmas cookie. (We can't say the same for every holiday dessert. *Cough* fruitcake *cough.*)
If you're wondering where to begin for a cookie platter that steals the post-dinner show, we've got you covered. We're breaking down everything you need to know for sweet success, including individual cookie varieties, baking tips, and intriguing recipes that ain't your grandma's spritz.
The butter and flour delights we all enjoy at Christmastime didn't just emerge out of the holiday ether. In fact, the tasty tradition has an interesting backstory.
As far back as prehistory, people have been gathering to celebrate the change of seasons — the winter solstice in particular — always serving the most decadent foods. Once medieval merchant ships brought spices and "exotic" fruits like oranges and lemons to European shores, cooks began incorporating them into their special occasion baking, along with other prized ingredients like butter, lard, and sugar. From here, extra-special spiced and fruited holiday treats trickled down to modern times.
Oh, and the custom of leaving cookies and milk out for Santa? It has a sweet history of its own. During the Depression, parents wanted to encourage their children to think of others as they enjoyed their own gifts — as well as show gratitude to the jolly, red-suited giver himself. A plate of cookies was an offering of thanks for Santa's generosity.
What makes a holiday cookie a holiday cookie?
There are no official requirements for a recipe to enter the canon of holiday cookies. Though many use spices like cinnamon, ginger, or cloves — harkening back to their medieval origins — and lots of them revolve around a butter and flour base, anything that feels festive (and tastes delicious) can be considered a holiday cookie.
In fact, the very act of reserving certain recipes only for holidays is what makes them feel uniquely special. Knowing you'll only make your famous New Mexican biscochitos or chocolate-frosted sugar cookies once a year means you'll look forward to them all the more.
Making holiday cookies extra special
It's beginning to look a lot like Christmas (cookies!). Try these tips for amping up the holiday flair.
Add a dash of color with sprinkles.
Make a festive garnish with crushed candy canes.
Jazz up plain cookie recipes with mix-ins like mini marshmallows, mini chocolate chips, or dried or candied fruits.
Grate in citrus zest or add chopped fresh herbs to a bowl of lackluster dough.
Presentation is everything! Serve holiday cookies in a unique tin, on a pretty platter, or in a box with a brightly colored bow.
If gifting your cookies, make it personal with a hand-written note of holiday greeting.
At the holidays, you're free to make a signature cookie as unique as you are. (Wanna make neon pink crumpets or cookie cutouts of Taylor Swift and her cat? Go for it!) Still, some varieties do tend to make more regular appearances at the end of the holiday buffet. Here are five classic types.
Pressed cookies
No pressure! Actually, wait — lots of pressure! Pressed cookies are any type made with an instrument that presses dough into a unique shape. One popular example is spritz cookies, which get extruded out of a cookie "gun" with a stencil-like disc attached. Itty bitty buttery stars, wreaths, and happy little trees are the result.
Similarly, pizelles, aka traditional Italian waffle cookies, get pressed using a pizelle iron. (Just like a waffle iron, but smaller and with a fancier pattern.) Depending on the ingredients used, pizelles can be crispy like waffle cones or softer like breakfast waffles. Any way you prep them, the lacy or flowery pattern of your iron lets you put your own stamp on holiday baking — literally.
Drop cookies
For a basic cookie anytime, you probably turn to drop cookie recipes. These are exactly what they sound like: dropping mounds of dough onto a cookie sheet and baking. Chocolate chip cookies, oatmeal cookies, and peanut butter cookies all fall into this culinary category — but so do other, more festive treats like cherry jam thumbprints, powdered sugar-dusted chocolate crinkles, and pumpkin white chocolate chip cookies.
Cut-out cookies
Cut-out cookies start with a buttery dough (usually a sugar cookie recipe), which gets rolled flat to a thickness of about a quarter-inch, cut into shapes, and baked. From here, it's a frostable blank canvas — so if you're into creating a signature cookie, cut-outs are where your creativity can shine. Whimsical cookie cutters shaped like ninja gingerbread people or ugly sweaters (or even… the poo emoji?) add bite-sized fun and humor to the dessert spread.
Not a fan of the usual sugar cookie dough? You can always make cut-outs with extra spices, add grated citrus zest or fresh herbs, or opt for a chocolatey version.
Ice box cookies
For old-timey holiday charm, it doesn't get much better than ice box cookies. Today, we know these easy treats as slice-and-bake cookies, but when they were first introduced, they bore this original name because their dough could be pulled right from the fridge, sliced, and baked.
We're all for a store-bought log of cookie dough when time is of the essence, but homemade ice box cookies have even more potential. The vertical slicing of rolled dough is prime opportunity to showcase swirls of color in pinwheel cookies. Or roll the whole log in sprinkles or shredded coconut to add crunch to cookies' outer circumference.
Bar cookies
Do bars really count as cookies? At the holidays, we'll give 'em a pass. After all, who could turn down classics like warm, spicy gingerbread and gooey brownies? Besides their delicious thickness, bars offer the no-fail simplicity of baking all in one pan. Slicing and serving them is often easier than molding or shaping cookies.
Of course, that doesn't mean the flavor or presentation of bars has to be simple. Seven-layer bars, candy copycats like homemade Twix bars, and cinnamon-y sopapilla bars make impressive, holiday-worthy treats.
How to make amazing cookies every time
Which butter temp is better for batter? (Say that three-times fast!) The best level tends to be just below room temperature, around 65 degrees.
Step away from the mixer! Overbeating dough can create tough, too-chewy cookies, so mix until ingredients are just incorporated.
When measuring flour, spoon and level it into cups, rather than scooping the cup into the flour bag.
Opt for light-colored cookie sheets. Dark ones can absorb heat, making crusty cookie bottoms.
Chill out: If time allows, refrigerate cookie dough at least 30 minutes before baking. This helps flavors meld and solidifies fats in the dough.
Always cool cookies completely before storing and keep in airtight containers.
Since butter and flour are the two primary ingredients in most cookies, the prospect of holiday baking can feel daunting for those on gluten- and dairy-free diets. Others who need to stick to a low sodium, low carb, or vegan eating plan might also fear that a cookie-less holiday is in the cards.
Fortunately, there's an ingredient workaround for just about any dietary restriction.
In baking, all-purpose gluten-free flour blends can usually be substituted with a 1-to-1 ratio to regular flour. And dairy-free folks have a variety of options in place of butter. Plant-based butter, vegetable or olive oils, applesauce, and even mashed avocado can add creamy goodness to most cookie recipes. Don't do eggs? Try a flax egg or purchase a vegan egg substitute. With a little trial and error, you'll land on something to fa-la-la about.
Gluten- and dairy-free spritz cookies
These allergy-friendly spritz cookies are naturally gluten- and dairy-free — no tinkering required. A simple list of four ingredients includes a gluten-free flour mix and vegan buttery spread. Grab your cookie gun and get pressing!
Christmas pinwheel cookies
Elevate the cookie platter to bakery-level presentation by whipping up these eye-catching pinwheels. With a red and white swirl on the inside and multicolored sprinkles on the outside, they'll be gone before you can say "merry and bright."
Hot cocoa cookies
Everyone loves sipping hot cocoa by the fire — so how about a cookie version of your favorite chocolatey drink? These brownie-like drop cookies get covered with a half-melted marshmallow, then topped off with chocolate icing.
Gingerbread spiced sugar cookies
When the usual sugar cookie cutouts aren't doing it for you, jazz them up with a dash of cinnamon, ginger, and nutmeg. This tasty mashup is the best of both the gingerbread and sugar cookie worlds. Meringue frosting optional-but-necessary.
Orange cookie bars with chocolate ganache
These orange cookie bars aren't just seasonal as in "perfect after Christmas dinner" — they make use of a seasonal fruit, too. Oranges are in season throughout the winter, so incorporating them into holiday baking is a no-brainer. This surprisingly simple recipe tops things off with an easy chocolate ganache.