You've probably eaten dried figs in trail mix or granola bars, but there's nothing like the taste of juicy, fresh figs.
These Mediterranean darlings, which are in season during summer and early fall, are known for their antioxidants and antifungal properties. They're also a great source of fiber and iron.
Wondering how to eat them? Figs are equally fantastic paired with chocolate or chicken, mixed into everything from oatmeal to salad. Here are 21 fig recipes to get you started.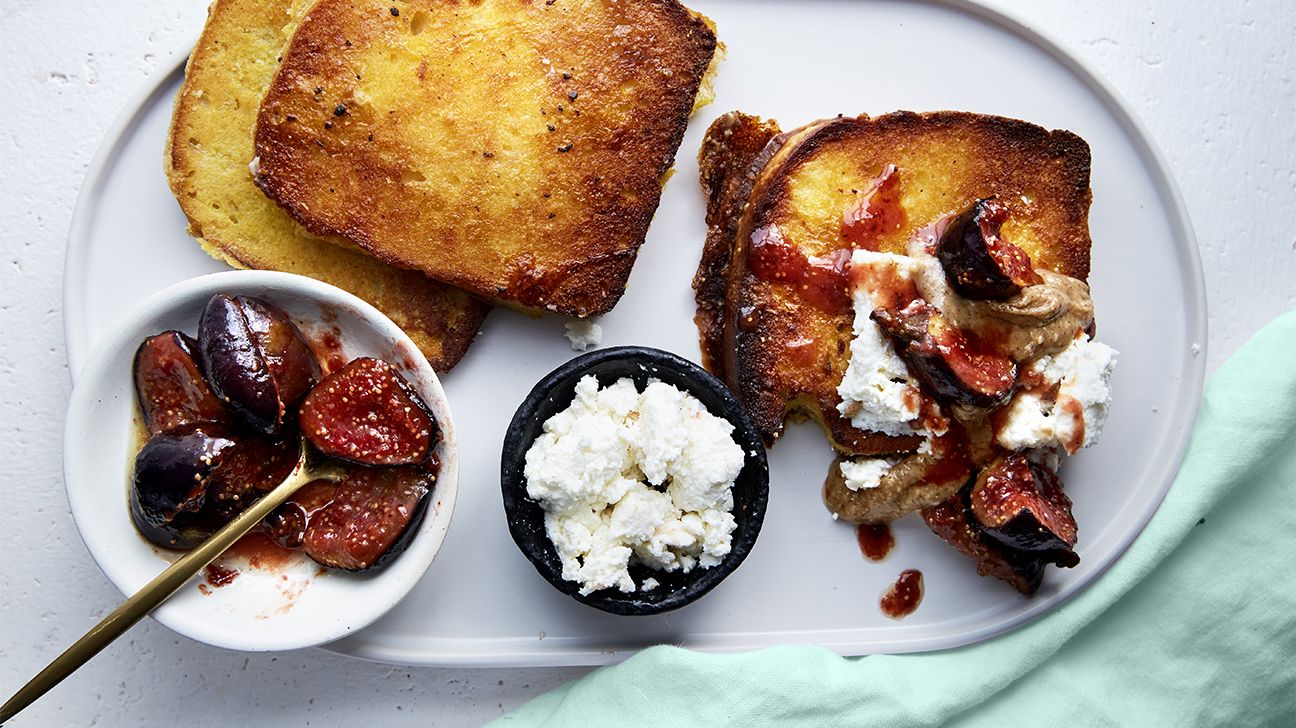 Start your day with a fig-tastic bowl of oatmeal or pudding!
1. Vanilla fig oatmeal with pistachios and honey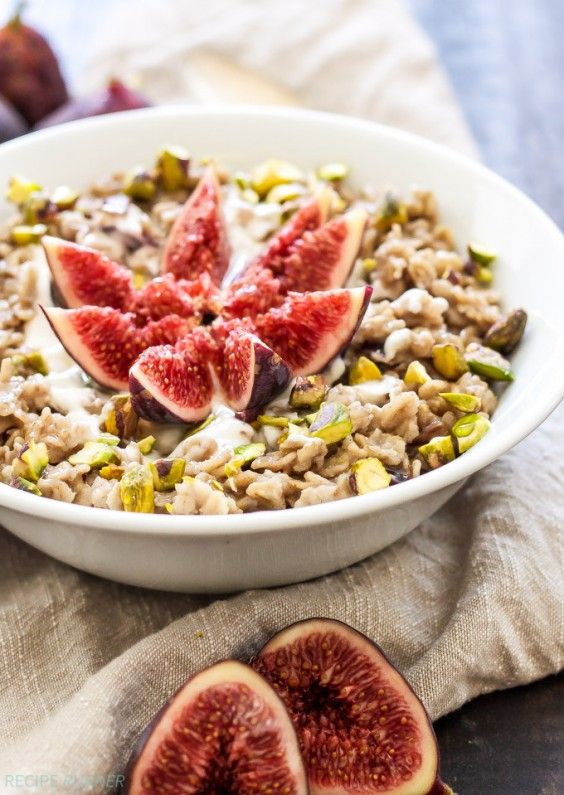 You'll find fresh, figgy flavor inside the oatmeal mixture *and* on top of this recipe. It's a delicious departure from been-there banana or blueberry toppings. This sweet fruit pairs beautifully with the crunchy pistachios, warm vanilla, and hearty grains. It's a delicious way to fuel up for your day.
2. Citrus and fresh fig chia seed pudding
Figs may be "just" a topping for this pudding, but they're so much more than just a pretty garnish. A touch of sweetness. A bit of crunch. Oh, and they're easy on the eyes and taste buds!
3. Fig and honey fruit salad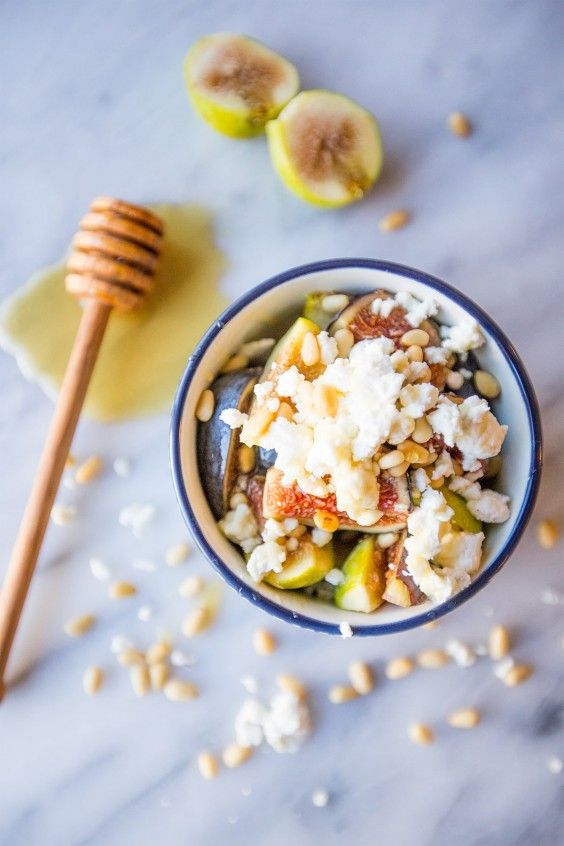 This is no ordinary fruit salad, but it's also not too complex or challenging. Dress up figs with goat cheese, honey, and pine nuts, and you've got a 2-minute breakfast that still manages to provide protein, healthy fat, and fiber.
4. Roasted fig and walnut parfait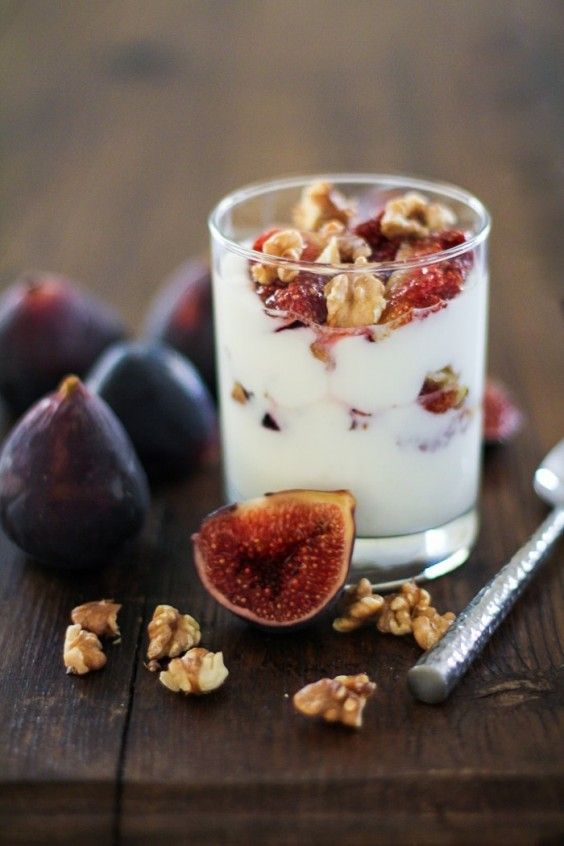 Don't want to put effort into making a homemade fig jam? Roast the fruit instead — it's an easier way to make figs ooey-gooey and sweeter than usual. In this pretty parfait, roasted figs complement the bitterness of walnuts and tartness of Greek yogurt.
5. Carob fig muffins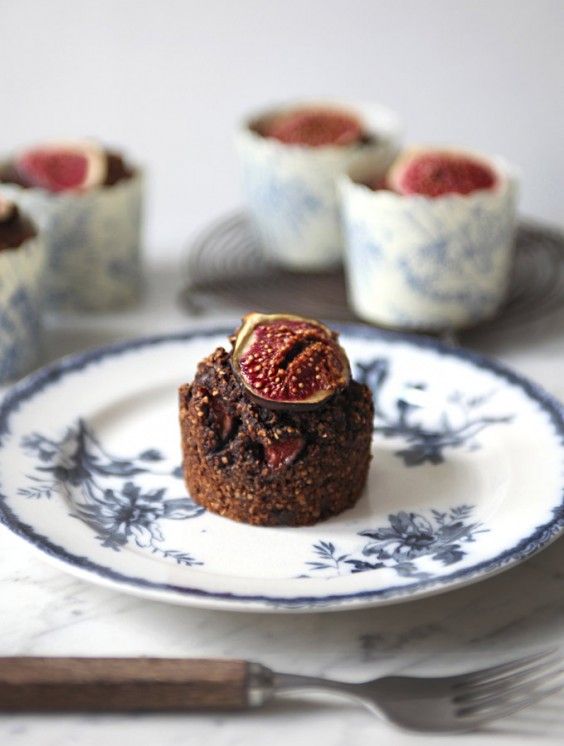 If you can't find carob, cocoa powder should work fine for the chocolaty undertone in these muffins. Smartly sweetened with coconut sugar, applesauce, and figs, they're a much healthier breakfast option than a typical bakery muffin.
Zhuzh up the dinner table with a beautiful, fig-studded side dish.
6. Fresh fig and burrata salad with toasted hazelnuts
Creamy burrata oozes over the arugula, figs, and hazelnuts in this simple but satisfying salad. It looks totally gourmet but hardly takes any time to put together — and requires only four main ingredients.
7. Fresh fig gorgonzola bruschetta
Why mess with a classic combo? With slices of gorgonzola melted onto crusty bread and topped with figs, fresh herbs, and honey, this appetizer is a guaranteed hit.
8. Fresh fig arugula salad with blackberries
Dried fruit can sneakily add more sugar to a salad than you probably want. An easy fix? Use fresh instead.
This salad calls for figs and blackberries, which add plenty of natural sweetness to balance out the savory goat cheese and walnuts.
9. Warm spinach salad with caramelized figs and butternut squash
The sautéed, garlicky butternut squash and caramelized figs give this wilted spinach salad so much flavor, it doesn't even need dressing. Plus, unlike most fromage-infused fig salads, this one is suitable for dairy-free and Paleo eaters.
10. Beef, fig, and red onion balsamic skewers
Fire up your grill (or just heat up the indoor one) for this fun version of food-on-a-stick. We're putting it in the appetizer section, but these tender steak and fig skewers are just as delicious as a main meal or on top of a salad.
11. Roasted brussels sprouts with grapes and figs
Roasted brussels sprouts are the perfect way to welcome sweater weather. Warm and crisp, savory and complex, these greens pair well with the sweetness of grapes and figs.
Like many other sprouts recipes, this one calls for a topping of balsamic vinegar. Don't skip this step! The medley of flavors takes your dinner side dish to the next level.
Figs are healthy and versatile. They go with literally anything. So why not make 'em the main event?
12. Late summer risotto with roasted tomatoes, corn, and figs
The produce this recipe calls for is best in the summer, but you can really make this recipe any time of year — and trust us, you'll want to.
Ingredients like cherry tomatoes, figs, basil, and white wine don't usually find their way into one dish, but when they're stirred into a risotto and topped with Parmesan, the creative combination just works.
13. Fig and caramelized onion flatbread
A low-maintenance version of pizza, this one goes for ready-made flatbread and forgoes the sauce in favor of a caramelized onion and crumbled feta topping. Fresh figs placed on top are a gorgeous finish and give the dish that ideal balance of sweet with the savory.
14. Balsamic chicken with figs
If you're wary about pairing chicken with fruit, this dish might convince you that it works well. The baked figs add just enough fruity flavor, but the zingy, herby Dijon and garlic glaze ensures things don't get overly sweet (pssst! scroll down the blog for the English version of the recipe!).
15. Stovetop socca with fresh figs, parmesan, and cracked pepper
Socca (basically a crispy chickpea pancake) is the perfect base for a topping of fresh figs and Parmesan cheese. Call this the perfect gluten-free alternative to pizza or just a delicious, simple meal in its own right.
16. Fig, prosciutto, and goat cheese panini
Forget the BLTs and the grilled cheeses — this sweet, savory, melty, cheesy panini is in a league of its own.
The fig-prosciutto-goat cheese trifecta is often spotted on appetizer platters. This recipe nestles it between slices of crusty bread, making the ingredients main-meal worthy.
Did you grow up raiding Nana's stash of Fig Newtons? Here are some sweet fig recipes that'll take you back to the good ol' days.
17. Creamy coconut fig popsicles
Almond butter and coconut milk make these popsicles super decadent but not too sweet, so the fresh fig chunks are a great way to cut the richer flavors and add some natural sugar. Also, look how pretty!
18. Coconut fig squares
Making the fig jam here requires 10 minutes or so of stirring, but it's so worth it. And it's lower in sugar than a store-bought version.
Slather the jam between two crumbly, coconut-riddled layers for a rustic treat you can enjoy with your morning coffee, your afternoon snack, your post-dinner dessert… basically whenever.
19. Fresh fig newtons
Fig Newtons seem healthy, but they're surprisingly full of not-so-awesome ingredients like high-fructose corn syrup and partially hydrogenated cottonseed oil. #WompWomp
Revisit the childhood favorite with this healthy twist, which involves a dough of gluten-free oats and walnuts and a figgy filling made even more chewy with heart-healthy chia seeds.
20. Fig brownies
Sure, there's a generous amount of butter in this recipe, but for good reason: gooey, fudgy, chewy results. The recipe also calls for coconut sugar, oat flour, dark chocolate, and fresh figs baked right into the batter. In other words, it's chock-full of ingredients that are healthier than the brownie mix from your grocery store.
21. Fig Newton smoothie
Is it a sweet breakfast or a good-for-you dessert? However and whenever you prefer to sip this fig-infused delight, you're not wrong.
Blend figs with Greek yogurt, whey protein, and a few pinches of warming spices, and you've got yourself a treat that's welcome any time of day or year. Cheers to that!
Don't miss the flavor of fresh figs while they're in season. All you need is the perfect recipe and a little time in the kitchen to take this special fruit to the next level.
Whether it's time for breakfast, dinner, or dessert, there's a wide range of fig recipes to satisfy your cravings. Bon appetit!