Packing your own lunch in the morning saves loads of cash, and it can be way healthier. While eating Mediterranean food (aka all the tomatoes, lemons, feta, and falafel you can put on one plate), you won't miss those fatty subs one bit.
You may not be able to jet to Greece and back in your 1-hour lunch break, but these tasty Mediterranean recipes definitely live up to the hype.
The Mediterranean diet is rich in olive oil (we see you, healthy fats) as well as fruits, veggies, legumes, nuts, and seeds. There's also a bit of seafood on the menu, sprinkles of cheese here and there, and an occasional glass of red wine thrown in for good measure.
If the delicious list of ingredients wasn't enough to convince you, research shows that the Mediterranean diet can reduce the risk of cardiovascular disease, increase fat loss, and protect against type 2 diabetes.Lăcătușu CM, et al. (2019). The Mediterranean diet: From an environment-driven food culture to an emerging medical prescription. DOI: 10.3390/ijerph16060942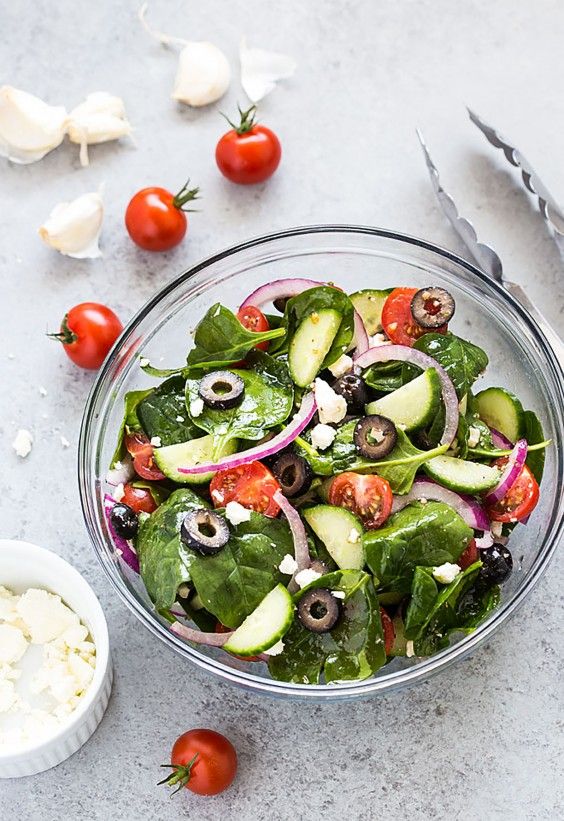 A bowl of classic Greek salad doesn't need any company — it's satisfying enough on its own. Prepare spinach, black olives, cherry tomatoes, thinly sliced red onion, and the beloved salty cheese, feta.
For a simple dressing to suit it, combine olive oil, red wine vinegar, minced garlic, Italian seasoning, salt, and pepper.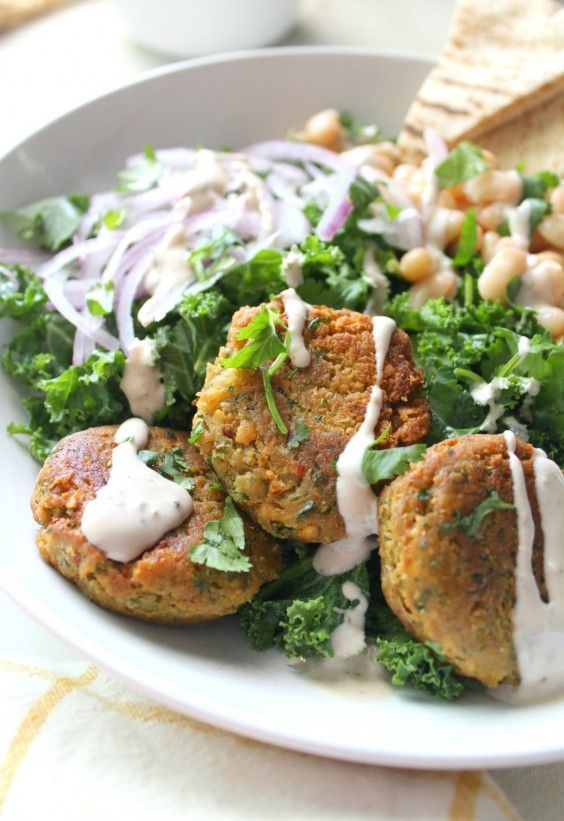 Homemade falafel sounds like a daunting all-day endeavor. In reality, you can whip these vegan fellas up in just 10 minutes.
Just blend chickpeas, onion, and garlic in a food processor and then add cilantro, parsley, cumin, coriander, and red pepper flakes.
Once you've finished frying up your falafel, your base salad is just as simple: kale (marinated in lemon juice), red onion, white beans, and jalapeño.
The blogger points out that kale is amazing for meal-prepping because it can hold up for days — you can't really say the same about spinach.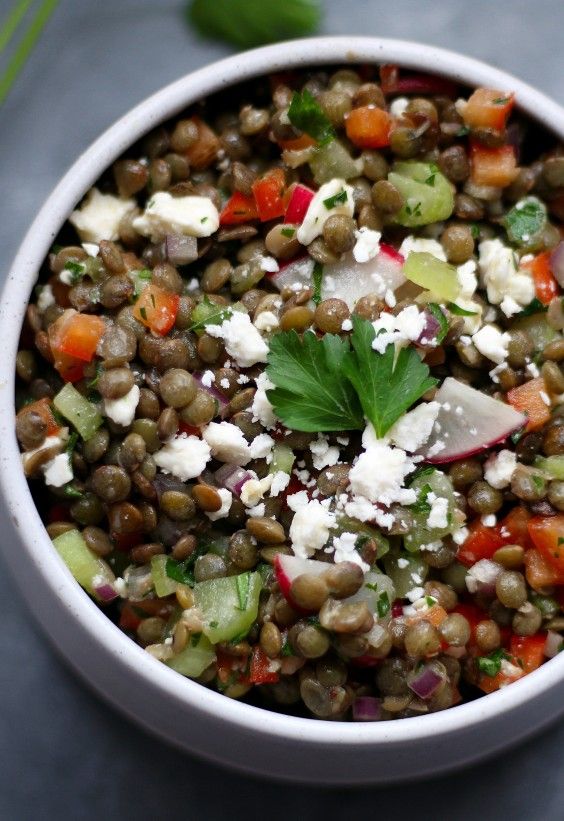 Lentils are a pantry item that can work in a variety of dishes — stews, soups, and more. This recipe has them in a starring role with the help of red onion, radishes, celery, red bell pepper, parsley, and feta.
The best part? You can have a big batch ready in less than 30 minutes, and it'll keep for days.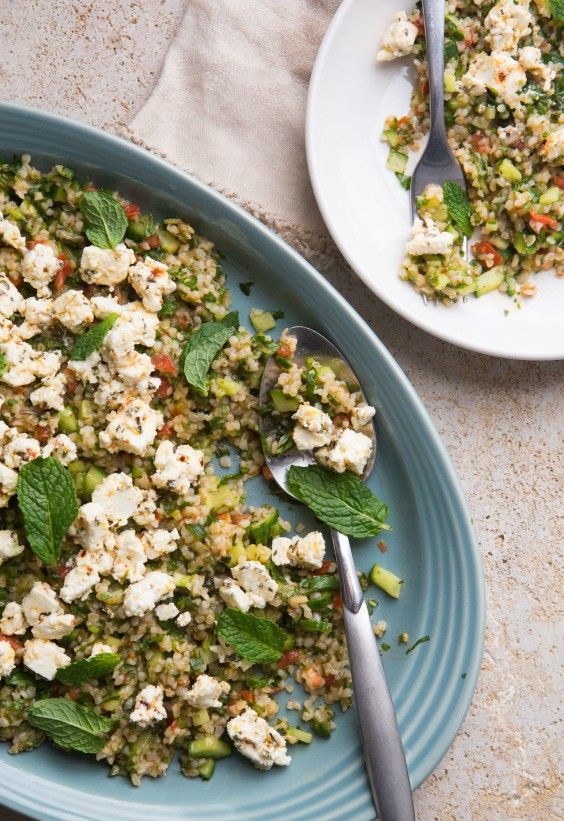 Bulgur can easily hold its own as the main dish in your lunch box. This one is extra lemony and pairs perfectly with all the best herbs: cilantro, mint, and parsley.
As for the must-have topping, you've got feta, which is first marinated in olive oil with lemon zest, garlic powder, and fresh oregano. Hello, salad of our dreams.
No more sad, soggy lunch salads for you, my friend. Try this colorful bowl of quinoa, cucumbers, feta cheese, Kalamata olives, and red onion.
Top it off with hummus, basil, and a dollop of roasted red pepper sauce, and all your co-workers will be peeking over in envy.
This soup plays perfectly with avgolemono sauce (egg and lemon), which, if you've tried it, is probably on your top-foods list. The reheat value on it is great too (so it's perfect for the office microwave).
A bed of farro is a blank canvas, and this bowl's got lemon-and-herb grilled shrimp, bell peppers, zucchini, tomatoes, and olives to jazz it up. The recipe calls for whole-grain farro, but you can use quinoa or even brown rice (hello, gluten-free friends!).
Aren't these adorable? Dense eggplants form the bowls in this recipe. You'll love how easy they are to transport, and they're even easier to whip up in the morning.
Stuff yourself with everything that goes into these: quinoa, mushrooms, whole plum tomatoes, garlic, and homemade tahini. You'll wonder why you ever settled for the salad bar.
This rice-shaped pasta reigns in the world of portable meals. You've probably had your fair share while on the move at summer picnics, so why not prep it for lunches all week?
You can cut down on ingredients as you see fit, but this dish is packed with fresh cucumber, red onion, chickpeas, basil, mint, spinach, and feta, so it's pretty much perfection.
Thanks to the countless alternatives to wheat, gluten-free eaters don't have to give up on that pasta life.
This recipe combines brown rice noodles with roasted eggplant and cherry tomatoes. If you fancy a different type of pasta, like a chickpea- or quinoa-based variety, you can easily swap it in.
We always love our zoodles full of garlic and lemon — the cheese is just a bonus ingredient.
All you need to be ready to meal-prep is butter and dried oregano (which you probably already have), chicken, garlic, lemons, a broth of your choice, and plenty of Parmesan.
You don't need a Greek giagiá (grandma) in your life to master the gyro.
Instead of the traditional lamb, which can get pricey, this recipe subs in tasty turkey meatballs. Wrap them up in a pita and top it with tzatziki. Everything's better when covered in the beloved cucumber yogurt sauce — these are just facts.
When all your favorite toppings become the main event, you know lunchtime will be good. This sandwich is essentially a salad between two slices of whole-wheat bread.
It has lettuce, sprouts, tomato, cucumber, onion, feta, and, as its star, peppadew peppers (both sweet and spicy). As for spreads, try any hummus, but this recipe calls for cilantro-jalapeño hummus if you can swing it.
With so many ingredients to round out these dishes, can you even call this a diet? We're not sure.
Beyond making lunchtime more interesting, the health benefits alone will keep us here. The Mediterranean diet is well-known to protect against many diseases and increase longevity.Romagnolo DF, et al. (2017). Mediterranean diet and prevention of chronic diseases. DOI: 10.1097/NT.0000000000000228 Pass the olive oil, please.