We include products we think are useful for our readers. If you buy through links on this page, we may earn a small commission. Here's our process.
Greatist only shows you brands and products that we stand behind.
Our team thoroughly researches and evaluates the recommendations we make on our site. To establish that the product manufacturers addressed safety and efficacy standards, we:
Evaluate ingredients and composition: Do they have the potential to cause harm?
Fact-check all health claims: Do they align with the current body of scientific evidence?
Assess the brand: Does it operate with integrity and adhere to industry best practices?
We do the research so you can find trusted products for your health and wellness.
The slump — we all do it. Especially those of us who spend 75 percent of our day sitting. That's because the slump doesn't require much effort from our brain or body. It's like our spine's default setting. But years of slumping can lead to chronic pain, zap your productivity, and could even make it harder to recall positive thoughts.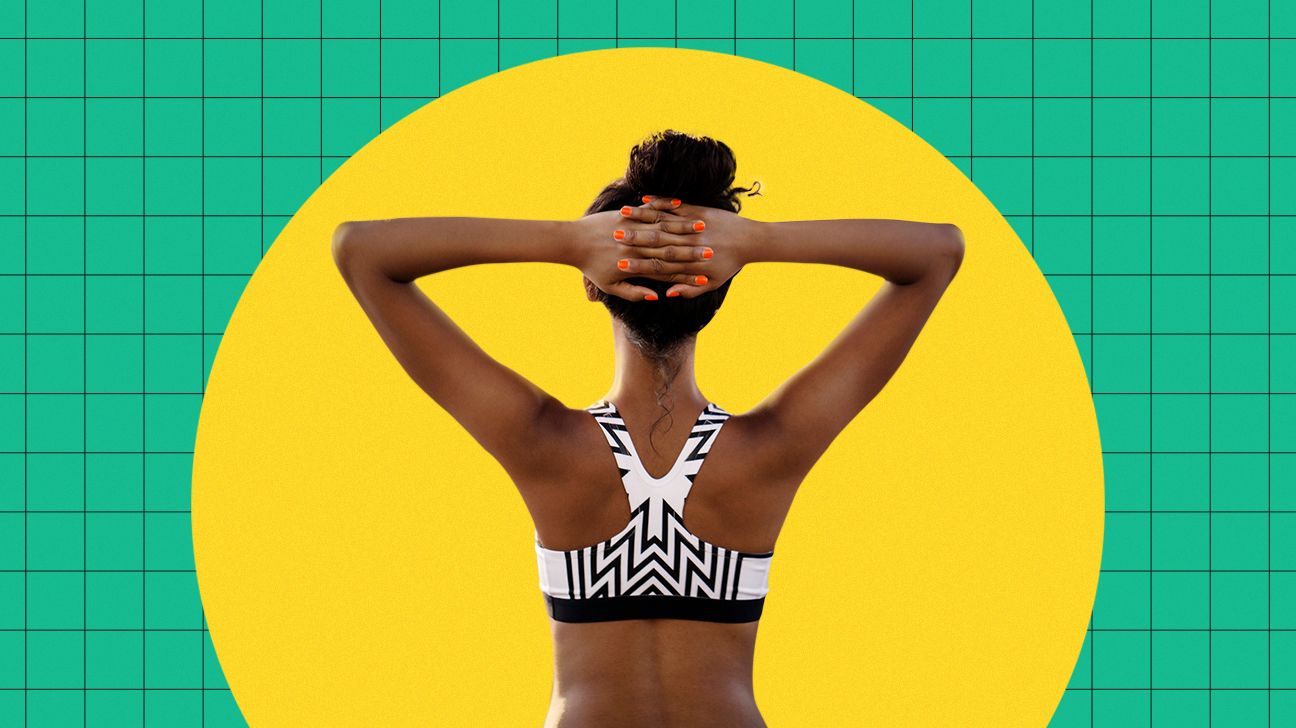 "Good posture, like any exercise, must become a habit to experience results," says Dr. Derrell Blackburn, Senior Manager of Chiropractic Relations and Training for The Joint Chiropractic.
And what's the first step in changing your habits? Awareness.
In fact, research has found being more aware of you posture can help beat chronic pain. That's where posture products come in. While these are by no means a cure-all, they can be helpful tools in your journey of building healthy posture habits. All the products we included have at least a 4-star rating and more than 1000 reviews.
"Wearable posture correctors work to interrupt the habit of slouching and prompt the body to straighten up and sit or stand a little taller," explains Blackburn. "The longer you hold this position and train the muscles around your spine and shoulders, the easier it will be to maintain a healthy posture."
The trick to getting the most out of wearables is putting in the effort. You'll want to read the directions carefully, as many recommend easing into use here and there throughout the day.
Comezy Back Posture Corrector
Rating: 4.2/5
Reviews: 1,930+
Get it via Amazon.
The Comezy Back Posture Corrector is designed to pull the upper body back to keep you from slumping forward, a position that often puts strain on your neck. It also easily fits underneath clothes, in case you're not trying to compromise your office style.
Note: Although the company claims this product will fit any body type, many reviewers complain it doesn't fit their wide chest and shoulders. So, keep that in mind when shopping.
FY Posture Corrector
Rating: 4.8/5
Reviews: 5,760+
Get it via fyposture.com.
As you can see from the number of positive reviews, this corrector is a major crowd-pleaser. Similar to the Comezy, it corrects your back posture by retraining your muscle memory to pull your shoulders back and straighten your upper back.
Many reviewers note that it has substantially decreased their back pain in just a few uses. It also comes with a 30-day no questions asked refund guarantee.
Yep, there's an app for that! Posture apps can be super helpful for training you to pay attention to your posture which, as we said above, has been shown to reduce chronic pain.
"You should look for one that reminds you to move and correct your posture," advises Blackburn. "This may seem like common sense but a memory cue can go a long way when you are used to a comfortable posture that may not necessarily be the healthiest."
UPRIGHT GO
Rating: 4/5
Reviews: 1,930+
Get it via Amazon.
UPRIGHT GO uses the combination of an app and a wearable posture corrector device to remind you not to slouch. The device, which attaches to your upper back, vibrates every time you round your shoulders. It's a good option if you're turned off by how bulky some wearable correctors are.
The app portion is handy because it give you stats on your daily posture habits to see if you're making progress day to day. If you're competitive or just bored AF in your house, you could even make a game out it.
Note: Make sure to read the instructions for exactly how to attach the sticky patch to your skin. We read over a bunch of the reviews and it sounds like you need to prep your skin in order to get the best adhesion.
Stand Up! The Work Break Timer
Rating: 4.7 out of 5
Reviews: 2,100+
Free download for iPhone only.
Stand Up! makes correcting your posture feel like a break. The free app allows you to set reminder intervals to any 5-minute increment between 5 minutes and 2 hours. Once you set your schedule, a customizable alarm will sound, prompting you to stand up.
You can even customize how long you want to stand up for. While the header on the app shows you at a glance how you're doing, the 7-day history will give you insight on how your week went.
Long periods of sitting over a lifetime has been linked to lots of chronic health issues. And one surefire way to avoid this is simply to sit less! Enter: standing desks. These innovations are great for relieving lower back, shoulder, and arm pain while working.
"When looking for a good standing desk, you want to find one where the height can be adjusted to easily accommodate your specific needs," notes Blackburn. "It's also important to have proper ground support like an anti-fatigue mat and shoes that provide ergonomic support."
Blackburn points out that, even with a good standing desk, your focus should be on making postural transitions several times in an hour by switching from sitting to standing.
Our Pick: FlexiSpot M2B Standing Desk
Ratings: 4.7/5
Reviews: 1,360+
Get it via Amazon.
The FlexiSpot standing desk sits right on top of your regular desk so you can adjust the height to how tall you are. It has 12 different height modes, so you can find a position that works for you.
According to reviews, the work surface easily fits a laptop and two external monitors. And people praise it for its sturdiness and how easy it is to use.
Put head-to-head against brand-name VariDesk (which costs a couple hundred more dollars), FlexiSpot scored as good or better in both stability and space.
Don't swap your desk chair for a yoga ball
Using a yoga ball as a chair has been touted as a cure for posture related pain, but we looked into and there isn't a lot of science to back up that claim. Long story short: Yoga balls chairs can be used to strengthen your core for 20 or 30 minutes at a time but using them any longer than that might actually cause worse slumping.
"The lower part of the back, called the lumbar spine, can take a lot of punishment each day doing nothing more than sitting in a chair if it's not properly supported," says Blackburn.
In order to get the most out of a lumbar pillow, ensure the pillow rests in the small of the back to keep the normal curve of your spine. You'll also want to sit in a chair with a firm support.
Samsonite SA5243 Ergonomic Lumbar Support Pillow
Ratings: 4.4/5
Reviews: 3,080+
Get it via Amazon.
Made of high-grade memory foam, this pillow stays in place as it cradles both sides of your spine. It also has an adjustable strap to fit different types of chairs.
Ok, so you've bought all the fancy posture devices and you're actively thinking about keeping your spine straight. You're good, right? Well, not quite. The vast majority us still need to stretch and strengthen if we want to give our bodies the best chance of withstanding regular sitting.
"Oftentimes when we exercise, we only target major muscle groups, leaving the less used joints and ligaments untouched," explains Blackburn. "Yoga, focuses on ALL muscles in your body — including the smaller ones you may not necessarily focus on regularly."
And you'll get the most out of your yoga sessions if you have the tools to help your body get into the poses.
"The purpose of yoga blocks/straps are to support your most natural movements which strengthens your muscles naturally and supports normal, healthy posture," says Blackburn.
Gaiam Essentials Yoga Block
Ratings: 4.8/5
Reviews: 2,570+
Get it via Amazon.
If you're thinking, a yoga block is a yoga block is a yoga block, that was our first thought too. But these blocks from Gaiam are made from super lightweight foam that easily support your weight. And the texture of the foam makes them easy to grip even if you're dripping in sweat.
Tumaz Yoga Strap
Ratings: 4.9/5
Reviews: 1,890+
Get it via Amazon.
Poor posture can result in slumping shoulders and a rounded back. Stretching with the aid of a yoga strap loosens tight muscles in the shoulders and back, reversing forward posture and permitting proper alignment.
This static (non-stretch) yoga strap is designed with an extra thick and special knit technique, which together, makes for a durable yet soft strap that supports a maximum load of 2,379 pounds. Plus, it comes in lots of fun colors.
Pro tip: Use the strap to DIY your own posture corrector by wrapping the strap around your back at the base of your shoulder blade or bra line, then pulling the excess material out in front of you. Place the excess over your shoulders, making sure each side is even. Criss-cross to make an X shape on your back, then wrap the straps around to the front and buckle in place.
If you're more of a visual learner, this video shows what we're talking about.