We include products we think are useful for our readers. If you buy through links on this page, we may earn a small commission Here's our process.
Greatist only shows you brands and products that we stand behind.
Our team thoroughly researches and evaluates the recommendations we make on our site. To establish that the product manufacturers addressed safety and efficacy standards, we:
Evaluate ingredients and composition: Do they have the potential to cause harm?
Fact-check all health claims: Do they align with the current body of scientific evidence?
Assess the brand: Does it operate with integrity and adhere to industry best practices?
We do the research so you can find trusted products for your health and wellness.
About 1 in 4 people in the U.S. sit for at least 8 hours a day, according to a CDC survey. Even more troubling: Prolonged sitting has been linked to chronic issues like back pain, sciatic nerve pain, depression, type 2 diabetes, and some types of cancer.
Now, fitness and wellness pros are singing the praises of a possible antidote to this modern lifestyle crisis: the yoga ball chair.
Also known as a stability ball or exercise ball, a yoga ball is often used during exercise routines to help expand range of motion and improve balance. But with a growing number of people sitting while they work, the exercise ball has moved from the gym to the office.
Whether this form of "active sitting" is effective — not to mention safe — isn't so clear. To learn more, we rang up some experts and looked over the research. Turns out, things aren't so black and white.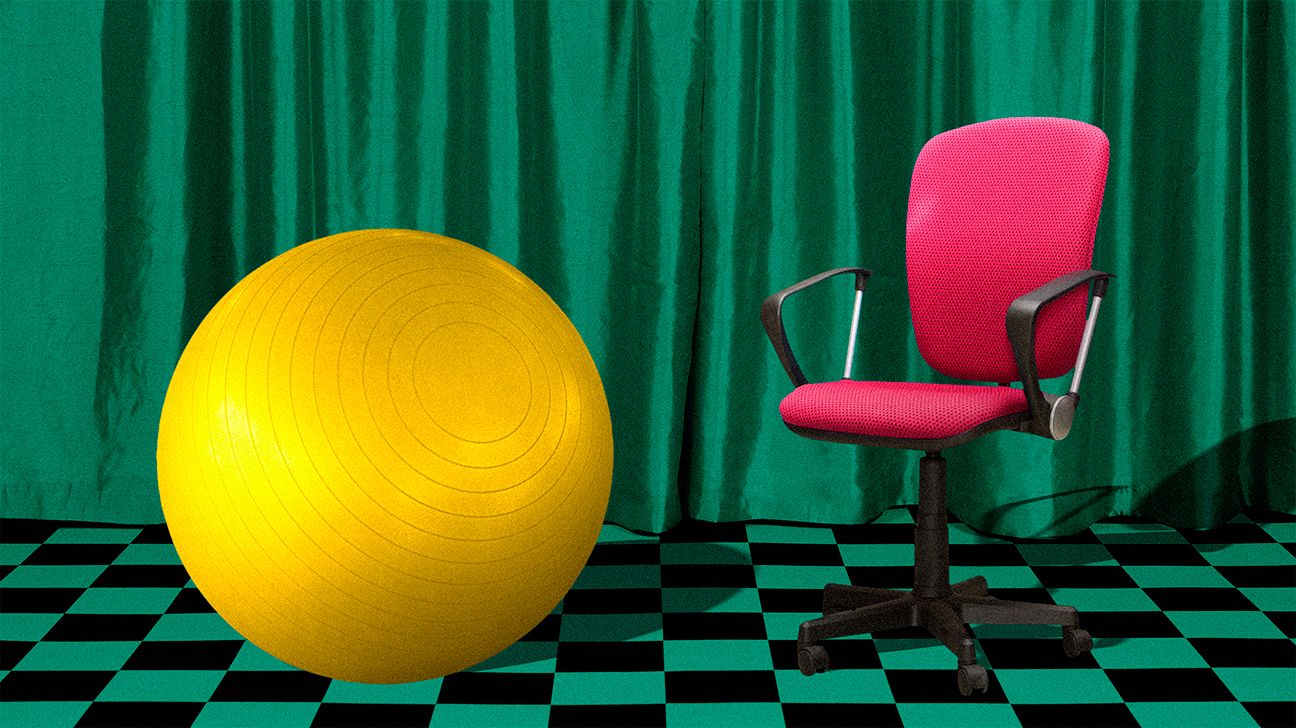 Sitting on a yoga ball instead of a chair is thought to improve posture and prevent and relieve back pain.
"In order to stay balanced and upright [on a yoga ball chair], you need to engage the entirety of your core," says Travis Gage, CPO of Fountain Orthotics and Prosthetics. "A yoga ball is thought to activate all your postural muscles — the deep muscles in your abdomen, pelvis, and back — which hold you together and ensure proper posture."
There have been two case studies that support the idea that a yoga ball chair helps with lower back pain, but that's about it when it comes to research.
Probably not, at least not for more than an hour or two at a time. While sitting on a yoga ball may give you a core workout in short bursts, there isn't a lot of evidence that it automatically improves posture.
"A yoga ball chair doesn't guarantee good posture," says Caitlin Reid, holistic physiotherapist and wellness consultant at Aprivé Wellness. "You still have to think about how you're sitting."
In fact, a 2009 study found that after only an hour of sitting on a yoga ball at a desk, the participants showed significant "spinal shrinkage" (in other words, they slumped in their lower back).
"Sadly, I've seen almost worse posture on yoga ball chairs than on good desk chairs," says Reid. "This is because many people roll their tailbones underneath and arch their shoulder forward, poking their chin forwards to compensate for the weight shift. This position looks like a floppy banana sitting on a ball."
A small 2006 study found no difference in muscle activation between sitting on a yoga ball chair and sitting on a stool.
While yoga ball chairs aren't great for working at a desk all day, some groups of people can benefit from using them. But Reid still cautions that it's best not to sit on a yoga ball for longer than a couple of hours at a time.
1. Pregnant people
According to Reid, pregnant people (specifically those in their second and early third trimesters) may find yoga ball chairs helpful because regular chairs can cause their bump to press on the top of their legs, causing discomfort.
However, sitting on a yoga ball is not ideal for folks at full-term, since the lack of lower back support can result in backaches.
2. Postpartum people
Yoga ball chairs can also feel great for people who have given birth in the past 6 weeks, says Reid.
"If you've recently given birth, deflate your ball slightly so it's extra spongy, and it will feel soft and comfy on your saddle region," she says. "Coupled with recovery shorts, sitting on a yoga ball can really help with comfort and pelvic floor recovery after giving birth."
3. People dealing with hemorrhoids
While it won't address the cause of the hemorrhoids, sitting on a yoga ball instead of a regular chair can help ease pain related to the condition.
Don't use if you have acute low back pain
"Instead, chat with a [physical therapist] for some advice and exercises, and sit on a supportive chair," says Reid. "This can be any chair as long as your low back is supported by a lumbar roll (can be a rolled-up towel or sweater)."
If you want to experiment with a yoga ball chair, make sure to follow these guidelines:
Don't sit for longer than 2 hours at a time. If you sit too long, your muscles will become fatigued and you may end up feeling sore in your middle back and lower back.
Pump it up. Inflate the ball enough so that you feel perched on top of it rather than sinking into it.
Buy the right size for your body. "You need a ball that allows you to have your feet flat on the floor and your hips bent to 90 degrees or more. You don't want your knees sitting higher than your hips," says Reid.
If you want to try using your yoga ball as a desk chair for an hour or two at a time, be sure to set up your workstation so you can maintain proper sitting posture. This might mean investing in a desk of a different height, an external keyboard and mouse, or other new equipment.
For good desk posture, Reid says all of the following should be true:
Your chin should be parallel to the floor when you're looking straight at your screen. Your neck shouldn't be bent up or down.
Your elbows should be just below your keyboard, and your shoulders should be soft.
Your knees should bend at a 90-degree angle.
Your feet should be flat on the floor.
Whether you're pregnant, tall, short, or simply looking for something multi-functional, one of these yoga ball chairs may be right for you!
We made sure to include only products with at least 500 reviews and an average rating of 4 stars.
Best for pregnancy
Reviews: 4,900+
Rating: 4.5 stars
The extra-thick anti-burst ball is great for pregnant folks looking for a reliable alternative to an office chair. It's also great for those with sensitive skin, since it's made of non-toxic PVC and free of BPA and heavy metals.
One reviewer says, "This was a godsend when pregnant, particularly in the third trimester."
Best for folks in larger bodies
Reviews: 1,900+
Rating: 4.4 stars
This ball has an ultra-high anti-burst capacity of 2,200 pounds, so it's ideal for folks with higher body weights. You're not going to pop this puppy.
One review reads: "I have used this ball so much since I purchased it and I am just so happy with it. It truly holds up a lot of weight… I am not a small person, so to get a ball that I am not afraid of giving out under my weight was an awesome thing."
Best for shorter folks
Reviews: 1,200+
Rating: 4.4 stars
This ball is available in sizes from 45 to 85 centimeters. It has a slip-resistant design and thick walls made from professional-grade rubber.
"It is perfectly sized for my small size," says one reviewer. "I'm 5′2″ and I got the 45 cm ball. You gotta be patient inflating this ball, but trust me, it's worth it."
Best multi-functional
Reviews: 5,700+
Rating: 4.1 stars
This yoga ball chair is the ideal combination of exercise ball and office chair alternative. Use the ball and chair skeleton to sit at your desk, and then remove the ball easily for working out.
One review says: "Very comfortable and I love the 'multi function' of it. It's not just to sit on at my PC table but can also do several exercises. LOVE IT and will recommend."
Best for tall folks
Reviews: 600+
Rating: 4.2 stars
This yoga ball chair is 2 inches taller than the standard-height version. It also has plenty of adjustable features, including four leg height positions and four backrest positions.
One review reads: "…I have had issues with my entire right side for years due to mild scoliosis, athletics, injuries, and aging. I can honestly say that the pain in my right hip, low back, and hip flexors is diminished by 75 percent."
Alexa Erickson is a California-based writer who specializes in travel, beauty, health, wellness, and lifestyle. Her work has appeared in Reader's Digest, Shape, Martha Stewart, mindbodygreen, Real Simple, and more. Follow her adventures @living_by_lex and check out her blog, livingbylex.com.