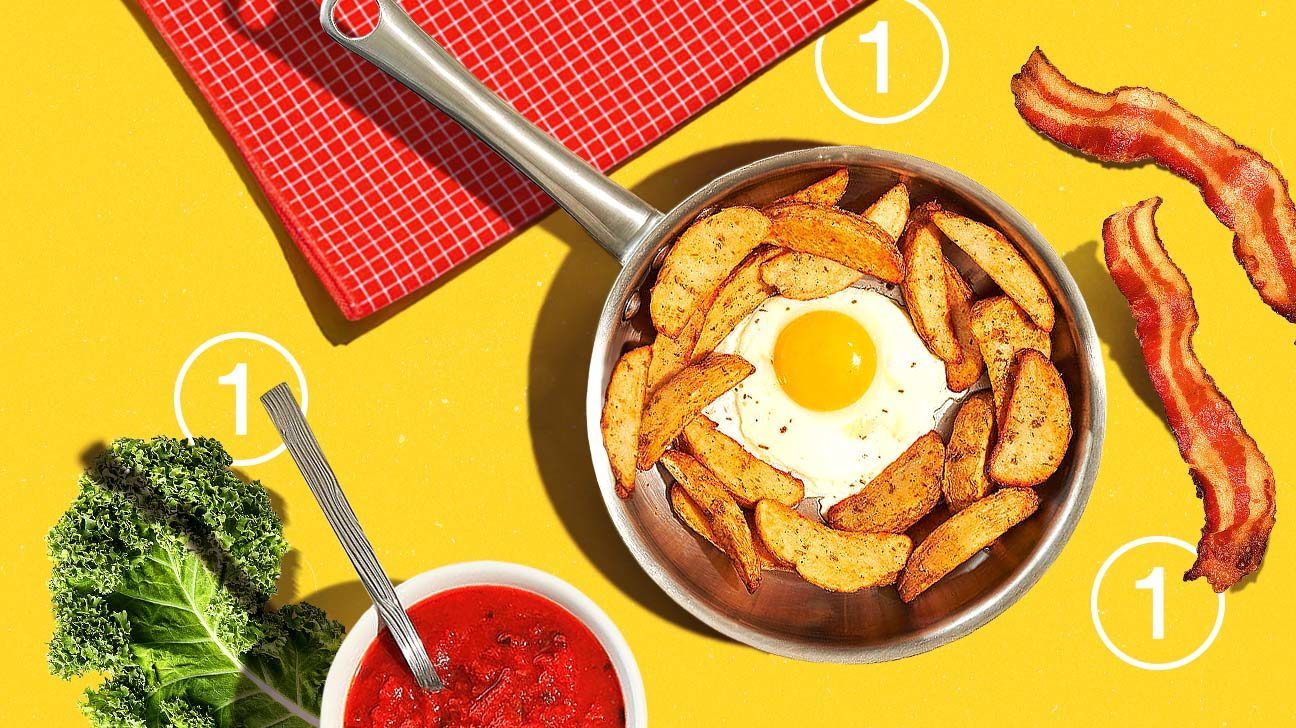 Making healthy meals for one isn't always easy. Sure, there's always takeout, but it's not the best option — for your wallet or your health. Cooking for one can be a bit of a challenge.
That's why we've pulled together a list of the best easy meals for one, broken down by meal time. This means you could have cinnamon roll Greek yogurt pancakes for breakfast, a Mediterranean grilled cheese for lunch, and a vegetarian burrito bowl for dinner.
And dessert? Like we'd forget about that. There's a 1-minute coffee cake that's yours for the taking. (Looking for a slew of sweets for one? We've got more mug recipes here.)
Tie on your apron, baby, because these healthy recipes are going to make cooking for one easy as pie.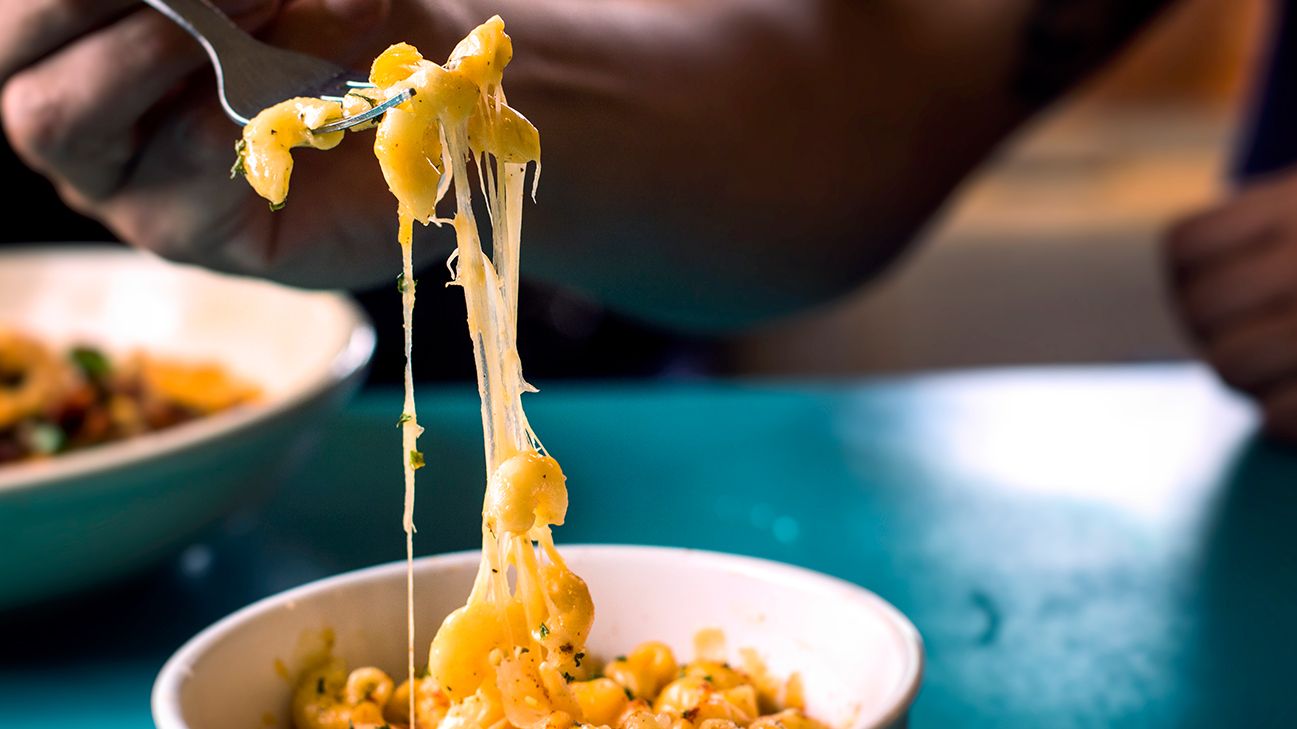 1. Mac and cheese in a mug
You'll never eye the blue box again. This creamy mac and cheese gets made entirely in the microwave for those nights when you need comfort food, stat.
If you have macaroni, shredded cheese, and milk at home, you're ready to make this. Whole-wheat pasta and the addition of frozen broccoli or a side salad gives it a healthier twist. Opt for vegan cheese if you have lactose intolerance or prefer to skip the dairy.
Get cooking with the recipe here.
2. Vegetarian burrito bowl
If eating at Chipotle is burning a hole in your wallet, it's time to try your hand at making burrito bowls at home.
By combining brown rice, black beans, salsa, cheese, and diced avocado, you can make a healthy, delicious Mexican-inspired meal in just 5 minutes — and for a whole lot less money than eating out.
Add leftover tofu or chicken for extra protein and a dollop of Greek yogurt in place of sour cream. Enjoy over shredded greens for more fiber and other health benefits.
DIY your own burrito bowl with the recipe.
3. Egg fried rice
We've heard of many mug meals, but fried rice is a new one. Save yourself the Chinese food delivery fee and try this healthier homemade version. It can be ready in less than 10 minutes (if you've got some cooked rice on hand) and eggs are an EGG-cellent complete protein source.
4. Pasta for one
Let's admit it: There's nothing quite as comforting as eating pasta. You can whip up this simple pasta dish in just 10 minutes. Parmesan melds with some pasta cooking water to create a creamy sauce. A generous grind of black pepper is the final touch.
Adding some fresh spinach or swapping in bean-based pasta will up the nutrient content too.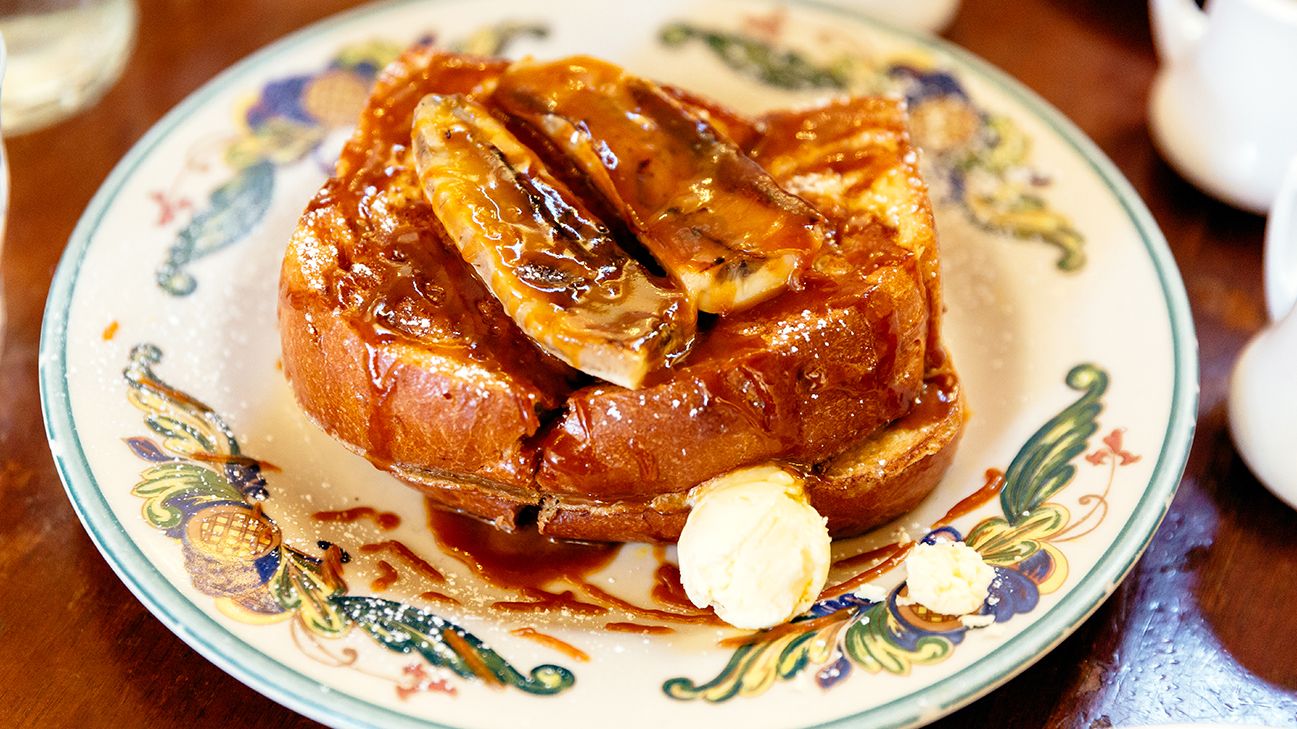 5. Blueberry paleo protein waffle
Skip the frozen waffles and whip up these protein-packed waffles instead. Vanilla protein powder and substitutes such as coconut flour in place of wheat flour make these a sweet and filling a.m. meal that packs a nutritional punch.
If you want to skip the syrup, a drizzle of honey and lemon will brighten it up.
Start your morning right with the recipe.
6. Mushroom and herb omelet
Who says omelets need to be complicated? This fancy-looking recipe calls for only eggs, mushrooms, sour cream, and some of your favorite herbs. Fresh herbs make all the difference in taste. Plus, mushrooms and eggs are among the few food sources of vitamin D.
Whisk up this tasty breakfast here.
7. Sweet potato bacon kale hash
This restaurant-quality breakfast is packed with hearty (and nutrient-packed) ingredients: bacon, sweet potatoes, a runny fried egg, and crispy kale. Best of all, everything cooks in one pan, meaning minimal cleanup after you devour it.
Hash things out with the recipe.
8. Peach crisp smoothie
Peaches are an underrated fruit when it comes to smoothies — berries seem to get all the love. But that's about to change with this recipe.
A frozen peach (or use fresh if you've got it!) gets blended with heart-healthy walnuts, oats, and banana for a frozen breakfast with plenty of staying power.
Here's the recipe to blend up breakfast in a flash.
9. Banana-oat baked French toast
This is a solo breakfast that defies categorization. Not quite French toast and not quite oatmeal, this dessert-like breakfast will have more fiber if you use whole-grain bread. Top with a spoonful of almond butter for a sweet and nutty boost, plus a dose of heart-healthy fat to keep you satisfied.
10. No-bake vanilla breakfast cookies
Some days you wake up and your sweet tooth immediately kicks in. These breakfast cookies are the perfect solution, especially since they can be either eaten right away or placed in the freezer or fridge for 30 minutes while you finish getting ready.
Grab 'em on the way out the door and enjoy a sprinkle-filled morning. Your 10-year-old self would be so jealous (and your adult self will appreciate that the balance of fiber, protein and healthy-fat keeps you energized all morning!)
Get a sweet start to the day with the recipe.
11. Cinnamon roll Greek yogurt pancakes
Pancakes might seem like a cooking-for-the-masses breakfast, but with the right proportions, they can easily become a solo meal.
This sweet cinnamon stack looks decadent but is hiding healthier ingredients: Plain Greek yogurt, protein powder, egg whites, and rolled oats pack in protein to power through your day. Who needs a boxed mix?
Start here for solo pancake-making.
12. 1-minute coffee cake in a mug
With a name like that, you can't go wrong. This easy treat is made with Greek yogurt, cinnamon, and pinches of all your basic baking ingredients. Cook everything in the microwave and top it with a mouthwatering streusel.
Drooling yet? Get the recipe here.
13. Berry cobbler
Cobbler was definitely on our needs-a-crowd recipe list — until now. Oatmeal, berries, and a few tablespoons of flour, brown sugar, and butter are all you need for a personal berry cobbler in minutes.
14. Microwave fudge brownie
Single-serving dessert recipes = the easiest form of built-in portion management. This microwave brownie recipe is made from only five simple ingredients: unsweetened cocoa powder, Greek yogurt, whole wheat flour, agave, and vanilla extract. Oh, yeah.
Add some chocolate to your life with the recipe.
15. Strawberry protein pancakes with yogurt filling
Are these a dessert or a breakfast? No matter what time of day you eat these babies, they're delicious (and filling!) A protein-rich pancake batter made of oats, Greek yogurt, and egg whites gets whipped together in a blender and then cooked in minutes.
Stuffed with yogurt and jam, these make an awesome crepe-inspired dessert.
16. Chicken bruschetta pasta salad
When you're craving Italian but not the ginormous portions a restaurant serves, try this Italian-inspired recipe at home. More pasta than salad, it combines spelt noodles, chicken breast, red onion, tomato, and basil leaves for a balanced and delicious dish.
The sauce? A super easy combo of heart-healthy olive oil and balsamic vinegar.
Make an Italian masterpiece for one with the recipe.
17. Minestrone soup
Unless you want leftovers for the week (which isn't a bad idea), soup is another tough solo dish. This recipe solves the problem. And thanks to the fiber and protein-rich ingredients, it will keep you satisfied for hours.
With 2 cups of chicken broth, loads of beans and veggies, and two crumbled strips of bacon, you'll feel warm and fuzzy in no time.
Soup's on with this easy recipe.
18. Avocado caprese salad
When you're looking for a light, simple lunch, this fresh salad is a winner. Healthy fats like avocado and olive oil fill you up while honey and balsamic add just the right balance of sweetness to the salad.
Creamy, crunchy goodness right this way.
19. Mediterranean grilled cheese sandwich
Take your grilled cheese from late-night munchie to full-on meal with this Mediterranean-inspired version. Creamy feta isn't as gooey as mozzarella or cheddar, but it sure is rich, high in muscle building protein and bone boosting calcium, and it tastes amazing paired with red onions, tomato, kale, and black olives.
20. Mexican stuffed sweet potato
Corn, black beans, chipotle chili powder, and lime juice come together to create mega Southwestern flavor. Stuff it all inside a baked sweet potato (cook it the night before for quicker assembly) and top with cashew crumbles.
If you're not following a vegan or dairy-free diet, try goat cheese crumbles for a tangy flavor and nutrition boost.
Check out this healthy recipe here.
21. Tart cherry tuna-stuffed avocados
Is it us, or do stuffed foods just taste better? Take this stuffed avocado, for instance, which is packed with omega-3 rich tuna, antioxidant-filled dried cherries, and heart-healthy chopped pecans. This recipe takes just a few simple ingredients and turns them into a filling meal with anti-inflammatory benefits!
Load up on healthy fats and fiber with the recipe.
22. Tomato, basil, and mozzarella sandwich
Drizzle olive oil on two pieces of whole wheat bread (or any crusty slice). Top with fresh mozzarella, tomatoes, and basil, and sprinkle black pepper, garlic powder, and crushed red pepper on top. Feel free to add your favorite Italian meat, like prosciutto if you're not following a vegetarian diet.
Cook the sandwich in a pan over medium heat, flattening it with a spatula, until the cheese is totally melted. Aw yeahhh.