We include products we think are useful for our readers. If you buy through links on this page, we may earn a small commission. Here's our process.
Greatist only shows you brands and products that we stand behind.
Our team thoroughly researches and evaluates the recommendations we make on our site. To establish that the product manufacturers addressed safety and efficacy standards, we:
Evaluate ingredients and composition: Do they have the potential to cause harm?
Fact-check all health claims: Do they align with the current body of scientific evidence?
Assess the brand: Does it operate with integrity and adhere to industry best practices?
We do the research so you can find trusted products for your health and wellness.
Have you ever passed by a Pilates class and thought "They're not moving too much. How hard could that be?"
It turns out that Pilates can be *very* challenging. Pilates can make a big difference in your bod with small, targeted movements. And it's not just about physical health — Pilates has benefits for your mental well-being too.
Here's what you need to know about the benefits of Pilates. We also rounded up the best Pilates workouts online to help you get those perks.
Wanna know how Pilates will work out for you? Keep reading to learn more about the benefits of Pilates.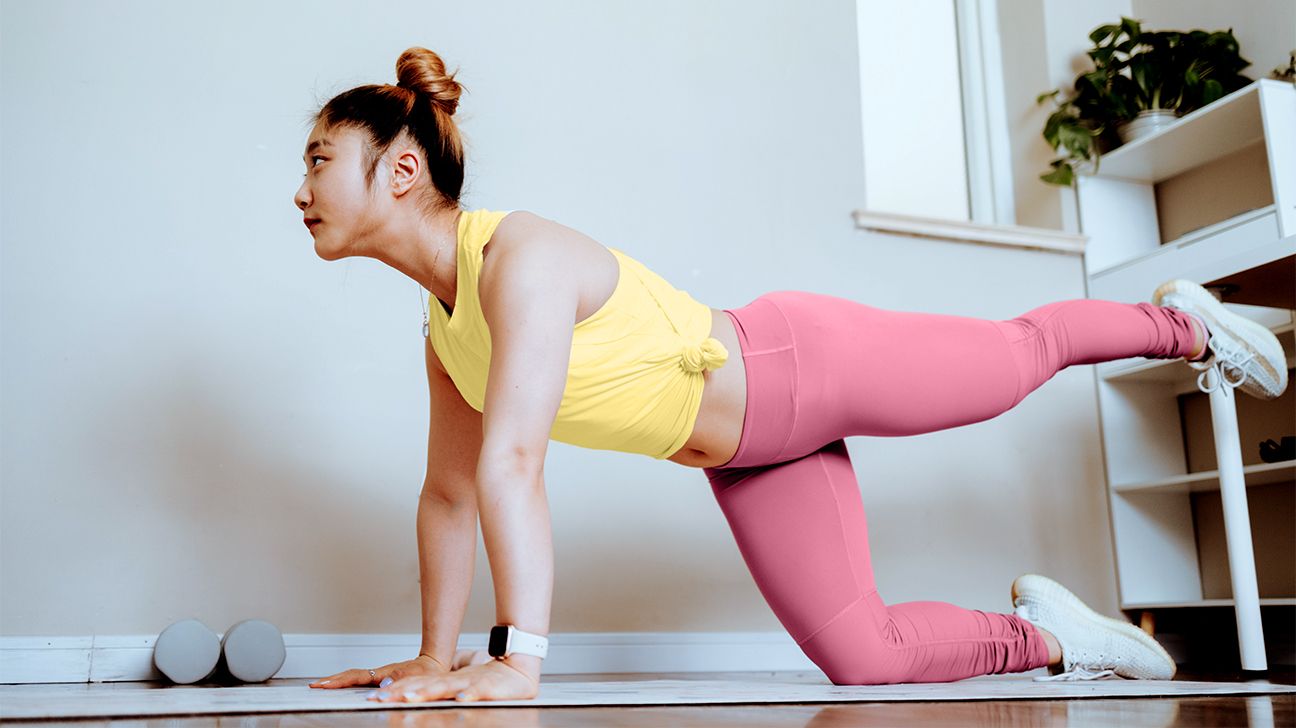 Pilates is the brainchild of Joseph Pilates, who developed the technique in the mid-20th century. It uses a series of stretching, strengthening, and breathing exercises that activate your core muscles and help those fibers become long and lean.
Over the years, Pilates has become a popular workout option. You can do Pilates using only a mat, or you can add tools and equipment such as a Pilates reformer. Either option can give you an awesome workout with all the Pilates bennies.
Pilates vs. yoga: What's the diff?
Sure, Pilates and yoga seem similar at first glance. They're both popular forms of exercise that use stretching and breathing techniques to improve your overall health. But they also have some notable differences.
Pilates is a low impact exercise that focuses on performing small movements that rely on your back and core muscles for stabilization. The main physical benefits of Pilates are improved core strength and better posture.
Yoga focuses on mindfulness and deep breathing as you flow through a series of held poses. It's often used to deepen meditation practices, boost flexibility, and improve balance.
There are lots of benefits (for both your body and your mind) to making Pilates part of your health and wellness routine.
1. Develops body awareness and control
Pilates focuses on controlled movements. You'll be challenged to stay aware of your breath, posture, and movement while you're performing these routines.
All this attention can seem overwhelming when you're starting out, but don't worry. Over time, you'll get more in tune with your body, both on and off the mat.
2. Reduces lower back pain
Physical therapists agree that Pilates helps relieve pain in certain populations. If your body awareness has decreased (this can happen with age or injury), Pilates can be an effective way to manage and relieve related lower back pain.
However, if you're dealing with a back fracture or preeclampsia, Pilates prob won't make a big difference in your pain.
3. Improves posture
When your spine's not stabilized, your posture suffers. Regular Pilates workouts can strengthen any underdeveloped muscles that may be causing you to slouch.
4. Helps maintain weight
Pilates can help you on your journey to maintain a healthy weight thanks to its focus on strengthening, sculpting, and building lean muscle.
In an 8-week study of 37 women who were overweight or had obesity, Pilates helped participants lose weight and reduce BMI.
Just remember that it's important to combine exercise with healthy diet and lifestyle choices.
5. Relieves stress
As the wise Elle Woods once said, "Exercise gives you endorphins. Endorphins make you happy."
Pilates is a great restorative workout, so it's an effective way to help you relax. All this relaxation can help release muscle tension, kick stress to the curb, and elevate your mood.
6. Strengthens core
Pilates activates your core muscles (the ones in your back, abdomen, and pelvic floor). These muscles are essential for supporting your entire body.
A regular Pilates routine can keep your core strong and firm (hello, abs!). When the rest of your body isn't overcompensating for a weak core, those muscles can catch a break.
7. Boosts energy
Once you get into the Pilates groove, you may notice an uptick in energy. Why? Because Pilates helps improve blood circulation. That gets your body flowin' and goin'.
It also makes your body feel good all around (thanks to that aligned spine, strong core, and added flexibility!), which can add an extra pep in your step.
8. Improves focus
When you do a Pilates workout, you're exercising your body, but you're also giving your ability to focus a workout.
Reaping the most rewards from Pilates requires concentration. You need to ensure that your body and breath are in sync with every movement. This boosts your focus in the moment and can carry over into other parts of your life.
9. Helps you get better sleep
Pilates may be just what the doctor ordered for a good night's sleep. Research suggests that Pilates can significantly improve sleep quality.
Bonus: Better sleep leads to better moods. It's a win-win situation!
10. Improves flexibility
Like yoga, Pilates incorporates careful stretching and bending. This helps increase your range of motion while keeping your muscles strong. This one-two punch of stretching and strengthening can allow you (and your joints!) to become more flexible as you progress in your Pilates practice.
Ready to reap those awesome Pilates benefits? You can head to a class or have class come to you with these online workout videos.
You can also check out Greatist's very own ultimate 30-day Pilates boot camp routine.
Best free workouts
This simple flow with Robin Long, a certified Pilates instructor and the founder and CEO of The Balanced Life, will help lay the groundwork for a proper Pilates practice. Check out her entire beginner series for more foundational instruction.
Short on time? Deanna Dorman has got you covered with this quick yet impactful 20-minute Pilates sesh. She's not only a Pilates instructor but also a celebrity master trainer and fitness nutrition specialist.
This half-hour flow with experienced Pilates teacher Lottie Murphy will help you lengthen, strengthen, and tone your entire body.
Best free workout app: FitOn
FitOn is packed with tons of different workouts, including stellar Pilates sessions for all levels and needs. Best part? It's all available in a handy app that comes at everyone's favorite price: FREE.
Best paid programs
Best for beginners: Glo
Featuring more than 4,000 on-demand workouts, Glo helps you build your Pilates foundation by helping you find workouts tailored to your needs and level.
Pilatesology is 100 percent Pilates, 0 percent fluff. With workouts for all levels (even for practicing Pilates teachers!), Pilatesology truly has a workout for everyone.
Bonus: You can download the workouts to your device, so you can even enjoy the flow while you're offline.
Best variety: Obé
Obé offers a variety of exercise options, including a stacked selection of Pilates sessions. Whether you're looking for a simple restorative sesh or something more intense, Obé's got you covered. Classes are available both on demand and live.
Pilates is an exercise technique that relies on stretching and strengthening to promote long, lean muscles.
Doing Pilates regularly can have many benefits, both physical and mental.
Physical benefits include better sleep, a stronger core, and increased awareness of your body.
Mental benefits including improved mood, better focus, and less stress.
A variety of free and paid Pilates programs for every ability level is available online.