Plant-based, but got a late-night craving for some vegan fast food? We've got you covered.
Fast food gets a lot of grief. But let's be honest: It definitely has its place with options that can work in a balanced eating plan. We'd all be a lot hungrier on late nights or long drives if we couldn't swing by a drive-thru.
If you're vegan, though, it can be a challenge to enjoy those cheap, easy noms because most fast food is pretty animal-heavy.
That's why we got the scoop from some vegan and plant-based dietitians on how to find vegan fast food options on even the meatiest of menus. Below, we've rounded up the fast food restaurants that make it easy to order vegan — plus your best bet for a vegan burger, breakfast burrito, and other crave-worthy meals.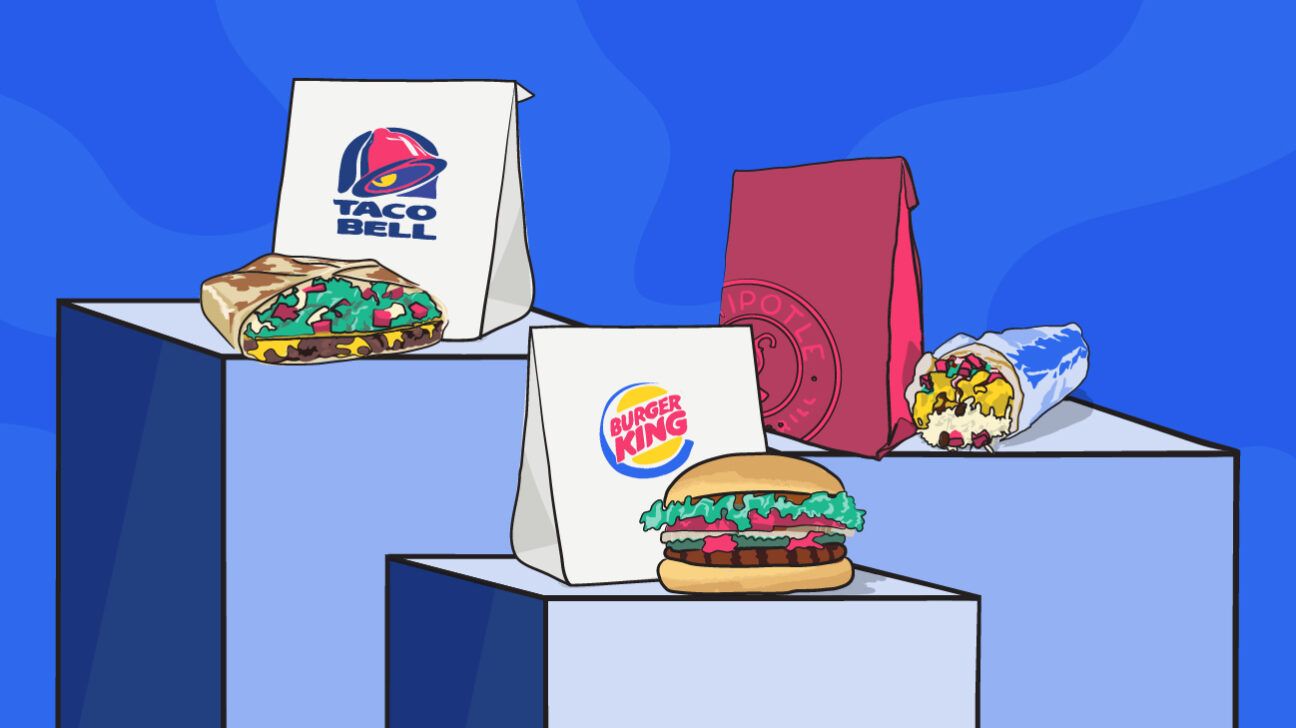 We've included a rating system to rank each restaurant on this list and make it easier for you to pinpoint the most vegan-friendly nosh spots. Here it is:
🥑🥑🥑🥑🥑 = plant-based cream of the crop, a restaurant with a dedicated plant-based menu
🥑🥑🥑🥑 = no dedicated vegan menu, but offers LOTS of vegan options with minimal special requests needed
🥑🥑🥑 = no dedicated vegan menu, but there may be a token vegan option or you may need to make a couple of minor special requests
🥑🥑 = you can make it vegan, but it's gonna be a pain to order
🥑 = congrats, you're having french fries for dinner
Taco Bell
🥑🥑🥑🥑🥑
Taco Bell was, by and large, the most highly recommended vegan-friendly fast food restaurant among the dietitians we spoke with. They also have a full vegetarian menu that's approved by the American Vegetarian Association, and it's really easy to make these items vegan-friendly.
"An easy way to get your vegan fix at Taco Bell is to order menu items with no meat and 'Fresco style' (meaning no cheese or sour cream and added diced tomatoes)," says registered dietitian Lori Kupferman.
Best vegan menu options
Black Bean Crunchwrap Supreme without cheese and sour cream
Veggie Power Menu Bowl with no cheese, sour cream, or avocado ranch sauce
Bean Burrito "Fresco style"
Veggie Burrito Supreme "Fresco style"
Cinnamon Twists
See all Taco Bell's vegan options
Chipotle
🥑🥑🥑🥑
Chipotle was also a top recommendation. According to the chain's website, everything at Chipotle is totally fine for vegans except the meat, shredded cheese, queso sauce, sour cream, and chipotle-honey vinaigrette. This means every meal option is in play: burritos, tacos, bowls, and salads.
As far as protein goes, you can choose black or pinto beans, sofritas (flavorful, marinated shredded tofu), or plant based chorizo.
Oh, yeah — don't forget that their lime tortilla chips are vegan, too.
Best vegan menu options
Whole-30 Lifestyle Bowl with plant-based chorizo
Vegan Lifestyle Bowl
Vegetarian Lifestyle Bowl with no cheese or dressing
Tacos with sofritas, beans, or plant-based chorizo
Tortilla Chips with guacamole
See all Chipotle's vegan options
Panera Bread
🥑🥑🥑
While Panera Bread may have a reputation for creamy soups in bread bowls, it also offers a surprising number of vegan options, according to registered dietitian Jean Maxwell.
Best vegan menu options
Baja or Mediterranean Bowl with no meat, cheese, or Greek yogurt
Ten Vegetable Soup (P.S. the bread bowls are vegan too, you can thank us later)
Mediterranean Veggie Sandwich with no feta, on artisan ciabatta bread
Tomato Basil Cucumber Salad
Citrus Asian Crunch Salad with no chicken
See all Panera Bread's vegan options
Chick-fil-A
Chick-fil-A offers a number of vegan-friendly dressings and sauces, including the apple cider dressing, light balsamic vinaigrette dressing, light Italian dressing, and Polynesian sauce.
Best of all: The waffle fries are A-OK, too.
Best vegan menu options
Grilled Cool Wrap with no chicken or cheese
Market Salad with no chicken or cheese, with light balsamic vinaigrette dressing
Spicy Southwest Salad with no chicken or cheese, with chili lime vinaigrette dressing
Waffle Potato Fries
Fruit Cup
Here are some surprising vegan options from popular fast food chains that may have you scratching your head… right before you hop in the car to hit the drive-thru at one of these joints.
Burger King
🥑🥑🥑
What to order: "Get the Impossible Whopper without cheese and mayonnaise, and their french fries are vegan," says Kupferman.
Dunkin'
🥑🥑🥑
What to order: "The Beyond Sausage on an English muffin with a side of hash browns, with oat and almond milk for the coffee." says Kupferman.
El Pollo Loco
🥑🥑🥑
What to order: "The Original BRC burrito without the cheese, or the vegan chickenless pollo burrito," says dietitian Amy Gorin.
Moe's
🥑🥑🥑🥑
What to order: "Earmuffs burrito bowl with beans and/or tofu, or build your own tacos, burrito, bowl, or salad with their vegan ingredients," says Maxwell.
Panda Express
🥑🥑🥑
What to order: Eggplant tofu with brown rice, super greens, and vegetable spring rolls. Note: Eggplant tofu isn't available at all locations.
Luckily, most fast food restaurants with vegan options will clearly and prominently mark it on the menu. "Look for icons on the menu such as a leaf or the letter 'V,'" explains dietitian Vandana Sheth.
But if you're trying to identify vegan items on a fast food menu when it's not clearly marked, finding answers might require a bit of sleuthing.
"You may have the most success doing research online so you can see the full ingredients list," suggests Gorin, "versus when you're at the restaurant placing an order."
Maxwell says you can always ask to see the ingredient list when you're ordering. "Remember to look for sneaky things like gelatin, glycerin, red food dye, casein, or whey powder, as they are all animal-derived," she adds.
But cross contamination with animal products can be a bit more difficult to avoid.
"If you're concerned about cooking surfaces and utensils on which animal-based ingredients may have been prepared," explains Gorin, "you may need to do a deeper level of investigation and/or speak with the restaurant."
Many fast food restaurants will make vegan options clear on the menu, but you may need to check the ingredient list. Planning ahead is definitely the way to go so you're not holding up the line.
Taco Bell, Chipotle, Panera Bread, and Chick-fil-A are solid fast food joints that offer vegan options with just a few modifications needed.
Several other fast food restaurants offer some surprising vegan options to satisfy your fast food cravings or fill that late-night hunger pang. Hey there, Impossible Whopper!