In the world of fast food, McDonald's is the flagship. Since its founding in 1940, McDonald's has been a staple in the fast-food community for its quick, convenient, and inexpensive meals.
But can you have your McDonald's and eat it, too? Yes, apparently there are several menu options that hurt neither your calorie count or your bank account.
What is the healthiest meal at McDonald's?
With just 297 calories, the good old cheeseburger is the healthiest thing at McDonald's. Plus, it packs almost 15 grams of protein, and under 15 grams of fat.
Lowest calorie items at McDonald's
You can have four chicken nuggets for just 193 calories. Pair it with some 15 calorie apple slices and a diet soda, and you've hardly breached 200 calories for the meal.
Eating at McDonald's doesn't have to be as unhealthy as some make it out to be. Let's look at some McDonald's healthy options and explain just why they're not all that terrible for you.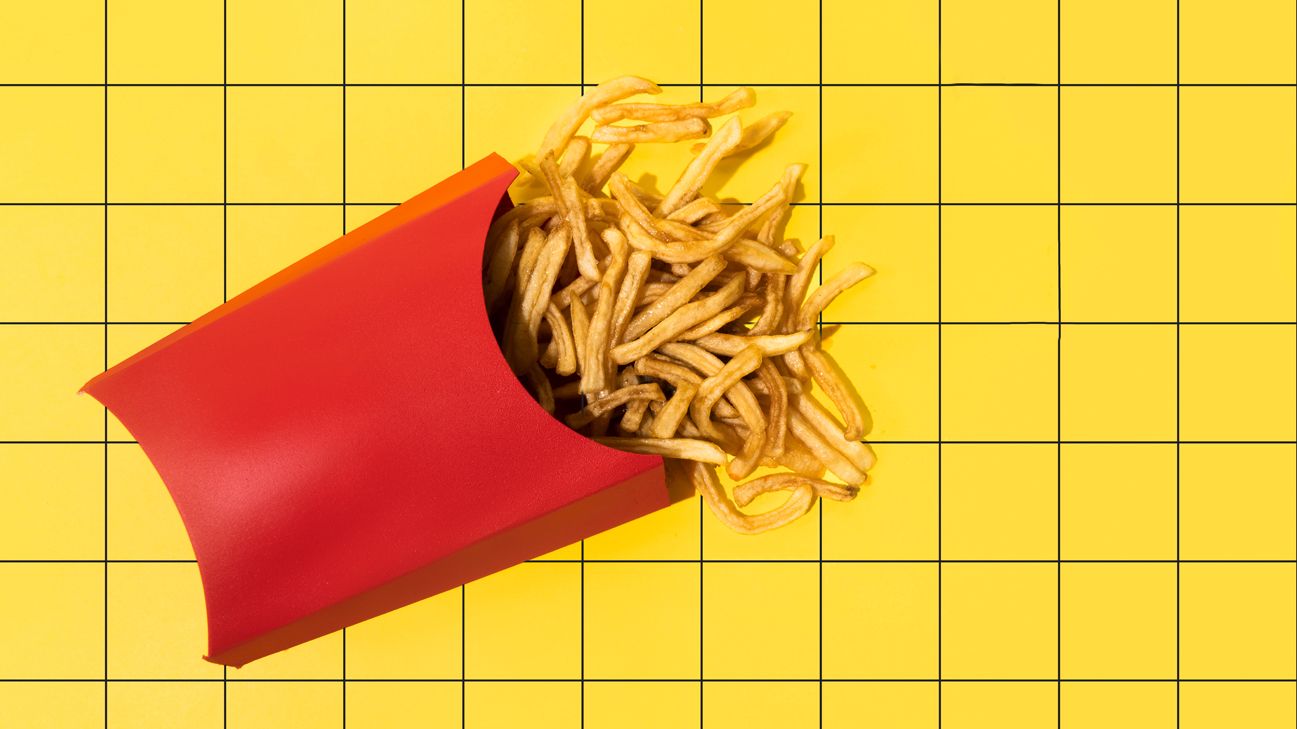 That depends on exactly what you mean by "healthy." Everyone's definition of health is different depending on their own needs.
A Double Quarter Pounder with Cheese might not sound like the best example of nourishing food. But it's totes possible to make food choices that provide a relatively wide nutrient profile when dining at the golden arches.
The trick, my hungry friend, is knowing what to order. Luckily, McDonald's has a on their website, and you can download an app that allows you to view and customize the nutrition information. Finding the lowest-calorie meal at McDonald's is pretty straightforward.
Using the McDonald's nutrition calculator, we've selected the healthiest options on the menu and outlined them for you here.
Things we took into account:
When you're looking to balance a fast-food menu with a healthy lifestyle, the key is to keep the calorie and fat count low and the protein count high. Unless you're on a low carb or keto diet, carbs aren't necessarily the enemy. Depending on your dietary situation, you may still need to watch carb load, though, as quite a few Maccy D options are heavy on bread buns, wraps, and biscuits.
Also, while it's easy to overlook sodium, it's an essential part of the nutrition label to check. Many people eat too much sodium, around 90 percent of peeps in the United States! Dietary guidelines recommend consuming less than 2,300 milligrams (or 1 teaspoon) of sodium each day.
When looking at fast-food options, you should keep the sodium level as low as possible, especially if you're going for a heart-healthy diet.
With the correct nutritional information, anyone can make better, healthier choices anywhere, including at McDonald's.
If you're searching for healthy and low calorie food at McDonald's, look no further than the items on this list.
These seven meals keep the counts under 500 calories, 50 carbs, and 10 grams of saturated fat, and have a protein count over 10 grams — except for the McDouble, with 22.7 grams of fat. We were willing to make an allowance for a teeny variance on one spec, especially when it comes to something delicious!
1. Hamburger
Calories: 263 calories
Carbs: 29.57 grams (g)
Fat: 10.2 g (3.57 saturated)
Sodium: 487 milligrams (mg)
Protein: 13.3 g
2. Cheeseburger
Calories: 297 calories
Carbs: 28 g
Fat: 14.2 g (5.8 saturated)
Sodium: 691 mg
Protein: 14.8 g
3. Four-piece chicken nuggets
Calories: 193 calories
Carbs: 9.66 g
Fat: 12.77 g (3.26 saturated)
Sodium: 362 mg
Protein: 10.1 g
4. McChicken Sandwich
Calories: 358 calories
Carbs: 36.7 g
Fat: 17.3 g (2.35 saturated)
Sodium: 817 mg
Protein: 13.6 g
5. McDouble
Calories: 395 calories
Carbs: 25.2 g
Fat: 22.7 g (6.96 saturated)
Sodium: 864 mg
Protein: 22.7 g
6. Filet-O-Fish
Calories: 378 calories
Carbs: 35.4 g
Fat: 19.6 g
Sodium: 582 mg
Protein: 15.1 g
7. Crispy Chicken Sandwich
Calories: 470 calories
Carbs: 45 g
Fat: 20 g (5 g saturated)
Sodium: 1100 mg
Protein: 27g
You can purchase all seven of these items either alone or as part of a combo meal, including fries and a drink. If that's the direction you're going, the healthiest option is to keep the fries small and drink water or unsweetened iced tea. If your original meal is under 500 calories, adding an extra 229 calories in the form of small fries can have the calorie count stacking quickly.
In a best-case scenario, some locations may allow you to swap your fries for apple slices. In any case, you'll want to adjust your nutrition counts with the following information:
Fries (small)
Calories: 229 calories
Carbs: 30.2 g
Fat: 11 g (2.27 g saturated)
Sodium: 134 mg
Protein: 2.42 g
Apple slices
Calories: 15 calories
Carbs: 4 g
Fat: 0 g
Sodium: 0 mg
Protein: 0 g
It's worth mentioning that the McDonald's pre-pandemic menu carried a few additional items that would've been on this list. Meals like the Artisan Chicken Sandwich, the Grilled Chicken Snack Wrap, and the Southwest Grilled Chicken Salad would have made the cut by any standard.
However, Maccy Ds discontinued these selections in March 2020 to simplify the menu and food prep process in response to food and labor shortages. It's unclear whether they'll return anytime soon. Still, it's important to remember that McDonald's was moving toward a healthier repertoire.
That's right. McDonald's isn't just for lunch and dinner. Breakfast items on the menu as well.
No matter the time of day, you can make a food choice that's both healthy and easy on the taste buds. All breakfast options listed here have better calorie, carb, fat, and sodium counts than the seven meals listed above, and the protein counts are comparable.
The healthiest McDonald's breakfast options are:
8. Breakfast burrito
Calories: 305 calories
Carbs: 25.3 g
Fat: 17 g (6.4 g saturated)
Sodium: 818 mg
Protein: 12.2 g
9. Egg McMuffin
Calories: 310 calories
Carbs: 30 g
Fat: 13 g (6 g saturated)
Sodium: 770 mg
Protein: 17 g
10. Sausage McMuffin
Calories: 400 calories
Carbs: 29 g
Fat: 26 g (10 g saturated)
Sodium: 760 mg
Protein: 14 g
11. Fruit and maple oatmeal
Calories: 320 calories
Carbs: 64 g
Fat: 4.5 g (1.5 g saturated)
Sodium: 150 mg
Protein: 6 g
12. Hash browns
Calories: 144 calories
Carbs: 15.2 g
Fat: 8.64 g (1 g saturated)
Sodium: 307 mg
Protein: 1.31 g
As far as breakfast beverages go, you're better off sticking with black coffee, unsweetened iced tea, or water. If you're wondering why orange juice doesn't make the cut, you can thank the high sugar count.
It may be a great source of vitamin C, but it's also a significant source of sugar, which is something you'll want to avoid when trying to make the healthiest possible choices.
Like the previous list, the breakfast section also had some healthy fan favorites discontinued during the pandemic. Items such as the Egg White Delight, the Fruit and Yogurt Parfait, and the Strawberry Banana Smoothie once graced the McDonald's menu in all their healthy glory.
Again, there's no word on when these foods will return. But at the very least, it's comforting to know they might be on the McDonald's radar at some point.
While it's possible to approach dining at McDonald's healthily, there's no denying that eating fast food has its nutritional drawbacks.
Even when you consistently make the most nutritious choices at a restaurant like McDonald's, the food may not contain all the nutrients your body needs. Remember, you can have too much of a good thing.
So how can you consider a healthy relationship with McDonald's food? Well…
Try to keep McDonald's visits to once or twice a week maximum.
Commit to ordering smaller meals.
Drink only water, unsweetened iced tea, or black coffee rather than sodas, sweet tea, or other sugary drinks.
Keep portion sizes in check. Four Chicken McNuggets can keep your calorie count down. 20 Chicken McNuggets? Less so.
McDonald's is the home of the Big Mac, but there are plenty of items on the menu that are healthier. Whether you're dining there for breakfast, lunch, or dinner, you have access to a surprising number of low calorie and high protein meals, with moderate amounts of carbs, fat, and sodium.
Just remember to balance out your diet with other foods that provide essential nutrients and vitamins and consume McDonald's foods in reasonable moderation.