When you're quarantined or sheltering in place, it's smart to have a solid stash of items that won't go bad. (Even smarter, dare we say, than having a treasure trove of tp).
But a global pandemic isn't the only reason to keep staples like canned beans, jarred veggies, and dry grains in stock. Not only do they last for ages, they're also typically high in nutrients and serve as building blocks for tons of healthy meals.
So, dust off that can of cannellinis and shake the freezer burn off that bag of peas — we've got 13 creative meals featuring nonperishable foods.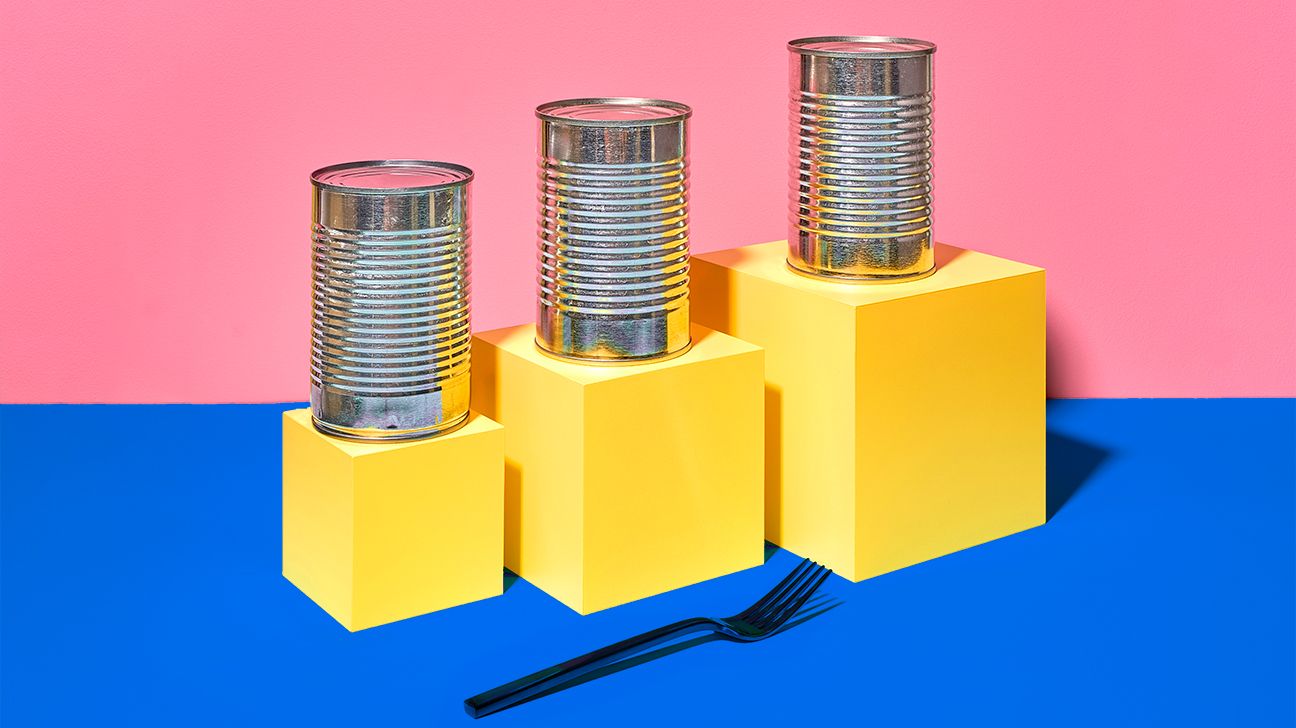 Get the recipe from Making Thyme for Health.
How do you make beans and rice a little more exciting? Turn them into a fiesta of Southwestern flavor!
This one-dish skillet casserole from Making Thyme for Health uses familiar pantry staples to create a Mexican delight — and leaves you with minimal cleanup afterward.
Get the recipe from Simple Nourished Living.
Elevate canned tuna from its usual sandwich-filling status in this Mediterranean-themed pasta from Simple Nourished Living. Additional canned and jarred items like diced tomatoes, olives, and capers make this simple dinner a nonperishable no-brainer.
If you don't happen to have fresh herbs on hand to finish things off, sub with a ratio of 1:3, dried to fresh.
Get the recipe from Babaganosh.
Sure, pizza is one of those foods you usually want fresh ingredients for, but you can create an impressive pie with the right nonperishables, too.
This flatbread from Babaganosh starts with a simple DIY flour crust and adds jarred artichokes and red peppers for a boost of nutrients. Out of fresh mozz? Try a sprinkle of nutritional yeast.
Get the recipe from SideChef.
SideChef's take on the poke bowl trend is an "end of the month" recipe for good reason: It only uses a handful of go-to ingredients you likely already have stocked, such as tuna, rice, and sesame seeds.
Consider these the base of your bowl and finish it off with any fresh toppings you have hanging around, like cucumber, radishes, or scallions.
Get the recipe from Naturally Ella.
Frozen edamame can last in the freezer for up to a year. If you've got a bag hiding underneath your popsicles, why not bust it out for this vegan noodle dish?
One whole cup of edamame per serving means it's packed with protein, while a sauce of rice vinegar, ginger, and sesame oil pours on the umami taste.
Get the recipe from Vegan in the Freezer.
Just because you're stuck inside doesn't mean you can't keep eating healthy! With 32 grams of protein, Vegan in the Freezer's Indian-style mashup of chickpeas and red lentils quashes any rumors that vegan food doesn't provide enough of this macro.
Get the recipe from I Wash You Dry.
This skillet chicken pot pie from I Wash, You Dry gets comfort food on the table in 40 minutes with the help of nonperishables like chicken broth and long-lasting veggies like carrots and onion.
Plus, dolloping a biscuit mixture on top means no pie crust required! If you're out of freshly shredded chicken, use canned instead.
Get the recipe from A Cozy Kitchen.
Never underestimate your spice cabinet's ability to jazz up ho-hum dinners of canned goods. A Cozy Kitchen's Instant Pot Cuban Black Bean Soup harnesses the power of coriander, oregano, cumin, bay leaves, and red pepper for an unforgettably zesty flavor blend.
Get the recipe from The Dinner Mom.
No eggs? No problem. These Maryland-style crab cakes from The Dinner Mom use mayo and saltines to hold together. Now you don't have to run to the store for a fresh dozen.
Get the recipe from Lemon and Mocha.
Mushrooms are full of antioxidants like selenium, plus minerals like potassium and copper. Do your health a solid by making a bowl of Lemon and Mocha's warm mushroom barley salad. Sub canned mushrooms for fresh for a no-fuss lunch or dinner.
Get the recipe from The Big Man's World.
Paella is a delicious, saffron-scented standby of Spanish cuisine that typically starts with rice. Get it done just a little quicker by making it with couscous instead, as in this version from Big Man's World. Canned beans make an easy, no-cook protein topping to add at the end.
Get the recipe from Marisa Moore.
Hey canned pumpkin leftover from October, we've got a use for you. Get busy in this pumpkin-spiced curry! The savory merges with lentils, coconut milk, and veggie broth to make the house smell amazing — and may beckon hungry neighbors.
Get the recipe from Budget Bytes.
Even restaurant-quality soups can begin with nonperishable ingredients. In this hearty soup from Budget Bytes, you'll sauté veggies in a stock pot, then let canned beans and quinoa join the party to simmer.
It may take a little longer than hitting up Olive Garden for your fave bowl of pasta e fagioli, but we promise the end result is worth it.
Maybe it's purely psychological, but an extra dusting of color and flavor can go a long way toward making any entrée more exciting. Try these meal-finishers to inject excitement into meals made with nonperishables.
1. French fried onions
Are they health food? Nope. Are they crispy, delicious, and need using up from that green bean casserole you made last Thanksgiving? Yep. An occasional sprinkle of French fried onions on top of salads and sides adds salty crunch.
2. Fresh or dried parsley
If you've got a garden (or grow herbs indoors), make use of fresh parsley that runs riot. Its hint of green helps brighten up whatever's on the menu. Plus, it contains trace amounts of nutrients like potassium, vitamin C, and fiber.
3. Furikake
Expand your culinary horizons with furikake. This Japanese rice seasoning can be shaken onto poke bowls, soups, fried rice, fish, and more for crunch and umami flavor.
4. Allspice
They don't call it allspice for nothing! This handy spice brings depth to all sorts of dishes, from meatballs to pastas to baked goods. Add a dash to any savory mixture.
5. Sriracha
You know that fancy drizzle of sriracha that makes food photos jump off your screen? Yeah, we do too. With its squirt bottle top, sriracha makes pretty presentation easy-peasy. Squeeze a sriracha happy face on your burger, or mix it with mayo for a spicy, creamy dip for veggies.
Sarah Garone is a nutritionist, freelance writer, and food blogger. Find her sharing down-to-earth nutrition info at A Love Letter to Food or follow her on Twitter.