Getting the right amounts of all the essential nutrients a human needs… in 1 day? Sounds like a lot of brain work we don't always have the energy for.
Sure, vitamin brands lay out "DRVs" (Daily Reference Values) and RDIs (Reference Daily Intakes) on the bottles to tell you how much of your daily value it fulfills.
But we can't — nor would it be very exciting to — live off vitamin pills. We also need fuel, aka food. Vitamins are needed for you to use that fuel.
So to take one thing off your full plate, we made a 1-day menu that gives you all the nutrients your body needs, sunup to sundown.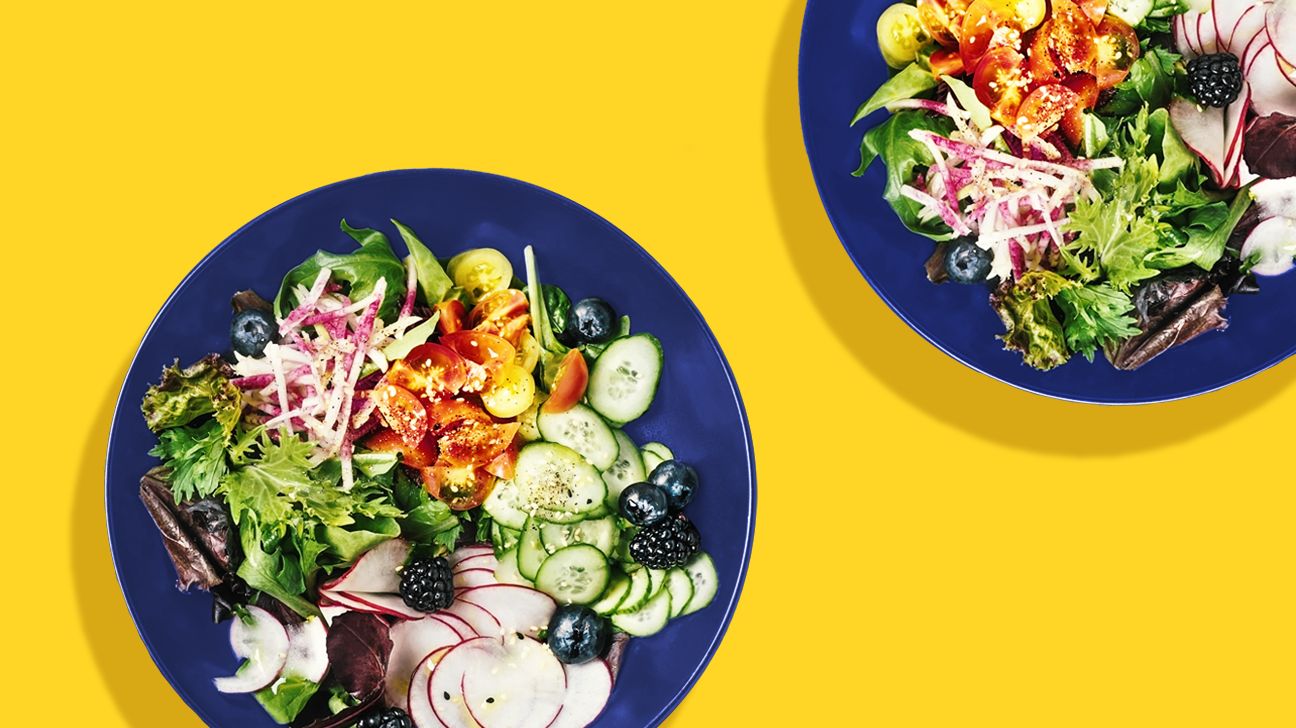 The portion ranges in this menu are meant for people between 130 and 180 pounds. But your body may need more or less food depending on factors like deficiencies, how active you are, your weight, if you have a condition or disability, or emotional concern like stress.
The most basic advice: Eat when you're hungry, stop eating when you're comfortably full, and don't focus on what the scale says (in fact, you likely never need to weigh yourself).
If you're interested in exactly how much you need of a given nutrient, you can use the USDA's Dietary Intake Reference calculator.
Diversify your shopping cart
Suggested portion: 1 to 2 cups
A smoothie is an easy (and delicious) way to get a ton of your nutrients in one fell swoop. For this concoction, we're focusing on natural sweeteners — yes, leafy greens and fruit can make a drink sweet — protein, and healthy fats.
Our approach ensures you get the fiber, vitamins, and minerals you need to get your day off to a solid start.
Stick to this power combo and you'll check off many of the above nutrients with a healthy dose of probiotics, and potassium, to boot:
yogurt
spinach
banana
a scoop of protein powder
your milk of choice (dairy, almond, coconut, etc.)
Pro tip: For folks who eat vegan or gluten-free, try an all-in-one protein powder such as KOS Plant Protein, which includes some of the additional vitamins and minerals of a daily multivitamin.
Suggested portion: 1 (8-ounce) cup of coconut water
Your morning smoothie will provide a dose of hydration, but don't stop there. Keep drinking plenty of water throughout the day to help your body process all of these nutrients!
In addition to regular ol' water, switch things up by sipping some coconut water. It contains antioxidants, electrolytes, and nutrients such as potassium, magnesium, vitamin C, and calcium.
Important: Check the label of the coconut water before you buy to see what percentage daily value of nutrients it contains as the amounts vary quite a bit brand to brand. Trader Joe's Organic King Coconut Water is a great option, containing 18 percent DV of potassium, 120 percent DV of vitamin C, and 8 percent DV of calcium.
Throughout the rest of the day, try to aim for 8 (8-ounce) glasses of water. But if your lifestyle has you sweating (exercise, work, stress, etc.), drink even more.
Suggested portion: 2 cups kale or spinach, 3 to 5 ounces protein, 2 to 3 tablespoons nuts/seeds, 1/2 cup chickpeas, 3 tablespoons of an olive oil based dressing
For an epic nutrient-dense meal, consider using either of these dark leafy greens as a base. Both are nutrient powerhouses and just a cup will check off your entire day's need for vitamins A, K, and C.
Next, layer your salad with protein, veggies, and some nuts or seeds.
Crispy chickpeas make an excellent (and more nutrient-dense) option for "croutons," providing a variety of vitamins and minerals in addition to protein and fiber. Adding some fresh berries brings color, flavor, fiber, antioxidants and more.
Lastly, add some healthy fats — not to mention flavor — to the mix, like an olive oil based dressing, nuts, seeds, or a few slices of avocado. Avocados and nuts are a great source of vitamin E, magnesium, and folate.
Pro tip: Avocados, walnuts, flaxseed, and chia seeds are all great sources of omega-3 fatty acids — vital nutrients the body doesn't make on its own.
Water vs. fat soluble vitamins
Most vitamins are water soluble, meaning they don't store in your body well, so you need to eat them regularly.

Fat soluble vitamins (there are only four: A, D, E, and K) are much better absorbed into your bloodstream when you eat them with fat.
Suggested portion: Size of your palm
Think of your snack sessions as mini breaks to pack a huge punch of nutrients.
Snack on vitamin and mineral mainstays such as fruits, veggies, and nuts — but don't be afraid to switch it up.
Dip your favorite veggies into classic dips like guac or hummus. Or, be bold with an herb-speckled Greek yogurt mixture or one of these genius dips. Try mixing sweet and savory with apples and cheddar cheese or fresh pears with a dollop of ricotta.
Newsflash: Nut butters are also a snackers BFF.
Craving something crunchy? Try kale or carrot chips opposed to potato chips. (Excuse you, Everything Bagel Seasoning Kale Chips — who gave you permission to be so delicious?)
Suggested portion: Protein the size of your fist, vegetables that fill half of your plate, 1/2 cup of whole grains
By the time dinner rolls around, you're likely already a pro! More vitamins? More minerals? Not a problem.
For dinner, keep it simple. Build your plate around this basic formula: protein, veg, whole grains, and a touch of healthy fat.
Great sources of protein include fish, chicken, tofu, beans, and lean beef.
For veggies, get creative: Roast, steam, saute, or spiralize whatever's in season.
It's always a good idea to include some heart-healthy whole grains at dinner such as brown rice or quinoa. Don't eat grains? Get your fiber from cauliflower rice, lentils, or mashed sweet potato.
Suggested portion: 1 ounce chocolate, 1/2 cup chia pudding or fruit
End your day of nutrient-dense noshes with a healthy dessert.
This could be a refined sugar-free chia pudding, fresh fruit, or piece of chocolate.
Chocolate has a whole host of vitamins and minerals on its own — including magnesium, iron, calcium, potassium, vitamin E, and B vitamins. Sweet, huh?
Here are the meals from above laid out at a glance. And remember to hydrate! You should drink at least 8 (8-ounce) glasses of water daily and when you exercise or if you have a physical job, you'll want to drink even more.
According to this study by the University of Oregon, there are several important nutrients that most people in the U.S. aren't getting enough of. So next time you're at the store, consider adding some of the these food items to your cart.
Calcium. Find it in dairy products, fish, seeds, beans, almonds, and dark leafy greens.
Potassium. Find it in milk, bananas, oranges, potatoes, white beans, coconut water, avocado, and yogurt.
Vitamin A. Find it in spinach, broccoli, liver, and orange foods (cantaloupe, mango, butternut squash, carrots, sweet potato).
Vitamin C. Find it in citrus fruits, broccoli, kale, kiwi, and cauliflower.
Vitamin E. Find it in sunflower seeds, almonds, salmon, avocado, and oils such as wheat germ, hazelnut, and sunflower oil.
Vitamin D. Find it in salmon, tuna, eggs, and mushrooms.
Iron. Find it in red meat, legumes, spinach, and broccoli.
Magnesium. Find it in chocolate, nuts, legumes, and tofu.
While we hope this guide takes some of the legwork out of squeezing in as many nutrients as you can in 1 day, everyone's dietary needs will be different. If you're curious about your specific needs, definitely speak to your doctor or nutritionist.
Tiffany La Forge is a professional chef, recipe developer, and food writer who runs the blog Parsnips and Pastries. Visit her at her blog or on Instagram.