We're elbows-deep into the holiday eating season and there's no need to slow down now. Let's go full-PieCaken for Christmas! That's right – pastry chef and PieCaken creator himself, Chef Zac Young has unwrapped a brand new limited-edition Christmas PieCaken ready to make even the sweetest of sweets-lovers' knees buckle.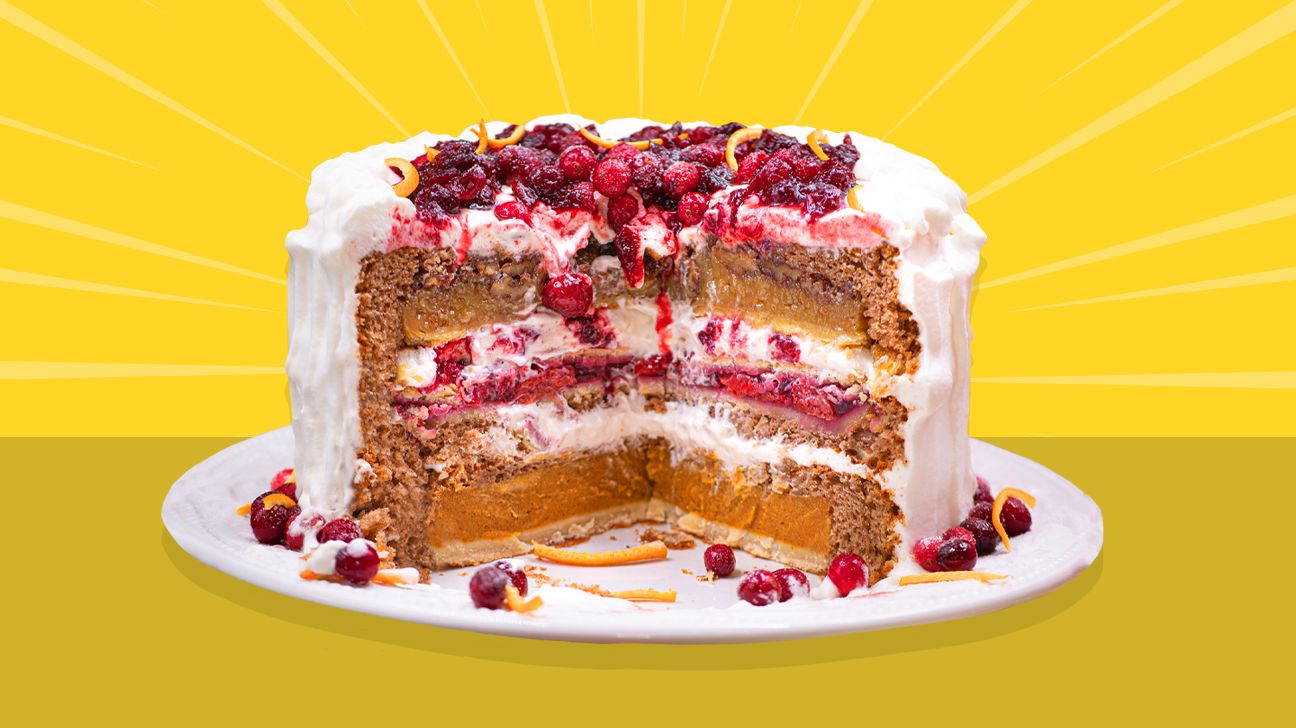 Not to be outdone by the legendary turducken, which is a concoction of deboned chicken stuffed inside deboned duck stuffed inside deboned turkey (not kidding) — the PieCaken is a three-tiered dessert combining two different layers of pie (full pie crusts included) topped off with one layer of cake. So think dessert medley inside a Christmas gift that you have to open with a knife and fork.
The goal behind the PieCaken design is to present three different dessert options in one unique package for those of us who might have a hard time picking just one. It also saves you the optics of putting multiple desserts onto your plate.
The original PieCaken, which turned out to be perfect for Thanksgiving, consisted of a layer of pecan pie, a layer of pumpkin pie, and a layer of spice cake with frosting on top.
The new 6-pound Christmas PieCaken also comes with a bottom layer of pecan pie. But this time, it's followed by a middle deck of eggnog cheesecake, and then a top level of red velvet cake for that Christmassy look. Cherry pie filling is spread over top and an amaretto-flavored buttercream frosting acts as the mortar between all the layers.
This Christmas delight can only be ordered online and it does come at a premium.
Cost: $99 + free shipping
Where to buy: goldbelly.com
Serves: 8–12 people
All PieCakens are delivered frozen nationwide after being purchased from the Goldbelly website. They arrive well-protected and can be stored for up to 3 months. So if you order one early and save it for Christmas, no need to worry about getting a stale freezer taste.
As desserts go, they do run a bit on the expensive side, but you're really paying for the long-lasting quality and the wow factor when it comes to displaying this treat at your holiday gathering or gifting someone with one.
If you'd like to try baking your own at home during the nonholiday season, this chocolate pecan PieCaken recipe has gotten some pretty tasty reviews.
More sweet content for your holiday spread