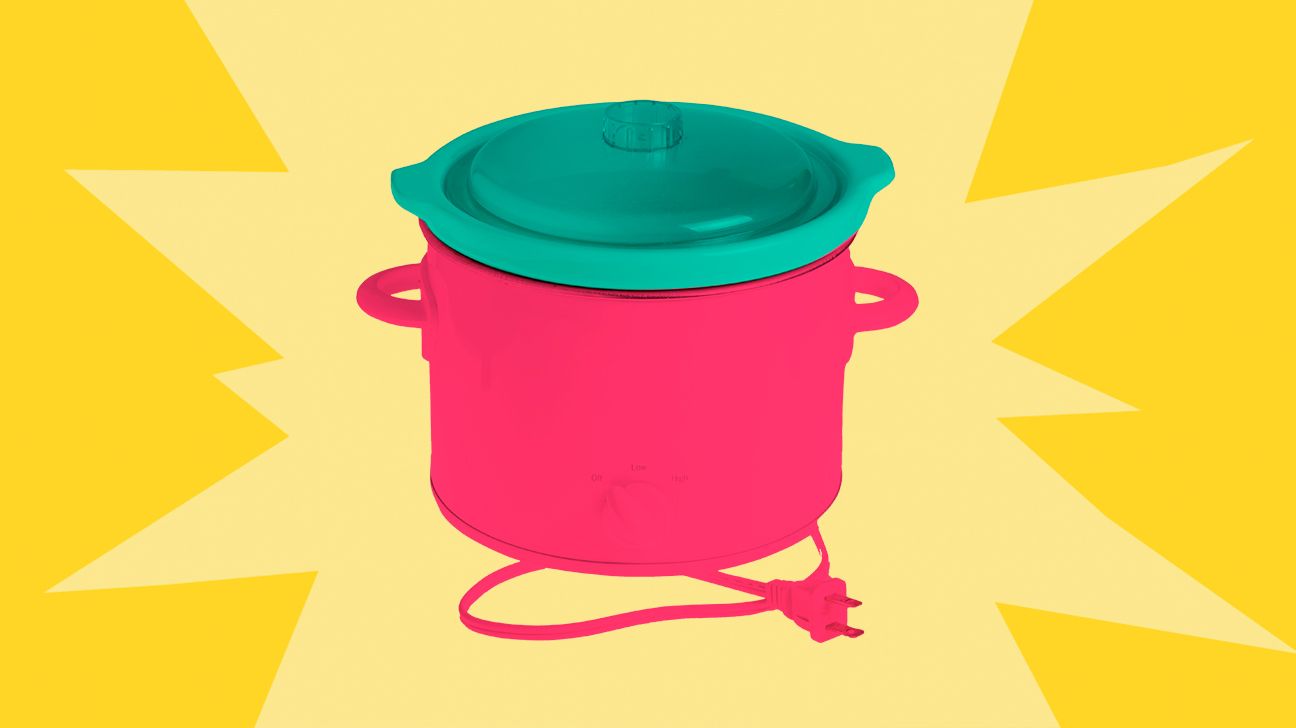 If you're trying to throw a dinner party without stressing yourself out, a slow cooker may become your new best friend.
By making a few key decisions ahead of time, you can have a meal ready to go as soon as you walk in the door after work — or as soon as your guests arrive (while you spend the time you're not actively cooking, sprucing up the place, putting together an easy dessert, or relaxing with a glass of pinot gris).
Check out these 12 budget-friendly slow cooker meals perfect for a dinner party but casual enough for every day.
This is a delicious fall soup that's easy to make vegetarian if you need to. Just substitute the chicken broth with vegetable or mushroom stock! Cumin, cayenne, saffron, and black pepper add a kick.
This soup stretches one chicken breast to feed six people but doesn't feel stingy at all, thanks to the ton of other delicious but thrifty additions (like fire-roasted tomatoes from a can, diced tomatoes with green chiles, black beans, and frozen corn kernels).
Bake your own tortilla strips and set out additional toppings of diced avocado, shredded cheese, cilantro, sour cream, limes, and fresh or pickled jalapeños. Instant fiesta!
Cinnamon, dark brown sugar, chili powder, and cumin combine for a deliciously sweet-smoky flavor in this recipe, while the tender, juicy pork shreds apart like a dream. Serve in pulled pork sandwiches, enchiladas, rice bowls, or whatever else you like.
This Burmese chicken slow cooker dish is enhanced with coconut milk, paprika, turmeric, cayenne pepper, fresh ginger, and garlic. Top with hard-boiled egg slices and diced green onion for extra authentic flavor.
This slow cooker soup is great for serving a crowd or storing a few portions in the freezer for a last-minute meal. The recipe calls for ditalini pasta, but you can use any type of small pasta. And for the kidney and great northern beans, feel free to substitute any kind of beans that you have on hand.
Barbecue beef brisket is worth the wait (not to mention the fact that you'll have sandwiches for days). This lick-the-spoon sauce is made with ketchup, dark brown sugar, chipotle peppers, cider vinegar, Worcestershire sauce, garlic powder, and cumin. You may never choose a jarred variety again.
The flavor of this chili develops slowly as it cooks — you can make this recipe overnight and it only gets better the longer you let the flavors meld. Make this in advance for a dinner party (or Monday night) and serve with cornbread or even Cincinnati-style, over pasta.
Rich beef short ribs flavored with sweet paprika, caraway, and coriander plus tender chunks of carrots and onion… this dish smells almost as good as it tastes.
Serve over egg noodles with sour cream on the side for an unexpectedly captivating party centerpiece. Or enjoy its homey comfort food vibe on any Tuesday dinner around the family table (or TV).
Using the slow cooker to make breakfast? A perfect plan (especially when you have company). This easy, cheesy casserole is studded with sage-spiced breakfast sausage and is the perfect make-ahead brunch dish. Drizzle with maple syrup if you like a sweet-savory combo.
Bacon makes these beans better than the rest (though if you need to make them vegetarian or vegan, just leave it out and add a few drops of liquid smoke instead). With ketchup, molasses, brown sugar, cider vinegar, Dijon mustard, cloves, and pepper, this classic picnic side is complex and creamy — perfect for serving with anything grilled.
This Asian-inspired pork is super tender after hours in the slow cooker and packed with flavor thanks to ginger, garlic, honey, soy sauce, and mirin.
Stirring in some kale an hour before it's finished means your serving of veggies is taken care of too. Then make it a complete meal with rice or noodles (or cauliflower rice if you're cutting carbs). Serve with sriracha or chili oil for extra spice.
Despite the "slow" in its name, your slow cooker is actually an excellent way to speed things up in the kitchen. Dump ingredients in its all-forgiving ceramic basin, flip a switch, and — bam! — dinner prep is done. When a company-worthy dish is served, dinner guests will be none the wiser that a handy countertop appliance did all the hard work.