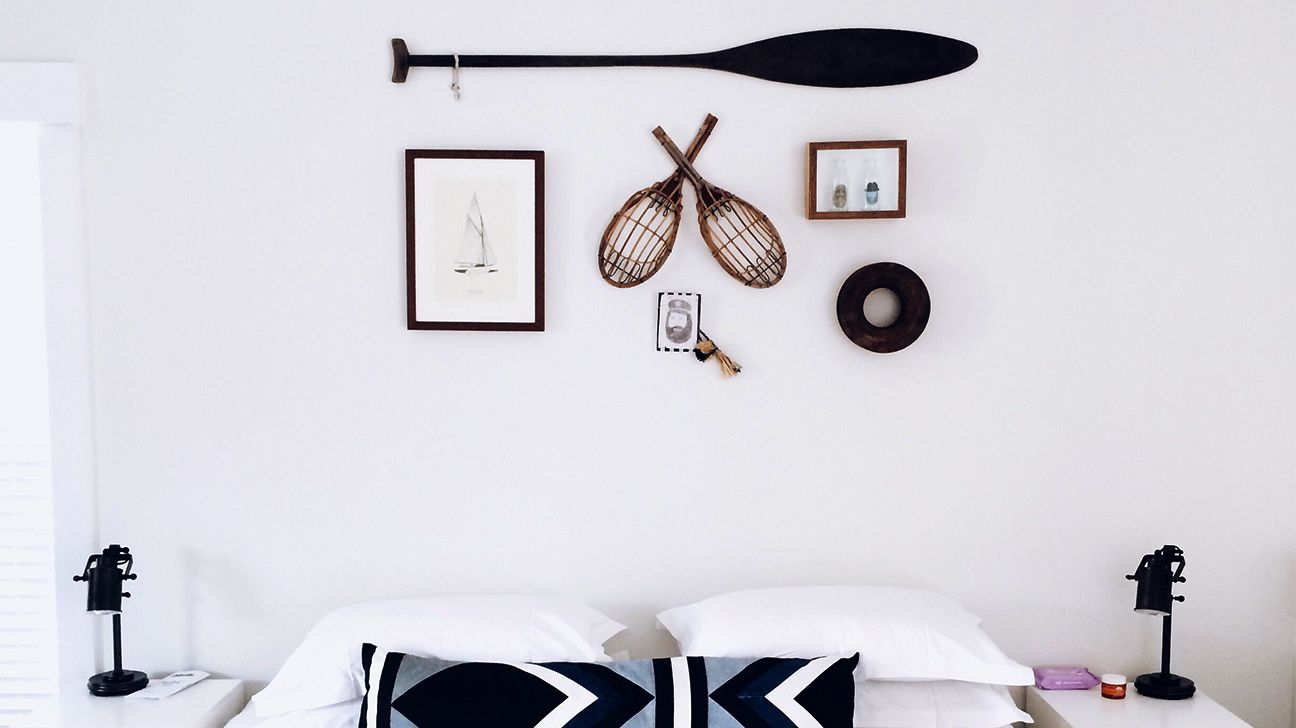 This year, it's only natural that the pandemic has left us feeling a desire for "comfort food." Sure, all those cookies and homemade loaves of bread feel good as they're going down, but what about taking a "comfort food" approach to your home décor, too?
This is where rustic design comes in. Reminiscent of tucked-away cabins in pine-covered locales, it's a warm, layered look that immediately says "cozy," and it's something you can achieve in a space where you regularly crave coziness: your bedroom.
If you find yourself drawn to plaid patterns and back issues of Country Living, you may already know that you love rustic style. Although it looks expensive (those perfect log cabins you spy on Instagram probably cost a pretty penny), you can easily capture the look on a budget.
Often thought of laid-back, textured, and featuring wood finishes and colors pulled from nature, interior designer Anita Yokota has her own definition of rustic design: "Rustic doesn't have to just mean shiplap and farmhouse. It can mean organic, earthy, and raw."
"Our brain activity thrives on positive messages. We rely on dopamine and serotonin to combat cortisol and reduce anxiety and depression. Natural elements are wonderful soothsayers to calm our brain activity into a state of ease and calm."
With roots in simpler, bygone times, rustic style has always had a hold on people's hearts and home décor.
"I think as human beings we are drawn to natural sources of energy," Yokota says. "So when you add a jute rug underfoot, it feels grounding. Or add a cable-knit throw pillow, our tactile experience of coziness goes through the roof."
As a licensed therapist, Yokota also believes that a rustic space can be good for one's mental health. She says, "Our brain activity thrives on positive messages. We rely on dopamine and serotonin to combat cortisol and reduce anxiety and depression. Natural elements are wonderful soothsayers to calm our brain activity into a state of ease and calm."
With that said, the pandemic has definitely brought about a heightened awareness and appreciation for the brain-benefiting aspects of nature. Right now seems like an ideal time to incorporate this "organic, earthy, and raw" look into your bedroom.
Yokota reflects, "Our bedrooms are our ultimate sanctuary to receive restorative rest and sleep. Adding in organic materials brings us back to basics and is essential for a relaxing environment."
If you're not all about deer antlers and log tables, you're in luck — there's more than one type of rustic, and you can discover the style that fits best with your personality and bedroom aesthetic.
Check out these seven unique spins on rustic design, ranging from dusty desert vibes to camp cool.
Modern rustic
Even though rustic design often emphasizes throwback or vintage elements, you can absolutely go modern with your visuals.
You'll want to bring in warm, on-trend hues (rust, yellow, and orange can live in a modern rustic bedroom) and current-looking pieces like tasseled throws and artfully arranged wall baskets. Also, don't be afraid to push the envelope with modern finishes.
"When I think of modern rustic," Yokota says, "I think of mixing classic rustic style, like warm colors and grounding textures, with elements that are a bit bolder and sexier — darker colors and metal accents."
Farmhouse rustic
When it comes to rustic design, a farmhouse approach is as sweet and cozy as it gets. Designer and author Joanna Gaines has always been onto something when she's draped bedrooms in salvaged architectural pieces, wood signs with heartwarming sayings, and textured pillows and blankets galore.
If you want to accomplish a vibe that would make the Queen of Farmhouse proud, Yokota recommends "a traditional look combined with a fresh feel," adding, "Think reclaimed and unfinished woods, natural fibers, and distressed finishes."
Glam rustic
Let's say that you're drawn to rustic design but you're not willing to give up those glam décor pieces you love so much. You'll be happy to know that shades of pink, rhinestone-encrusted lighting, and bouquets of flowers can be at home in a rustic bedroom, too.
"Glam rustic, to me, is all about a cozy, lived-in look and feel. This is a great style to incorporate your new pieces with great vintage finds," Yokota notes.
Camp rustic
There's another side of rustic design that feels a lot like you're going to summer camp. You could easily transform your bedroom into a Wes Anderson fantasy complete with striped wool blankets, camp pennants, national park posters, and plaid everything.
Yokota believes that a camp rustic look brings "the outdoors in" and says that in addition to flea market finds, you should aim for rich wood tones and warm, ambient lighting.
Nautical rustic
Whether you live next to a lake or the ocean, or you live smack dab in the suburbs, a rustic bedroom with lakeside or seaside ambiance feels fresh, clean, and downright tranquil. Gather up sea glass, weathered wood furniture pieces, and rope décor to perfect this look.
"This style has such a relaxed and cozy feel," Yokota says. "Cool, coastal colors mixed with warm, natural elements."
Desert rustic
Don't worry — you won't have to jet off to Joshua Tree National Park to get those desert rustic vibes. In fact, you can experience them in your own bedroom thanks to décor inspired by the region, like wood pieces that emulate the color of desert sands, cacti artwork, and warm hues.
"Desert vibes are some of my favorite," Yokota shares. "For me, I see desert rustic as natural, earthen materials mixed with neutral textures and contemporary, clean lines."
Cabin rustic
If you want to go for broke with this whole rustic bedroom thing, you can always decorate your space in cabin rustic décor.
This approach may make your bedroom look as if it was transported straight from a lodge in the middle of nowhere, dotted with pines and mountains in the distance. Punctuate your bedroom in Pendleton-inspired rugs, faux fur, and wood finishes.
Yokota describes this style as "earthy and natural." She says, "I think this rustic style is all about handcrafted, rough-hewn wood and organic materials. Cabin rustic is all about a color palette inspired from nature, using subtle browns, greens, reds, and sandy tones."
You don't have to spend a fortune to have the rustic bedroom of your dreams. These steps are geared toward multiple price points or if you only want to start with a few key pieces.
1. Create a color palette
Rustic style typically adheres to traditional colors like golds, reds, browns, and beiges, but you can turn to modern rustic colors for a more current look, including shades of black, dark blue, green, or even blush.
Many rustic design devotees would tell you that when in doubt, start with a base of brown or white and add color through accents. But Yokota thinks the reverse can be true, too, saying, "If you have bold blue-green walls, it can be good to use lots of neutrals to detract from the walls — it balances it out into cohesive design."
2. Set your sights on materials
If you want to represent wood finishes in your bedroom, you can create a wood board and batten wall or display it elsewhere on the walls through beadboard or wainscoting.
Wicker is on-trend these days, and Yokota says that you can bring it into a rustic bedroom through nightstands, headboards, accent chairs, and dressers, adding texture to the room.
Jute can be shown through rugs — Yokota particularly enjoys layering a vintage or patterned rug over a large jute rug.
If you don't have a real-deal exposed brick wall, Yokota says you can mimic the look through removable wallpaper in a brick pattern.
Substantial fabrics are also essential in a rustic bedroom. "I love using patterned and textured fabrics, like heathered velvet or leather, as a way to add design," Yokota says.
3. Focus on the main elements
Before bringing in décor, turn your attention to the walls of your rustic bedroom. Yokota is a fan of board and batten for rustic bedrooms.
As for your bed, neutral colors are usually spot-on in a rustic bedroom. To give it a bit of a twist, Yokota advises adding visual interest through snug textures, metal sconces, and cane nightstands.
As you choose lighting, consider metal as a modern rustic finish. "Sconces are a great form of ambient lighting that provide a wonderful way to unwind for the day," Yokota says.
After these elements are set, dig into the décor. Yokota gravitates toward seasonal florals and organic branches to style a rustic bedroom. "Bringing the outside in helps our mental health just as much as pretty eye candy," she says.
No fireplace? Yokota says that you can still achieve the feel through stacked wood logs that might inspire you to snuggle in with a mug of hot cocoa.
Vintage-style signs often pop up in rustic bedrooms, whether they were found at an antique store or simply look bygone.
Yokota says, "[Signs] are a whimsical and rustic way to accent your home. Plus, as human beings, we visually absorb messages, so if we see something like an inspiring quote all day long, we transmit it into our thought life and that motivates us to enact it in a positive manner."
Yokota shares her own experience of creating a rustic bedroom on a budget: "The best way I leveled up my own master bedroom on a budget was my DIY board and batten wall, by far the best budget DIY I have taken on.
"Adding architectural features on walls is an easy way to refine your space. The most expensive part of the project was my time and muscles. The materials weren't costly at all."
There are several shopping destinations for rustic décor that fit all types of budgets. Thrifting is a great option if you want to stick to a tight bottom line. "I love thrifting," Yokota says, adding that during the pandemic she's thrifted online through Etsy, Chairish, and Rejuvenation.
"I also love shopping my mom's house!" she says. "I now realize that my mom's taste has actually always been quite avant-garde. What once used to make my eyes roll I now really love and appreciate."
If you have a healthy budget for your rustic bedroom, Yokota suggests heading to Pottery Barn, Serena & Lily, and The Citizenry.