You know that feeling of bundling up and strolled through an autumn-leafed park arm-in-arm with your BFF? Or spending a long, dimly-lit winter evening chatting over a bottle of wine with your lover? That's hygge — pronounced 'hoo-gah' rather than 'hi-ghee' — and it's become one of Denmark's most Instagrammable claim to fame.
If you're wondering how a feeling can belong to a country, we're here to explain. And if you're eager to dive into the "hygge lifestyle," we're going to help you understand the right way to do it because, trust us, there's definitely a wrong way.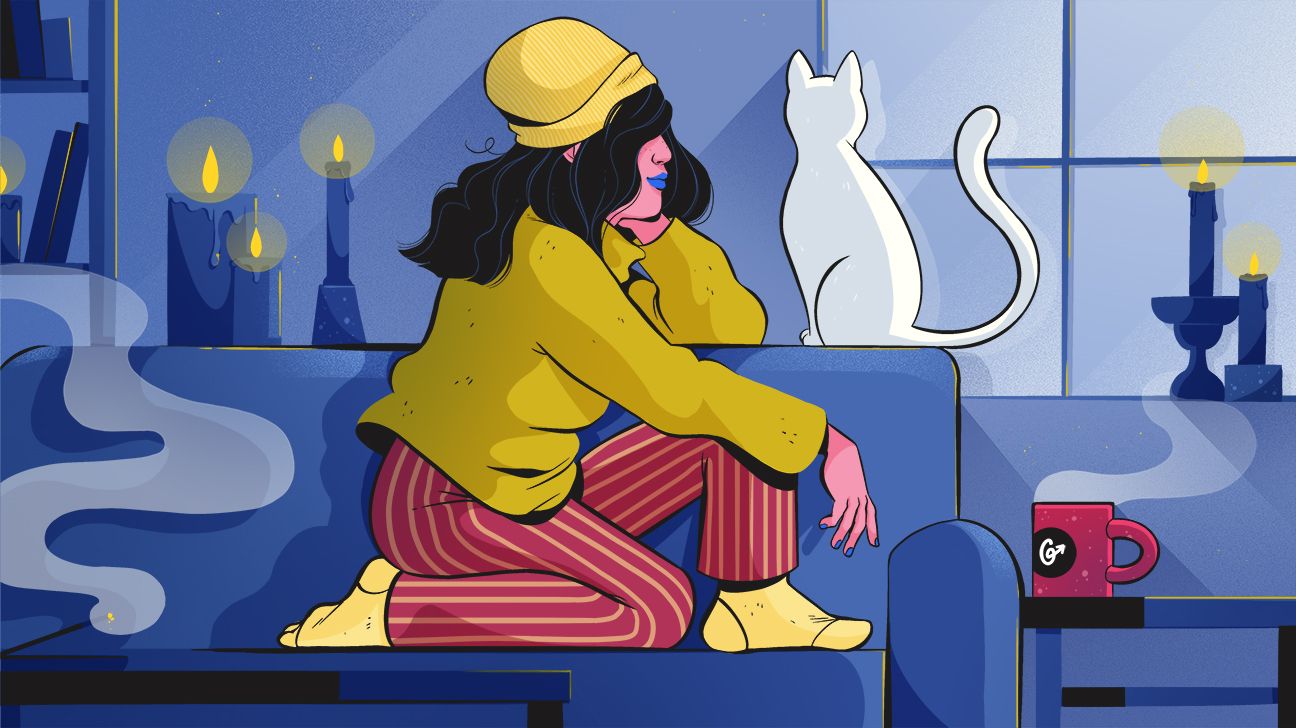 Hygge — which specifically refers to the concept of feeling warm, secure, together with friends and family, and present in the moment — is originally a Norwegian word that made its way to the Danish language in the 18th century.
While it's unclear exactly when hygge became the most precious aspect of Danish culture, it's no surprise that a people who are used to the sun rising at 8:30 a.m. all winter would relate so hard to a fancy word for "cozy."
For a couple hundred years or so, hygge was just a sweet piece of local Danish culture. But around 2016 marketers discovered the word's immense consumer potential and, with the help of Instagram filters, catapulted hygge to marketing buzzword fame.
Hygge — once a humble and non-materialistic notion — is now widely promoted as something that can be bought. And with this transformed from cultural tradition to interior design aesthetic, hygge took on a very specific look and feel. Here's what we mean.
1. You can never have enough candles
The dim flickering of candlelight is synonymous with being cozy and has also become central to the hygge aesthetic. In fact, the average Danish household burns a whopping 13 pounds of these cute little disasters waiting to happen every year.
2. Hardwood furniture is key
Maybe it's because Denmark is heavily forested or maybe it's just because wood things makes us nostalgic for our pre-urban ways of life, but you'd be hard-pressed to find a hygge IG account where wood isn't central to their pallet. Of course, real wood costs an arm and a leg so we wouldn't consider this a must-have.
3. Drape yourself in soft fabric
Plush blankets, leg warmers, knit sweaters, those beanies with the fuzzy ball on top — according to #hygge these comfy items are a fast-track to achieving the idea.
Need some hygge retail therapy?
4. Drink a steaming beverage out of a ceramic mug
Does the mug have to be ceramic? Of course not. Do you have to like tea? Nope! Honestly, drinking a red bull out of the can might be peak hygge for you. But on the Gram, hygge is often represented by the image of a swirl of steam coming off a handmade cup.
5. Old buildings, cobblestone streets, bridges over water = all very hygge
Hygge is often conflated with images of its northern European origin and while it's unclear how old architecture equates to conviviality and contentedness, we'll admit all that old craftsmanship is irresistible.
These accounts represent the hygge IG aesthetic to a T:
@polly.florence — Teeming with charm, images by UK photographer Polly are the antithesis of a chilled out Sunday.
@bohoandnordic — Pau blends Scandi design with touches of boho to create interiors that wouldn't look out of place in a magazine.
@hygge_for_home — Designing a new house from scratch has allowed Reena to add plenty of natural materials and textures to her interior.
Before you go filling your shopping cart with sheepskin slippers and over-prized candles, remember the true meaning on hygge is inside you (yes, we're serious). If you're interested in achieving an authentic hygge mindset, consider the following.
1. The hygge lifestyle can't be bought
Since hygge is a psychological state, it can't necessarily be purchased. Projecting an image of hygge doesn't equate to genuinely experiencing it.
Now, can you invest in little comfort items — wool socks, scented candles, quality wine glasses — that spark joy and complement the feeling of hygge? You bet. We're here for all of that.
But you can also experience hygge with your besties in a drafty, carpeted apartment drinking Two Buck Chuck out of plastic cups. Because you don't have to have nice things to feel loved and supported.
2. Many roads lead to hygge
Since the concept of hygge is a feeling, achieving it will be slightly different for each of us. For example, despite what you see on Instagram, there's no real hygge color pallet because the colors that bring you joy may not be what brings your neighbor joy.
Think about the top cozy moments of your life. Can you figure out what made it feel so nice? If you feel moved by the idea of hygge, put some thought into what exactly makes you feel whole and secure.
3. Hygge is not a solo quest
Yes, diving into a novel in your jammies is cozy but it's not technically in the spirit of hygge because central to the concept is connection with the humans you love. Hygge is all about the togetherness and intimacy that flows from conversation.
4. Hygge isn't weather dependent
As the Danes are quick to point out themselves, you can experience hygge at any point in the year. In the warmer months, this might manifest in the form of a picnic in the park with your roommates or a potluck in your backyard. Do you feel connection and wholeness? Secure and at-ease?
Hygge is a Danish concept that's based in feelings of security, appreciation, togetherness with others, and enjoying the simple things. It's also come to represent a certain aesthetic of neutral tones, serene spaces, and anything associated with the word cozy.
That being said, you can't really buy hygge since it's a state of being. So, find some approaches that work for you: whether that's baking with mom, adding some blankets and candles to your bedroom, or playing board games with friends.
Like we said, hygge is different for everyone and it's all about life's simple pleasures — so don't feel you have to conform to a certain Instagram-friendly vision.