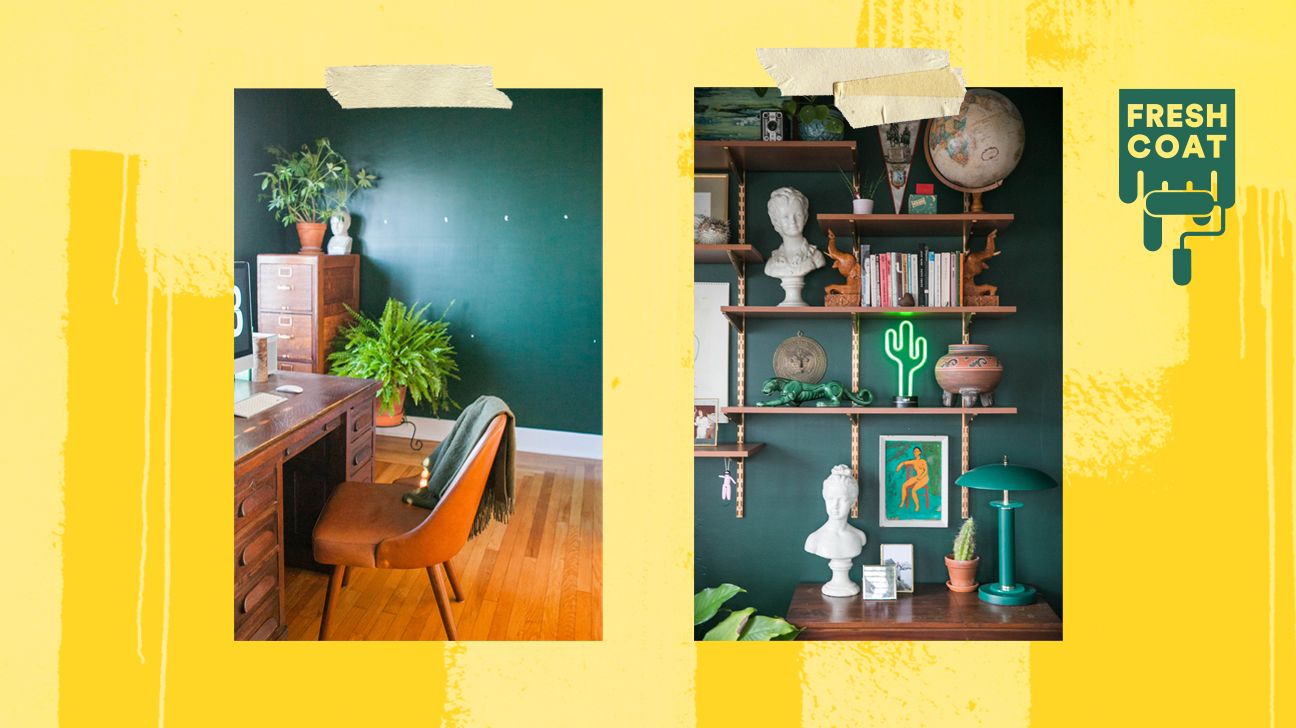 We include products we think are useful for our readers. If you buy through links on this page, we may earn a small commission Here's our process.
Greatist only shows you brands and products that we stand behind.
Our team thoroughly researches and evaluates the recommendations we make on our site. To establish that the product manufacturers addressed safety and efficacy standards, we:
Evaluate ingredients and composition: Do they have the potential to cause harm?
Fact-check all health claims: Do they align with the current body of scientific evidence?
Assess the brand: Does it operate with integrity and adhere to industry best practices?
We do the research so you can find trusted products for your health and wellness.
FreshCoat is an on-going series at Greatist that features easy, affordable DIY home projects, so you can add joy to your life by sprucing up your space.
Home has always been my sanctuary. I don't see it as just a physical place where I spend my free time but rather as a tangible blank canvas that reflects my creative mind. It's where I've struck a balance between running my business as an interior stylist and finding comfort and space to unwind. I am a Libra, after all.
Designing and decorating a home is an empowering practice, simply for how rewarding the opportunity to explore a personal sense of style can be — an artsy self-reflection, if you will. Bonus if a project has functional value.
Track shelving checks three crucial home design boxes: It's a great storage solution, it's attractive and customizable, and it's budget-friendly while still giving the look of high design. So I guess it checks four boxes!
An avid collector of vintage thangs, I sought this type of shelving because it could showcase my beloved tchotchkes alongside workday necessities. Not to mention that I'm a chronic rearranger and it's a ton of fun styling different looks and shelfie layouts. A gift that keeps on givin'.
This functional and fabulous showpiece makes the room feel SO much bigger and brings me joy every time I sit down to work. Even if your home's ceilings aren't super tall, the shelves draw the eye upward. By placing visual interest up high, they naturally make any space feel more open.
All in all, it took only 2 to 3 hours to spray-paint the rails gold and install the shelving onto the wall. The total cost for this DIY shelving was about $250. Not too shabby.
Prep tracks and mark the studs in the wall
The tracks are the mounts that support your shelving. While it's not necessary, I chose to spray-paint mine gold to add a bit of glam. If you want to do this, protect your floor with some plastic or a sheet you don't care about. (You'll see in the photo above that I rested them on two slats of wood so they would dry quicker.)
Spray the tracks and let them set for 10 minutes. Follow up with two or three coats of gold spray paint, letting each coat fully dry before applying the next.
Then, use your stud finder to — you guessed it — find the studs! Mark them with painter's tape at a few different points (as seen above).
Place and secure your tracks to the wall
This is the bulk of the project and the most important step to do carefully. The tracks need to be secured perfectly straight, or else the shelving will end up crooked. That's what the level is for! Here's how to do it:
Line up the first track against the stud (over the pieces of painter's tape).
Use your level to make sure the track is straight.
Use a pencil to mark the wall where the screws need to go.
Use your electric drill to secure each track to the wall with the 2.5-inch wood screws.
Lather, rinse, repeat for each track.
Place your brackets
The brackets are the supports that hold up each wood shelf. They snap into the slots in the tracks, so you can get creative with your spacing. I opted to have the shelf edges flush with one another to get the most retail space (I also find this look quite aesthetically pleasing).
Now you're ready to secure your wood pieces onto the brackets. Here's how:
Decide where you want each wood shelf to sit.
Rest the shelves on top of the brackets.
Make a small mark on the bottom of the wood where each screw hole will go.
Remove the shelves and use your drill bit to make holes where you left marks.
Fasten each shelf to the brackets with the 1.5-inch wood screws.
The last step is actually my fave: decorating your shelves! This is where you really get to explore your personal style, and there's no wrong answer.
Note: There's a limit to the weight these shelves can hold. Mine handle small to medium plants, but I'd guess any items over 15 pounds would be too heavy. You'll see in the photo above that I placed heavier items directly over the brackets for more support.
Jessica Brigham is a lifestyle blogger and interior stylist based in New Haven, Connecticut, with the goal of equipping and empowering those creatively inclined to live out their best magazine-ready life on a budget. Visit her blog at www.jessicabrigham.com