Ever want to escape the world and live in a woodsy cabin? Same. (Thanks, 2020.) But you don't need to go off the grid to get those relaxing vibes. Here's how to create your own rustic haven at home.
Here are the basic elements of rustic design:
function over form
neutral colors and natural tones
lots of unfinished, textured wood
big focus on comfort and an inviting atmosphere
earthy accents like leaves, animal hides, antlers, and stones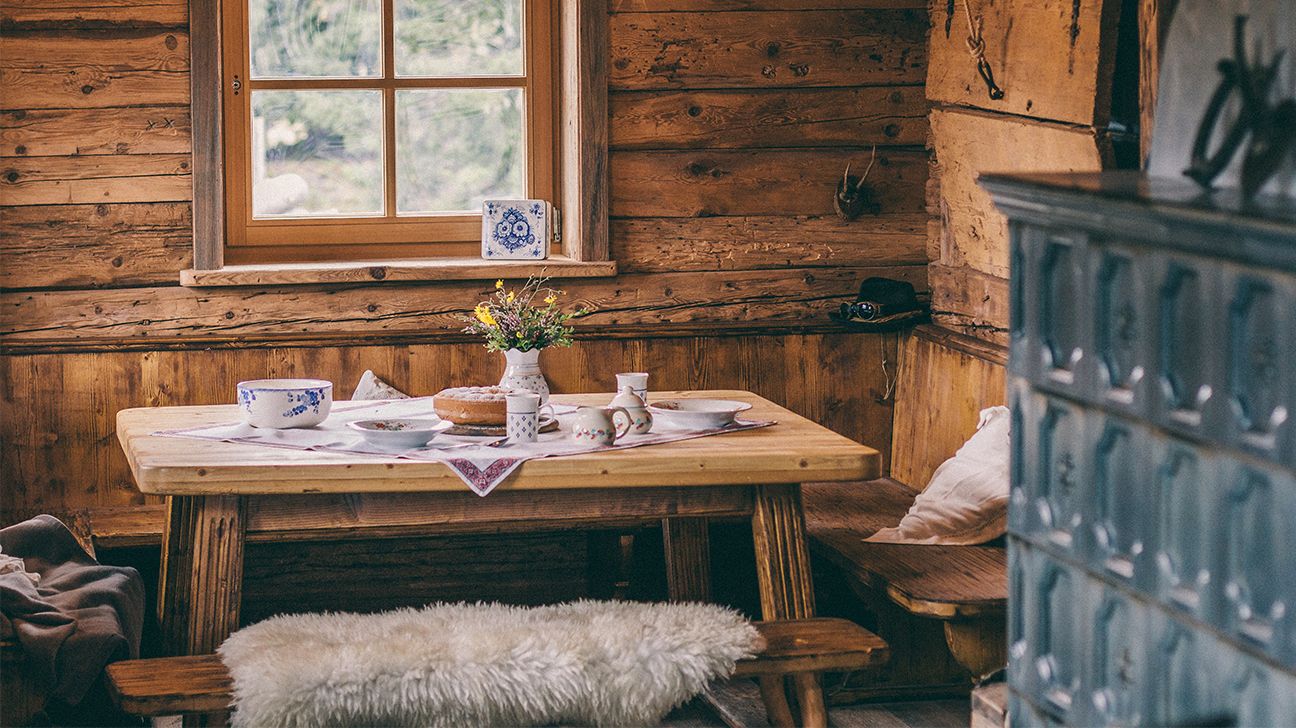 Rustic design can include elements of everything from a Tuscan villa to a coastal cabin — so coming up with an exact definition is a bit tricky. But! There are some common features that tie the aesthetic together. Here are the deets.
Wood is good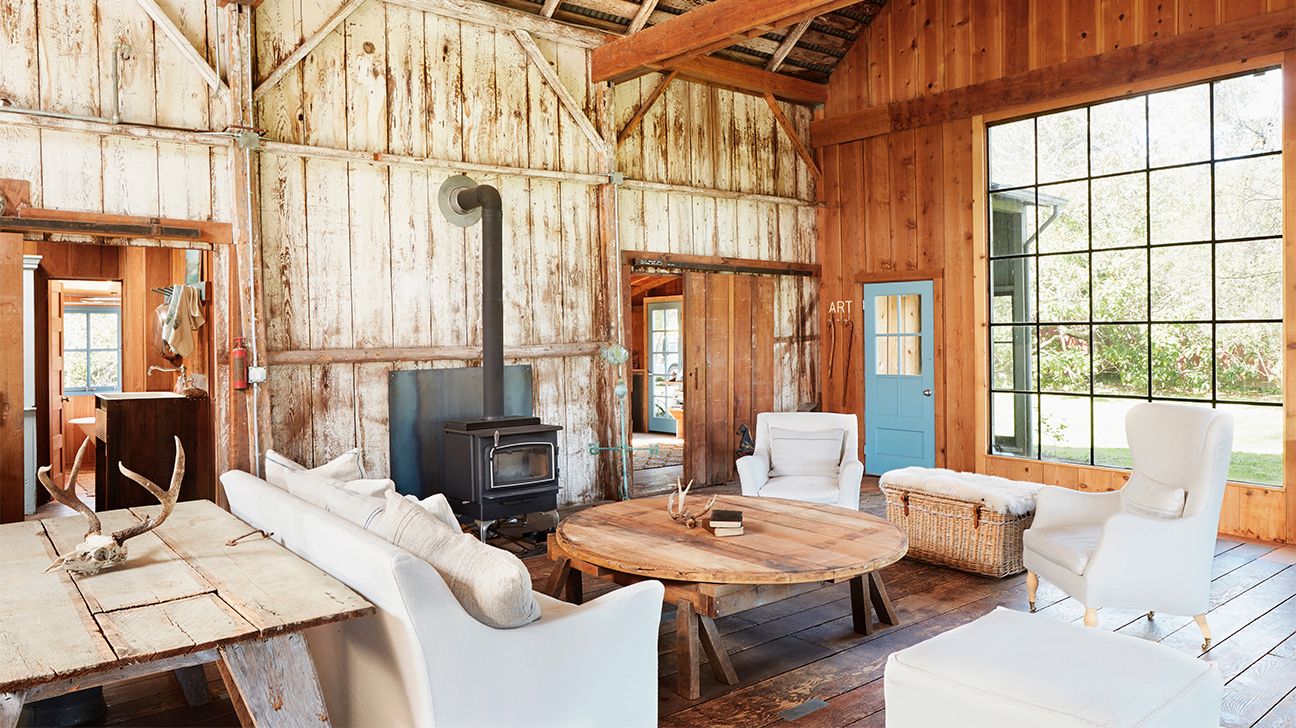 Wood is the glue that ties the rustic look together. We're talking wooden ceiling beams, wooden wall siding, unfinished floors, and heavy statement furniture.
Pro tip: Don't be afraid to get gritty. A major perk of rustic design is that it doesn't have to be perfect. Embrace the knots.
Texture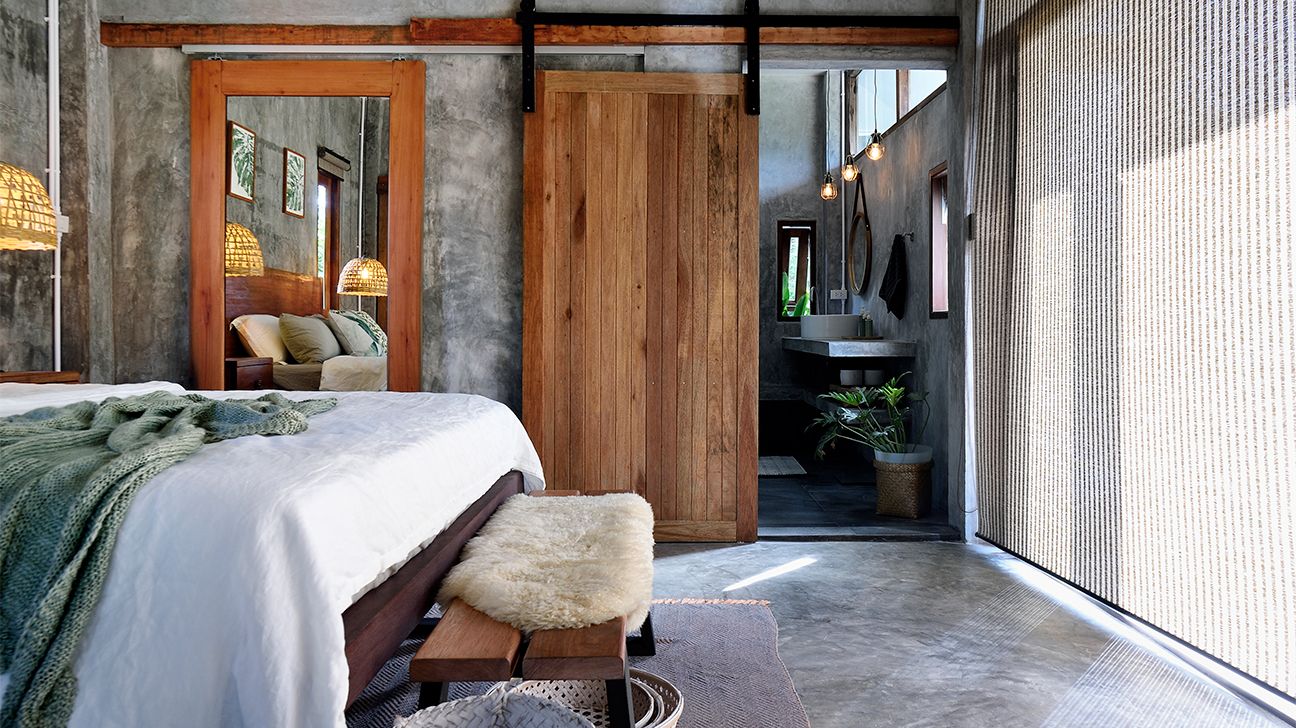 Rustic design has a literal feel to it and isn't meant to be smooth or shiny. Think raw stone fireplaces, coarse hand-knit blankets, soft animal skins, and jute rugs.
Heavy
This aesthetic is on the heavier side. That means hearty furniture, dark leather, and… did we mention wood? But don't worry. You can still rock an open concept or add lighter accents to make your space more breathable.
Handmade
Stick to handmade furniture and decor if possible. This will elevate the rustic energy and can give your space more character.
Worried about the price? We hear ya. Handmade furniture can get super spendy. But TBH, the quality is so much better than what you'd find at a big-box store (unless Michael Scott is your craftsman). So it's worth the investment.
FYI: You don't have to buy new. Your local thrift or consignment store might have exactly what you're looking for at a fraction of the price.
Beam me up
If you're lucky enough to have an exposed beam, keep it! This built-in statement piece is all the rustic rage.
Simple is key
Rustic design favors function over form. Don't be surprised if the pieces you find are more minimalistic than what you're used to. Just remember: Your eye should focus more on the material than the actual look.
Here's the ultimate guide to help you rustic-ify your home from top to bottom.
| Element | Description |
| --- | --- |
| texture | From grainy wood to rough rugs, rustic design is all about that texture life. |
| DIY banner | It's a simple way to add some spirit to a room. All you need is a piece of canvas or a thin sheet of wood, a wooden stick, and some string. |
| mason jars | Quite possibly the most versatile glassware on the planet, mason jars offer endless creative possibilities. |
| moss decor | When rustic and #CottageCore collide — moss adds a woodland-fairy feel to your living space. |
| off-white walls | Whether they're eggshell or oatmeal (yes there's a difference), off-white walls can balance out the heavier aspects of rustic design. |
| hidden gems | Be like Dolly Parton and treat your life like a bargain store. You never know what amazing rustic treasures you'll find at your local thrift or consignment shop. |
| natural slate | This grey stone looks lovely on a rustic roof. It also makes a very durable kitchen floor. |
| visual weight | Get furniture with some meat on its bones. Opt for solid wood and thick, woven fabrics. |
| exposed bark | Bark has a ton of visual bite. It makes a great trim around a bookshelf. |
| twine | Twine can be used in oh-so-many ways. Try to use it in your decorating when you can. |
| wood-paneled walls | Thanks to the rustic trend, wood paneling is making a comeback in a big way. Mrs. Brady would be so proud. |
| textured textiles | Take a walk on the woven side with a handmade rustic rug or blanket. |
| hairpin legs | Put these lightweight legs under a wooden slab for an impressive DIY table. |
| organic fabrics | Natural fibers are where it's at. Just be sure to choose materials that are ethically sourced. |
| statement furniture | Who doesn't love a little junk in the trunk? Thicc furniture pieces will add beauty and personality to any room. |
| non-shiny metal | Dull isn't a bad thing when it comes to metal. Matte (or even rusted) metals add depth and history to your aesthetic. |
| woven baskets | Adorable and functional, woven baskets are the bomb. |
| low-key seating | It's totally OK to mix and match chairs. Your beautiful wooden table will pull them all together. |
| natural accents | It's the little things in rustic life. Switch to brass doorknobs or put some fresh twigs into a vase. |
| floral accents | Fresh flowers add a natural pop of beautiful color. |
| unpainted wood | Leave that wood au naturel. It's perfect just the way it is. |
| antlers (real or fake) | Forgive us, Bambi. Antlers look great over a door. (You can also opt for the fake kind.) |
| stone fireplace | Nothing says cozy like a good old-fashioned stone fireplace. |
| reclaimed wood | Bring that wood back to life! Upcycling is an eco-friendly way to get creative. |
| wide-plank wood floors | Simple and solid, wide planks provide the perfect foundation for any rustic living space. |
| exposed stone or brick walls | Charming, casual, and elegant, exposed walls are hip(ster) AF. |
| wooden beamed ceilings | It's as close to camping as you can get indoors. Just light a balsam fir candle and you won't even know the difference 😉. |
| petrified wood decor | Technically a fossil, petrified wood is a unique accent to any room. |
| simple patterns | Keep the natural vibe alive with simple furniture and bedding patterns. |
| wood decorations | We know, we know — there's a lot of wood on this list. But that's OK since it's so darn versatile. |
| raw natural elements | Natural elements like stone, wood, and bone are easy to find and even easier to maintain. |
| rustic dishes | Get some plates and bowls made from clay or stone. Stick to neutral colors like beige, brown, and gray. |
| DIY accessories | You'll feel proud of your crafty superpowers! FYI: A hanging coat rack is a great first project. |
| tree stump table | This looks great in any entranceway. Plus, it's the perfect place to leave your keys. |
| dark leather (real or faux) | Make your couch the focal point of the living room by opting for dark leather. |
| animal hides (real or faux) | Animal hides are classic country. Good news: There are tons of vegan options online. |
| pillow pals | Feel free to up your pillow game. They add a fun flair to your couch or bed. |
Not sure which materials are really rustic? We have you covered. Here's your go-to rustic design shopping list:
leather
animal hides
natural stone
unfinished wood
woven storage containers
rugs made from natural fibers
real bricks (the wallpaper kind will do in a pinch)
For rugs, focus on natural fibers like burlap, jute, and canvas.
As for bedding, you probably don't want to sleep in a burlap sack. Organic cottons and linens are a great alternative. You'll be comfy-cozy without ruining your rustic room.
Reminder: Stick to neutral colors and simple prints.
Rustic decor is one of the easiest design styles to DIY. You can get picture-perfect pieces in unexpected places like your local flea market. Even if you don't like a piece's varnish, you can always strip and sand it back to its former glory (it's easier than it sounds).
Not down with #ThriftLife? Try Etsy, which is focused on all things handmade and vintage. It's great because you can support your style and a small business/artist at the same time.
Before you start to Google "how to haggle for wooden candle holders," here are some popular rustic retailers:
West Elm
Anthropologie
World Market
Restoration Hardware
Pottery Barn (sorry, Phoebe)
For some people, rustic isn't just an aesthetic — it's a LIFESTYLE. And we're totally here for it. But getting started can be a bit overwhelming. After all, there are like 938,345,093 "Rustic Decor" boards on Pinterest. OK, so we exaggerated a little bit, but still!
Thankfully, a lot of popular internet peeps can curate the aesthetic for you. Here are five blogs to help you design the rustic space of your dreams: