We include products we think are useful for our readers. If you buy through links on this page, we may earn a small commission. Here's our process.
Greatist only shows you brands and products that we stand behind.
Our team thoroughly researches and evaluates the recommendations we make on our site. To establish that the product manufacturers addressed safety and efficacy standards, we:
Evaluate ingredients and composition: Do they have the potential to cause harm?
Fact-check all health claims: Do they align with the current body of scientific evidence?
Assess the brand: Does it operate with integrity and adhere to industry best practices?
We do the research so you can find trusted products for your health and wellness.
Many people claim transcutaneous electrical nerve stimulation (TENS) units word wonders for back pain. But, there's no hard proof TENS units can consistently relieve pain.
TENS devices have been around since the '50s, but it wasn't until the early 2000s that infomercials started advertising them on the reg.
These days, TENS is FDA-approved to provide pain relief for:
chronic pain
arthritis
temporary pain or sore muscles
pain after sudden injuries or surgery
They deliver tiny electrical impulses to your nerves, which may reduce pain signals to your brain and bod. But we'll be honest: Even though they're FDA-approved, there's not enough research yet to know if they actually or consistently provide pain relief.
That said, lots of people love them. Here's how to use TENS units and where to buy them.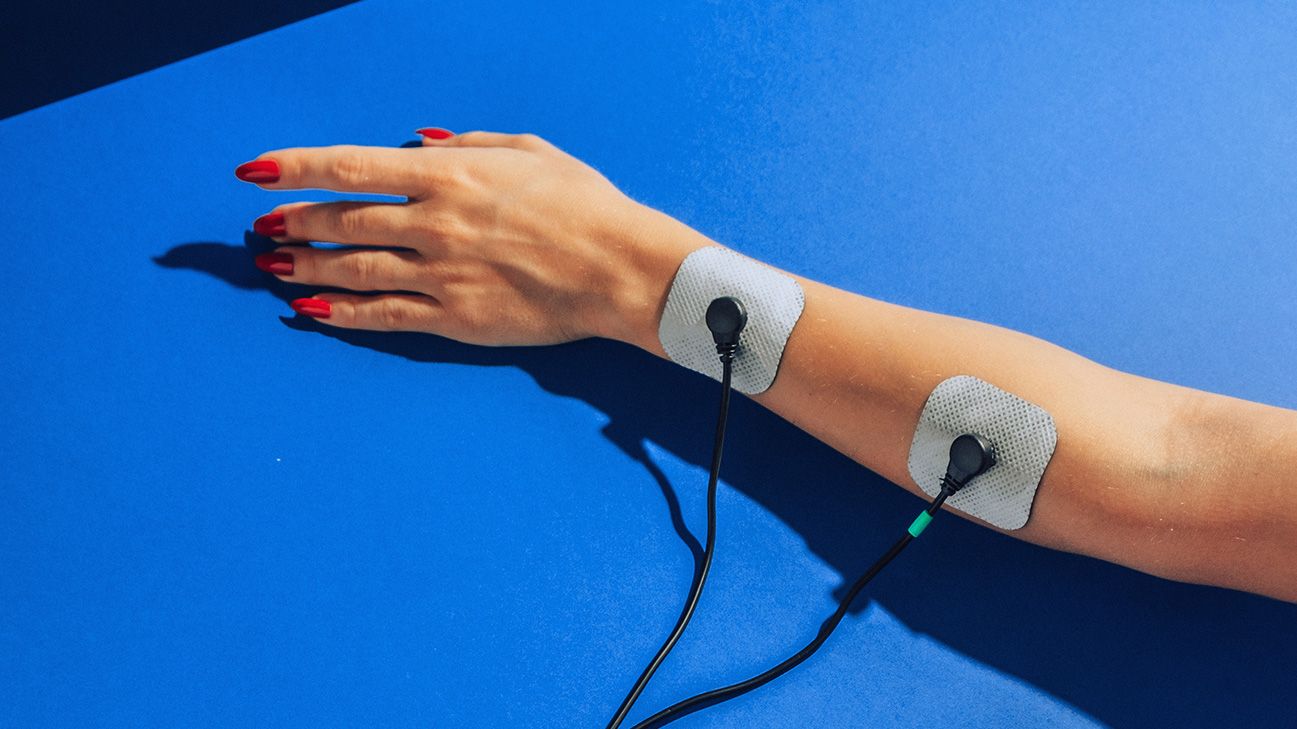 TENS units are devices that use electrical currents to activate targeted nerves in your body (e.g. where you have muscle spasms or back pain). Even though "transcutaneous electrical nerve stimulation" might sound like a fancy sci-fi machine, they're pretty basic devices. They've been around since before The Jetsons.
They're usually small enough to fit in your pocket and battery-operated. Then, place a little pad with electrodes on the skin where you need it. This is connected to the operating device via wires.
These bad boys are often administered by a physical therapist or another professional in a clinical setting. Then, after some instruction, a patient might be sent home to use one solo. That's because it can take a few therapy seshes before the pros figure out the ideal stimulation settings, including the amount of Hz to fire into the targeted nerves and exactly where to place them.
Two common approaches include firing at a high frequency (above 50 Hz), which is the traditional method. Experts are experimenting with low frequencies ranging from 1–10. The high frequencies typically cause patients to feel tingling, while lower ones can cause burning and needling, almost like acupuncture.
Most devices can be customized to deliver pulses in varying patterns. For example, an expert might recommend a constant pulsation, a repetitive rhythm, or bursts of pulsations followed by breaks with no flow. But there's not enough research to solidify which approach is best, let alone for which conditions.
The most probable theory asserts that TENS units activate the spine's nervous system by stimulating the production of your body's built-in painkillers like endorphins and glutamate. There's also the gate theory, which suggests the brain can't perceive two stimulants at once. So, the TENS sensations override the pain sensations.
Some experts also think that TENS units cause dilation of blood vessels in targeted tissues, which could impede pain sensations. But again, the pros don't know for sure.
While we don't have conclusive research that proves TENS units work on back pain. In a 2022 review, scientists concluded that the majority of research suggests that the effect of TENS on pain control remains undecided. But, some promising studies allege TENS units might relieve back pain. For example, a 2021 review looked at 169 studies on TENS for sudden and chronic pain. They found that TENS offered pain relief across 69 studies, zero benefits in 13 studies, and inconclusive evidence in 87 studies.
Some other relevant studies include:
In a small 2021 study of 50 participants, researchers concluded that TENS therapy didn't reduce pain scores in people with chronic low back pain compared to the control. However, the TENS-treated group had significantly higher tolerance to pressure applied after the 4-week therapy. So, while it didn't reduce overall pain scores, it did seem to boost pain tolerance.

A

2023 review

on TENS use for general acute pain

found that in six clinical trials, active TENS worked better than placebo TENS. However,

since the instructions and timing for pain reporting were inconsistent, researchers said there's a risk of unreliable results.
FYI: Some healthcare pros give it the green light. TENS units are used in many medical settings, and some doctors, nurses, and other healthcare pros say they've seen them work first-hand. How well it works seems to depend on the individual and the condition being treated, though. For instance, they do appear at least anecdotally to work well to aid in rehab after an injury.
But… It seems to only provide short-term pain relief, if any. If TENS units work at all, it may be because they interfere with the body's pain perception response in the short term. So far, there's no evidence that electrical pulsations have a long-term effect on the body. So you'd have to keep wiring and firing your device to see results.
Unlike that bottle of pain meds, there's no such thing as a recommended dose for TENS. Some experts recommend using it up to 4 times a day, while others say a few times a week is sufficient.
It's really up to you and how you feel. Some people only use it when their pain is acting up for instance, while others prefer to use it on a daily basis.
So, she's a 10, but she ignores the scientific research and buys a TENS unit to treat her back pain, anyway. (Feel ya.)
It's always a good idea to talk to a medical professional about using a TENS unit. Once your provider gives you the all-clear, there are lots of OTC models to choose from. Here are some awesome options:
You can also find a TENS unit at your local pharmacy. They may cost anywhere from $20 to over $150. Remember the more expensive ones aren't always better, though, so scope out reviews and do your research before buying.
These devices typically come with 2-4 pads that you stick to your skin. Stick them where you feel pain, at least 1 inch apart.
It may take some experimenting to find your sweet spots. For instance, if both sides of your back are aching, you can place 1-2 pads on either side of your spine.
Switch off the machine before you attach the pads. Never place the pads on:
your temples
your mouth
your eyes
your upper back and chest at the same time
the side or front of your neck
irritated, infected or wounded skin
numb areas
Not to sound like a TENS machine firing the same dang Hz frequency over and over… But there's not enough research to prove that TENS devices even work for back pain.
But since they also cost as little as $20 and are considered very safe for most people, you may wanna try them anyway. So, who are not most people? Those who should not use TENS units or who should seek medical advice before using one include people who:
PSA: Some people may experience allergies to the electrode pads, causing redness and skin irritation. If it happens to you, cease use and visit your doctor. If you have skin sensitivities, there are also hypoallergenic pads you can buy.
There's not enough evidence to prove that TENS provides back pain relief. But they're a relatively cheap and safe option to try. They seem to work by activating the body's natural painkillers like endorphins.
If you want to try a TENS unit for yourself, there are tons of OT C options to choose from. Though it's always a good idea to talk to a doc before using one, there isn't a serious risk of side effects as long as you follow the de ice's instructions carefully.