We include products we think are useful for our readers. If you buy through links on this page, we may earn a small commission Here's our process.
Greatist only shows you brands and products that we stand behind.
Our team thoroughly researches and evaluates the recommendations we make on our site. To establish that the product manufacturers addressed safety and efficacy standards, we:
Evaluate ingredients and composition: Do they have the potential to cause harm?
Fact-check all health claims: Do they align with the current body of scientific evidence?
Assess the brand: Does it operate with integrity and adhere to industry best practices?
We do the research so you can find trusted products for your health and wellness.
When it comes to the vitamin that offers up the greatest body benefits, the one named "C" arguably takes the crown. And it's not just your insides that are BFFs with vitamin C: this nutrient can also help transform the appearance of your skin.
"Vitamin C products are packed with antioxidants that are known for providing a brightening and "glowy" effect on our skin," says dermatologist Dr. Kathy Taghipour. "It naturally improves the appearance of skin by fighting signs of aging and UV exposure, along with hyperpigmentation and dark patches."
So hell yeah, add this to your beauty regimen — but before you buy the first thing you see, learn about what exactly makes vitamin C (aka L-ascorbic acid) so powerful so you can not only convince all your friends but also know which products work best for your skin.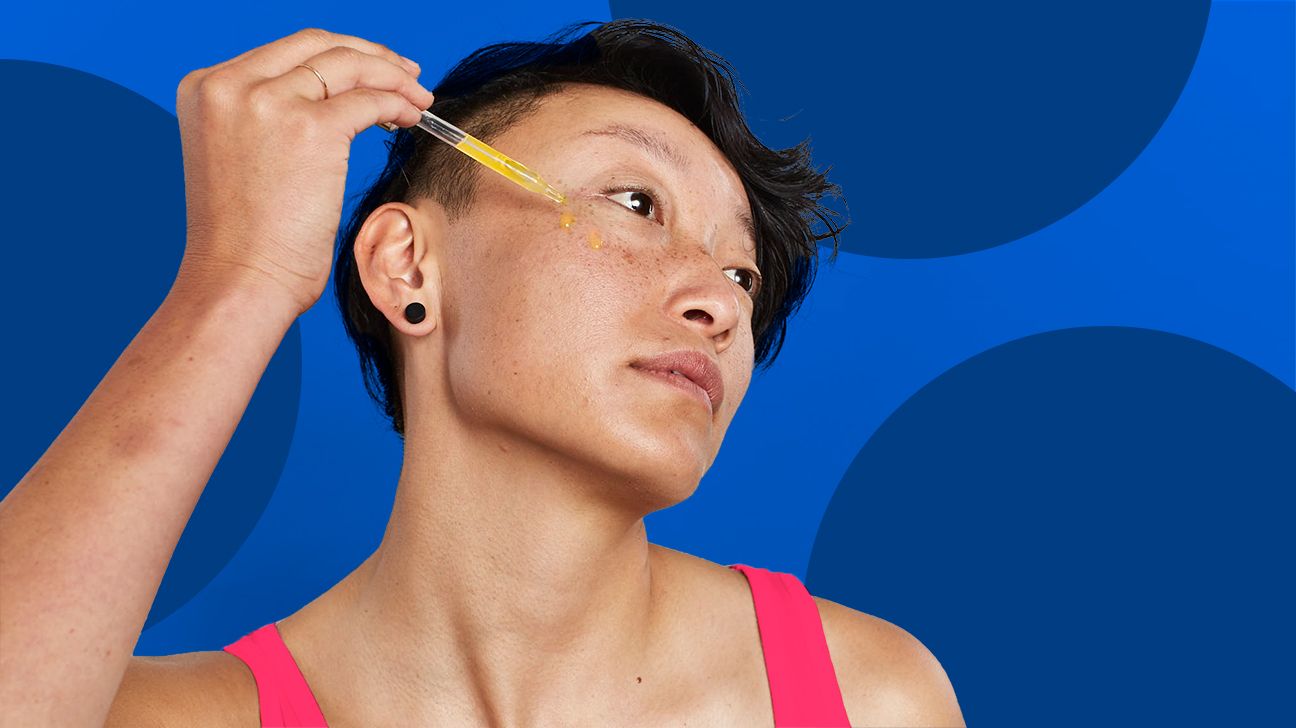 1. Fights lines and wrinkles
When it comes to fine lines, wrinkles, and other signs of your skin's wear and tear, vitamin C is a handy tool to have in your arsenal. Research shows this nutrient helps protect against damage and aids in skin regeneration, by neutralizing free radicals.
2. Revitalizes sun-damaged skin
Prolonged sun exposure does a number on the skin — flakiness, discolored patches (sunspots), rough areas, rosacea, etc. But topically applying a daily vitamin C dose may guard your skin from taking too much damage.
One study found people with mild to moderately photo-damaged skin experienced a significant improvement in skin appearance, including fine lines, roughness, and skin tone, after using a topical vitamin C treatment for 3 months.
3. Evens out tone and minimize redness
Blotchy, uneven skin can result from a number of factors, from sun exposure to hormones to medical conditions.
The good news is, vitamin C has proven itself a hearty warrior in the fight against redness, as it helps mend the damaged capillaries that cause this discoloration and strengthen them for the future.
4. Hydrates thirsty skin
With the average adult carrying 2 square metres of skin on their body, this organ is certainly thirsty — and we're not talking about looking for attention.
Comprising 64 percent water, your skin needs to be kept hydrated, and your new chum vitamin C is here to bring the juice (or water, we should say). It also helps your skin retain water, preventing it from becoming too dry or oily.
5. Improves elasticity
Topical vitamin C has been shown to encourage collagen production, a naturally occurring protein in our body that helps give skin that tight, plump look.
Since the body naturally makes less and less collagen as it ages, using an ingredient like vitamin C can help slow down skin aging.
6. Helps reduce inflammation
If your skin is red, irritated and showing signs of a rash, there's a good chance that an underlying immune response, infection, or allergic reaction is behind it.
While many causes require medication to ease their effects, studies show topical vitamin C to be effective in relieving signs associated with inflammatory skin conditions such as dermatitis, acne, and psoriasis.
7. Eases hyperpigmentation
Hyperpigmentation refers to dark patches of skin, caused when the body produces too much melanin (the pigment that gives your skin its color).
While generally not harmful, hyperpigmentation can prove distracting — but topically applying vitamin C has been shown to decrease its signs, as it inhibits production of tyrosinase, an enzyme that contributes to melanin production.
8. Calms down sunburn
While we're certainly not suggesting vitamin C as an alternative to ditching the SPF, if you do have a sunburn mishap, it can help steer you away from Rudolph territory.
This clever nutrient helps speed up cell turnover, meaning sunburned skin is rejuvenated and heals faster.
9. Aids healing
As if it didn't already boast enough superpowers, vitamin C has been proven beneficial in helping repair wounds.
This is thought to be as a result of its ability to increase the movement and number of fibroblasts in our skin — the connective tissue cells that are key to the healing process.
While this antioxidant is in many of our everyday foods (kale, broccoli, strawberries, and oranges, especially), you have to apply it topically for your skin to enjoy its full effects.
The good news is, whether your skin is dry, oily or some weird combo you're still trying to figure out, vitamin C doesn't play favorites — as long as you play nice and apply it correctly.
"Vitamin C is best implemented into your routine with a serum, as this allows the L-ascorbic acid to remain stable and more effective," Dr. Taghipour explains. "It will also absorb into the skin better, as serum is a lighter formulation than moisturizer."
In terms of when to use it, vitamin C should become a staple in your morning routine, as this allows it to do its work in protecting skin from free radicals during the day.
"You should cleanse and tone, then apply your vitamin C serum and follow with a moisturizer," says Dr. Taghipour.
Don't forget to apply sunscreen after moisturizing, in order for the two products to work well together to combat UV exposure, she adds.
Quick take: Apply a vitamin C serum once or twice a day, after toner and before your moisturizer. Always wear SPF with products that contain vitamin C.
Once you start Googling you'll realize just how many vitamin C products are out there. Keep these tips in mind.
1. Look for L-ascorbic acid
Lots of products claim to contain vitamin C, but for this antioxidant to be truly effective, you need to look for L-ascorbic acid in the ingredient list — as this is its most stable form.
2. Concentration is key
Dr. Taghipour recommends starting with a 10 percent concentration to see how it suits your skin. "You can then move to a product containing a higher concentration of 15 to 20 percent if you feel this is required and your skin can tolerate it," she says.
Make sure the product has at least 10 percent, she adds, as any less than this won't be effective.
3. The container shouldn't let air or light in
Vitamin C is super-sensitive to light, so the sun's rays will break it down faster if it's in clear packaging. As such, you also want to keep it stashed away in a cool, dark space — such as the fridge — as heat exposure reduces its potency too.
Although vitamin C serums are often a yellowish color, if the tint turns darker or brownish, that's a sign it's turned and should be tossed.
4. It contains complementary ingredients
Your vitamin C product will be the most effective if it contains the following complementary ingredients:
Stick to the professional products
It may be tempting to stir some orange or lemon juice into your moisturizer to save some dollars, but DIY vit C mixtures aren't only ineffective, they can do more damage than good: The psoralens in citrus juices are highly reactive to UV light, and exposure can lead to rashes, blisters, and even second-degree burns.
With so many products on the market, it can be hard to know where to begin. Here, Dr. Taghipour and our editors share a few of their favorites — with something for all budgets.
Feeling thrifty: under $30
The Ordinary: Vitamin C Suspension 23% + HA Spheres 2%
Contains 23% vitamin C.
Get it via Amazon.
Suitable for all skin types, this packs a mighty L-ascorbic punch at a wallet-friendly price.
Mad Hippie Vitamin C Serum
Contains 10% vitamin C.
Get it via Amazon.
This formula contains vitamin C besties ferulic and hyaluronic acids, and it won't break the bank.
Upping your game: under $50
Eucerin: Hyaluron-filler Vitamin C booster
Contains 10% vitamin C.
Get it via Amazon.
Suitable for all skin types, this also contains hyaluronic acid, to help smooth and plump skin further.
La Roche Posay: 10% Pure Vitamin C Serum
Contains 10% vitamin C.
Get it via Amazon.
Suitable for all skin types, it also contains salicylic acid — known for its ability to purify and exfoliate.
Pay-day treats: under $70
Perricone MD: Vitamin C Ester Brightening Serum
Contains 15% vitamin C.
Get it via Amazon.
Suitable for all skin types, this serum also contains squalene and rosemary leaf extract for extra hydration.
SkinCeuticals: Serum 10 AOX+
Contains 10% vitamin C.
Get it via Amazon.
Suitable for normal and dry skin, it comprises ferulic acid to increase the vitamin C's stability.
Start saving: $75+
Clinique: Fresh Pressed Daily Booster with Pure Vitamin C
Contains 10% vitamin C.
Get it via Amazon.
Suitable for all skin types, this includes squalane — another antioxidant that offers similar benefits to vitamin C.
Drunk Elephant: C-Firma Day Serum
Contains 15% vitamin C.
Get it via Amazon.
Suitable for all skin types, its sodium hyaluronate content also helps reduce the appearance of fine lines.
Chantelle Pattemore is a writer and editor based in London, UK. She focuses on lifestyle, travel, food, health, and fitness.