Ginseng may seem like the brand-new buzzword of skin care, but ginseng has been a K-beauty staple for generations.
Here's why this slow-growing root just might be the perfect ingredient for a fast-acting glow-up.
What are the top ginseng benefits for skin?
Ginseng stans believe it blesses their skin with a host of benefits, including:
reducing fine lines and wrinkles
banishing dullness
reducing redness
making skin glow
It's not all hype, either — some research supports these claims.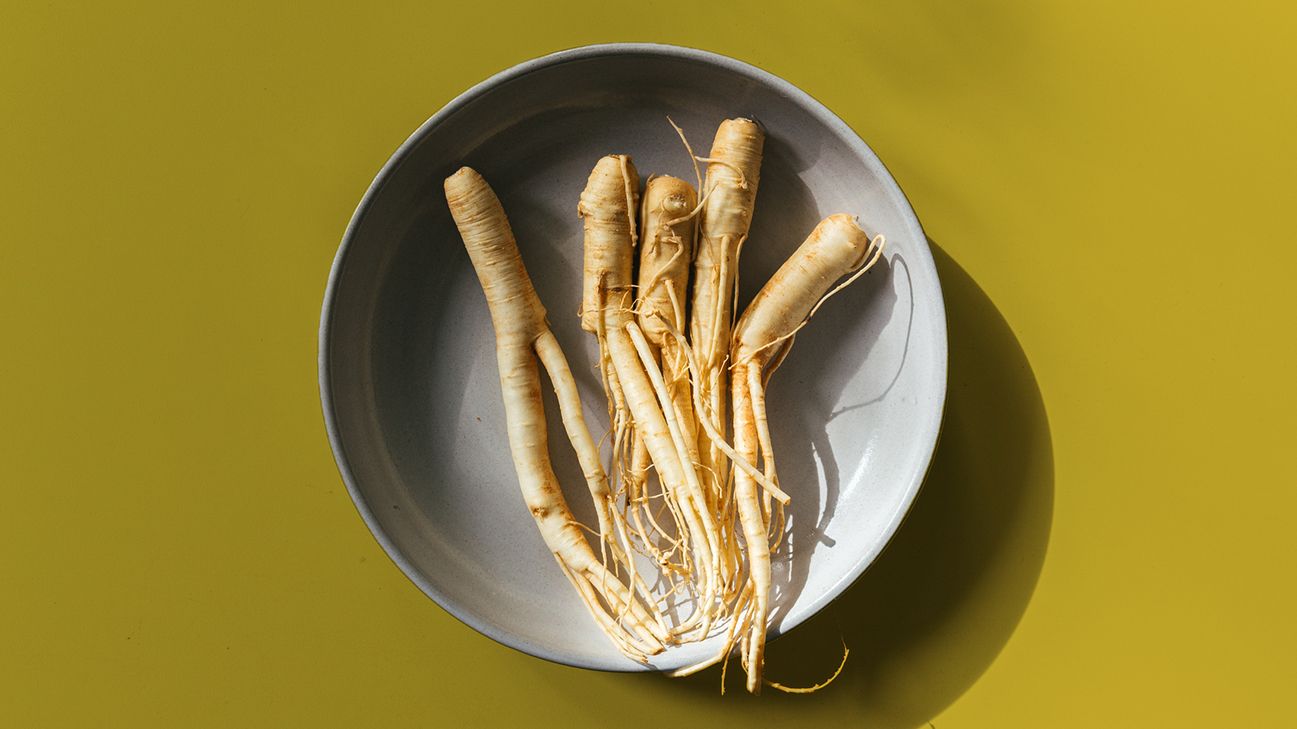 Before all the K-beauty and influencer rage, Asian ginseng was a core part of traditional medicine in East Asian countries for thousands of years. It's native to places like China, Korea, and Siberia.
Typically used in the dried form of the root, it was thought to provide a number of benefits, from treating disease to serving as an aphrodisiac, stimulant, and anti-diabetes agent. It was also commonly used to treat bruises, boils, swelling, sores, and other skin conditions. (💫The more you know.)
In the past 3 decades, it's become one of the most popular herbs in the world.
These days, ginseng is often a standout ingredient in skin care products like sheet masks, eye creams, and serums.
According to a 2017 review, its key benefits for the skin include:
reducing signs of aging
anti-inflammation
skin protection
Rich in vitamins and minerals, it's considered suitable for all skin types. Its active components, ginsenosides, may be responsible for revitalizing and reactivating skin cells in particular.
Blur fine lines and wrinkles
Wrinkles might be adorable on pugs and grandparents, but not everyone loves them on their *own* face.
Ginseng can help. It boosts circulation in blood vessels, potentially ramping up collagen synthesis and firming the skin. Two clinical trials (one from 2015 that used topical ginseng and another from 2009 that used oral red ginseng) concluded that ginseng extract diminished the appearance of wrinkles.
According to 2017 research, Ginseng extract may also boost skin's hydration, helping to prevent the formation of new lines down the road.
Banish dullness
The zing in ginseng has coffee-like energizing properties. (For that reason, ginseng is one of the most common ingredients in energy drinks.)
Along with jolting you awake, slathering on some ginseng may wake up your face. While the research on this still remains spotty, a little topical ginseng may brighten your complexion and keep dullness at bay.
Balance oil
Everyone loves a natural glow — not so much a shiny, oily slick.
Whether your skin's on the oily or drier side, ginseng's antioxidant and moisture-retention properties just might help.
Bye, bye redness
Tired of waking up with inflamed, puffy skin?
According to 2013 research, ginseng has anti-inflammatory and antioxidant properties that may help alleviate redness, puffiness, and acne.
It may even help certain skin conditions. According to research from 2018 and 2011, Korean red ginseng extract improved symptoms like inflammation in people with eczema.
Get that glow
Ginseng just might put the G in your glow-up.
Ginseng's antioxidant properties help protect the skin from environmental pollutants. Without this shield, pollutants may accumulate in the pores or stimulate melanocyte production, causing hyperpigmentation and other skin probs.
When your skin's healthy and protected, just sit back, relax, and wait for the "OMG you're glowing!" comments to roll in.
Since ginseng can be found in face cleansers, serums, and masks of all kinds, it's an easy ingredient to slip into your regular routine.
You may just want to start with one of the following and then work your way up:
Face cleanser
Ginseng is ideal for cleansers due to its balancing, moisturizing properties.
Banila Co. is a K-beauty darling, and the nourishing version of their iconic Clean It Zero Balm may just be the perfect intro to ginseng extract you need. Heads up, though: It's specially formulated for dry skin, so oilier types may want to pass on this.
Sheet mask
A ginseng sheet or face mask is the perfect way to replenish your skin when you feel like pampering yourself — without completely overhauling your current skin care routine.
Sulwhasoo offers super luxurious (and spendy!) sheet masks you may want to give a go if you'd like to target wrinkles in particular.
If you're looking for something that won't max out your card, consider this I'm From ginseng face mask instead.
Eye cream
Ginseng is a popular ingredient in eye creams due to its ability to fight that fateful morning puffiness.
Face serum
Ginseng is an A+ ingredient for skin serums due to its ability to target a range of concerns, from fine lines to discoloration. Use it before you moisturize and after you tone.
With 5-star reviews across skin types, you might want to start by trying this I'm From ginseng serum, which promises to boost blood circulation, rejuvenate skin, and reduce fine lines and wrinkles.
Face cream
Ginseng is ideal for moisturizers due to its hydrating properties. Use it as the final step in your morning or nightly skin care routine.
Everyone knows K-beauty is the Kween of skin care. So, here are some more ideas to kickstart your K-beauty routine:
royal honey
yuza (aka yuja or yuzu)
bamboo extract
noni
snail mucin
Research suggests that ginseng is a beneficial ingredient for skin. When applied topically, it may diminish the appearance of fine lines, reduce inflammation, boost hydration and protect the skin barrier.
Ginseng is appropriate for all skin types, but always patch test new products. Talk to a derm if you experience any issues.