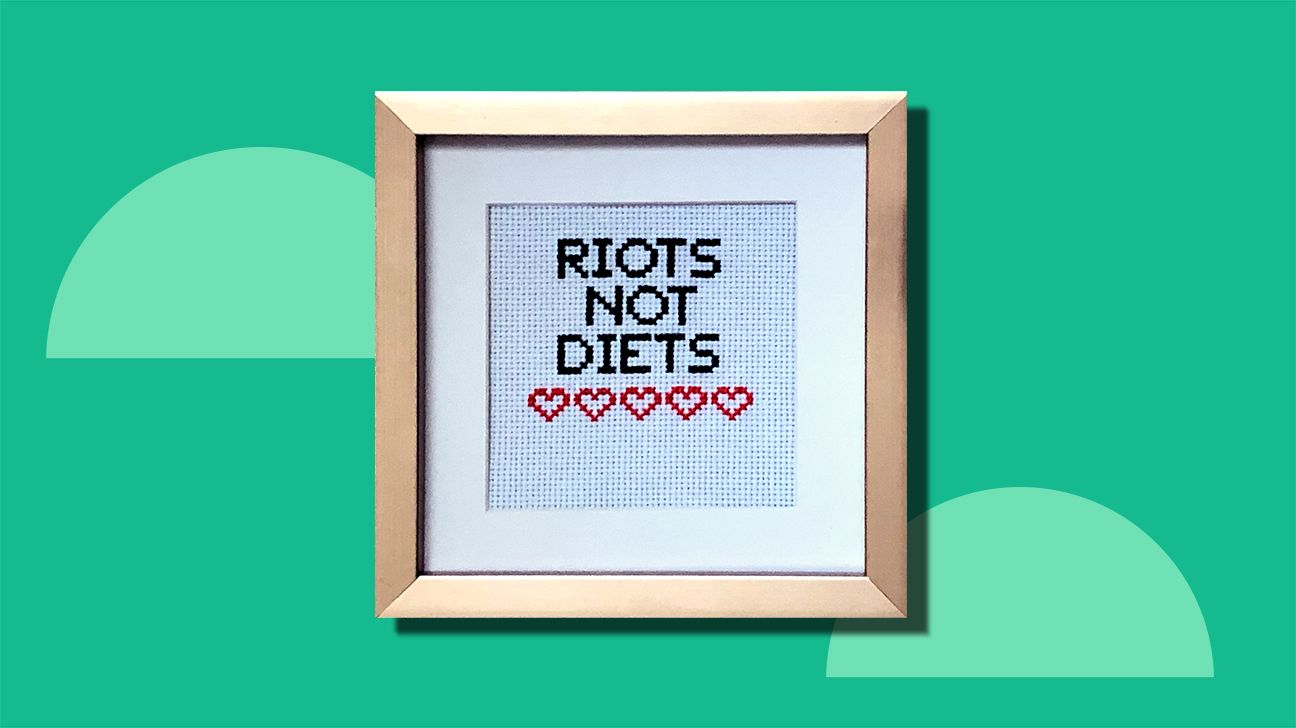 I met my best friend online. These days our most frequent hangouts involve hours of (re)watching "Grey's Anatomy" and eating pizza, so the origin of our friendship still amuses me. We met not on an app designed to match would-be friends but in a Facebook group for women who wanted to get fit.
New to running and desperate for accountability and encouragement, I stumbled across the local "healthy living" Facebook group in 2013 while training for a half-marathon. I was pleased to find a group of like-minded women supporting each other toward various fitness and weight goals.
Looking back, though, I've realized that the collective motivation seemed to be "weight loss leads to happiness." Most members followed a restrictive eating plan and talked endlessly about which foods were "good" or "bad." Keen to fit in, I tracked and photographed every morsel of food I ate.
When I posted about weight losses, I was congratulated so enthusiastically that you'd think I'd found the cure for cancer. I found the compliments intoxicating and hoped that the smaller my body got, the happier I'd become. But instead of feeling joyful, all I felt was hungry and tired from overtraining on a restricted diet.
I checked in with the group several times a day for over a year and found myself gravitating toward a woman named Lynsey, who had a dry wit and self-deprecating humor. I loved chatting with her online, and we quickly exchanged numbers, making plans to meet IRL.
I felt like I'd known her for years. We went for coffee, and I asked why she was in the group.
"I need to lose weight. You?"
"Same."
"Are you tired of constantly being on a diet?"
"Exhausted."
We talked for hours about the weight-related bullying we'd both endured as kids and how much of our self-worth was dictated by our weight. We both used humor as a defense mechanism and would frequently make insults about our own bodies for a cheap laugh. This coping mechanism began to bother me a little bit until it was too much, and suddenly I felt the urge to completely unburden myself.
"I feel bad about myself every time I log on to the group." The words poured out. "Everyone goes on about 'good' and 'bad' food, and I hate that message. We're all trying to make ourselves smaller, but no one seems to be happy, no matter how much weight they lose, and I'm sick of it."
As soon as I'd said the words, I felt like I'd broken an unwritten rule. But instead of looking shocked, Lynsey seemed relieved.
"I feel bad every time I log on too," she said. "I'm actually thinking about leaving."
The relief that we felt the same way was palpable, and within a week we had both left the Facebook group.
But then we needed a new hobby to replace obsessing over weight.
A few months earlier, I'd taken up cross-stitch — partly to help relieve anxiety and partly to distract myself when I was hungry. Something about repeatedly stabbing fabric helped me unwind after a stressful day, and I'd stocked up on some patterns from Subversive Cross Stitch, which appealed to my snarky sense of humor.
When Lynsey asked how I was passing the time without the Facebook group, I showed her a picture of the stitching project I was working on. I thought she'd mock my fondness for granny crafting, but instead she screamed, "Teach me how to do that!"
I'm far too impatient for teaching, so I sent her some YouTube tutorial links and a list of my favorite Etsy shops for patterns. Lynsey caught the stitching bug and began to fill her home with homemade slogans in cute frames.
The time and headspace we'd devoted to losing weight were now occupied by our new skill. Instead of sharing photos of what we'd eaten, we'd share pictures of the stitching projects we were working on. We even joined a new Facebook group — but this one is full of stitchers who make expletive-laden art!
Inside was a frame containing a stitched message. It read: "RIOTS, NOT DIETS." The gesture and message were so spot-on, I immediately burst into tears.
Although we'd met in a "healthy living" space, the healthiest decision we both made was leaving that group. There's a wholesome joy in working parallel with your closest friend toward a goal that has nothing to do with weight.
Even though Lynsey is turning into a better stitcher than I am, I love watching her stitching projects take shape and adore making her little holiday gifts to show her how much I care. We don't spend nearly enough time together, but if I ever feel lonely, I just need to look at my collection of handmade gifts and know I am loved.
Catherine Renton is a freelance broadcast, online, and print journalist from the UK. When she is not writing about sobriety, mental health, and wellness, she is tweeting @rentswrites.