We include products we think are useful for our readers. If you buy through links on this page, we may earn a small commission Here's our process.
Greatist only shows you brands and products that we stand behind.
Our team thoroughly researches and evaluates the recommendations we make on our site. To establish that the product manufacturers addressed safety and efficacy standards, we:
Evaluate ingredients and composition: Do they have the potential to cause harm?
Fact-check all health claims: Do they align with the current body of scientific evidence?
Assess the brand: Does it operate with integrity and adhere to industry best practices?
We do the research so you can find trusted products for your health and wellness.
On most Zoom calls, you log on and spend 5 minutes picking an appropriate (or inappropriate) background, but on rare occasions, a curtsy is in order.
We had the privilege of chatting to Joe Wicks, MBE, of The Body Coach about his tips for staying mentally and physically on-point when you can't leave the house — and what it feels like to get awards from the actual Queen of England.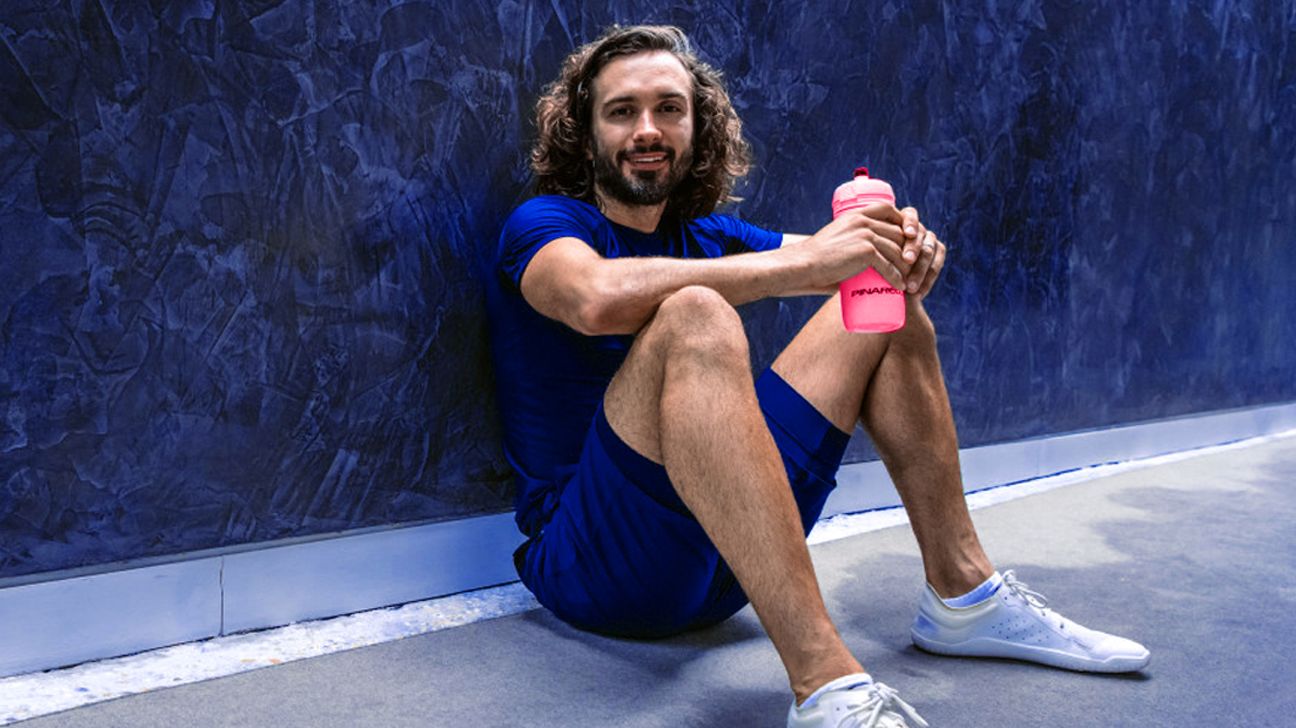 Joe is a long-established trainer who has released books, led sessions in schools, and operated classes under his alias The Body Coach for years.
However, he really exploded into the British public consciousness during the United Kingdom's first COVID-19 lockdown with his livestreamed YouTube gym classes for kids called "PE With Joe." (Here he is leading a workout while dressed as Spider-Man, which… why did no one think of this before?)
As an amazing alternative to the physical education that school-age kids were missing everywhere, "PE With Joe" reached millions of kids (and their relieved parents) across the country.
"I just had this vision of kids being locked in their flats and their houses, and not being at school, and that overwhelming feeling of how it must've felt for a young person. As an adult, you can kind of process it a little bit easier, but I had this overwhelming sense that I've got to try and do something."
And that something was "PE With Joe." "I'd already been on this massive campaign visiting schools and doing the 'PE With Joe On Tour' sort of thing, and I've done the odd live workout, but never on this scale." 850,000 viewers were waiting for his livestream at 9 a.m. on that first Monday. By Tuesday, there were 954,000 people.
The impact was enormous, and this program went on for another 18 weeks to support kids in lockdown. But Joe's focus wasn't primarily on their physical health.
"My motivation to do it was people's mental health. It wasn't about them losing weight or really physically changing their body. I just thought that it was going to be positive if I can do something for half an hour that's going to give them something to focus on and a bit of structure to their day and take away stress and frustration they might have felt towards not being in school," Joe explained. "That was the start of it, and it just continued for a long time."
Those letters after Joe's name? MBE? They're a big deal.
"So, MBE stands for Member of the British Empire. It's an award given to you by the Queen, and there's a list every year," Joe clarifies. "It was wonderful that everyday people got MBEs during the lockdown — medical frontline workers, people who created PPE equipment, and those who set up important initiatives."
"MBEs recognize the people who are doing good things for other human beings, and I got my MBE for my contribution to the fitness and mental health of the nation."
He hasn't been to the ceremony yet — ironically due to COVID — but it's happening at Windsor Castle this year. And you don't have to hold your breath for your invitation in the mail.
"I'm actually taking my brother Nicky. He was with me every single session in my earpiece, and he was reading the comments and doing the shoutouts around the world. I've always said it was our MBE." Fine, we'll unpack our suitcases.
By Royal decree…
1. Approach exercise and nutrition from a mental health perspective first
Sometimes, you can get so hung up on how your body looks and what it can do that you lose track of how you feel. Joe recommends starting there, and then everything else will follow. Especially during times as mentally draining as a national lockdown, a mental health focus can underpin your motivation for everything else.
"For me, it's always about the mood-boosting benefits of exercise," says Joe.
"Of course, I love being lean, I feel strong and confident, but that's not really what drives me. When I was younger it might have done. Now, it's more about just being strong and having the energy to play with the kids and be patient and calm around them. Those benefits are what really draw me back."
So, what's the real mindset shift? Thinking less about body image and losing weight on the scales and more about the emotional and practical benefits, for a start.
"When you're concentrating on mental health, you eat better, you sleep better, your relationship with your kids and your family improves, you work harder without burning out," Joe recommends. "There are so many wins that you can't necessarily measure against the scale or with all the photos that you take. Those will keep you consistent with fitness."
2. Eat what you enjoy
"The most successful diet is the one you enjoy."
Joe says that he trains fasted but remains absolutely obsessed with food. While some of his friends have benefitted from eating plans like keto, he's a firm believer in balance and flavor.
"Flavor's important," Joe enthuses. "Ultimately, as long as you enjoy the food you're eating and you just focus on the portion sizes, it's more important than following a particular eating plan. As long as you eat three decent meals a day and you're exercising, it kind of balances out so that you don't need to overthink it."
3. Avoid getting too hung up on taking *loads* of time for wellness
If you can, great. Knock yourself out. But not all of us have the same 24 hours — despite everyone deserving an equal shot at being fit and happy.
"When you're working a really difficult shift or working through the night, it's harder than ever to be healthy and strong," Joe empathizes. "I'm trying to break down those barriers and reduce the friction and resistance to making healthy decisions."
So, what does Joe recommend for the frantically busy? "All you need is a 15-minute meal and a 20-minute workout. That's manageable and achievable," he suggests.
"I encourage people to remove the barriers and limitations in their minds that they don't have time or energy. Finding the time to do that little miniworkout or prep a couple of days' worth of overnight oats will help you with energy and set you up for the day."
4. Find a happy balance when it comes to wearables
Some people love tracking every element of their fitness through their FitBit or Apple Watch — but Joe maintains that he doesn't use it for the tracking functions. The money you spend on a tracker *might* do more for you elsewhere.
"I just like seeing that I'm working — what's my heart rate now? Have I smashed it? Am I pushing it to the max?" Joe says. "Some people love tracking their 10,000 steps and it's really motivating, but I don't think it's essential for health and fitness."
"You might be better off spending that $700 on some home equipment you can actually use, or really good food to fuel your body the next couple of months. I'm all about making it accessible. I want it to be that all you need is a bit of carpet and a mat."
5. Be kind to yourself if you veer off-track
Everybody gets distracted or stress-eats, especially when they're stuck indoors. The trick is not shaming yourself for it.
"Food makes you feel good. Exercise makes you feel good. Sometimes, you turn to food. Other times, you turn to exercise," Joe reassures us. "As long as you don't let a bad day turn into a bad week, and then a bad week into a bad month, you can have the odd blowout and it's not going to do you much damage."
"It's never about feeling guilty or ashamed of the food choices you make. You're going to have those days. Even now, I have days where I'll get stressed out emotionally, eat a massive burger and a tub of Ben and Jerry's. I do that, and I don't feel bad. It's done."
So, how do you get back on the wagon? "The next day, I just think, 'right, I just consumed all that energy — go and use it, man.' Go and do a workout. Put it to good some good use. Eat it, enjoy it, and, the next day, get back to your training."
We asked Joe what he'd say into a megaphone loud enough for the whole world to hear — that only had 30 seconds of battery left.
"You have the ability to change the way you feel by moving your body. If you're struggling with your emotions — you're stressed, down, angry, or frustrated — try a HIIT training session, a bike ride, or taking your dog for a walk," advises Joe.
"Let exercise come into your life. Because when you combine exercise with good food and sleep, you live on a higher wavelength and you can just take all the challenges that come from life. You never regret a workout. You always feel better afterward."
Joe Wicks is a global fitness coach, a YouTuber with over 2 million subscribers, and the author of several cookbooks and fitness guides for all ages including Lean In 15, Joe's 30-Minute Meals, The Fat Loss Plan, and more. He also runs The Body Coach app, which offers bespoke workout routines and nutrition plans.