Aerial yoga is a practice that combines elements of traditional yoga with aerial arts. It involves using a hammock to perform poses in the air. This practice can be very beneficial for the body and mind. However, it may pose more safety risks than regular yoga.
Whether you want to feel like a flying superhero or you just want to switch things up a bit, aerial yoga can take your yoga routine to new heights. This uplifting practice is a great way to increase physical stamina and strength while boosting confidence and body positivity.
Here's how to get started, plus a rundown of the best benefits and potential risks.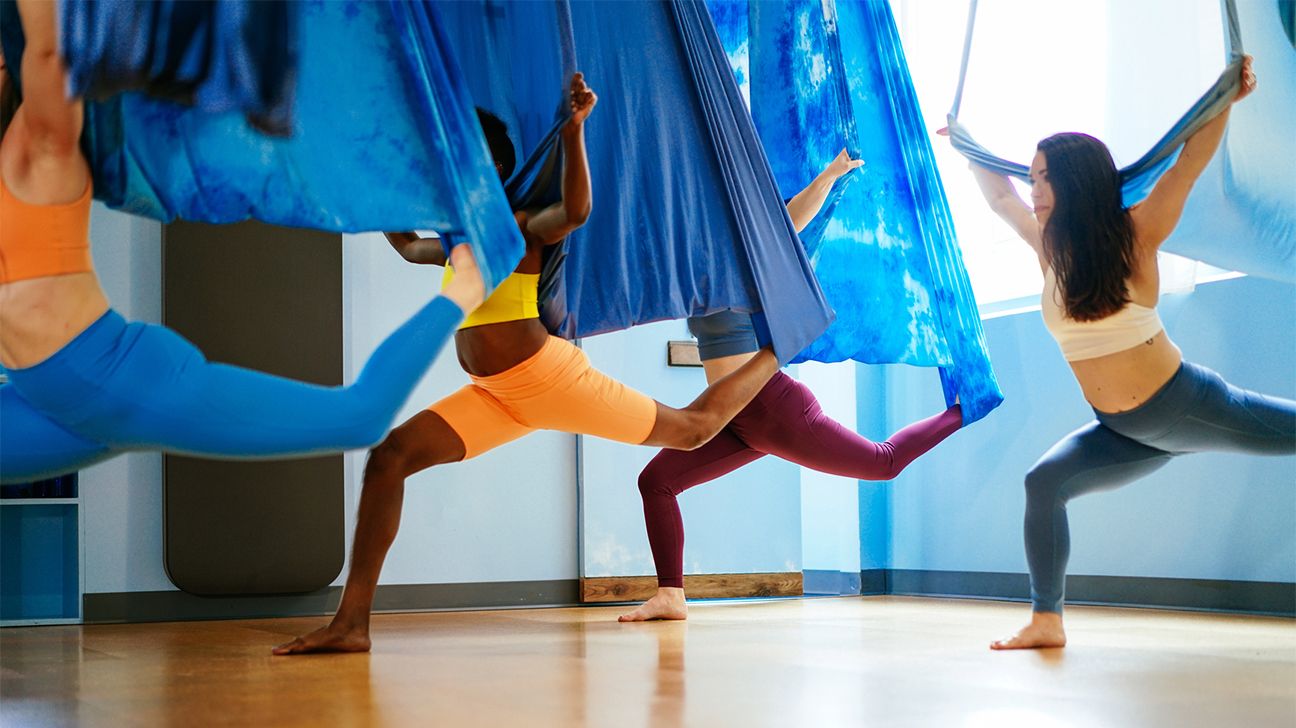 Aerial yoga consists of the same poses as a traditional yoga class. The main difference is that you swap a yoga mat for a silk hammock. The hammock is suspended from the ceiling and supports your body as you work through each flow.
The hammock allows you to sink deeper into each pose, which can help build strength and improve flexibility. It's also a great prop if you want to try more challenging poses without putting extra pressure on your head, shoulders, or spine.
Aerial yoga can seem a bit intimidating at first, but fear not — classes are offered for all skill levels. A beginner-friendly class can help you learn the basics as you find yourself dangling from the ceiling like something out of Moulin Rouge!
BTW, some fitness studios refer to aerial yoga as "aerial fitness" or "anti-gravity fitness."
Yoga offers a holistic array of benefits for your body and mind. An aerial yoga practice may help:
Aerial yoga classes can vary a lot, depending on the instructor and the general vibe of the day.
Certified aerial yoga instructor Jennifer Ramey says she starts her classes with a warmup followed by conditioning, a flow, and at least one inversion.
"We work one-on-one with students to develop confidence and creativity in their practice," says Ramey. "We will end with a cooldown and grounding, and you will leave feeling relaxed and strong."
It's also worth noting that you might not "fly" on day one. Your very first aerial yoga class will prob involve covering equipment basics and getting comfortable with your instructor.
"We primarily work with clients on developing a safe practice that can grow in time by starting with a strong foundation in basics," says Ramey.
Yoga, in general, is a great workout that can benefit your overall health and well-being. Aerial yoga may pose some added perks because it incorporates aerial elements.
"[Aerial yoga] is a unique training concept that fuses strength, agility, and balance in an exciting and confidence-building way," says Ramey.
While classic yoga has you grounded on your mat, aerial yoga gives you the opportunity to use suspended fabrics to extend and enhance certain poses.
"The movement of the fabrics [hammock] provides the student with unique variations of traditional movements," says Ramey. "We are able to suspend within the fabrics and invert, which is fantastic for blood flow, joint pressure, and spinal alignment."
FYI: A 2019 study noted that aerial athletes have top-notch strength, balance, and flexibility. So, there's a chance aerial yoga can help you develop in these areas more effectively than mat-based yoga. But we need more research to know for sure.
Technically, yes. However, Ramey says you should not try aerial yoga home alone unless you're a seasoned practitioner who is very familiar with the equipment.
If you want to practice at home, Ramey suggests hiring a professional rigger to install a safe base in your ceiling or an overhead beam. Once that has been set up, she says, you should consult an aerial yoga pro to find high quality brands and companies specializing in aerial arts.
"Do not purchase from Amazon or anywhere not specializing in the aerial arts — not all equipment is created equally," she says. "Quality equipment is not an area you want to be stingy with."
Are you ready for takeoff? Here are some tips to help you get started:
Find the right studio for you. Not all yoga studios offer aerial classes. If you can't find a class near you, ask your fave yoga instructor if they know anyone who is certified. You might be able to arrange affordable private or semi-private lessons in your home or a studio.
Dress the part. Tighter clothing is ideal here. Loose or baggy clothes can leave you feeling exposed when you're upside down. You may also want to opt for long-sleeved shirts to avoid chafing.
Keep at it. Aerial yoga can feel weird at first. After all, you're literally doing yoga in the air. But keep at it! It might take a few classes for you to find a good groove.
Come as you are. You don't need to be in any particular shape or have stellar upper-body strength. Beginner classes can help you build strength and stamina over time.
Be prepared. Ramey suggests you bring water, an open mind, and a willingness to trust your instructors and movement style.
What goes up must come down — not surprisingly, aerial yoga comes with the added risk of falling. So be sure to listen to your body, follow your teacher's instructions, and not push past your limits.
Reminder: You shouldn't practice aerial yoga at home unless you're very well versed in the equipment and rules. Studios have professional equipment, rigs, fabrics, and safety mats. They also provide hands-on spotting by certified and trained instructors.
PSA: You should check with a healthcare professional before trying aerial yoga if you:
are pregnant
have a heart condition
have

unregulated blood pressure

issues
have an eye condition such as cataracts or retinal detachment
Aerial yoga can is a great way to de-stress, build strength, increase flexibility, and enhance your mind-body connection. Lots of peeps also say it can increase confidence and promote body positivity. Plus, it's super-duper fun.
While it poses more risks than mat-based yoga, aerial yoga can be very safe when done correctly. Just be sure to perform aerial yoga under the supervision of a certified instructor.
Also, you should check with a healthcare professional before doing aerial yoga if you're pregnant or if you have a heart condition, blood pressure problems, or an eye condition.