Which came first: The chicken or the egg? Well, as breakfast is the most important meal of the day, and when it comes to breakfast, eggs are king, probably the latter.
If you've ever sat down in a diner and tried to compute the overwhelming array of egg formats, you'll know that you're never short on new things to do to an egg. These protein-packed little wonders are available fried, over easy, poached, hard-boiled, and, obviously, scrambled.
To keep you from getting bored by your usual recipe, we've pulled together spicy, salty, and savory combinations to make eggs a culinary headliner.
There's no law stopping you from adding scramblies to your lunch or dinner either. They're so versatile that you might have to talk yourself into meals without scrambled eggs.
This being said, try not to over-egg it (sorry). Eggs are one of nature's most abundant sources of cholesterol, but a weirdly low number of studies have linked egg consumption to heart disease.Blesso CN, et al. (2018). Dietary cholesterol, serum lipids, and heart disease: Are eggs working for or against you? https://www.ncbi.nlm.nih.gov/pmc/articles/PMC5946211/
Not eggs-actly what you were egg-specting, was it? (You can take my frittatas, but you will never, ever take my egg puns.) Combining scrambled eggs with nutritious, tasty ingredients can make them a healthy option at any time of day.
We'll guide you through this beautiful forest of eggs, and your stomach (and wallet) will thank you.
For those who want a little fromage in their scrambled egg experience…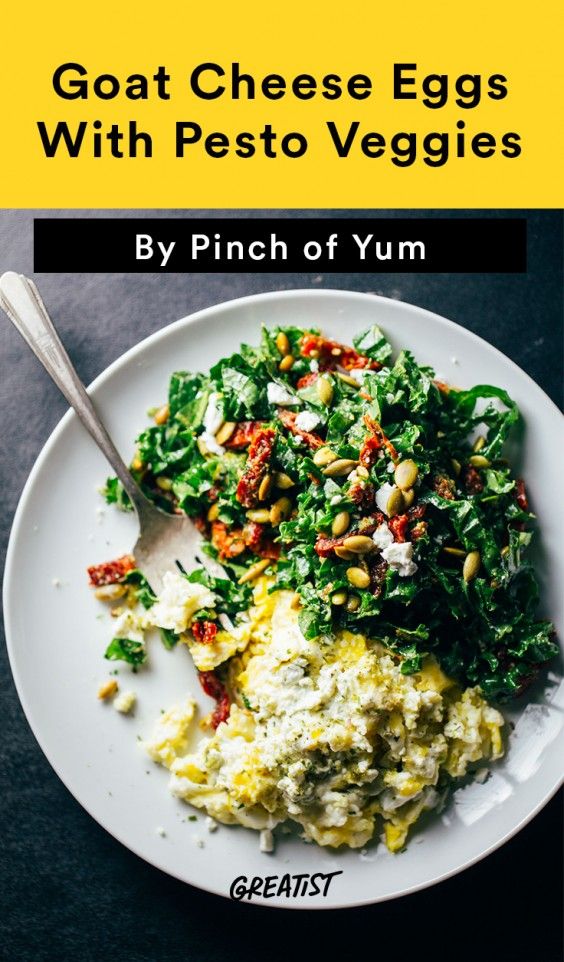 We're not exaggerating when we say this recipe has all the best things:
goat cheese ✅
pesto ✅
sun-dried tomatoes ✅
kale ✅
pumpkin seeds ✅
scrambled eggs ✅✅✅✅✅✅✅
Yes.
Please.
Make the crunchy kale salad on the side, or sauté the veggies and cook them with the eggs. The tangy, creamy cheese and fresh, fragrant pesto are an A+ combo. Goat cheese and pesto are the GOAT and the besto.
For more inspired meal choices with goat cheese that go beyond salads, look no further.

Breakfast quesadillas are an underrated morning meal. (We know this could probably live in the Mexican-inspired section of this article, but it's as cheesy as it is Mexican, and we love it for both reasons. Like the "Desperado" movies.)
Make the same day or cook up a few and freeze to eat throughout the week. This one is filled with bell peppers, onions, and spinach, plus feta and gooey mozzarella.
The mozzarella helps hold the quesadilla together, as well as adding extra stringy, cheesy gloopiness. Which is the absolute best kind of gloopiness.
Try a whole-wheat or veggie-based tortilla for extra fiber. Here's a breakdown of whole grains and how to eat more of them.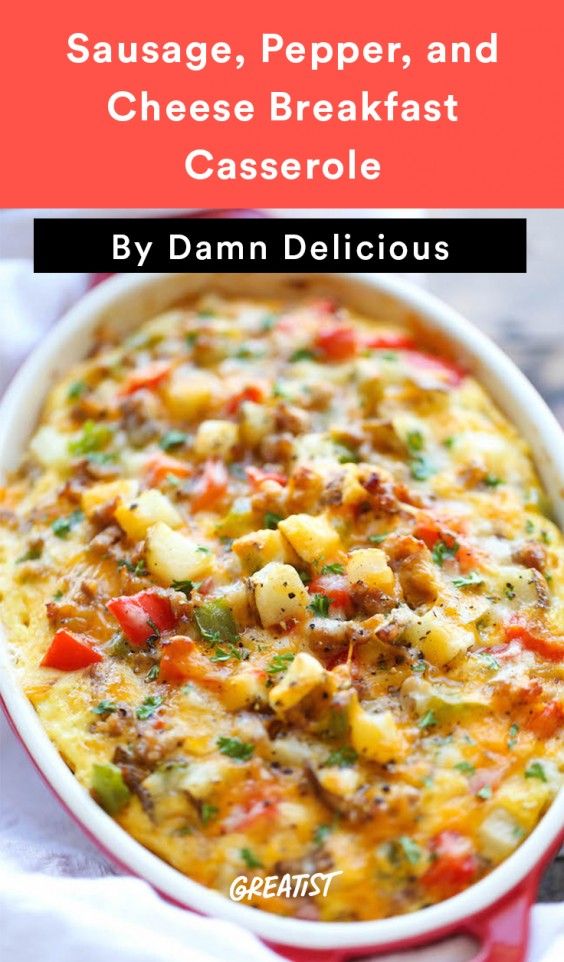 Have you tried the first seven options and found them so delicious that you wish they would last all week? Well, this filling breakfast casserole actually might.
Fill the bottom of a casserole dish with diced potatoes, sausage (we like the chicken or turkey versions), and bell peppers. People looking for a veggie alternative might want to replace the sausage with BBQ tempeh or soy-based sausages.
Throw some cheese and scrambled eggs on top of these, then bake everything in the oven for 35 minutes. Voilà! An easy, warm meal that will give you a heap of servings.
If casseroles make you deeply happy, here's how to make loads of different ones.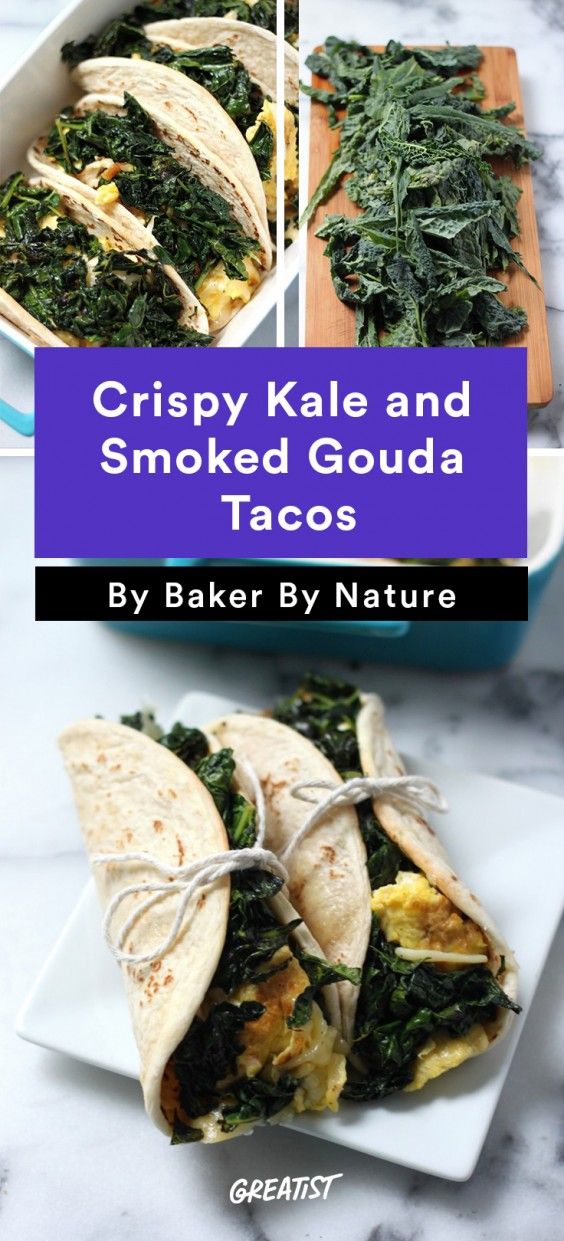 Smoked gouda in the morning feels indulgent, but go ahead and treat yourself, because, hey, there's kale in here too!
(And yes, we've snuck more tacos into the 'cheesy' section. It's not our fault cheese is the meaning of life.)
This easy recipe has just five ingredients but ALL the flavors. Did we mention that warm pita bread is involved? Say hello to your new favorite breakfast.
Check out more amazing things you can do with pita bread here.
Here are some twists on classic breakfast plates that will have you raring to play chef while everyone else is rubbing gunk from the corners of their eyes.
Turn your scrambles into fresh caprese toast for a colorful, nutritious egg-stravaganza. (Yes, these puns are still happening. Deal with it.)
Top a toasted slice of crusty bread with avocado, eggs, and a handful of cherry tomatoes, and toss some shredded mozzarella and fresh basil on top.
BOOM! It's hearty enough to keep you full right up until the next meal and far kinder on your arteries than the nearest greasy bacon behemoth would be.
If you rushed to this recipe for the promise of tomatoes rather than scrambled eggs, here are more top-notch ways to work tomatoes into your weekly meal plan.
It's no bagel but certainly won't leave a hole in your appetite.
Put a spin on the classic bagel with lox by adding smoked salmon to scrambled eggs. A little onion, freshly chopped chives, and a pinch of salt and pepper make it taste even more like the real thing.
If you can't be without your bagel, don't worry — the carbs won't hit your health too hard. If you're looking to cut down, maybe top a half bagel with all the above.
Salmon is also an excellent source of protein and omega-3 fatty acids.Salmon. (2019). https://fdc.nal.usda.gov/fdc-app.html#/food-details/512958/nutrients (We have far more info on this powerful protein here.)
You can even squeeze in a little lemon juice for that extra citrus kick. Make sure this is one that lox into your meal plan for the week.
Sometimes you just want something simple. This recipe only has one whole-food ingredient — egg whites — but doesn't skimp on flavor thanks to the herbs and garlic.
Separate the whites from their yolky cousins and add them to a pan with 2 teaspoons of garlic and 1/2 teaspoon of dried parsley, rosemary, and oregano. Serve with warm whole-wheat toast and a sprinkle of salt.
Yes, this is essentially really fancy scrambled eggs on toast. So? It still absolutely pops with flavor. You can work out here whether cutting out yolks is the best thing for you and your breakfast.
Here's a Southwestern dish with so much flavor it'll make you forget that when some folks talk about "that good-good," they're talking about weed and not scrambled eggs.
Dress up your scrambled eggs with these spicy Tex-Mex-inspired ingredients: black beans, green chiles, pepper jack cheese, tomatoes, and green onions.
You'll get a healthy serving of veggies first thing in the morning (or whenever really — when is there a bad time for veggies?) and plenty of protein from the beans and eggs.
If you don't have taco sauce, you can use leftover enchilada sauce, pasta sauce, or hot sauce. Alternatively, learn to make your own spicy sauces here.
Wait, maple? Bacon? Tacos? OK, we're listening…
Yes, this a little more extravagant than your typical weekday breakfast, and definitely a less healthy route to scrambled than many other options here. However, we all deserve a treat occasionally. And why shouldn't that treat involve maple bacon?
These breakfast tacos are actually simpler to make than they sound.
Sizzle up some green onions with scrambled eggs and put them inside warm corn tortillas. Top with bacon bits brushed with maple syrup (it's getting very hard to type with these drool-covered hands), a drizzle of balsamic vinegar and honey glaze, and fresh greens.
You'll feel like a top chef in no time. You'll also be cooking like one. If you want to know about keeping bacon on the healthy side, check out our recipes here.
These breakfast creations inspired by Mexican cuisine taste great and feel super.
Eat your eggs burrito style with this Tex-Mex breakfast wrap.
It's got all your favorite fillings: black beans, cheese, avocado, and salsa. Chili powder gives the eggs a kick, but we're not opposed to adding some hot sauce too.
Beans are great for providing fiber and protein for people who don't eat meat. And they will fill you all the way up. Right to the brim.Polak R, et al. (2015). Legumes: Health benefits and culinary approaches to increase intake. DOI: 10.2337/diaclin.33.4.198
That's breakfast wrapped up. Now turn all of your other meals into burritos here. The most innovative handheld experience since the Game Gear, only not a complete disaster.
You can't go wrong with chorizo. The spicy sausage turns scrambled eggs into an entirely new meal, while pico de gallo, avocado, and feta balance out the heat.
You can also use salami, pepperoni, or Italian 'nduja — let's just say Europeans know how to add heat to their meat. Vegan chorizo is also available for those looking for a less animal-centric option.
Spoon the chorizo-egg mixture into small, whole-wheat tortillas, or, if you're feeling savage, mix all the toppings and eat the scramble solo.
If you fancy going meat-free, here are some vegan taco options to fill the chorizo-shaped hole in your menu.
An unexpected way to use scrambled eggs? Loading them onto your favorite game day appetizer: Nachos.
It's an easy way to up your protein intake while roaring at the football sports on the TV and still enjoying the crunchy taste of corn chips (taro or sweet potato chips are good, too).
Top them with fresh red veggies and a squeeze of lime juice. Healthy-ish nachos are now a thing. Who knew? Here lies a truckload of ways to make nachos healthy and keep them delicious.
Scrambled what now? Don't panic, ovo-free folks. We have a solution you can apply to any other recipe in the article.
Need a break from the real thing? Try this tofu take on scrambled egg that still gives you plenty of protein and will win you points among your vegan friends.
Cook drained firm tofu in a pan the same way you would eggs and add sea salt, garlic powder, onion powder, and turmeric. Once you've mixed up the tofu like scrambled eggs, add in few tablespoons of vegetable broth.
As soon as the tofu absorbs the broth, the scramble is ready to serve. The great thing about this plant-based bad boy is that you can swap it into any of the other recipes on this page.
You're welcome. If you want to discover more ways to vegan up your breakfast, check these out.
Scrambled or otherwise, these oval gemstones of protein and richness need not be egg-citing.
Whether you're eggs-perimenting with classic breakfasts, Mexican options, or animal-free options, scrambled eggs are simple, delicious, and eggs-tremely versatile.
The great thing about any of these recipes is that you can swap out any element you'd like to eggs-clude and throw in any ingredients you're missing.
If you prefer omelets, most of these can turn into one with minimal fuss.
(OK, now I'm officially done with the egg puns, they've become difficult and boring.)
JK, just one more: So what are you waiting for? Get cracking!