We include products we think are useful for our readers. If you buy through links on this page, we may earn a small commission Here's our process.
Greatist only shows you brands and products that we stand behind.
Our team thoroughly researches and evaluates the recommendations we make on our site. To establish that the product manufacturers addressed safety and efficacy standards, we:
Evaluate ingredients and composition: Do they have the potential to cause harm?
Fact-check all health claims: Do they align with the current body of scientific evidence?
Assess the brand: Does it operate with integrity and adhere to industry best practices?
We do the research so you can find trusted products for your health and wellness.
When it comes to sex, we tend to have strong feelings about our favorite positions or erogenous zones. But for many, pleasure — especially reaching climax — is all about engaging the mind.
If you're into dom/sub roleplay, you may be turned on when your partner takes charge, spanks you like a misbehaving child, and talks absolute filth. Or maybe there's something irresistible about imagining spending your life with them.
Whatever it is that whets your curiosity, remember that having sexual fantasies is common, normal, and no reason to feel ashamed. And role-playing can be a fun and safe way to put your fantasies into action and connect with your partner(s) on a deeper, more intimate level.
Put on something sexy and pour yourself a generous glass of wine, because we're about to dive into the seven most common sexual fantasies. We'll also share recommendations for putting your fantasies into action from Zhana Vrangalova, PhD, a professor of human sexuality at New York University and resident sexpert for LELO.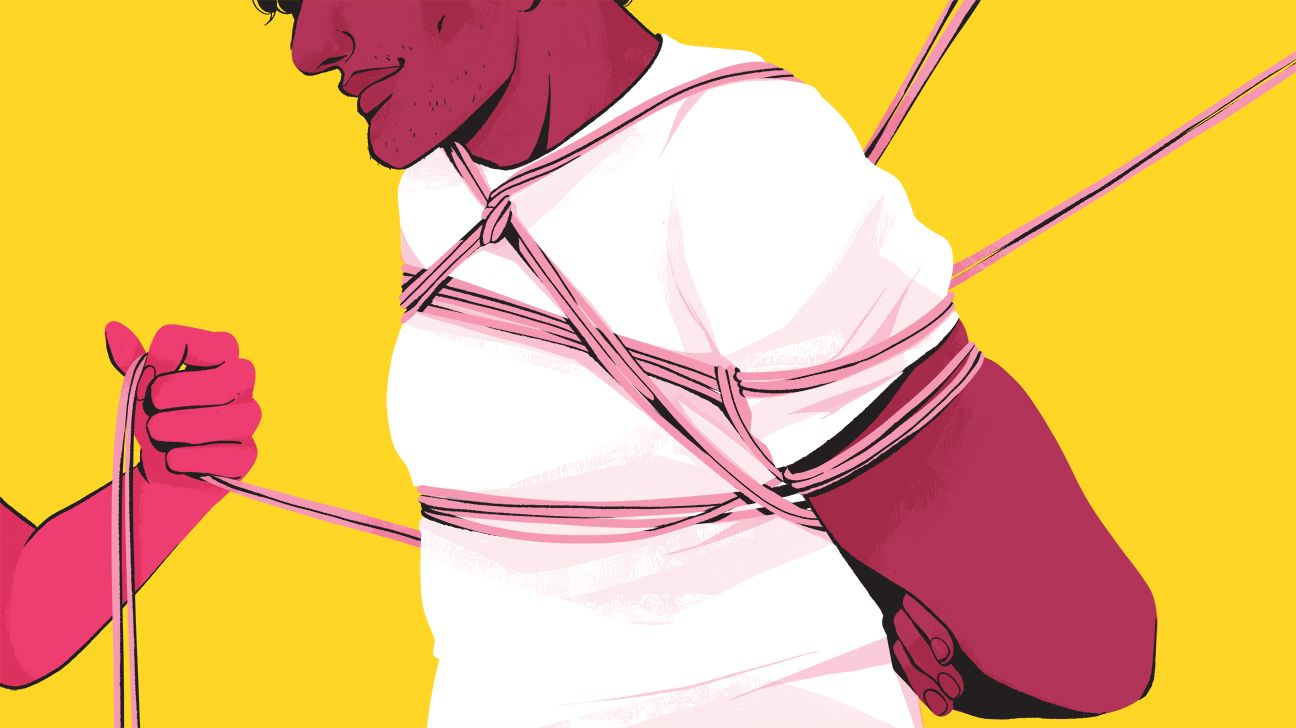 The heart-pounding opportunity to have sex with multiple partners is one of the most popular fantasies because it introduces an element of taboo into sex (which is true of most fantasies) and makes us the center of attention, says Gigi Engle, certified sexologist, Promescent brand advisor, and author of All the F*cking Mistakes: A Guide to Sex, Love, and Life.
"Bringing a third (or fourth or fifth) person amplifies our feelings of being desired," she says.
Here are Vrangalova's recommendations for bringing your multi-partner fantasy to life:
To comply with physical distancing, you can stream yourself having solo or partnered sex in your own private Zoom chat or on live sex websites like CAM4 and Chaturbate.
Post-pandemic, you can set up a threesome with a stranger or friend or try a foursome with another couple. The Feeld app is a great resource when seeking like-minded folks.
Attend a sex party or sex club together using sex-positive apps like Feeld or Grindr (if seeking gay, bisexual, trans, or nonbinary folks), or list these sexual proclivities on websites and apps like Tinder or Bumble.
If you're more interested in pretending than actually enacting a multi-partner scenario, you can simply act like another person is in the room. You or your partner can even narrate what the third person is doing or how it feels when they do it.
This category of fantasy amplifies and explores power exchanges that are sometimes diametrically opposed to our power dynamics in real life. For example, a CEO who likes to take charge in the boardroom but likes being spanked like a baby in the bedroom.
"BDSM is especially popular, as it can include the element of pain and pleasure, which are very closely related within the brain," Engle says.
Here are some ways you can bring your BDSM fantasy to life, according to Vrangalova:
Tie up your partner with rope and/or handcuffs. (Check out FetLife for workshops or demo events to learn rope work in person. During the pandemic, try Kink Academy for instructional videos.)
Spank and whip your partner with various toys and tools.
Channel your inner dominatrix and put your partner on a leash, order them around, and publicly or privately humiliate them.
For many, the thought of having sex in a way or location that's outside what's considered "normal" adds an element of uncertainty and excitement. People who have been with the same partner for a long time may entertain these thoughts because they're craving something new.
If you want to bring your novelty fantasy to life, here's what Vrangalova recommends:
Try a position or sexual act you've never attempted before, like 69 or pegging (when a person who doesn't have a penis penetrates their partner's anus with a strap-on dildo).
Have sex in an unusual location: on the kitchen counter, on the washing machine, in a hotel room, in a car, or on a sexy camping trip.
Role-play as characters — some common dynamics in the dom/sub space are professor/student, boss/employee, nurse/patient, and police officer/criminal.
Non-monogamy is another sexual fantasy that's appealing because it makes us the center of desire. You may entertain these thoughts if you're in a monogamous relationship because it feels naughty and forbidden.
"Having sex with someone outside of your relationship is the easiest way to imagine breaking a pattern or the idea that you'd only have sex with your partner for the rest of your life," Engle says.
Here are Vrangalova's recommendations for bringing your non-monogamy fantasy to life:
If you're both on the same page, try a polyamorous relationship where you and your partner date a third person. There are many polyamorous relationships where all relevant partners live in the same home.
Try swinging with your partner. You can find swingers' parties using websites and apps like FetLife (a great resource for all sorts of sex- and kink-related events across the world), Swing Lifestyle (for swinger-type parties, clubs, conventions, cruises, etc.), and Meetup and Facebook, which have sex-positive groups that organize sex parties as well.
Have a poly date night, where you each pick one night to go on separate dates with other partners. This may not include sex at all, depending on what each of you feels comfortable with.
Passion and desire are almost always amplified when there's tension or an opposing force. Maybe you lust after an ex as soon as they become unavailable, or maybe you love it when your partner calls you names in bed that they could never safely say in public.
If we're told we can't have something or shouldn't feel a certain way, we often want it even more, explains Engle.
If you want to role-play scenarios that explore the taboo, here's what Vrangalova recommends:
Try urine play (do it in the bath or shower if you're worried about a mess), licking feet, or sucking toes.
Attempt consensual voyeurism and exhibitionism by streaming on a live sex website, filming a sexy movie, or having your partner watch as you play with yourself.
If you're ever feeling overwhelmed by thoughts of illegal or troublesome sexual urges, seek help from a sex-positive therapist.
"These are folks who take a more nuanced approach in terms of what about someone's sexual thoughts and urges might be causing trouble," Vrangalova says. "They can help you accept less common or nonconventional but otherwise normal, healthy desires while helping you express those desires in healthy, safe, and ethical ways."
Consult Kink Aware Professionals for a directory of sex-positive, kink- and polyamory-aware professionals.
"Romance and meaning in roleplay can often come out of a place where sex is something we want to ascribe meaning to, and that's perfectly OK," Engle says. "If you're someone who has responsive sexual desire, you may need romance and intimacy to experience sexual arousal."
When someone needs to be stimulated, either mentally or physically, in order to feel aroused. Unlike people who experience spontaneous desire, those with responsive desire get turned on after they start engaging sexually with someone (or themselves).
Since a fairy-tale romance isn't realistic for every sexual scenario, planning certain sexual occasions where romance and intimacy are prioritized is often the best place to start.
Here's how you can bring your romance/meaning fantasy to life, according to Vrangalova:
Have a romantic beach dinner that turns into passionate sex.
Kiss and stare deep into each other's eyes while having sex.
Give your partner a sensual, erotic massage.
For the hetero folks: Imagine you're having sex to get pregnant. (It goes without saying, but do this only if you're using birth control!)
As human beings, we're fascinated by what we don't have. "Those with vaginas are usually receiving and those with penises are conventionally giving," Engle begins.
If you're accustomed to enacting one side of that dynamic, you may be fascinated with the thought of taking on the other role.
"Things that are traditionally feminine, like pantyhose and dresses, may be a source of sexual desire for a heterosexual man," Engle says.
Here are Vrangalova's recommendations for bringing your gender-bending/sexual fluidity fantasy to life:
You or your partner can dress in clothes typically worn by people of a different gender.
Try a "forced bi" scenario, when a person who is primarily heterosexual has sex with someone of the same gender because their partner "forces" them to.
According to Engle, every relationship possesses three sexualities: the sexual person you are, the sexual person your partner is, and the sexuality you create together. Role-playing is a way to explore that third one.
She suggests broaching the subject by saying something like, "Babe! Since we're in isolation, now seems like a great time to explore some of our fantasies and desires. Are you down for something like that?"
Engle also suggests creating sexual bucket lists as a way to break the ice. Here's how to do it:
Write down three to five things you want to try.
Have your partner do the same.
Swap lists and circle what you're both willing to try.
Have a conversation about it.
Acknowledging and acting on our deepest sexual desires is a wildly empowering and satisfying experience. But it also requires a level of communication that doesn't come easy to everyone.
If expressing or acting on these desires feels a little too intense, don't worry — there are plenty of different ways to explore a sexual fantasy that can feel less vulnerable.
For instance, maybe you'd prefer exploring the fantasy alone through porn or written or audio erotica. Whichever way you choose to explore, be safe, and — most important of all — have fun.
Bobby Box is a journalist whose work on sex and culture has been published just about everywhere. Coming out as queer halfway through his career, Bobby has amassed a considerable and respected audience and has become recognized as a studied and shameless voice in the community. Follow him on Twitter at @bybobbybox