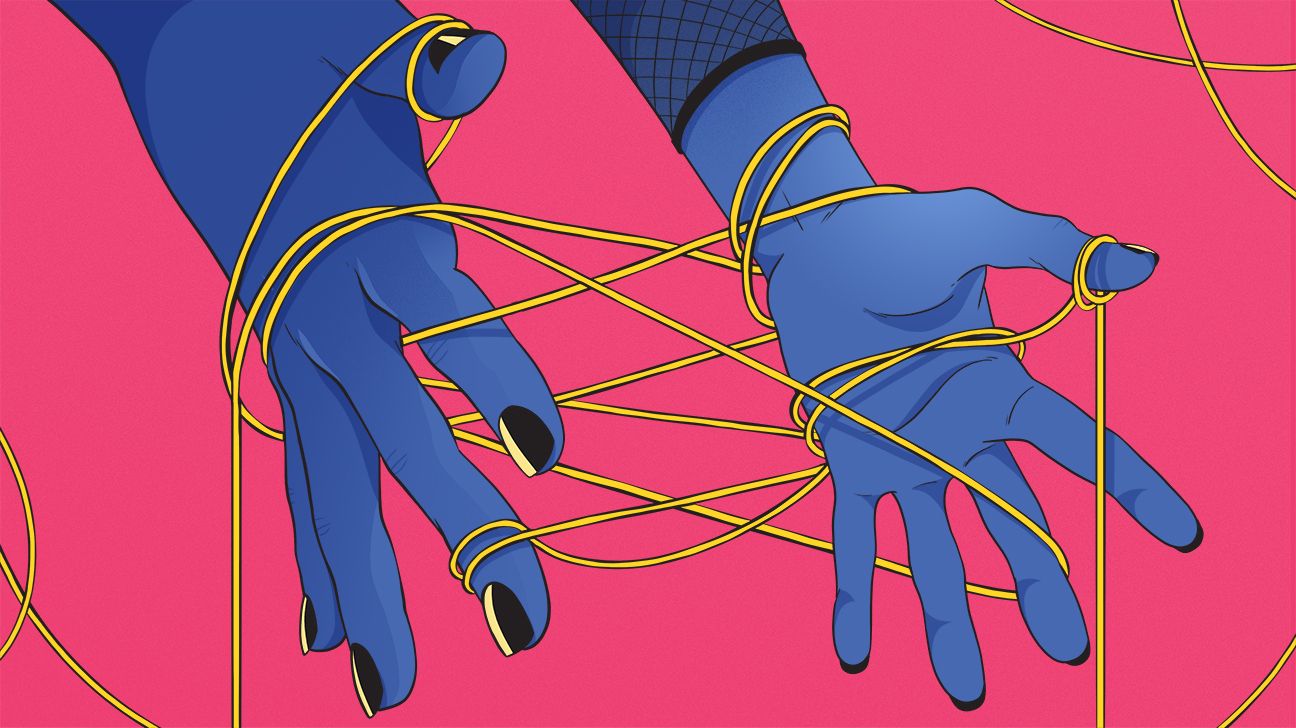 It's safe to say BDSM has entered the mainstream. But while the "Fifty Shades" craze revealed the not-terribly-surprising fact that a lot of folks (read: your mom and most of her friends) have a sexually deviant streak, the book and movie did not do a great job at educating the world about how to (safely) practice BDSM.
There's still quite a bit of problematic misconceptions — especially regarding consent — to the wade through to get to the heart of what BDSM is all about.
But, as we all know, when battling stigma and personal bias, wading through misconceptions to find the truth is worth it. At the other end lies the potential for improved self-confidence, deeper self-knowledge, and intimacy on another level.
"Through kink I learned to own my power and found my voice. This helped me build my self-esteem and confidence in the boardroom and the bedroom," Kenneth Play, 39, co-founder of International Sex Hacker and Educator, & Co-Founder of Hacienda Villa, an intentional sex-positive community.
You may want to jump right in, but, for the safety of everyone involved, it's important to get some basics down first. Below we go over important rules, tips for getting started, and how to bring it up with a partner.
BDSM stands for bondage/discipline, submission/dominance, and sadism/masochism. These categories refer to a wide array of kinks and erotic practices.
Practicing BDSM is about a lot more than the act of having sex. In fact, "a scene" may not involve sex or, even touching, at all. You'll find that many of the common themes — power dynamics, pain, humiliation, the taboo — are psychological in nature.
If you're thinking that sounds intense, don't worry! It's completely up to you how deep you want to get and how far you want to go with something. In BDSM, enthusiastic consent is paramount: you and only you decide how you want things to go.
This is a very basic description of what the BDSM subcategories mean. And remember, every aspect of these types of play is consensual and talked about beforehand.
Bondage/discipline. Bondage refers to someone being physically restrained. Discipline refers to a set of rules and punishment, usually enforced by the dominant partner onto the submissive.
Submission/dominance. Sub/dom play is when one person, the sub (or bottom) permits the dom (or top) to essentially be in charge. This may be an agreement you make for one night of play or it may be a 24/7 arrangement.
Sadism/masochism. Sadism is the enjoyment of doling out pain. Masochism is the enjoyment of receiving pain. If you like both? Well, that's what we call a sadomasochist.
With all distinctive cultures come an expansive vocabulary! This is by no means an exhaustive list but it'll give you a start.
| | |
| --- | --- |
| Aftercare | a post-scene ritual intended to help the dominant and submissive wind down and check in |
| Breath control play | restriction of oxygen to increase pleasure (i.e. choking, asphyxiation) |
| Chastity | denial of a partner to have sex and/or masturbate — sometimes devices are used to ensure chastity (cock cages or chastity belts) |
| Collared/collaring | worn to indicate someone's status as a submissive (collaring can indicate belonging to a dominant, and to some is seen as the ultimate level of commitment) |
| Cuckold | a man/masc person who enjoys watching their femme partner have sex with someone in front of them |
| Dom/domme/dominant | the partner who leads the power dynamic in a dominant/submissive scene |
| Edgeplay | bringing a partner to the brink of orgasm, but not letting them orgasm |
| Fetish | intense sexualization of an act, object or scenario |
| Golden showers | the act of a partner urinating on another |
| Hard limits | limits that never will be negotiable |
| Leather | a subset of BDSM culture dictated by leather-wearing practices |
| Pegging | refers to a woman/femme identifying person having anal sex with a man/masc identifying person, typically with a strap-on |
| Playspace | an area designated for a scene or BDSM play |
| Risk aware consensual kink | an alternative to SSC (below), as the term is disliked in the community for it's ableist language (RACK also argues that kink isn't ever safe, but that those that participate acknowledge the risks) |
| Safe, sane, consensual (SSC) | a BDSM philosophy dictating the pillars of BDSM play |
| Safeword | a word or physical cue meant to end play |
| Subspace | a mental space submissive's can go through in the middle of a scene; it's often considered "dreamy" or "floaty" like a high |
| Switch | a partner who can be dominant or submissive |
| Topping from the bottom | a bottom/submissive telling their top/dominant what to do to them |
| Vanilla | non-kink/BDSM activity |
1. Leave alcohol and drugs out of it
Drugs and alcohol and BDSM don't mix. It's a safety risk for everyone involved. Intoxication can make it harder — or impossible — to give consent and muddy your ability to make decisions.
And if you also feel the need to get high or drunk to participate in these activities, that's good indication you have inner work to do before you're ready to jump in. Consider chatting with a a therapist — or even a trusted friend — to untangle your feelings around BDSM.
2. Talk about how it will go beforehand
In BDSM, this is called the negotiation and it's a requirement for any type of play. This is where you state what you're comfortable with and what's off-limits. Because these activities leave us open for physical or emotional harm, getting specific about your boundaries is essential.
"Start out slow and talk to your sexual partner before you jump into things. The chat in itself can often be a turn-on," says journalist and sex expert Almara Abgarian. "Discuss the various aspects you want to try, which role you want to hold and then try your way forward. You might find that what you like is something completely unexpected."
Don't know where to start? This negotiation cheat sheet is a good place to start (and printable!).
3. Give and get consent throughout
It goes without saying that consent is the most important aspect of BDSM. Because of the intensity of BDSM play and the real mental and physical risks involved in many types of play, you absolutely need to make sure every act is consensual.
A lot of this will happen in the negotiation but also check in with your partner throughout scenes. Just because something is okay once, doesn't mean it always will be, so communicate throughout the entire interaction!
How to ask questions without ruining the mood
Asking for consent doesn't have to be formal, it can be part of the dirty talk flow. Like this:
"Your ass looks so good. Is it OK if I spank you?"
"Do you like it when I hold your legs down like that?"
"Can I turn you over and touch you from from behind?"
4. Always have a safe word
This is a word that signals to your partner you want to stop. It needs to be different than "no" because depending on the type of play, begging or saying no may be part of the exchange.
Many folks choose the stoplight system to incorporate check-ins. Red means stop, yellow means proceed with caution and green means go.
Along with having a verbal safe word, it's important to have a nonverbal safe word if you're incorporating gags or breath play. Maybe this is a signals or stomps or tapping with your hand a la wrestling.
5. End play with aftercare
Aftercare is an essential part of BDSM, in which partners wind down together after the experience. Dom/sub interaction, impact play, and other aspects of BDSM can be intense. You get a ton of endorphins and even sometimes an adrenaline boost!
However, the come-down can be harsh. Aftercare is an attempt to mitigate that, often by cuddling, cleaning up, or just reflecting on the scene. Aftercare is different for everyone and should be discussed between partners before scenes begin.
Some other tips for getting started
Don't get in over your head. Don't head straight to dungeon activities. Maybe start with some spanking at home first.
Have the right tools to get out of sticky situations. Using handcuffs? Avoid ones where you can lose the key. Safety scissors are also an essential.
Watch porn to learn what you like. Try out websites like Royal Fetish Films, Deeper or Kink.com. Also consider following dom(me)s, rope artists and other BDSM performers on OnlyFans.
Try taking this BDSM Test. It introduces you to important BDSM terminology and information and rates you in categories to give you an idea of what kind of play you might be most into.
"If you'd like to dip a toe into BDSM, I suggest first masturbating on some fantasies and isolating why they're so hot to you. Once you have a better idea of what you want to explore, start with recommended resources and educators to understand everything you need to do to practice BDSM safely, sanely, and consensually." — Melissa A Vitale, 27, Publicist, NY
"Experiment as much with yourself as you do with partners. Only play with someone you feel to your core is completely safe and knowledgeable/willing to learn." — Lexi, 29, OR
"My advice to people exploring BDSM would be just this: Don't be afraid to ask if your partner would be interested in exploring a particular element of BDSM. They may say, 'No,' and that's totally fine. But I bet there's a decent chance they're into the same thing(s) as you are — they were just too afraid to ask." — Zachary Zane, 29, Writer and Promescent Brand Ambassador, NY
"It's important for me to have critical conversations with my peers, playmates, and dynamics about not only the negotiated power exchange, but also those power dynamics that exist socially and systematically. When the world around us affects our kink, it's inevitable for our kinks to affect how we show up in the world. And that is something to be conscious of."—Morgan, 22, Vancouver
BDSM can improve your life by teaching you to advocate for your needs, and communicate more clearly. "[BDSM has] given me grounding confidence that someone can find me at my most beautiful when I am feeling at my most vulnerable, exposed and self-conscious state of being," says Lexi.
In the end, you're the captain of your BDSM ship, and that's what's so powerful about it. You decide what it looks like and what you want to get out of it. Don't let mainstream culture (ahem, "Fifty Shades") lead you to believe otherwise.
"BDSM is rooted in consent; by being a submissive, you are willingly giving over your power because you want to and because it turns you on," says Abgarian. There's nothing more empowering than that!