Why run the same ol' 5K when you can race through mud or basically in your birthday suit? Whether you're looking to dress up, get slimmed, tackle obstacles, or get in on some unlimited Twinkie action, this roundup of the most incredible themed races around has something for everyone.
When putting this list together, the fun factor was first and foremost, but we also considered the swag bags, after parties, locations, charitable affiliations, and, of course, the hilarious memories you'll collect along with your finisher medal. So, lace up those kicks, and get ready to race. We're off!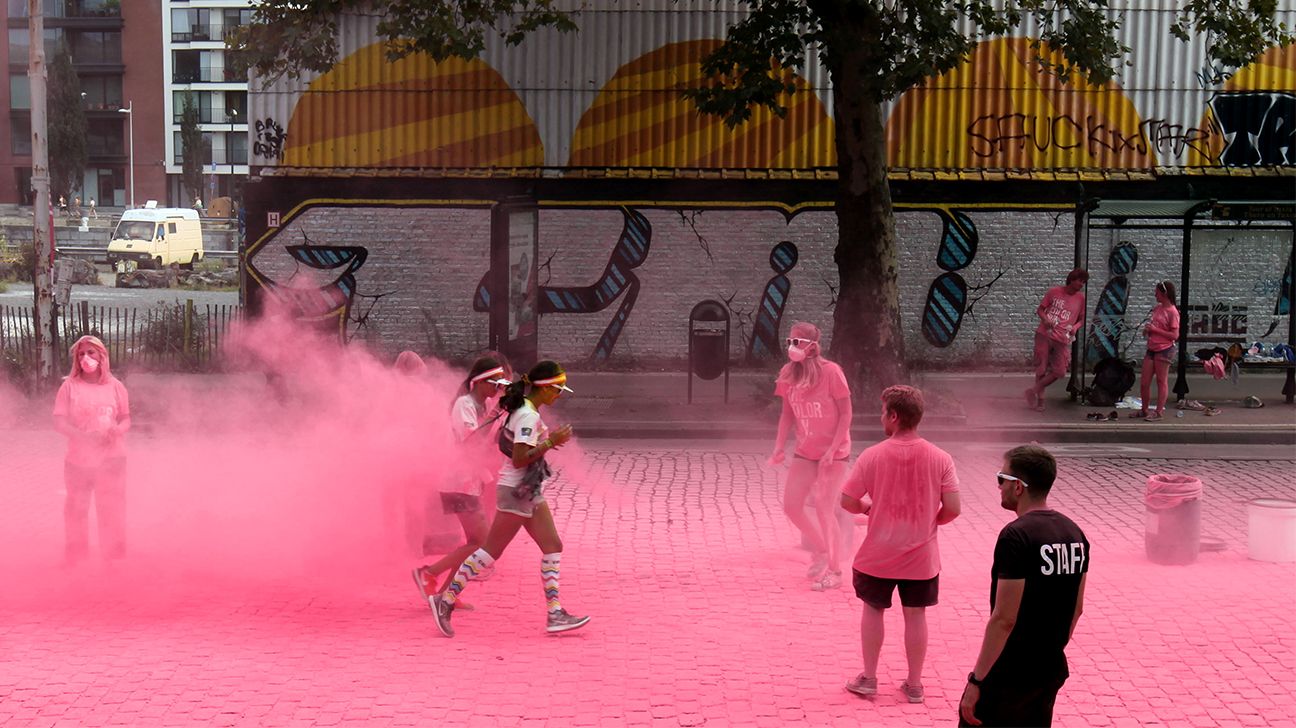 Distance: 5K and 15K
Location: Various with virtual option

Nothing compares to the sweet warmth of hot cocoa on a cold winter's day. But the Hot Chocolate 15/5K Finisher's Mug filled with chocolate fondue, dip-able snacks and, of course, hot chocolate might come close.
How do you earn such a sweet prize? You've got to go the distance. You'll run 3.1 miles or 9.3 miles through your city of choice (it's coming to Chicago, Illinois; Tampa, Florida; Philadelphia, Pennsylvania; and more). There's also an option to participate virtually! The run donates a portion of proceeds to the St. Jude Children's Research Hospital.
Distance: 5 miles
Location: Raleigh, North Carolina with virtual option

Who doesn't dream of a doughnut break during their run? But a dozen doughnuts?! Those who accept the Krispy Kreme Challenge will never look at the sweet treat the same way again. The run kicks off on the campus of North Carolina State University in Raleigh and directs sugar-hungry challengers 2.5 miles through Raleigh to a Krispy Kreme shop, where they devour a dozen original glazed doughnuts before trudging the 2.5 miles back to campus.
There's just one catch. You've got to finish the run — and every last doughnut — in less than an hour to be recognized as a challenger. If you're not into downing 12 doughnuts all at once, you can register as a casual runner. You'll still get to keep the sweets, you'll just have to balance the box all the way back to the finish line. This event benefits the North Carolina Children's Hospital. You can also join in on the fun virtually.
Distance: 3.1 miles
Location: New York, New York

Who serves New York City's best slice will probably always be up for debate, but what you can find out for sure is whether or not you're able to scarf down two slices while running 3.1 miles. The NYC Pizza Run is an annual challenge held in Fort Greene Park (3 laps around the park, counterclockwise) in which you must finish a slice (crust and all) at the end of lap 1 and 2 before continuing onto the next.
The first runner to finish is crowned the NYC Pizza Run Champion and the fun continues down the block at the DSK German Beer Garden where participants get a free drink to wash it all down. A portion of the run's proceeds benefit the Juvenile Diabetes Research Foundation International.
Distance: 1 mile
Location: Various with virtual option

Cupid's Undie Run has runners charging from the starting line quicker than the little cherub's arrow, because well, this mile(ish) run takes place on a frigid February weekend with participants in their Valentine's Day best — yes, negligees, cotton bloomers, and assorted underthings.
Runners warm up with a 2-hour pre-party before the sprint and defrost with a post-race dance-off. Organized in cities across the country, proceeds benefit The Children's Tumor Foundation. Can't make it to one of the select cities? You can also sign up as a virtual runner.
Distance: 5K, 10K, 15K, half-marathon, 30K, and marathon
Location: Virtual

We mustache you a question: Are you up for a dash to the finish line? Alright, alright, we promise, this 5K isn't nearly as corny as that joke. The Mustache Dache is actually pretty awesome. When you register, you'll be randomly assigned to one of four teams. You can log your training miles to help your team earn points. Then, at the end of the month, the team with the most points wins, and all participants run the full distance of the race they signed up for!
This charitable race benefits Movember, a foundation promoting mental health and prostate cancer awareness, among other important men's health issues. You can even enter your pup to participate with you!
Distance: Kids, 5K, 10K, half-marathon, marathon, and relay
Location: Various with virtual option

You know how important a solid playlist can be. So, just think how amped you'll be when you're running to live bands spread out along the course of your choice. Local bands line routes in cities all over the world, performing a variety of genres, from alternative, classic, and punk rock to blues, jazz, and soul.
Where the tunes fade out, cheer teams and dance squads are on hand to perform and turn up the energy. Then, celebrate all of your hard work with an after-party with — you guessed it — more live music! If you're not comfortable running it in person, you can get involved by joining the Humana Rock 'n' Rock Virtual Running Club.
Distance: 5K
Location: Various

MudGirl is on a mission to get more folks who identify as women involved in the exciting, challenging world of obstacle races. This approximately 3-mile course packs in more than 17 obstacles — mostly made of mud! All genders are welcome to join, but asked to support the overall goal of creating a safe space for other people to participate.
Not comfortable going through every obstacle? No prob! You're free to skip them as needed. A portion of the profits from this race go toward charities related to breast cancer.
Distance: 5K, 10K, 21K, 50K
Location: Various

"There is fire, mud, water, barbed wire, and occasionally Hell on Earth," warn race promoters. Ah, nothing a Spartan can't handle, right? There are plenty of different race options for you to choose from. Some of the most popular events are:
Sprint: 5K, 20 obstacles
Super: 10K, 25 obstacles
Beast: 21K, 30 obstacles
Are you a Spartan? Can you drag boulders on chains, flip logs, and lug tires distances you never imagined at speeds you never thought possible? Well, there's only one way to find out.
Distance: 5K, 10K, 15K
Location: Various

Tough Mudders are team players. In other words, you're going to want to wrangle a few friends who know a thing or two about stamina, mental grit, and camaraderie because there's no other way you're going to make it through this hardcore obstacle course featuring mud, ice-water, and live dangling electric wires.
The course is actually purposefully designed to make Mudders rely on each other for physical and mental boosts. Clocking a good time is great, but pushing boundaries and overcoming all obstacles through teamwork, now that's a challenge for a Tough Mudder.
Distance: 5K
Location: Various

Have you tried the "Happiest 5K on the Planet" yet? The Color Run practically paints a smile on participants' faces. During this 5K, runners dressed in all white barrel through clouds of vibrant paint powder, all the while trying to catch their breath between bouts of pure giddiness.
Are you a newbie to running? Don't worry, you won't be alone. Plenty of participants are first-time 5K runners, which makes The Color Run the perfect catalyst to keep up with an active, healthy lifestyle.