We include products we think are useful for our readers. If you buy through links on this page, we may earn a small commission. Here's our process.
Greatist only shows you brands and products that we stand behind.
Our team thoroughly researches and evaluates the recommendations we make on our site. To establish that the product manufacturers addressed safety and efficacy standards, we:
Evaluate ingredients and composition: Do they have the potential to cause harm?
Fact-check all health claims: Do they align with the current body of scientific evidence?
Assess the brand: Does it operate with integrity and adhere to industry best practices?
We do the research so you can find trusted products for your health and wellness.
CBD is all the rage in wellness these days, and it doesn't look like it'll be going out of style any time soon. There seems to be a pill, tincture, or tea for almost every kind of ailment.
For those of you who struggle with back pain, you'll be happy to discover that there's some evidence that CBD can offer relief. To help distinguish hype from help, we vetted quality brands to help you find a product that just might do the trick.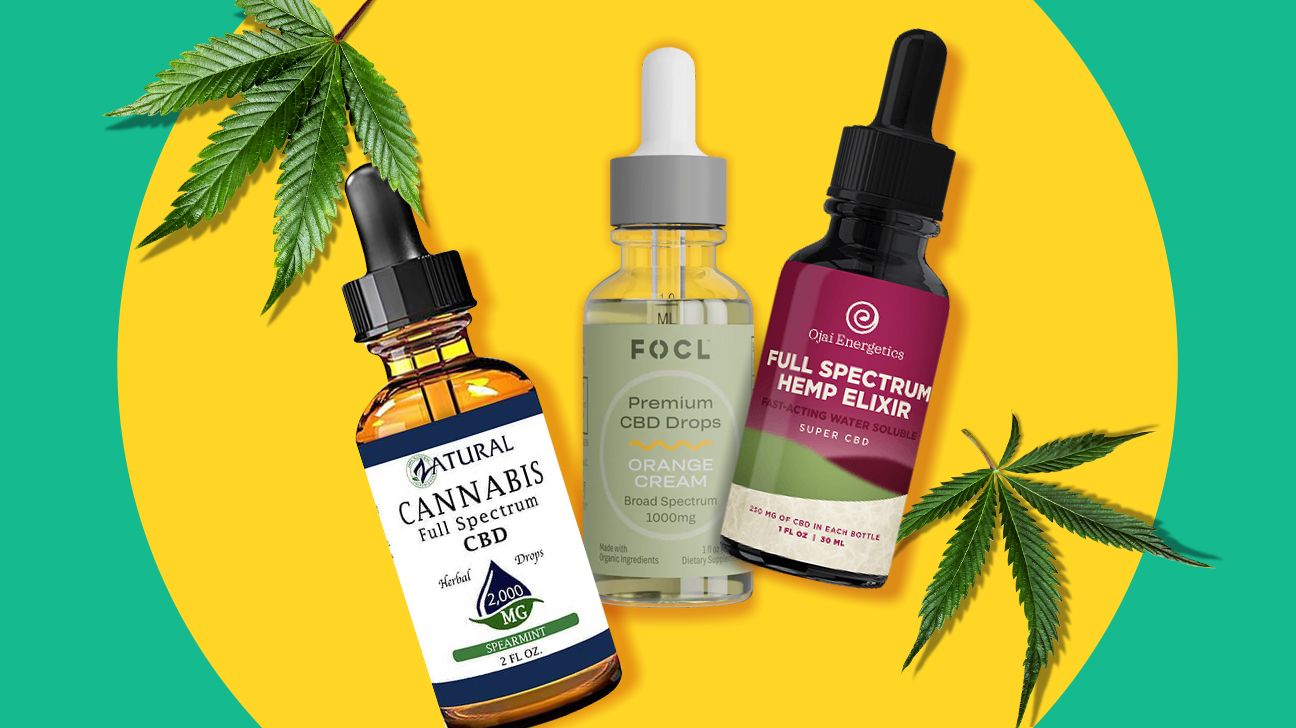 Before diving into which products to use, it may be helpful to understand exactly what CBD is and the evidence behind its use for pain relief. If you aren't familiar with CBD, which is short for cannabidiol, here's a quick intro.
Cannabidiol is one of over 100 cannabinoids found in hemp and marijuana plants. However, CBD won't give you the same psychoactive effect or "high" feeling as its cannabinoid cousin THC.
Some hemp-derived CBD is allowed in the U.S.
Hemp has been descheduled by the U.S., which means hemp-derived CBD products with less than 0.3 percent of THC are okay federally, but some states still prohibit them.
Even if you're in a state where you can legally use CBD, it's important to note that the FDA doesn't guarantee the safety or quality of cannabidiol and doesn't regulate them the same way as it does with drug or dietary supplements.
When it comes to quality and dosing, it's best to do some research before investing your time and money into a product.
Types of CBD
Some CBD oils have minimal amounts of THC in them as well as other non-psychoactive cannabinoids. Here's some language to look out for so you know what you're buying:
CBD isolate: The purist's choice, this is CBD that has been isolated from other plant compounds and contains no THC.
Broad-spectrum: CBD that has all the naturally occurring plant compounds with the exception of THC.
Full-spectrum: Includes all the naturally available cannabis compounds, including THC. In hemp-derived CBD, THC will not exceed 0.3 percent.
How to take CBD Oil
CBD oils are typically consumed orally via a few drops under the tongue, but they can also be applied directly to the skin. CBD oils get absorbed by your body as you digest them, so any that are alcohol or glycerin-based will be absorbed (and wear off) faster.
Pro tip: To avoid a yucky and potentially dangerous mishap, don't confuse CBD-infused massage oils that aren't meant for ingesting with edible CBD oils like the ones on this list.
CBD dosing
CBD affects everyone differently, so there's no recommended dosage amount of CBD for back pain. Instead, try starting with a small amount and slowly increasing it over time if you want more.
For a CBD-only isolate product, you might start with 25 milligrams, and if it's a full-spectrum product, try starting with only 5 milligrams.
The powers of CBD are as impressive as they are varied, and they only seem to be expanding. Skeptics take heart, there is a continuing body of research that supports its therapeutic potential, which includes pain relief.
While the research surrounding CBD as a treatment for pain relief continues to evolve, it's anti-inflammatory properties seem to hold the most promise.
Part of the problem with assessing the efficacy of CBD alone for pain relief is that it has only been tested in conjunction with THC during clinical trials. Certain animal studies, however, have confirmed it's pain-relieving powers.
That all being said, there's an overwhelming amount of CBD products on the market, and not all of them are made the same way. CBD oil is made by heating the plant slowly in an oil (usually hemp seed or MCT).
For this reason, CBD oil tends to be "purer" than products like gummies or tinctures, since it contains relatively few additives. But be aware that some manufacturers may add extra ingredients that may or may not be good for you.
There's nothing we did to compare the CBD itself in these products that made them a top pick over others. Instead, we chose these products based on criteria we think are good indicators of safety, quality, and transparency. Each product in this article is:
made by a company that provides proof of third-party testing by an ISO 17025-compliant lab
made with U.S.-grown hemp
contains no more than 0.3 percent THC, according to the certificate of analysis (COA)
free of pesticides, heavy metals, residual solvents, and molds, according to the COA
We also considered:
company certifications and manufacturing processes
product potency
overall ingredients
indicators of user trust and brand reputation, such as:
Price guide
$ = under $50
$$ = $50–75
$$$ = over $75
And without any further ado, here are the 7 CBD oils for back pain that made the cut.
1. Ojai Energetics CBD Full-Spectrum Hemp Elixir – 250 mg
Price: $$
CBD per serving: 8.3 milligrams (mg)
Total CBD: 250 mg
Type of CBD: full-spectrum
Ojai Energetics CBD oil is blended with other superfoods to maximize its benefits. The manufacturer claims its water-soluble formulation increases its bioavailability, and that you can expect to feel the effects in less than 1 minute.
Buy Ojai Energetics CBD Full-Spectrum Hemp Elixir.
2. NuLeaf Naturals Full-Spectrum Hemp CBD Oil – 900 mg
Price: $$$
CBD per serving: 30 mg
Total CBD: 900 mg
Type of CBD: full-spectrum
NuLeaf Naturals offers a full-spectrum option derived from organic hemp and formulated with organic virgin hemp seed oil. While you can put this oil under your tongue, the manufacturer also suggests mixing it with your favorite moisturizer if you want to apply it to your body.
According to the brand, the combination of CBD and other cannabinoids in their full-spectrum formulation allows for a synergistic effect they call the "entourage effect," which they claim to be more effective than isolated versions of the same compounds.
Buy NuLeaf Naturals Full-Spectrum Hemp CBD Oil.
3. Zatural Cannabis Full-Spectrum CBD Natural – 300 mg
Price: $
CBD per serving: 10 mg
Total CBD: 300 mg
Type of CBD: broad-spectrum
Zatural offers a budget-friendly option formulated with hemp oil. All the hemp used in their products is grown organically in the United States.
While this CBD oil is marketed as full-spectrum, Zatural has removed any THC to ensure that the product remains legal in all 50 states, technically qualifying this product broad-spectrum.
For those of you with picky palettes, you'll be pleased to discover that Zatural's formulation is flavorless, which makes it easy to mix into things like coffee and smoothies.
Buy Zatural Cannabis Full-Spectrum CBD.
4. CBDistillery CBD Oil Isolate – 500 mg
Price: $
CBD per serving: 17 mg
Total CBD: 500 mg
Type of CBD: isolate
CBDistillery is another great option for the cost-conscious. While it isn't organic, the hemp used to make their product is GMO-free. For those concerned about THC or the effects of other cannabinoids in broad or full-spectrum products, this oil is ideal because it's formulated with CBD isolate.
Buy CBDistillery CBD Oil Isolate.
5. Kanibi CBD Pure Isolate, Skittles – 1500 mg
Price: $$$
CBD per serving: 75 mg
Total CBD: 1500 mg
Type of CBD: isolate
If you like your pain relief with a sweet twist, you may want to try out Kanibi's CBD Pure Isolate in their Skittles flavor. Taste the proverbial rainbow without a trace of THC.
Kanibi isn't exactly cheap, but the hemp they use to make their products is 100 percent organic and USA-grown, plus their products are double-tested for safety and potency.
Buy Kanibi CBD Pure Isolate, Skittles.
6. FOCL Premium CBD Drops – 1,000 mg
Price: $
CBD per serving: 10 mg
Total CBD: 1,000 mg
Type of CBD: broad-spectrum
FOCL offers another tasty option with its Orange Cream CBD Drops. Produced with American-grown hemp, this product offers the potential added benefits of other cannabinoids, with no THC.
Even better, FOCL's formulation uses organic coconut-derived MCT oil and organic flavors. While FOCL is marketed to relieve stress, it can still be helpful for relieving back pain, and it has no random additives.
Buy FOCL Orange Cream CBD Drops.
7. Lily CBD Daily Strength – 150 mg
Price: $
CBD per serving: 16 mg
Total CBD: 150 mg
Type of CBD: full-spectrum
Last but not least, there's Lily CBD Daily Strength. The convenient, travel-size bottle comes with the added benefit of being budget friendly, which would make it a good fit if you're trying CBD oil for the first time.
Lily makes their oil from organic hemp grown in the Northeastern U.S. and the formula is made from a blend of both organic MCT coconut oil and organic hemp oil. While the standard way to consume this oil is sublingually, the brand also suggests mixing into recipes and using it as a massage oil.
Generally, CBD is considered to be safe. In fact, some studies suggest that CBD could be safer than other drugs for treating certain conditions like epilepsy.
But more research on CBD safety is needed, especially into how CBD may interfere with other drugs and medication therapies. If you're not sure if CBD is a good option for you, ask your doctor for a professional opinion.
Side effects
Be aware that you could experience side effects when using CBD. These could include diarrhea, changes of appetite or weight, and tiredness. To minimize the risk of side effects, make sure to consult the manufacturer's dosing instructions and talk to your doctor before starting any kind of CBD regimen.
It's always best to touch base with your doctor regarding a treatment program that's right for you, as CBD can interact with other drugs and medications.
The science of CBD is still evolving, and the brand that works for one person may not work for another. If you're curious about CBD oil for back pain relief, trying a quality product may be able to help.
Is CBD legal?The 2018 Farm Bill removed hemp from the legal definition of marijuana in the Controlled Substances Act. This made some hemp-derived CBD products with less than 0.3% THC federally legal. However, CBD products containing more than 0.3% THC still fall under the legal definition of marijuana, making them federally illegal but legal under some state laws. Be sure to check state laws, especially when traveling. Also, keep in mind that the FDA has not approved nonprescription CBD products, and some products may be inaccurately labeled.