You know in "The Marvelous Mrs. Maisel" when Midge stealthily runs to the bathroom at the crack of dawn to apply her eyeliner, lipstick, and brow pencil? Well, if permanent makeup existed in the 1950s, she could actually wake up looking like that.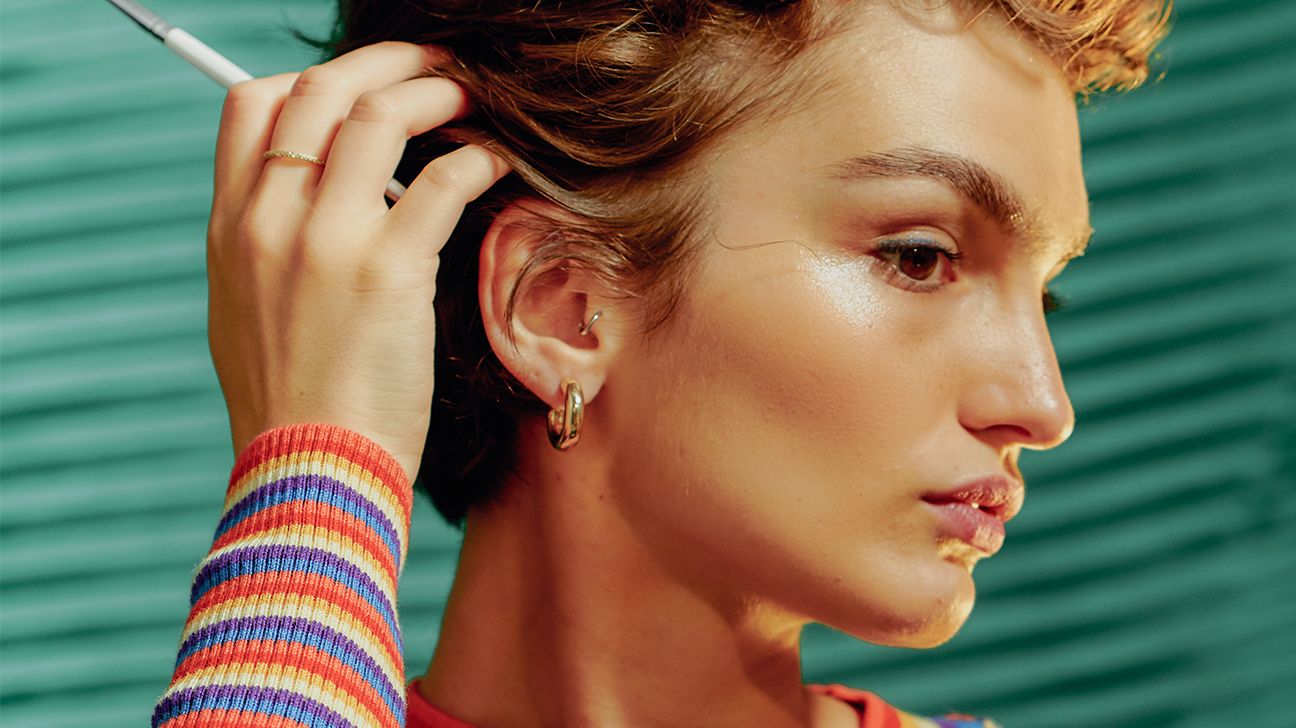 Whether your makeup style is Maisel or minimalist, more and more people are bidding adieu to makeup that requires tedious reapplications day after day. Just check out the hashtag #microblading on Instagram and you'll get a cool 15 million-plus results.
Microblading — or permanent makeup for the brows — is responsible for many of those full, fabulously arched eyebrows you see on Insta, but it's only one type of permanent makeup.
Also known as micropigmentation, permanent makeup is essentially a cosmetic tattoo technique that creates filled-in brows, crisp eyeliner, and tinted lips that can last for over a year.
(Spoiler alert: despite the name, the tats are actually semi-permanent.)
Whether you're interested in trying out the procedure or just want to learn more about the growing trend, here's the DL on everything from cost to recovery.
In this guide, we'll cover:
Procedure
Pain level
Safety
Recovery
Results
Removal
Cost
Finding a provider
Permanent makeup is essentially a tattoo that mimics the look of your Sephora staples, from brow pencil to liner. Just like at a traditional tattoo shop, the technician applies the pigment with a hollow needle. Depending on the procedure, it might be done with a manual blade or an electric tattoo device.
In the case of microblading that means creating tiny strokes that mimic the look of real hairs with a blade.
Meanwhile, lip tint and blush involves tattooing the area with a pinkish or red tint. And you guessed it: liner involves using black or brown pigment to line the upper lid and enhance the lashes.
These days, people are also using micropigmentation to fake freckles, make vitiligo less noticeable, and fill in the hairline.
While it's not as permanent as a back tattoo, it's definitely longer-lasting than even your most trusted waterproof liner.
Permanent makeup will remain visible anywhere from 1 to 3 years. When it comes to microblading, regular touch-ups are par for the course: usually you'll need to hop back in the esthetician's chair every 6 to 12 months to maintain results.
While a regular tattoo sinks deep into the dermis, the permanent makeup technique only penetrates the superficial layers in the skin. The dye particles are also less concentrated in makeup ink than the stuff at your local tattoo shop.
Eventually, your skin will metabolize it and will fade away — but how long that takes can vary widely.
Whether you're getting your eyebrows, lips, or liner done, the process typically takes 1 to 2 hours.
Before tattooing, your technician should sketch out the design so you know exactly what to expect. Together, you can tweak it to suit your unique preferences.
Ouch: how much is this gonna hurt?
NGL: like any tattoo, the permanent makeup procedure could hurt a bit. When you're being poked repeatedly with a needle, you're gonna feel it. Many compare it to little cat scratches.
However, your specialist should apply a numbing agent beforehand to minimize pain. If you're especially sensitive to needles, speak up: you might want to ask for a little extra numbing time.
As with any tattoo, there are some safety concerns when it comes to permanent makeup. For starters, the FDA doesn't regulate many of the color additives used in the pigments, which means you might not know exactly what's going into your skin.
Dermatologist Dr. Heidi Wardolf explains that "the risks are the same as for any tattoo: infection, allergic reaction, and aesthetically displeasing results."
People tend to have more adverse reactions to colored inks in particular. So even if your skin's cool with your black ink tattoo, that red lip tint may lead to issues. And while allergic reactions are rare, they tend to be challenging to treat because it's hard to remove pigment once injected.
Dermatologist Dr. Papri Sarkar says she sometimes sees patients with keloids (what she calls a "really exuberant scar") and granulomas (nodules that form around the pigment) from permanent makeup.
Of course, like with any tattoo, if you go to an untrustworthy place, the risks can be much more serious. Any clinic with unsanitary practices could spread disease. "Especially hepatitis C," Sarkar warns.
For those who were around when tattooed brows were big decades ago: permanent makeup is definitely not the penciled-in look of yesteryear. These days, a skilled professional can create extremely natural results — ones that don't look like you went at your brows with a fine-point Sharpie.
That being said, results vary widely based on the technician and procedure you choose, so take time to thoroughly weigh your options. (More on that below!)
Even with careful research and planning, not everyone loves their results.
"Probably the thing that I see most commonly is a mismatch of color," Sarkar says, "which is a really big deal, because if they can't match the color properly or make it look natural, people are really unhappy."
Sarkar says that people also tend to be dissatisfied with the results of their lips and cheeks in particular, which is possibly why these practices seem to have "fallen out of favor somewhat."
Many places won't tattoo blush at all due to the difficulty of attaining a natural finish. Lip treatments are more common, but still somewhat unpredictable.
"It's really hard to get a really tight line like you would with a lip liner [with a tattoo]," Sarkar explains. Basically, the tattoo can bleed over and "look really messy."
At Waldorf's practice, they offer permanent makeup removal services. They use a pigment-specific laser to treat the ink. "The success and number of treatments to get there depends on the ink color, concentration and depth," she says.
But tattoo removal's not cheap, and 100 percent removal is never a guarantee.
Like with any tattoo, permanent makeup requires a little TLC during the healing and recovery process. Expect some swelling and redness for about 24 hours post-procedure.
The treated area should be kept clean, and no makeup should be applied for several days. Some skin peeling and color lightening is totally normal.
Your new "makeup" can take 4 to 7 days to heal. In the meantime, avoid tanning, swimming and intense exercise. You should also follow your technician's specific instructions.
If you got your brows 'bladed, this part requires a little finesse: you also have to avoid getting them wet for at least a week post-application. If you do get them wet, you risk loosening and lightening the pigment.
If the area becomes infected or painful or if you develop a fever, contact a doctor right away.
Permanent makeup prices vary widely, but they're rarely cheap. It can cost anywhere from $300 to $2,000 depending on where you live and your technician of choice. Touch-ups can set you back another $100 to $350.
While you might be tempted to find a bargain, Sarkar has two words of advice: "I wouldn't." Not because lower-priced options don't come with quality estheticians, but because it's a serious, lasting commitment.
If you want to eliminate a step or two from your everyday beautifying routine, permanent makeup might be for you.
Those with alopecia or hair loss often invest in the procedure as a way to restore their brows or lend the appearance of thicker lashes.
Those with physical disabilities, impaired motor skills or poor eyesight may also find it to be a good option.
What about if you're pregnant, nursing or live with diabetes?
If you're pregnant, nursing, or have diabetes or other serious conditions that affect your immune system, permanent makeup might not be for you.
If you're not sure if the procedure's a good fit, chat with your doctor before booking an appointment.
What if you have oily skin?
Heads up for those with oily skin: you might not be a great candidate for microbladed brows. The oil in your skin may cause the pigment to spread out when applied and fade faster. If you have oily skin and are set on getting your brows done, microshading might be a better option.
Rather than creating tiny, hair-like strokes with a blade, microshading involves shading in the brows with small dots the size of a pinprick. If you're not sure what's best for you, chat with a dermatologist and schedule a consultation with a permanent makeup technician before taking the plunge.
Waldorf offers these tried-and-true tips for finding the best technician for your needs:
"Make sure your aesthetic matches theirs." Before-and-after photos and word-of-mouth are key here.
During your consult, ask specifics about color choice, technique and treatment location. ("Look closely at the work they've done — is everyone made to look the same, or are results individualized to facial shape, hair and skin color?")
Confirm that their license is up to date in your state.
Scope out the treatment area: it should be clean, sanitized, and with good light.
Ask about the hygiene protocol. Do they disinfect the skin, apply a topical anesthetic, and use single-use tattoo needles, for instance? (Hint: they should!)
Do they provide post-treatment care guides and are they available to answer Qs afterward?
Finally, ask about their post-op protocol in case of allergy or infection. Do they have a physician referral program?
In terms of scoping out the perfect aesthetic fit, Sarkar recommends asking around rather than relying solely on before-and-after photos.
"Word of mouth is really the most important thing," Sarkar says, "because these days you can really change a picture so quickly with Photoshop. If you're just looking at a gallery online, we can't be sure that these things aren't touched up. It makes it scary."
So, ask your friends, ask your mom, ask your work wife! — because the technician you choose seriously counts.
"I think of it like a marriage," she laughs. "You can take it off if you really want to, but it's hard. It's much easier to get married than to get divorced. It's easy to slap [permanent makeup] on, but it's much harder to get to change it, or fix it, or remove it."
Permanent makeup isn't totally permanent — but it does last for up to 3 years.
One permanent makeup session can set you back over $1,000. You should expect touch-ups to maintain the look (about $200 to 350) every 6 to 12 months.
Like with regular tattoos, permanent makeup comes with serious safety concerns. Thoroughly vet the place you choose before making a commitment.
Since results vary widely, it's worth shopping around for the perfect fit.