We include products we think are useful for our readers. If you buy through links on this page, we may earn a small commission. Here's our process.
Greatist only shows you brands and products that we stand behind.
Our team thoroughly researches and evaluates the recommendations we make on our site. To establish that the product manufacturers addressed safety and efficacy standards, we:
Evaluate ingredients and composition: Do they have the potential to cause harm?
Fact-check all health claims: Do they align with the current body of scientific evidence?
Assess the brand: Does it operate with integrity and adhere to industry best practices?
We do the research so you can find trusted products for your health and wellness.
They say one might be the loneliest number, but two can be tricky too — at least when it comes to making dinner.
Whether you're wooing a crush, sharing with a roomie, or catching up with your bestie, dinner for deux can mean too many leftovers and food fatigue. To save the day, these recipes are perfectly portioned for two servings.
Stir-fries are a staple, but it's easy to fall into a rut with them. Mix things up with this recipe, which calls for marinating sirloin in a sweet, spicy soy sauce.
Let that get happy while you're at work, then come home and cook the meat with some veggies. Top over brown rice for a simple yet flavorful dinner.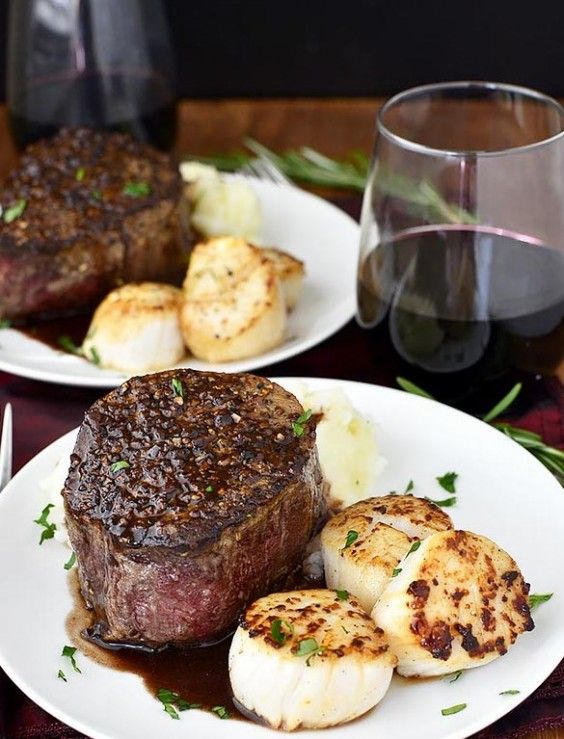 Sure, you can go out to an expensive restaurant for a seafood-and-steak combo — but you can also make a fantastic one at home.
This recipe pairs silky scallops with juicy filet mignon, though you can definitely comb through the sales flyer and opt for a lesser cut if it's not a special occasion.
For such a fancy-style dinner, you'll be surprised how quickly it comes together. It's perfect for date night in or simply celebrating life.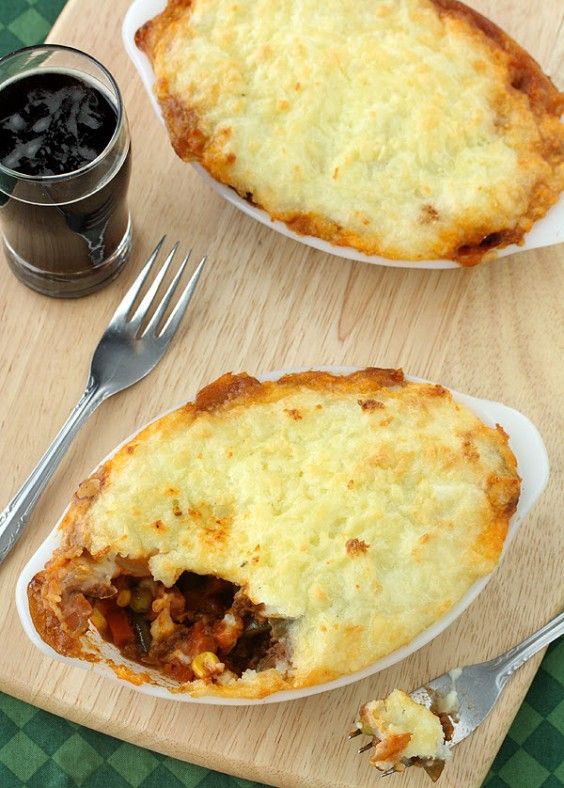 Mashed potatoes, ground beef, and veggies, all cooked with Guinness beer? This is comfort food at its finest — and all in one neat pie.
Luckily with this dish, comfort food doesn't have to mean a calorie bomb. Use lean ground beef and go light on the cheddar to ease up on the calories. Feel free to sneak in some extra vegetables, if you feel like it.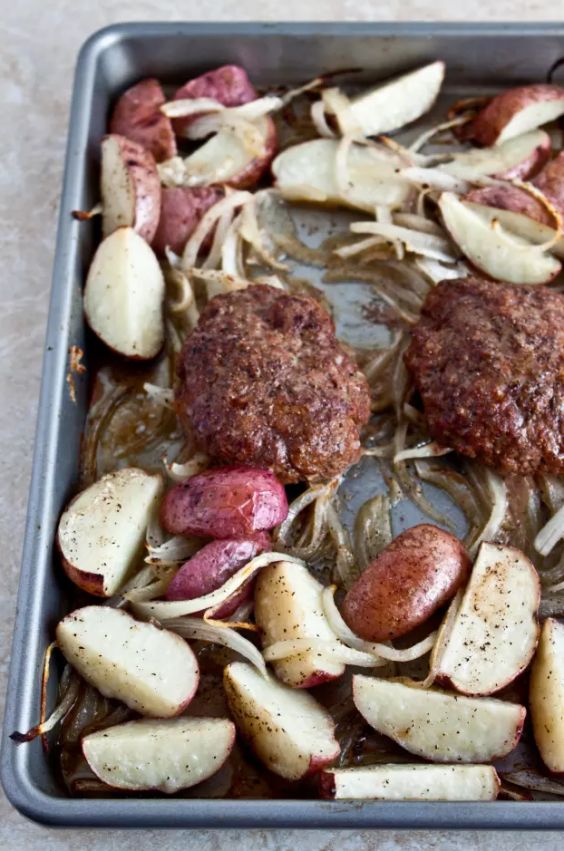 If salisbury steak makes you think of bad elementary school lunches, it's time to make this. Bonus: It's baked in the oven in the same dish as the potatoes, so you can have a full dinner ready in just half an hour.
Swap red potatoes for sweet potatoes for a boost in vitamin A, and toss in sliced carrots for additional fiber.
Chicken marsala is one of those dishes that's elegant, delicious, and so much simpler to make than you think. Using chicken thighs ensures you'll have a juicy bird. No fear of dry chicken here.
Combined with Marsala wine (best used for cooking, not drinking), mushrooms, and shallots, this is what you make to impress someone when you're short on time.
Serve over whole-wheat pasta or with a side salad and crusty bread — you'll want it to soak up that sauce!
Get a homemade version of Chinese takeout in 20 minutes. This recipe's gluten-free, full of flavor, and easy to customize.
Add in more vegetables like mushrooms or carrots, use thinly sliced beef instead of chicken, get wild! This chicken tastes great over zoodles, but you could also serve over your favorite pasta or with rice instead.
This super simple dinner comes together in just minutes with eight ingredients you probably already have on hand. Whether you're using fresh or frozen broccoli, you'll get a dose of vitamin C and fiber.
If you've got a vegetarian eater to serve (or you're one yourself), this one also would taste great with tofu instead of chicken, as the tofu will soak up all the saucy flavors.
Get your Mardi Gras (and Forrest Gump impression) on with this triple-threat gumbo — no beads necessary. The key to this dish is pre-toasting the flour, which lends a great bronze color.
This is an awesome stew to pull together on weekends, since it'll cook on the stove for hours, yet only needs your attention for a few minutes at a time.
It's also a great way to introduce okra, a southern staple, to your dinnertime repertoire. Serve with brown rice rather than white for whole-grain benefits.
This one's pretty as pie — and Paleo to boot! Instead of wheat flour, the crust is made of almond and coconut flours, ensuring a grain-free yet flaky crust.
Dig in, and you're greeted by juicy pieces of chicken and soft bits of carrots, celery, and onion.
You do need a lot for this recipe, but you don't need a lot of time — it's ready in less than 30 minutes.
Ginger is known for its anti-inflammatory properties — plus its power to lure people up from the couch to the kitchen to find out what's cooking.Srinivasan K. (2017). Ginger rhizomes (Zingiber officinale): A spice with multiple health beneficial potentials. DOI: 10.1016/j.phanu.2017.01.001
Combined with vitamin A-packed spinach and, of course chicken, this is one healthy meal you'll love eating.
There's no need to wait for Thanksgiving to enjoy turkey, though if you're having a cozy, just-the-two-of-us holiday, this would be a great recipe to use. Instead of dealing with an entire bird, you'll make turkey in a slow cooker.
But the real star of this meal is the potatoes, flavored with garlic powder, onion powder, oregano, chili powder, chives, and Parmesan. You'll make them again as a side with other meats, trust us.
If you're an Italian sub fan, this main dish salad will hit the spot. With cannellini beans instead of bread for that hearty feeling, and additions like sun-dried tomatoes, this is perfect for a busy weeknight dinner.
It's also proof that salads are so much more than boring, pale lettuce. Feel free to use that vinegary homemade dressing on your sandwiches from now on, too.
Pretty much an upscale macaroni and cheese, "cacio e pepe" means cheese and pepper, but this version gets a welcome addition: bacon! And because it's served on spiralized zucchini, it's lighter than pasta.
Use the highest quality ingredients you can since there aren't many in this recipe — this is the time to splurge on good bacon and cheese! And be sure to use freshly cracked pepper; the flavor can't be beat.
Perk up pasta night with smoky chorizo, sweet red pepper, and fresh, cheesy pesto. Oh, and there's savory sage and peppery watercress, too. So much flavor, yet this meal is ready in 10 minutes. Make it now!
The next time tuna steaks are on sale, get thee to thy grocery store. Mixing up a batch of blackening seasoning at home and sprinkling it on the fish ensures you get a thick, spicy crust on your seafood.
No grill? No problem. Make these in a pan on the stove, preferably a cast-iron pan. Pair with your favorite veggies and a baked potato.
When you're feeling fancy, get your hands on mussels, which can usually be purchased at the seafood counter of your local market or at a fish shop.
Garlicky blue mussels are cooked up alongside a creamy tomato sauce you'll want to dip a fresh baguette into. Go right ahead.
This might not be the most authentic Indian recipe, but when it's this good, we're willing to overlook the details.
It's loaded with carrots, kale, broccoli, and collard greens (finally, a recipe to use them in), so you're getting your veggies. It also has some super tasty shrimp, thanks to the vindaloo seasoning.
Not only is the tilapia here perfectly seasoned with lime juice, garlic, oil, salt, and pepper, but it's also topped with an awesome mango salsa.
Stuff these into pan-toasted tortillas and serve with shredded cabbage and avocado slices for a seaside meal no matter the season.
This light dish is really a standout. Garlic and onions are first sautéed in olive oil, then simmered along with clams (canned are fine), lemon juice, lemon zest, and white wine.
It's all served with al dente pasta and Prmesan cheese for a five-star dinner that requires zero cooking skill. Make sure to use a good wine; you can drink what you don't use cooking!
It's amazing how such simple ingredients can make such a terrific meal. Get a helping of healthy fats with avocado, which produces a creamy pasta without the use of dairy.
While that's good enough on its own, a side of roasted beets with balsamic vinegar, lemon-garlic dressing, and walnuts is not to be missed.
A fun twist on "normal" lasagna, this version uses egg-free wonton wrappers in place of lasagna noodles and a homemade "ricotta" made from pine nuts that's delicious in its own right.
The longest part of this recipe involves making the cheese. Do that earlier in the day, and you can assemble and bake the lasagna at dinnertime in less than 30 minutes.
Lentils are a great option for protein and fiber, but they can take a while to cook. That's why this recipe is so smart; the whole shebang cooks in the slow cooker and needs no attention.
When it's ready, you have a hearty, healthy filling made with two types of lentils and quinoa to pack into taco shells. Serve with your favorite Tex-Mex fixings, like avocado slices, sour cream, salsa, and cilantro.
When you're too hungry to wait for delivery, turn to this dinner. Protein-packed quinoa is served alongside chickpeas and asparagus, sautéed to crispy perfection.
It's uncomplicated but oh so good. Keep frozen spinach and a can of chickpeas on hand to make this one anytime.
Calcium-rich bok choy combines with tofu in this Asian-inspired recipe. We love the homemade dressing made from maple syrup and soy sauce. Serve over brown rice to soak it all up and to round out the meal.
There's a lot to think about when you're cooking for two. Timing, setting the table, ambiance, maybe even a little mood music (unless you're cooking for your bestie, then that could get a little awkward). 👀
Thankfully, how to cook an impressive meal is no longer one of the things you need to worry about tonight. With just a few healthy ingredients and a little time in the kitchen, you'll be glad you chose to stay in.