In "normal" times, we don't think anything of scheduling that appointment with the dentist — well, other than, "Ugh, I have to go to the dentist." No offense to those who deal with teeth.
We typically don't think twice about scheduling other appointments either, like for the hair salon, the esthetician, and more. But during pandemic times, we have to factor COVID-19 risk into just about everything we do. Grrr.
So, if you wonder which appointments get the green light and which ones you should wait to schedule, you're not alone. There's a lot to consider. Let's break it down.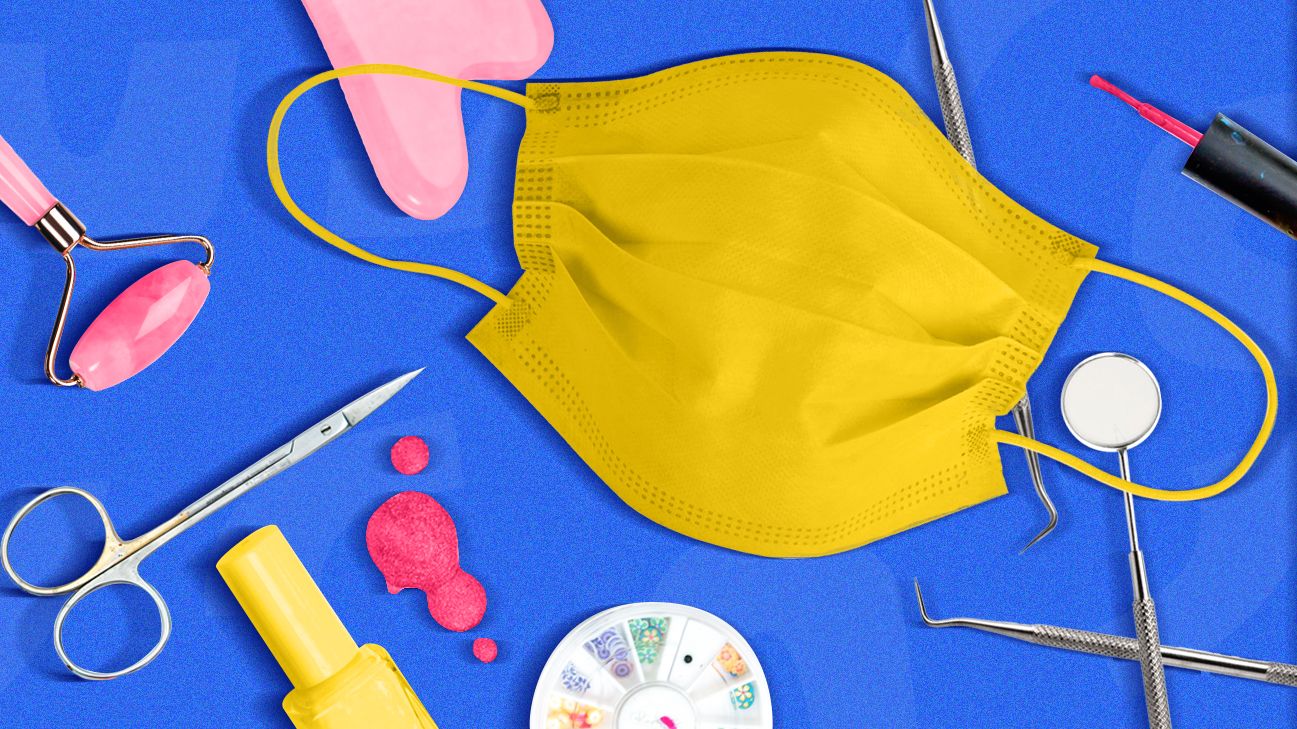 The short answer is, yes! If you have a medical emergency, you should absolutely seek emergency care, and that may mean going to an emergency room or urgent care center.
According to the Kaiser Family Foundation (KFF), COVID-19 is now the leading cause of death in the United States. So, we're all focused on that. Sorry to be all Debbie Downer here, but other causes of death have not gone to the wayside.
According to Penn Medicine, ERs saw a dramatic drop in non-COVID-related visits in the first half of 2020. But experts say that a delay in care for concerning symptoms can lead to even bigger emergencies, like heart attacks, stroke, appendicitis, diabetic ketoacidosis, and more.
If you have changing or worsening symptoms related to an existing medical condition, you have new symptoms entirely, or you're due for a routine checkup with your primary care physician, absolutely get in touch.
Your healthcare professional can help determine what makes sense for your unique situation. They can also walk you through appointment options, including if telehealth will work, and explain pandemic safety protocols to put you at ease if you do have to go in.
Another Debbie Downer alert: Cancer, normally the second leading cause of death in the United States, has been bumped to third place, according to KFF. But it's still just as sneaky and prevalent as ever. The American Cancer Society lists screening guidelines by age, and some screenings were put on hold during lockdowns. But you should check with your doctor if screenings have resumed and whether you should schedule an appointment.
So, how about the derm? The American Academy of Dermatology Association recommends telehealth as an option to check in about a condition and determine if an in-person appointment is necessary.
Keep in mind the importance of emotional health as well as physical health. Many counselors have shifted to virtual visits as a safety protocol. Therapy apps can also help during the pandemic and beyond.
Remember, we can face emotional health emergencies too. Seek immediate assistance if you're contemplating harming yourself or someone else.
Mental health emergency help
The dental decision is a tough one because a dental visit requires a close encounter with your mouth. You can't exactly wear a mask while they're jamming tools around your jaw. But dentists have long worn masks and have stepped up protections during the pandemic.
A survey by the American Dental Association found that less than 1 percent of dentists in the United States tested positive for the novel coronavirus. Of course a hygienist is also all up in your mouth too. Experts say visiting a dentist is likely safe as long as the clinic is following strict COVID-19 protocols.
Other considerations: The American Dental Association cautions that some dental conditions require urgent attention. And Science Daily reports from the American Heart Association that routine dental care, like cleanings, can also reduce the risk of developing health complications down the road, like heart attack and stroke. But if you're at high risk of developing severe COVID-19 because of an underlying medical condition, the Centers for Disease Control and Prevention (CDC) recommends that you should consult your healthcare professional on whether to see your dentist or temporarily hold off.
Now let's talk about those split ends you've been sportin' on Zoom. Many of us are in the same boat — with our last haircut a year or more in the wake. Perhaps we're all a bit lower maintenance as a result of the pandemic. A DIY cut, facial, or wax is always an option. But we get it: Visits to the pros can be a much-missed part of normal life.
"People definitely need to know their risk," says Dr. Ken Perry, MD, an emergency physician in Charleston, South Carolina. "If you're at a high risk of developing severe COVID-19, it's best to hold off on nonmedical appointments," he says.
What if you're not at a high risk? It's always a personal choice, and you have to assess your risk as well as the risk of transmitting the virus to anyone you live with or care for. You may wish to look at the CDC's seven-day moving average of case counts in your area. The CDC also has a risk assessment tool that can help you make an informed decision.
Keep in mind that even with COVID-19 safety protocols in place, such as mask-wearing, salon appointments and the like aren't zero risk. And even if you or the professional you're seeing has been vaccinated, the risk isn't none. We don't have hard clinical data yet on whether the available COVID-19 vaccines prevent transmission, according to the FDA.
"Although vaccines are the important next step in a return to normalcy, just getting the injection is not the end of the story," Perry says. "There is a timeframe from the injection until maximum protection from the vaccine. A vaccine does not ensure 100 percent protection from any virus."
All that being said, the science shows that mask-wearing is a huge help. One study analyzed a case when two stylists at the same salon tested positive for COVID-19. Researchers followed up with 139 clients who were exposed to the two stylists. None developed symptoms of COVID-19. And of 67 clients who were tested for the novel coronavirus, none tested positive. Researchers attribute the lack of transmission to the fact that both stylists and all clients wore masks.
So, if you're considering visiting any type of salon or spa, make sure your stylist or esthetician is wearing a mask. And wear yours too. Sure, some services will be impossible without a mask. "Stache wax anyone?" P.S. You can also just shave it or wear it proud.
So, what's the bottom line? If you've got a medical emergency, don't hesitate to seek medical care ASAP.
For all other appointments, talk with your doctor. Find out whether telehealth is an option and which in-person appointments are necessary for prevention and health maintenance.
If you're at a high risk of developing severe COVID-19, avoid salon-type appointments until it's deemed safe by your physician. Don't worry, wild manes are totally in right now. #CovidHairDontCare
"For us to return to a normal life, the majority of the population has to be vaccinated and expressing the antibodies," Perry says. "Although we are continuing to discuss masks, physical distancing, as well as the limitations to the vaccine, it should be reassuring that we are closer than ever to the end — even though [the pandemic] has felt like a lifetime."