When you're racing to get up and out the door every morning (no judgment—we're right there with you), the last thing you have time for is a leisurely gourmet breakfast. Don't get us wrong: If you can whip up a world-class meal in the a.m., more power to you. (We've even got some lists to help! Try frittata recipes with just four ingredients or these super-smart meal-prep ideas.) But for most of us mere mortals, healthy cereal is probably the most realistic option.
Believe it or not, "healthy cereal" is not an oxymoron, despite the candy-like creations lining supermarket shelves these days. In fact, it was invented as a low-fat health product to deliver more fiber to bodies in desperate need! The trouble comes when trying to distinguish those cereals that are good for you from those that just pretend to be part of a complete breakfast. Misleading labels and advertising certainly don't help—but we can.
To be honest, it's not shocking that cereal often gets a bad rap for being packed with sugar, low in protein, and generally lacking nutritional value (Hint: If it has marshmallows in it, it probably isn't good for you—sorry, leprechauns). But the abundance of choices means there are some healthy cereal options hiding behind Toucan Sam. While these cereals might not have a prize in the box, they'll fuel you up to start your day off right.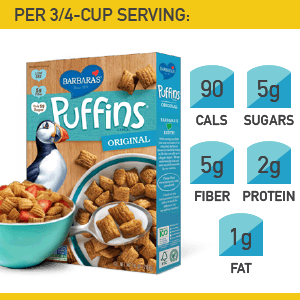 This cereal has a lot going for it, and we're not just talking about the adorable puffin on the box. Crunchy, dairy- and wheat-free, only lightly sweetened, and relatively high in fiber, this is a solid morning option.
With a little more sweetness than the original Puffins, these corn pillows are a good option for those with a sweet tooth who are still trying to watch their sugar intake. They've got 6 grams each of fiber and sugar, so they taste great while keeping you full.
While they're probably meant for someone a lot younger, we won't tell if you eat these tasty little animals straight out of the box. These adorable critters make for a sweet, crunchy, low-cal breakfast or snack.
Thanks to its combination of rich, wholesome flavors—such as molasses, coconut, sesame seeds, and vanilla—this is the perfect cereal to snack on sans milk. It's also packed with healthy fats courtesy of the coconut.
Granola, bran, and whole grains pack this cereal with 8 grams of fiber, which should keep you full straight through to lunch. Top with your favorite fruits or nuts to add extra flavor.
Whole wheat, rice, and corn—oh my! These little squares are high in fiber and relatively high in protein, making them a smart choice for a morning meal.
Extremely similar to another brand (cough, Cheerios), this version boasts mainly organic ingredients for a slightly different spin on an old-time favorite.
Loaded with just five ingredients and a whole lot of taste, this organic take on an old classic relies on raisins to add just the right amount of sweetness. With 6 grams of fiber and five grams of protein, this bran should keep you full until lunch.
This American classic is a kitchen staple for a reason. It lists whole grain oats as the first ingredient and boasts 3 grams of fiber per serving. With just 1 gram of sugar per serving, it's the perfect cereal to top with your favorite fruit. (Just note that Cheerios are pretty low in protein, so it might be worth adding in a tablespoon of nut butter or some plain yogurt.).
Kid-tested, nutritionist-approved, this childhood fave is low in calories and sugar but has a surprising amount of fiber for a cereal made from whole-grain corn.
This cereal is a workhorse with 100 percent whole grain flaky goodness—and it's packed with vitamins to boot. Bonus: Crush this cereal and use it in place of breadcrumbs as a healthier breading in your favorite recipes.
Breakfast of champions? You bet. With just 4 grams of sugar and 3 grams of fiber, eating these whole grain wheat flakes will certainly make you feel like a champ—even if your face doesn't grace a Wheaties box.
Though it's made with only four ingredients, this cereal packs a punch. The crunchy biscuits are made from whole-grain wheat and are loaded with 5 grams of fiber per serving. Bonus: With 6 grams of protein per serving, a bowl of this in the morning can reduce hunger long after breakfast is over.
Not only does this sweet cereal have a whopping 9 (!) grams of fiber and fewer than 10 grams of sugar per serving, its 11 grams of protein up the ante big time—the average cereal has just 3 grams.
They've done it again at Kashi. This good-for-you cereal is loaded with fiber and whole oat flour (and just 5 grams of sugar!), making it a great bet for your morning.
A healthy gluten-free option, this cereal is a fruit lover's dream come true, thanks to a whole lot of berries. It also provides a huge protein punch, with 11 grams per serving, and healthy fats in the form of sunflower seeds.
These flavorful clusters are mixed with goji berries, which are packed with antioxidants, and topped with protein-rich chia seeds (a superfood in our book!) to keep you satisfied.
These whole-grain oat clusters are loaded with antioxidant-rich blueberries, raspberries, and strawberries. They're perfect for eating with milk or as a topping for yogurt.
The story goes that Sir Edmund Hillary, the first climber to reach Mount Everest's summit, munched on Grape-Nuts during the trek to fuel himself to the top. Even if you're not climbing mountains, one serving provides you with 100 percent of your daily whole grain needs, 7 grams of fiber, and 8 grams of protein to help you conquer that project or midterm exam.
With a slightly sweet honey flavor and a crunchiness that won't quit (even after adding milk), this cereal is relatively high in protein and serves as a good base for your favorite fruit and nuts. It also goes well thrown into a healthy trail mix.
How to Pick a Better Cereal
Ready to tackle the cereal aisle? Three key factors go into selecting a cereal that will offer the best nutritional bang for your buck, says Tina Gowin, RD, CDN: sugar, fiber, and whole grains. And don't forget about portion sizes. When choosing a healthier cereal, here are a few tips to keep in mind:
Limit sugar. Fewer than 10 grams of sugar per serving is ideal for satisfying your sweet tooth without turning breakfast into dessert. This is particularly important if you want to avoid a sugar crash later—and the headache, irritability, and anxiety that can come with it (as if you needed something else to worry about!).
Embrace fiber. To feel fuller longer, look for at least 3 grams of fiber per serving. A diet high in fiber will help digestion, making sure your body relieves itself on a regular basis. It can also reduce cholesterol levels, keep those tricky blood sugar levels steady, and even improve physical performanceAssociation between dietary fiber intake and physical performance in older adults: a nationwide study in Taiwan. Wu, IC, Chang, HY, Hsu, CC, et al. Public Library of Science, 2013 Nov 11;8(11):e80209.
Don't skip over the ingredients list. The first ingredient should be a type of whole grain. Whether it's whole wheat, whole oats, or whole barley, whole grains can help promote heart healthMajor cereal grain fibers and psyllium in relation to cardiovascular health. Bernstein, AM, Titgemeier, B., Kirkpatrick, K., et al. Nutrients, 2013 Apr 29;5(5):1471-87. Also look for ingredients you can recognize and pronounce, rather than processed ones.
Power up with protein. If you want to bulk up on protein during breakfast, which can help curb overeating later, look for brands with more than 5 grams of protein per serving. Does your favorite cereal fall short? Pair it with an egg or yogurt to round out your morning meal.
Keep portions in mind. It's easy to forget that cereals have a suggested serving size — and it can be a lot smaller than what we're pouring straight from the box. Gowin suggests measuring out the serving as a start to see what it actually looks like and whether more is really necessary. Bulking up cereal with chopped nuts or a piece of fruit, like a sliced banana or a handful of berries, are easy ways to make your bowl more filling if that one serving just isn't cutting it.
And there you have it: Your guide to navigating the breakfast aisle with ease. Happy munching!
Originally published March 2014. Updated June 2017. Thanks to nutritionists Jessica Garay Redmond, Tina Gowin, and Lindsey Joe for their contributions to this piece.