We include products we think are useful for our readers. If you buy through links on this page, we may earn a small commission. Here's our process.
Greatist only shows you brands and products that we stand behind.
Our team thoroughly researches and evaluates the recommendations we make on our site. To establish that the product manufacturers addressed safety and efficacy standards, we:
Evaluate ingredients and composition: Do they have the potential to cause harm?
Fact-check all health claims: Do they align with the current body of scientific evidence?
Assess the brand: Does it operate with integrity and adhere to industry best practices?
We do the research so you can find trusted products for your health and wellness.
When you're racing to get up and out the door every morning (no judgment — we're right there with you), the last thing you have time for is a leisurely gourmet breakfast. For most of us mere mortals, healthier cereal is probably the most realistic option.
It's not shocking that cereal often gets a bad rap for being super processed, high in sugar, low in protein, and generally lacking in nutritional value. (Hint: If it has marshmallows in it, it probably isn't good for you. Sorry, leprechauns.)
While these cereals might not have prizes in their boxes and most contain added sugar, they'll fuel you up with some actual nutrients. Here are some of the best healthy cereals to fill your morning (or evening!) bowl.
1. Barbara's Original Puffins
This cereal has a lot going for it, and we're not just talking about the adorable puffin on the box. Crunchy, only lightly sweetened, and relatively high in fiber, it's a solid morning option. Plus, Original Puffins are dairy-free and vegan, so they're a great choice for those with food sensitivities.
Buy Barbara's Original Puffins online.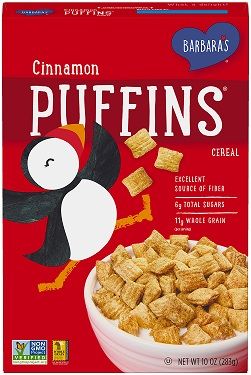 2. Barbara's Cinnamon Puffins
With a little more sweetness than the Original Puffins, these cinnamony corn pillows are a good option if you have a sweet tooth but you're still trying to watch your sugar intake. They've got 6 grams each of fiber and sugar, so they taste great while keeping you full.
Buy Barbara's Cinnamon Puffins online.
3. Seven Sundays Wild & Free Blueberry Chia Muesli
This tasty muesli lets you try out interesting grains like sorghum and buckwheat, along with chia seeds, all in the familiar form of breakfast cereal. Big win: It's sweetened only with honey and fruit — blueberries and apples (OK, and a bit of apple juice).
It's a pretty darn healthy choice with 6 grams of fiber and 8 grams of protein.
Buy Seven Sundays Wild & Free Blueberry Chia Muesli online.
4. Bear Naked Vanilla Almond Fit Granola
Ready to keep riding the granola train? This crunchy mix of oats, almonds, and brown rice also contains flaxseed, which is full of healthy omega-3 fats. A 1/2-cup serving delivers 5 grams of fiber, 7 grams of sugar, and 6 grams of protein.
Serve with almond milk for a nice flavor boost.
Buy Bear Naked Vanilla Almond Fit Granola online.
5. Cascadian Farm Hearty Morning
Wheat bran and other whole grains pack this cereal with 10 grams of fiber and 6 grams of protein per serving, which should help you feel full until lunch. Top with your favorite fruits or nuts for extra flavor.
Buy Cascadian Farm Hearty Morning online.
6. Cascadian Farm Multi Grain Squares
Whole wheat, rice, and corn — oh, my! These little squares are high in fiber and relatively high in protein, so they're a smart choice for an easy morning meal.
Buy Cascadian Farm Multi Grain Squares online.
7. Cascadian Farm Purely O's
Extremely similar to another brand (*cough* Cheerios *cough*), this version boasts mainly organic ingredients for a slightly different spin on an old-school favorite. A nice large serving size (1 1/2 cups) with just 1 gram of sugar means you can enjoy even more of them at a time.
Buy Cascadian Farm Purely O's online.
8. General Mills Total
This cereal is a workhorse of whole-grain flaky goodness — and it's packed with vitamins to boot. Bonus: Crush this cereal and use it in place of breadcrumbs in your favorite recipes.
Buy General Mills Total online.
9. General Mills Wheaties
Breakfast of champions? You bet. With just 4 grams of sugar and 3 grams of fiber, these whole-grain wheat flakes will certainly make you feel like a champ, even if your face has never graced a Wheaties box.
Buy General Mills Wheaties online.
10. Kashi Go Peanut Butter Crunch Cereal
This peanut-buttery soy-based cereal packs a double whammy of craveable flavor and a hefty 10 grams of plant-based protein. You'll also get nearly a quarter of your daily fiber needs in a 3/4-cup serving.
Buy Kashi Go Peanut Butter Crunch Cereal online.
11. Kashi Cinnamon Harvest Organic Whole Wheat Biscuits
Though it's made with only four ingredients, this cereal packs a punch. The crunchy biscuits are made from whole-grain wheat and are loaded with 7 grams of fiber per serving.
With 7 grams of protein per serving, too, a bowl of this in the morning should reduce your hunger long after breakfast is over.
Buy Kashi Cinnamon Harvest Organic Whole Wheat Biscuits online.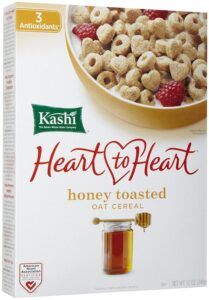 12. Kashi Heart to Heart Honey Toasted Oat Cereal
Kashi has done it again. This good-for-you cereal gets its 4 grams of fiber (per 3/4-cup serving) from whole oat flour and cornmeal. It has 5 grams of sugar and a few grams of protein, too, so it's a decent choice for your morning crunch.
Buy Kashi Heart to Heart Honey Toasted Oat Cereal online.
13. Lydia's Kind Foods Berry Good Cereal
A healthy gluten-free option, this cereal is a fruit lover's dream come true, thanks to a whole lot of berries. It also provides a huge protein punch — 11 grams per serving — and healthy fats in the form of sunflower seeds.
Buy Lydia's Kind Foods Berry Good Cereal online.
14. Post Foods Grape-Nuts
The story goes that Sir Edmund Hillary, the first climber to reach Mount Everest's summit, munched on Grape-Nuts during the trek to fuel himself to the top.
Even if you're not climbing mountains, one serving of this whole-grain cereal will provide 7 grams of fiber and 6 grams of protein to help you conquer whatever the day has in store.
Buy Post Foods Grape-Nuts online.
15. Quaker Honey Nut Oatmeal Squares
With a slightly sweet honey flavor and a crunchiness that won't quit (even after you add milk), this cereal gives you a dose of protein and serves as a good base for your favorite fruits and nuts. It's also a great addition to a trail mix.
Ready to tackle the cereal aisle? According to Tina Gowin, RD, CDN, three key factors go into selecting a cereal that will offer the best nutritional bang for your buck: sugar, fiber, and whole grains. And don't forget about portion sizes.
Limit sugar
Anything with 10 grams or more of added sugar pretty much turns breakfast into dessert. This is particularly important if you want to avoid a blood sugar crash later — and the shakiness, irritability, and anxiety that can come with it (as if you needed something else to worry about!).
Embrace fiber
To feel fuller longer, look for at least 3 grams of fiber per serving, preferably more. A diet high in fiber will help with digestion, keeping your body regular — not to mention a whole slew of other health benefits.
Fiber can also reduce your cholesterol levels, keep those tricky blood sugar levels steady, and even improve physical performance.
Don't skip over the ingredient list
The first ingredient should be a whole grain, whether it's whole wheat, whole oats, or whole barley. Research suggests that eating enough grains with the word "whole" in front of them may help reduce your risk of heart disease and cancer.
Also look for ingredients you recognize and can pronounce, rather than mysterious processed ones. One exception: the "tocopherols" you'll often see on cereal labels. This is just a form of vitamin E that's widely considered safe.
Power up with protein
If you want to load up on protein during breakfast, which can help curb overeating later, look for cereals with more than 5 grams of protein per serving.
Does your favorite cereal fall short? Pair it with an egg or yogurt to round out your morning meal.
Keep portion sizes in mind
It's easy to forget that cereals have a suggested serving size — and it can be a lot smaller than what you'd pour straight from the box. Gowin suggests measuring out the serving as a start to see what it actually looks like and whether more is really necessary.
Bulking up cereal with chopped nuts or fruit, like a sliced banana or a handful of berries, is an easy way to make your bowl more filling if that one serving isn't cutting it.
And there you have it: Your guide to navigating the boxed breakfast aisle. Happy munching!