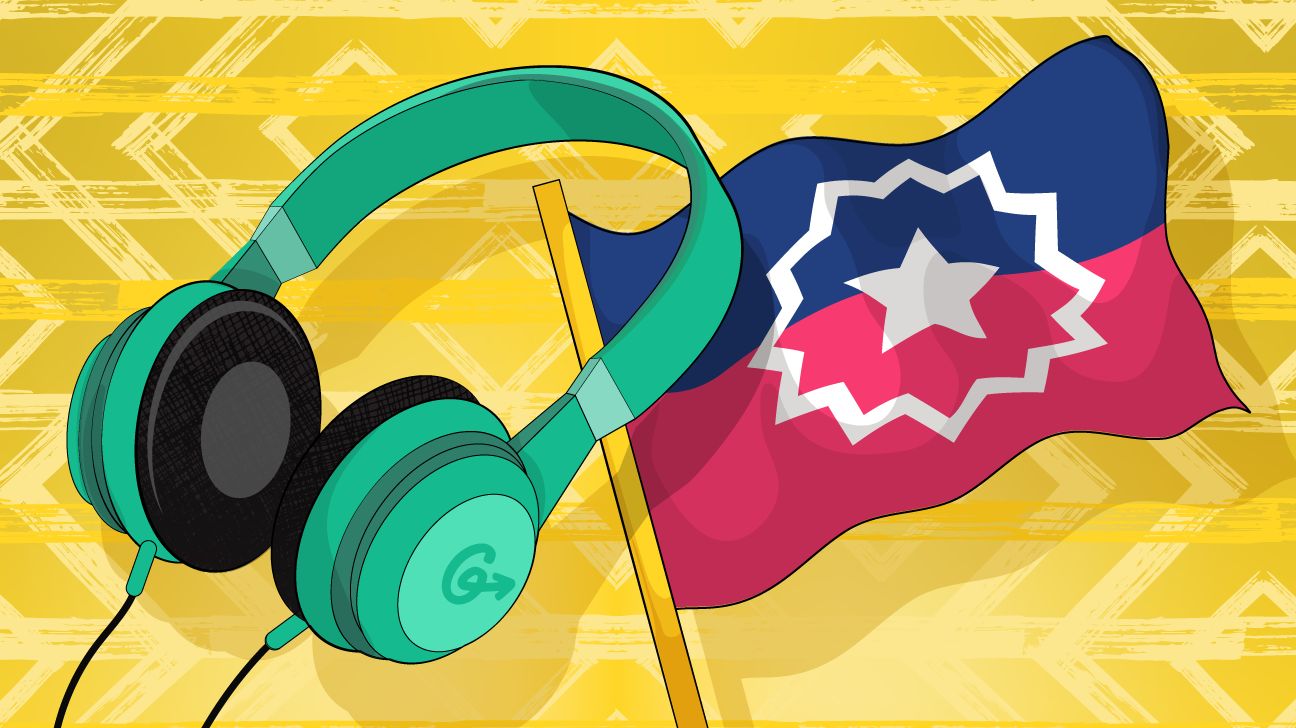 Juneteenth, also known as Freedom Day, is upon us once again — commemorating 156 years since slavery was completely abolished in the United States on June 19, 1865.
Sure, we still have a lot of work to do when it comes to reaching true equality and advancement for the Black community in this country, but work and celebration need to go hand-in-hand. And, it goes without saying that celebration — particularly cultural celebration — is great for mental health.
So, we at Greatist put together a playlist of 50 tracks that represents the often complicated balance of hope, joy, frustration, and education that this day of remembrance brings.
Read (and listen) on to see what these songs mean, culturally, and how you can follow this playlist on Spotify during your own Juneteenth recognition.
Tracks 1 to 9: Celebrate like you were there when it happened
No, we weren't there when people who were enslaved first heard that they were liberated, but we can still dance because… it was a big deal. These first tracks kick things off with a celebratory tone.
"Freedom": This first track is about scratching and clawing for every inch of freedom. Let this celebration of persistence and triumph wash over you in all its swagger-inducing, powerful glory.
2. "Respect": Some believe respect is given. Others believe it's earned. In this song, Aretha demanded it — and to that we say, "YAS, QUEEN."
3. "Say It Loud — I'm Black And I'm Proud": This was originally recorded in response to the death of Dr. Martin Luther King Jr., which can seem sad. But this song is actually about defiant pride in the midst of pain, something we can all lean into from time to time.
4. "Happy": This one speaks for itself — a phenomenon when it first dropped, and you have to believe it would've been on HEAVY rotation for at least one day in 1865.
5. "Ain't No Stoppin' Us Now": Once you realize you're free — whether it's from a bad relationship, a bad job, or negative thoughts — you celebrate that the barrier has finally fallen. This is the accompanying soundtrack.
6. "Through The Wire": If you know the story behind this track, you know that Kanye recorded it while his mouth was wired shut after surviving a car accident. There's something about going through a trial that makes you feel like you can push through the next one.
7. "I See A Victory": Another self-explanatory anthem of victory over whatever you've been through. Even if you haven't experienced the victory yet, "seeing" it will put you on the right path.
8. "Can You Feel It": We have to believe that even though it took a while for word to travel across the nation that slavery had ended, the people could just feel something different in the air. There's nothing like celebrating the power of hope.
9. "Freedom": We close this first section with another pulse-pounding call to the liberation that's within our grasp — and never giving up.
Tracks 10 to 26: Black pride has layers
From learning to love our skin, the texture of our hair, and even the darker aspects of our culture — having pride is something that we need to practice. Especially when the odds are stacked against us.
10. "To Be Young, Gifted And Black": This is a powerful track by Nina Simone that defiantly declares to the young Black person that they are a gift. Positive affirmation all day, every day.
11. "So Fresh, So Clean": This was the "feelin' myself" song for the culture before Will.i.am or Nicki Minaj released their versions. It's about having confidence in yourself, especially during times when you're not really feeling it.
12. "BLACK PARADE": This anthem by Beyoncé was released specifically for Juneteenth. It confidently ties the swagger of Black American culture back to the swagger of African culture. When you can meet in the middle and march to the beat of your own drum, that's pride.
13. "Rooted": Here, we have another song that honors the past by loving everything about yourself in the present. Ciara knows where her roots are, and she's unapologetic about touting them.
14. "POWER": We touched on recognizing your freedom earlier. This track is about recognizing your power (OK, well… Kanye's power, actually, but you get the point.) It doesn't have to be about arrogance. You can apply it to yourself in any circumstance — and we hope you do!
15. "If I Ruled The World (Imagine That)": This classic track by Nas talks about putting our power to good use. Whether it's through education, forgiveness, or physically moving someone out of their current setting, it doesn't have to be a fantasy.
16. "UMI Says": Most of us (especially in the Black culture) have that one friend or family member who consistently encourages us to let our light shine in whatever we're doing. This is for those in the culture who want to keep shining despite not feeling like you fit in.
17. "All Black Everything": This song is about dreaming that racism and discrimination don't exist, and the dreamer instead sees that everything in this dream world is Black-centric. This might be a jarring thought for some, but it really makes you think outside the box that we've been living in for generations.
18. "Black": This Black pride banger is all about saying in a loud voice, "We're here. We've always been here, and we're not going anywhere." Sometimes, you just have to find creative ways to remind yourself of that fact.
19. "Brown Skin": Here's where we begin to get blatant about the celebration of brown skin. After years of social conditioning that painted some negative images about having darker skin, this song is a breath of fresh air.
20. "BROWN SKIN GIRL": Again, we go through all the great things about having brown skin — this time, the message is directed at young girls and women who may be feeling some cracks in their confidence.
21. "Proud To Be Black": In the classic style of Run-D.M.C.'s symmetrical and punchy delivery, we hear a combo of Black history and prideful boasting about being on the "team".
22. "Colors": This artist's love letter to people in his community, whom he calls his "sisters and his brothers" and they look like all his "favorite colors," puts a lump in our throats (keep some onions nearby at the cookout when this track starts). This is a full-hearted, soulful song that speaks to going back home and being seen when you don't feel like you are elsewhere.
23. "Feel The Vibe": Here's another reminder of how comforting home can be while taking pride in where you come from. This one has a warm summertime vibe with food, music, and family at the center — all staples of the Black community.
24. "The People": This track from hip-hop artist, Common, is about always remembering who you're grinding for. No matter how successful you become, you carry your community with you. It's both a motivational track and a look into how the Black community can feel like one entity at times.
25. "Diaspora & Dishes (Jordan's Question)": This is a nice little interlude where a son asks his mother what happened to the slaves who survived the Middle Passage during the Atlantic slave trade. His mother proceeds to tell him that they were spread all over, forming communities — which leads into the next track.
26. "We Are Everywhere": Artist, Vivian Green, uses this song as a roll-call for members of the Black community spread out across the world. She's saying that though we may feel far apart, we come from the same place — and connection is our superpower. It's also a subtle reminder to know the history of what really happened.
Tracks 27 to 33: The truth can hurt
Even with the euphoria of freedom and the pride of a vibrant community and culture, we still often find ourselves face-to-face with hard truths about being Black in America. The lingering warts are many, and they can't be ignored.
27. "This Is America": This track by Childish Gambino really moved the needle when it first dropped, holding a mirror up to America's violence towards Black people. This one is best heard along with its incredible video.
28. "Welcome To America": This song serves as a wake-up call to the reality of just how wide the gap can feel between Black people and what's considered to be the "American Dream". Opportunity does exist, but oppression awaits around every corner. The point is to go forward with eyes wide open.
29. "Black": Imagine if an alien came to earth and gave you exactly 3 minutes and 48 seconds to tell them what being Black is like. This song is how rapper, Dave, would answer that question. With his raw lyrics, he displays what it is to communicate the pain of the Black experience while still recognizing the beauty in it.
30. "Get Up, Stand Up": Bob Marley experienced religious discrimination while growing up in Jamaica, which was the inspiration behind this song. Since it's recording, it's been used as a rallying cry for anyone who feels oppressed to stand up and not give up the fight for equality.
31. "Fight The Power": This classic track by the rap group Public Enemy was originally produced for the Spike Lee film "Do The Right Thing", about racism in America. But like great art tends to do, it transcended its original purpose to serve as a reminder that we have to refuse to be oppressed.
32. "U.N.I.T.Y.": Here's another classic by the multi-talented Queen Latifah (before she primarily became known as an actor). She sheds light on how there are issues with Black people degrading and disrespecting people in their own community, specifically women. And if we're ever going to do better, we first have to come together.
33. "Fight For You": Carrying over the unity theme from the previous track, this Oscar-winning song talks about banding together to fight injustice and achieving the change we say we want. As one of the lyrics states, "Freedom isn't free at all." It's going to cost us, but it's worth it.
Tracks 34 to 50: Despite it all, we're gonna be alright
As the journey toward equality and social justice continues, hope is what keeps us on the path. This last section of songs is all about hope, encouragement, and the expectation of seeing a better future.
34. "Able": Another encouraging track from Pharrell Williams to remind us what we're capable of. "You can do anything you set your mind to" is a timeless message and one we need to hear on every leg of the journey.
35. "Movin' On": This song talks about moving forward from some of the things that have caused us pain so that we can get what we deserve. Everything won't be perfect, but the choices we make can have a big effect.
36. "Something's Got To Give": This one's about staying the course. A big part of any journey is consistency. And when the going gets tough, are you going to keep hammering away until the rock finally cracks?
37. "On And On": This Mowtown-esque track from Curtis Harding is about determination and perseverance. No matter what specific endeavor you're applying it to, the idea of rolling on and on seems to match the spirit of people who paved the way before us.
38. "Say Peace": Naturally, any kind of social justice movement is born out of turmoil — which is why finding your own peace is really important for your mental well-being. This track talks about tapping into peace while remembering what it is we're fighting for.
39. "A Beautiful Noise": This duet by Alicia Keys and Brandi Carlile demonstrates what combining everyone's voices to affect change can do. Empathy is powerful — and when allies choose to use their voices in solidarity during Juneteenth, progress can really gain momentum.
40. "Unstoppable": The next time you start feeling a pity party coming on, this song should be added to your go-to list of confidence boosters. It speaks to having faith and assuredness in who you are, no matter the criticisms or detours that come your way.
41. "Never Gonna Break My Faith": Few could do soulful assuredness like Queen Aretha Franklin, herself — and in this song, she belts it out with her signature confidence. These are dark times, but we have to declare that they won't break our faith.
42. "Rise Up": This emotional track by Andra Day is about rising to the occasion to support one another. It's not about expecting anything in return, just being there. Whether we're going through a rough season or a time of uncertainty, we all need someone who's willing to come alongside us and be a shoulder to lean on.
43. "Stand Up": Written for the Harriet Tubman biopic, this gospel-infused song declares that if one of us gets to freedom, we all gotta get to freedom. Despite the frustrating starts and stops, we can't give up until we reach our destination.
44. "Everything Is Everything": This is one of the many hits from when Ms. Lauryn Hill was at the height of her power. She sends a message to youth, saying many aspects of life won't feel good, but there are plenty of highs to answer the lows. Also, change will come in its own time. It's a realistic, noncynical reminder even for older people who may be discouraged by the less-than-perfect progress.
45. "A Change Is Gonna Come": Sam Cooke doubles down on taking the patience approach with his melancholy but hopeful song about waiting on change. Many might say that not much has changed since 1964 when this song was recorded, but it's the hopefulness that makes even incremental change feel big.
46. "Redemption Song": In what's arguably one of the most encouraging songs ever recorded, Bob Marley takes us on a journey through the past, present, and future to show us why songs of freedom are needed. He says we have the power to emancipate ourselves mentally. And your freedom song can certainly do that, no matter what generation you're a part of.
47. "Alright": Kendrick Lamar lays it all out there with this track that served as an anthem for the social justice movement in 2015. No, we're not ignoring all the issues. Yes, we've been down before. But we're gonna be alright.
48. "Optimistic": This is a cover of the original song recorded by the group Sounds of Blackness in 1991. This 2018 version features a somewhat updated sound but keeps the same message — no matter how tough things get, optimism helps you win.
49. "Made In America": This one's from the collaborative album by JAY-Z and Kanye West, talking about being successful Black men in America and not taking it for granted. It's good to want to leave a legacy for people who come after you because success is not promised.
50. "Glory": This final, rousing rendition is the leading track from the 2014 film "Selma", centered on the Voting Rights Marches of 1965. It's the ultimate anticipation of reaching the dream destination. Everything our ancestors fought for, everything we're still fighting for today, and everything this country says it stands for — freedom.