The first time most of us heard about scissoring it was probably the punchline of an inappropriate joke about lesbian sex in the back of the bus. And since most of us also probably didn't have a decent sex ed class, the next way we learned about scissoring was likely through porn.
Suffice to say, real, useful information on the subject is hard to come by. So, we're here to set the record straight on who scissors, explain what it actually is, and give you tips for how to enjoy it (safely).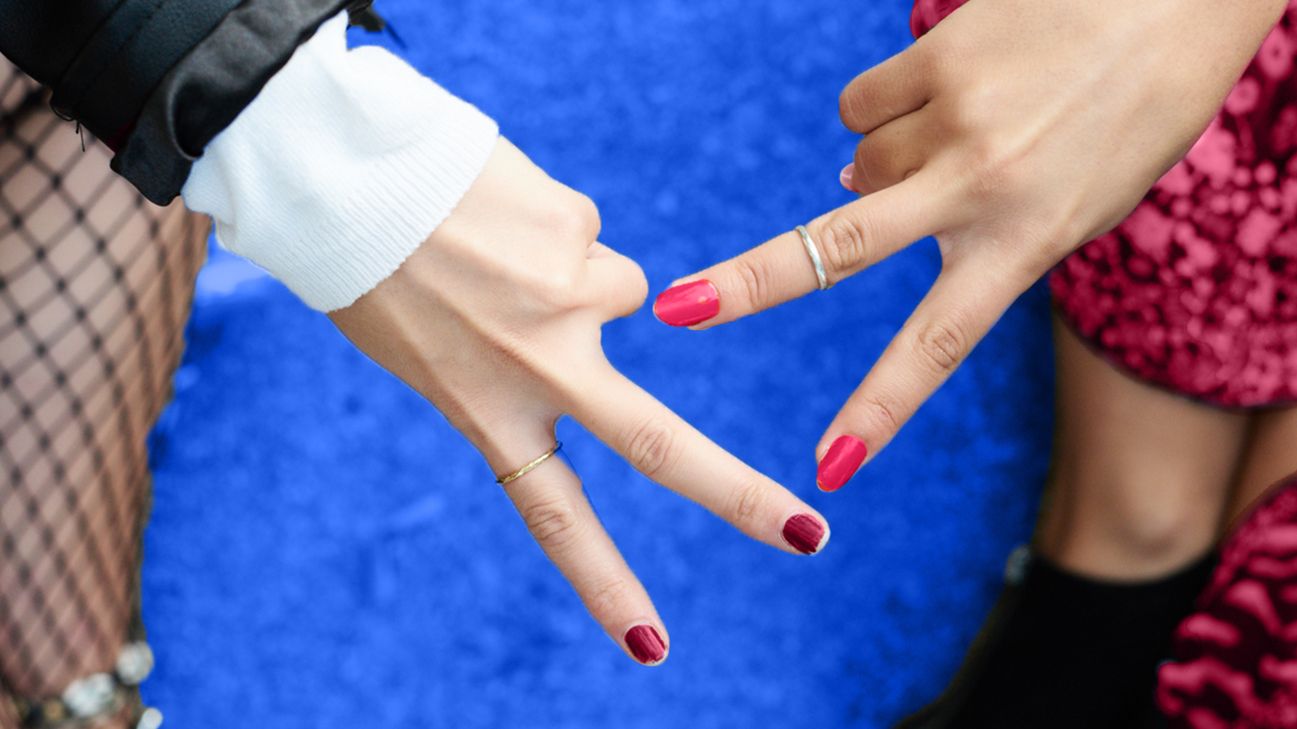 Scissoring has two distinct and opposing reputations: It's how lesbians have sex and it's not a thing lesbians really do.
Allow us to debunk.
Plenty of lesbians scissor. We know this based on a survey, which showed that 40 percent of people who identify as lesbian, bisexual, nonbinary, or queer said that they scissor regularly.
Additionally, a 2012 study with women participants showed that 90.8 percent of the participants reported that they scissor when having sex with women.
Basic logic tells us that plenty of lesbians don't scissor because since when does an entire identity group do the same sex position? In fact, there are lots of ways lesbians have sex.
Avoid making assumptions about people's identities
Remember, not all people with vaginas identify as women, and not all vulva owners who have sex with other vulva owners are lesbians, gay, or queer.
Make a peace sign with each hand and then interweave the peace signs so that the webbing of each hand is touching. That's more-or-less what the basic scissoring position looks like.
You can get there with both people laying on their backs or their sides, with one partner laying on their back while the other straddles them from an angle, and other variations.
There isn't a consensus on whether scissoring only refers to leg position or two vulvas rubbing together. But historically (aka based on what comes up in Pornhub), scissoring is done between two vulva-having people.
Luckily there's no scissoring police. So, if you have a penis and really want to scissor, we definitely aren't going to yuck your yum.
Scissoring and tribbing or tribadism are often used interchangeably, but they're a little different. Tribbing is when a person rubs their vulva on something to get pleasure.
On the other hand, scissoring is a sex position and, depending on what definition you're looking at, you may not even need a vulva to do it.
There are a lot of things you can do while scissoring that can enhance pleasure such as:
making eye contact for more intimacy and connection
locking lips
customizing body positions so they hit *the spot*
clitoral stimulation
accessibility for different types of penetration
Can you orgasm from scissoring?
Some people can! Scissoring is a fantastic way to stimulate a person's clit. One study showed that it's the main way folks with vulvas orgasm.
If you're a scissoring skeptic, you might consider adding the following suggestions into your next sesh.
Build up to it
Foreplay. It's a thing. Most people aren't always horny — they need help getting in the mood. Maybe you can try some good old fashioned dirty talk.
How do you know what kind of foreplay your partner likes? By asking! How do you know what kind of foreplay you like? By trying! Not only is solo sex a great way to get to know your body, but did you know about the masturbation health benefits?
Keep your clothes on
For some reason, people think of dry humping as a thing only horny teens do in the back of cars. But grinding it out with clothes on might be the horny adult activity you're missing. Why? Anticipation! It can be exciting to have something withheld from you.
Use a ton of lube
Like every other sex position in existence, lube is a make-or-break for scissoring. It might be the difference between pain and frustration or pleasure. Keep putting it on.
It doesn't have to be genital-to-genital the whole time
The classic image of scissoring is two crotches grinding directly against each other, but that's not a requirement and might actually start to hurt if you do it for too long. Try rubbing up against your partner's thigh or positioning your booty so it can get in on the fun.
Combine with penetration
There's nothing in the scissoring handbook that says you can't throw in some penetration. Try using a dildo, fingers, or even a penis (like we said, there are no scissoring rules!) to penetrate vaginally, anally, or both at the same time!
Bring in other erogenous zones
Nipples, ears, thighs, toes — your body is a garden of erogenous zones. Be bold, explore uncharted waters. You might discover pleasure you didn't even know you had in you.
There may not be any sharp edges involved in scissoring, but there are a few things that can go wrong. Here's what to look out for:
Kicking your boo in the face: Pay attention to flailing limbs so you don't have to take an intermission to treat a bloody nose.
Falling off the bed: Keep track of your bearings, especially if your back is faced off the edge of the bed.
STI transmission: Any time genitals are touching, there's a chance of transmitting an STI. Always touch base with your partner beforehand about each of your STI statuses. We made this STI talk template to make the convo go smoother.
We're fickle creatures sometimes. We like what we like, and a lot of the time, we don't even know why. Scissoring is one way out of a million ways to have sex. If you've given it a shot and your body isn't into it, move on to other ways that work for you.