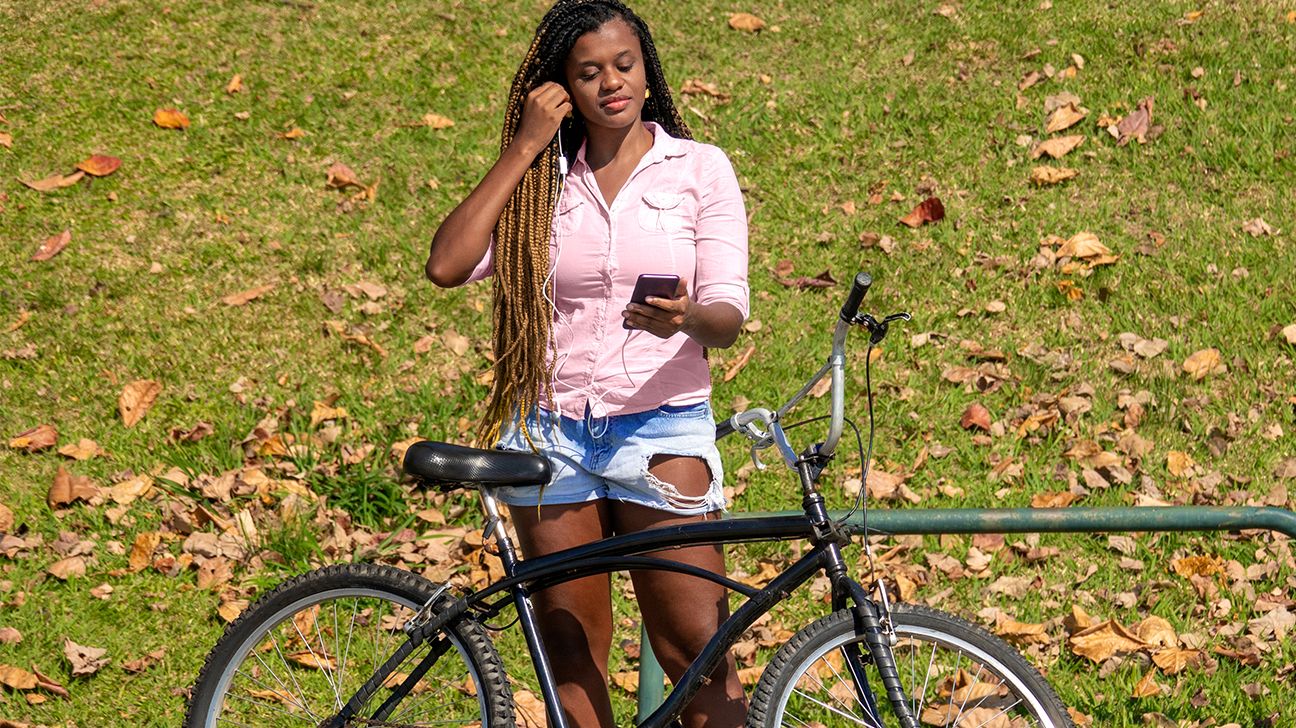 The clunk as your gears shift into that next stage of thigh-burning. The whoosh of wind in your hair. The chirrup as nature speaks all around you. Or the "Pump that sh*t!" from your cycling class instructor. Sure, cycling provides its own soundtrack. But that's no substitute for amazing tunes! We built a killer playlist for every type of cycle.
From pedaling indoors to pulling off ambitious climbs up a hill in the middle of nowhere, good tunes can provide the support you need to get the results you want.
We'll step up as your DJ. Just stick these in your ears and get those legs moving!
Sure, your instructor may have music lined up. But when did you ever do what your teacher told you? You're a rebel, born to cycle as hard and fast as possible to whatever music you damn well please.
The ultimate cycling class playlist
Crank up the intensity the right way. Plus, we've included options for different types of cycle.
Mountain Climb Intervals
Driven, pounding tunes to help you get through those steeper moments.
9 songs, 43 min 4 sec
"Mobilize" by Vessels
"Don't Hassle the Hoff" by Aiming for Enrike
"Savage (Major Lazer Remix)" by Megan Thee Stallion
"The Journey" by Seven Lions
"Legend Has It" by Run the Jewels
"Spin" by Strobes
"To Hell with Good Intentions" by Mclusky
"Running Up That Hill" by Kate Bush
"Carnival Kids" by the Futureheads
Cycling Sprint
GO! Tempo is your friend here.
9 songs, 37 min 50 sec
"B.O.B (Bombs Over Baghdad)" by OutKast
"Don" by Ocean Wisdom
"Manoeuvres" by Naibu
"Masa" by Adebisi Shank
"Power" by Little Mix
"Outta My Mind" by Busta Rhymes feat. Bell Biv Devoe
"Dragula" by Rob Zombie
"Shutdown" by Skepta
"Tell Me a Ting" by D Double E & Kano
HIIT/Tabata Cycling
Every cycle (and day) has its ups and downs — so do these tunes, matching your energy as you move through HIIT intervals.
8 songs, 31 min 23 sec
"Humans Are Such Easy Prey" by Perturbator
"Rumble Slow" by Dada Life
"Wrong" by Cleft
"Silent Earthling" by Three Trapped Tigers
"Knights of Cydonia" by Muse
"Alphabet Aerobics" by Blackalicious
"Chemical Calisthenics" by Blackalicious
"Next Level" by Bop
We've gone for the happy midpoint between driving music and workout jams.
The Great Outdoors: A Playlist for Escaping Your Crib on Wheels
Grab your bike, stick your headphones in, and hit the road.
11 songs, 39 min 30 sec
"BMX" by Aesop Rock feat. Rob Sonic & Blueprint
"D" by Lite
"Saveur Cheveux" by Totorro
"Glory" by Axes
"The Chain" by Fleetwood Mac
"Get Me Bodied" by Beyoncé
"Keep the Car Running" by Arcade Fire
"Fitta Happier" by Quakers
"Interstate" by 38 Spesh feat. Che Noir
"Build and Tune Your Car!" by Hello Meteor
"Flava in Ya Ear" by Craig Mack
Cycling isn't all flailing limbs and pools of sweat — sometimes, it's amazing to just get out, bump your mood up, and clear your head.
Floating Pedals: A Mellower Outdoor Cycling Playlist
13 songs, 1 hr
For when the headspace is more important than the burning thighs.
"Blazin" by Nicki Minaj & Kanye West
"Anomaly" by Unfound
"Sit Back" by The Mouse Outfit feat. Truthos Mufasa & Black Josh
"Sun" by 憂鬱
"Time" by Hotel Pools
"Glider" by Tycho
"Next Door's Dog" by Felman
"Pjanoo" by Eric Prydz
"Young Folks" by Peter Björn and John
"I Need You" by Children of Zeus
"Weird Fishes/Arpeggi" by Radiohead
"Last Bloom" by Floating Points
"Pumped Up Kicks" by Foster the People