We include products we think are useful for our readers. If you buy through links on this page, we may earn a small commission. Here's our process.
Greatist only shows you brands and products that we stand behind.
Our team thoroughly researches and evaluates the recommendations we make on our site. To establish that the product manufacturers addressed safety and efficacy standards, we:
Evaluate ingredients and composition: Do they have the potential to cause harm?
Fact-check all health claims: Do they align with the current body of scientific evidence?
Assess the brand: Does it operate with integrity and adhere to industry best practices?
We do the research so you can find trusted products for your health and wellness.
Until Wim "The Iceman" Hof came around, cold water therapy wasn't really a thing outside of elite athletics and yearly Polar Bear Plunges.
But now that the Wim Hof Method — a combination of breathing techniques, cold therapy, and commitment that's demonstrated through extreme feats like barefoot Artic half-marathons — has amassed a major global following, you may find yourself wondering: If you aren't calmly immersing your body in frigid water on a regular basis, are you even healthy, bro?
Ice Barrel is capitalizing on that question and the movement behind it with an at-home version. The product is exactly what you'd expect from the name: a huge barrel that you keep in your yard, fill and chill with water and ice, and soak in for short stints on the regular.
As a professional marathoner who's tried it out myself, I can verify that Ice Barrel gets the job done. But is it worth the price tag or is it overkill, just another expensive training tool that you can easily get by without?
Let's find out.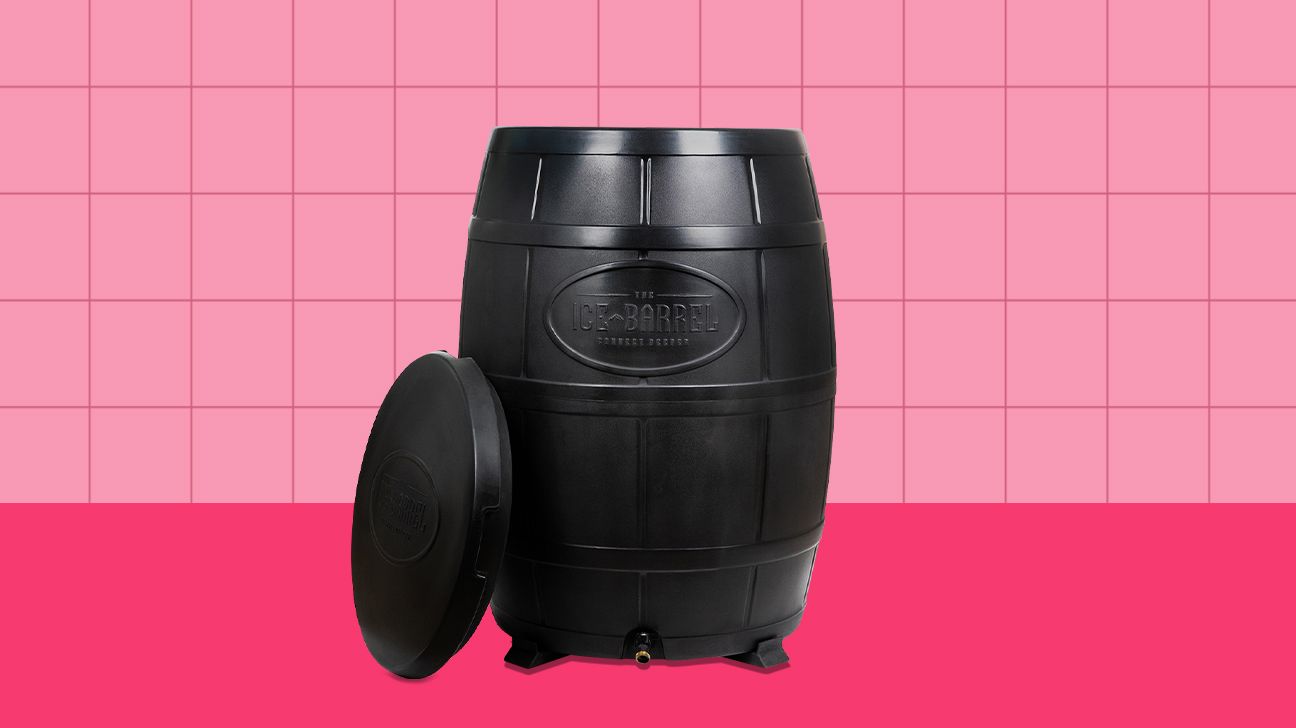 lighter than it looks (when it's empty, at least)
requires almost no setup
simple to use
easy to clean and maintain
requires refreshing the water only about once a month
massive — and a bit of an eyesore
way more expensive than you might expect
requires regular ice refilling, especially in warmer months and warmer climates
nearly impossible to move (when full)
very difficult to get in and out of
lacks a step or perch for comfortable soaking
The backstory
Ice Barrel CEO Wyatt Ewing found out about cold showers from a stranger at his gym, and his quick buy-in to the practice and its benefits eventually gave rise to Ice Barrel.
Ewing's aim then was to create "a cold therapy device that was convenient and fun to use," and his mission now is "to share the power of cold therapy with anyone who needs to hit the reset button."
Cost
To equip your backyard with an Ice Barrel, you'll spend a not-so-cool $1,199.97, plus around $95 in shipping, depending on where you live.
For context, for the same amount, you could buy a lower-end treadmill, more than a dozen pairs of shoes, or an average annual gym membership.
Theoretically, the nice part about an Ice Barrel investment is that the only ongoing cost is the water and ice you fill it with. But unfortunately, that part isn't as cheap as it sounds.
Based on the Owner's Guide that comes with each purchase and the FAQ section of the Ice Barrel website, outside of winter months, you can expect to refill the barrel with 40 to 100 pounds (lbs.) of ice every few days (!!!).
Estimating that 10-lb. bags of ice cost $2 a pop, the middle ground (a 70-lb. ice refill twice a week) will cost you about $24 per week, $96 per month, and $768 per year (assuming you live in an area where no ice refills are needed during the four coldest months).
Not necessarily a deal-breaker, but certainly something to think about before you pull the trigger.
Specs
Wondering whether you have the space for Ice Barrel (or the muscle to move it)? These specs should help:
42 inches (in.) high
31 in. wide at widest point
25-in. opening on top
55 lbs. when empty
750 lbs. when holding 80 lbs. of water
Features and accessories
Here's what your Ice Barrel has to offer:
105-gallon capacity — plenty spacious for most humans
drainage system similar to the spout of an ordinary water cooler
U.S.-made with polyethylene and recycled materials
100% satisfaction, 30-day money-back guarantee for those who get cold feet (get it??)
Each Ice Barrel purchase includes:
barrel
barrel lid
barrel stand
protective UV cover
step stool
As we mentioned earlier, the only items you need that aren't included are the water, the ice, and the human willing to submerge in them.
Ice Barrel and similar companies draw on science to persuade potential customers that what they're selling is not only healthy but potentially ✨ life-changing ✨.
The Ice Barrel Owner's Guide features some big claims: "Stress, anxiety, depression, and low energy are common phenomena with significant health implications. We've discovered one solution to all these problems, and that is our Ice Barrel." Pretty wild stuff, huh?
The company's website tones it down a bit, drawing on peer-reviewed research to make a good case for cold therapy.
Science-backed benefits of the practice include reductions in (but not elimination of) depression and anxiety, stress, chronic pain from certain diseases, inflammation, and post-exercise muscle soreness, as well as improvements in mood and general brain function.
All these benefits sound legit. But what about its effectiveness for athletic performance and recovery?! Isn't that why we're all here? Here's what a few studies have to say about it:
A 2017 study suggests that "cold water immersion is no more effective than active recovery for minimizing the inflammatory and stress responses in muscle after resistance exercise."
A 2020 study concludes that cold water immersion after resistance training is not just neutral but actually reduces protein synthesis rates, potentially having a negative impact on muscle conditioning.
A 2016 study suggests that the performance benefits (or detriments) of cold therapy can vary wildly based on individual characteristics, specific water-immersion protocols, and the type of exercise involved.
The takeaway here is that the scientific community has not reached a consensus on cold water therapy. The athletic community is similarly divided: Some love it, some hate it, and some are neutral on the practice. (Very helpful for the undecided, we know!)
Having run collegiately and professionally for the last 14 years, I've spent countless hours in ice baths.
Some, like those in the training rooms at big universities and pro facilities, are relatively luxurious. Others are more slapdash, like the hotel bath tubs and humble trash cans I've rigged up myself or the Colorado streams I've improvised with after workouts.
When presented with the opportunity to give Ice Barrel a shot, I was curious how the experience would stack up to prior ice baths, whether the product would make me a more frequent ice bather, and — the kicker — whether it's worth the steep price or not.
Setup
It worked out that my Ice Barrel trial occurred in early October in Dallas, Texas: still warm but not sweltering, with highs around 90 and lows around 60. What we in the South consider moderate.
Once it was delivered on a dolly to my backyard, I set it up at dusk one day, pouring in the 50 lbs. of ice I'd purchased earlier, plus enough hose water to fill it up about a third of the way to the top. An hour later, I came back from a workout to find not only that the ice was already melted but that the water could be best described as brisk — a letdown after all that effort, and nowhere near as chilly as the ice baths I'm used to.
Getting in and out of the barrel
A second disappointment quickly followed when I discovered that the barrel was clearly not designed for 5-foot-tall individuals like myself. Even using the step stool, I had a hard time lowering myself into the barrel, so I called on my foot-taller husband for assistance.
With a little help, I got inside, where I spent 5 minutes (as recommended) submerged to my belly button in a kneeling position. While a bench, a step, or some other way to soak more comfortably would have been more ideal, the experience was fine. Ice baths aren't supposed to be cozy, after all!
Getting out proved to be harder than getting in. A few unsuccessful heaves and another husband assist later, I eventually made it onto dry land, where I toweled off, changed out of my wet clothes, and let my body warm up naturally (also as recommended). Unlike with some ice baths of my past, I thawed quickly after this one, and by bedtime, I'd all but forgotten about my earlier plunge.
Final thoughts
While I wanted my Ice Barrel experience to blow me away — especially knowing how much one costs — it unfortunately did not. The mediocre insulation, challenge of getting in and out, and lack of a place to perch in the water left me wanting more.
Upon further thought, I've come to the conclusion that I'm better off getting chilly with my bathtub or trash can solution, either of which requires less ice, less effort, and the same amount of discomfort.
(I should probably add that my 6-foot-tall husband, who also tested our loaner Ice Barrel, had an easier time getting in and out of the barrel. However, it wasn't exactly easy — especially the getting out — and he agreed that the unit would be instantly improved with a better place to recline inside it.)
There are a surprising number of Ice Barrel competitors on the market. Here's a small sample of them:
Considering its $8,999.99 price tag, it's not entirely fair to call The Cold Stoic a competitor of Ice Barrel. It's worth mentioning, though, because it's the nicest-looking of the lot (almost reminiscent of a small sauna), with four wood tops and five base colors to choose from, as well as a programmable thermostat that allows for precise temperature control.
Significantly cheaper than The Cold Stoic (but still nothing to jump for joy about), the $4,790 Cold Plunge looks like a real porcelain bathtub but is good for both indoor and outdoor use. Fill the tub with water from a hose, turn the unit on, set the temperature (it goes as low as 39°F), and hop on in.
For a far more affordable option — well under $100 — G Ganen (along with other companies such as EoSaga and PEAKn) sells a smaller inflatable unit that's designed for ice baths. Blow it up with a pump or your mouth — just don't expect the water to stay cold for long if it's not winter, or for your purchase to withstand several seasons of use.
If you're set on having a personal ice bath in your backyard, Ice Barrel is def worth considering. Although I wasn't sold, you'd be a better candidate for it than I was if you're tall (at least 6 feet, I'd say), located somewhere chillier than Texas (where the ice will last longer), and unfazed by regular ice pickups and dumps (which I would def get sick of).
You also might feel more positively about the whole situation if you don't have regular bathtub access or if you prefer outdoor ice baths to indoor ones.
As for my future as an ice bather? It's neither fancy nor impressive, but the old bathtub-turned-ice-bath setup is plenty cool for me.