This article originally appeared on January 7, 2020, on our sister site, Lonely Planet. Some info may have been updated to be more current.
It's easy for a workout routine to fall by the wayside when traveling. Fitness fanatic and world traveler Sheree Millington has rounded up eight of the most unusual fitness classes around the world to help you experience a destination while moving your body and working up a sweat. From energetic morning raves to downright doggy yoga, you'll be amazed at the ingenuity of these unique workouts.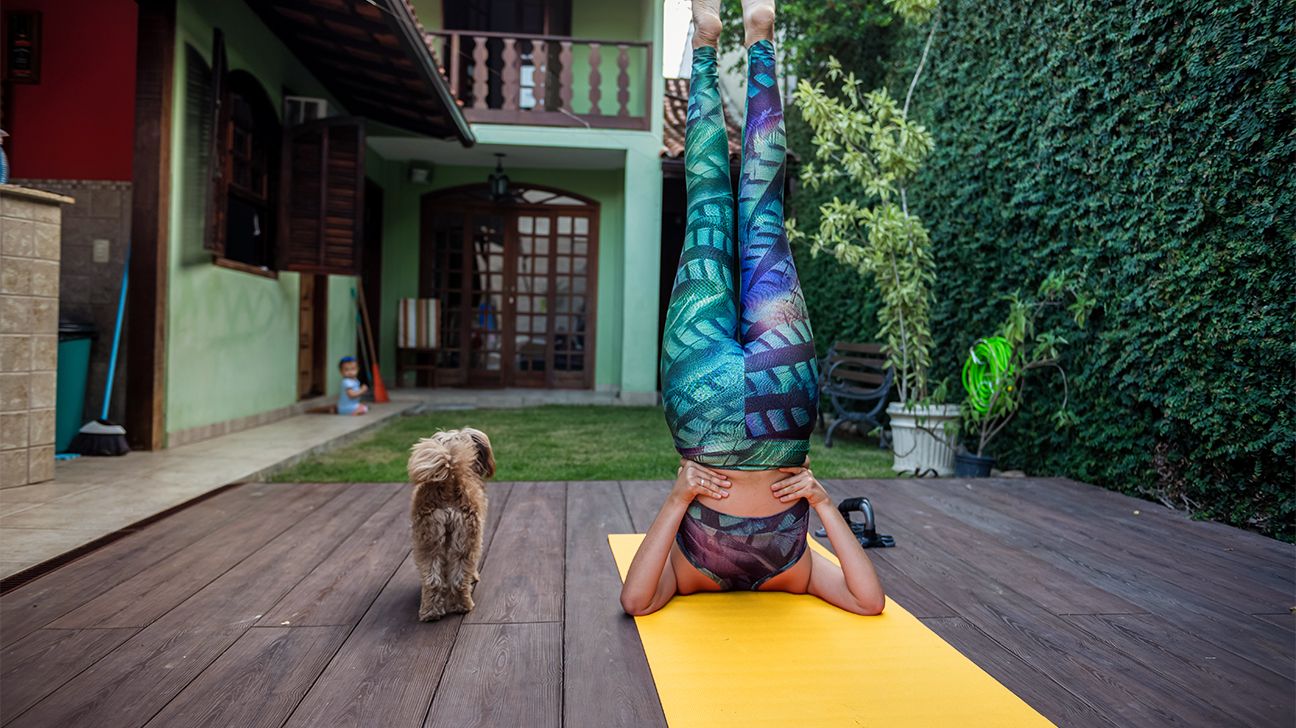 Who doesn't dream of being a mermaid? Well, dream no more. This school for mermaids has locations throughout the U.S. and Canada, plus in Tulum and Abu Dhabi. Slip on your shimmering mermaid's tail for a mermaid swimming lesson where you'll learn the basics of swimming with a tail, some trick moves, and play mer-games.
Of course, a class at AquaMermaid School is an absolutely picture-perfect Instagram moment to share while on your travels, but it's also a genuinely great workout that'll challenge your muscle strength.
London is truly a 24-hour city, where you can party from dusk till dawn. But, have you ever considered starting the party at dawn? More and more people are choosing to start their day partying with Morning Gloryville, the original morning rave. The immersive dance party is booze-free and promotes conscious world clubbing. Dancing their hearts out to some world-class DJs (Fatboy Slim has played here), morning ravers go all-out with outfits and glitter. Kicking off at 7:30 a.m. during the winter months, you'll be finished in time for one of London's famous afternoon teas. What a way to begin the day!
Founded by Guinness World Record holder Marawa The Amazing, who skates in heels and can do things you wouldn't believe with a hula hoop (seriously, check this woman out on YouTube), the Majorettes are the coolest hula troupe in the world. With pop-up classes happening in the UK, USA, and around Asia, a class with these ladies will have you hooping like a pro and working up a real sweat.
Koh Tao is packed with beautiful beaches and magnificent views, but you can get a totally unique perspective of the island swinging above the trees at a trapeze class. At Flying Trapeze Adventures, you'll learn basic trapeze skills and techniques and build some serious strength while doing it. You can choose from a group class or private session — and by the end of it, you might even nail a mid-air catch like a true circus performer.
This ancient martial art is practiced all over Thailand and the globe, so it isn't particularly unusual, but the Ao-Koei Beach camp in Phang-nga is definitely one of the most intense exercise experiences you can have while traveling. Learn Muay Thai from true masters and native Thai trainers in a hand-made camp on a wild beach and really get put through your paces. You'll be fully immersed in the practice, discover new fighting skills, and be on your way to becoming a lean, mean fighting machine in no time.
Seek refuge from the hustle and bustle of the streets of Mumbai, India, with this totally unique underwater fitness class. This Aqua Bootcamp offers a range of pool-based classes, but our pick is the aqua spin. That's right, a bike in a pool. The water adds extra resistance to work your legs to the limit (while the pool ensures you don't sweat buckets like in a normal spin class).
Namaste meets man's best friend for a totally unforgettable fitness class. We all know the benefits of yoga: flexibility, calorie-burning, gaining a sense of inner calm. Doga Yoga in New York City has topped that with the addition of furry, calming friends. Bring your own dog or get partnered up with a new pooch and give a whole new meaning to Downward Dog.
If reading this far has left you exhausted at the mere thought of all these sweaty pursuits, this "workout" is the one for you. This isn't strictly an exercise class, nor will you break a sweat. You could, however, look several years younger and totally refresh yourself if you're feeling weary after all your travels. Face Gym is the world's first workout for your face. Forget relaxing facials, the "instructors" here will knead, work, massage, and pummel your facial muscles into submission. This leads to a sculpted visage and glowing skin, sign us up.